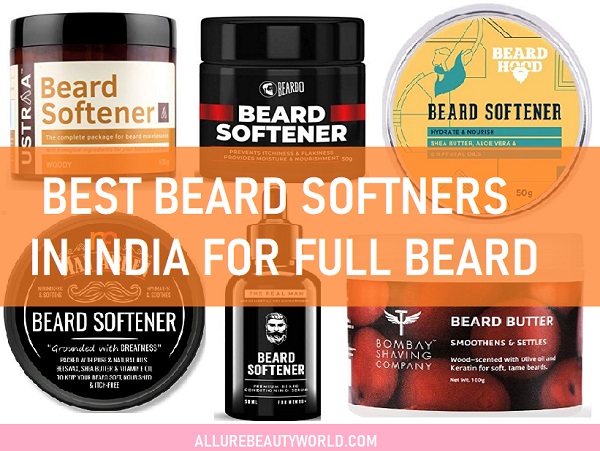 The best way to keep beard soft is to use men's beard hair softeners. Beard soft creams are your answer to those issues related to the beard hair care. Using beard hair softener everyday can do a lot for the beard like managing the unruly hair, preventing dandruff, itching and dryness. Even for men with oily skin, these beard softening products help with the pimples as well, due to their non-greasy texture. You can see a lot of difference, when you start to use facial hair softener daily. So, no more itching or dryness! A lot of men can double up their products, which is why beard softener uses can be immense like you can apply them as hair cream.
List of Best Beard Softeners in India (2022) For Smooth Manageable Beard
To get your best beard style applying stubble softener will definitely help you. Always use beard wash and softener to tame the beard and keep it in best state every day. Now, let's take a look at the best product to make beard soft.
1. Ustraa Beard Softener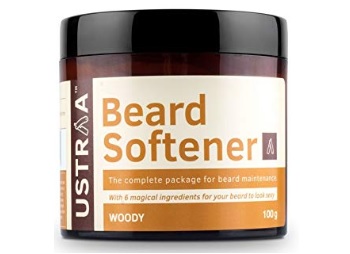 When you are worried about your hard and unruly hair, then a beard softener from Ustraa can really help you out. Ustraa beard softener is made with effective magical ingredients such as a Shea Butter, Castor Oil, Argan Oil with a paraben and SLS free formula. With no harmful chemicals, the product helps to get you manageable and smooth beard hair every day. The product is not tested on animals, means it's also a cruelty free product. A lot of men have managed to get smooth and beautiful facial hair with the use of this product.  It keeps your facial hair in their best condition and also prevents the itching. The very easy to apply product is also available at reasonable prices which makes your beard soft and shiny. It's like an all round product that you can use to keep beard soft. If you are not into using beard oils, then a beard softener would do the job for you. Point to be noted, it's the best beard softener for short beard types too.
2. Man Arden Beard Softener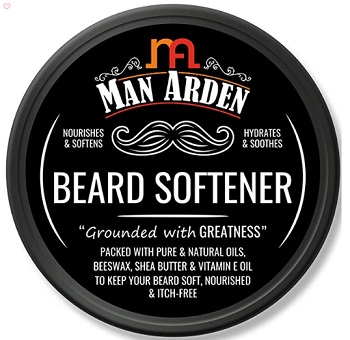 Packed with pure and natural essential oils, known to hydrate and nourish your skin. Man Arden beard softener is a product that you can apply when you have very dry facial hair. It contains bees wax, shea butter, vitamin E, and essential oils like Argan oil. Other than conditioning the facial hair, the product also stimulates hair growth, because of the ingredients. Working as a beard conditioner, it makes your beard soft. When itching and irritation is your primary problem, it keeps the beard smoother and then this can prevent the bread hair thicker. In short, the product is the perfect beard management product to nourish the beard hair. This product can definitely help you out. Apply this to keep the beard soft for around 3 to 4 hours. If the weather is humid, this can wear off soon. It has mild sent that will also entice you and keeps you fresh. It's a leave-in-beard softener that can be reapplied when you feel that the product is getting weared out.
3. Beardo Beard Softener For Men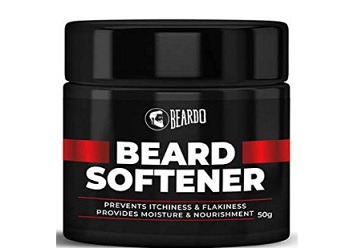 Beardo beard softener for men is formulated to get flakiness away. By providing moisture and immense nourishment, it prevents the itching of the beard which are common issues that many men experience while flaunting beard. Because of the daily dust, pollution, a lot of dust particles get collected into your beard hair, which is why you can experience itching, acne and dryness. This beard softener product is safe to be used every day to care for your beard in the best possible manner. This natural beard softener has non-greasy formula, which is why it can be used during hot summer season and in fact for all the seasons. Regularly using this beard softener product for men along with a good quality beard wash gives you soft and shiny beard hair. So, you can flaunt your facial hair everyday by using moisturizing and conditioning product like this.
4. Phy Cult-ivator Soften Up Beard Crème For Men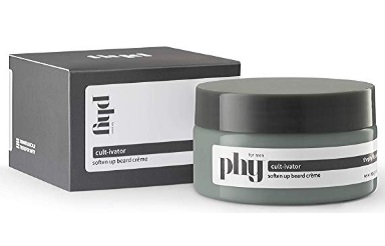 The Silicon free and paraben free beard softener product is rich in nourishing Kokum Butter, Shea Butter, Argan Oil and Olive Oil. The beard and moustache softener has a nourishing cream formula that moisturizes really well without leaving the sticky residue behind. It's more like a balm, which is not heavy at all. The goodness of essential oils, the product is easy to apply and tends to give you more sterilization for long hours. This beard softener gel product softens the beard no matter how dry and rough they are. In fact, the product also reduces itchiness and flakiness. With faint pleasant smell, the smooth texture of this cream makes beard soft, is really good for daily use.
5. The Real Man All New Beard Softener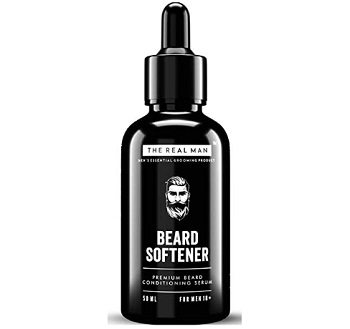 The Real Man beard softener comes in a dropper which means it is a blend of oils like argan oil, oil, Vitamin E and tea tree oil. While preventing the beard acne, it heals them faster. Also, the beard conditioning and softening beard oil helps to give you shiny and healthy beard. Apply a few drops of this beard softener oil and it keeps the beard hair smooth all day round. This beard smooth oil helps to stop the itchiness and flaky skin. Men dealing with itching and beard dandruff also claim to seek relief with the regular use of this product. So, one can enjoy flaunting his beard with no more itching and irritation.
6. Beardhood Beard Softener For Men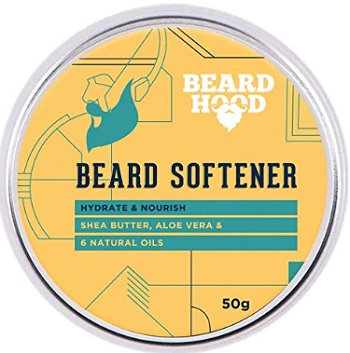 Beardhood beard softener is a creamy balm which is a blend of six natural and essential oils along with shea butter and aloe vera. It prevents itchiness and flakiness. All you have to do is to scoop out a coin size amount and rub it between the fingers. Spread out evenly and rub the fingers through the beard. At first, it smoothens the beard and then helps to style it. It also fights beard hair loss and deeply conditions the facial hair. If you are experiencing patchy beard condition then also the natural oils can help to stimulate the growth of beard. It gives you the best beard and can be your true companion in flaunting your beard. The paraben free product is safe for all the skin types and is the best beard softener in India.
7. Bombay Shaving Company Beard Butter & Softener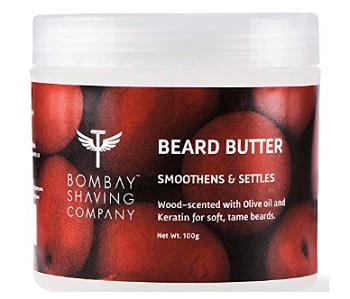 It's the best beard softener for coarse hair. This product is a creamy butter for your beard that is non greasy but has moisturising ingredients such as olive oil, shea butter, keratin, caramel and coconut oil. It has a woody scent which will be liked by a lot of men. Shea butter has natural proteins that detangles and moisturizes the hayward facial hair. With a blend of Oriental, Amber Sandalwood and Musk, it gives a faint pleasant smell to the beard all day long. The rich creamy butter converts dry and unruly beard or facial hair to soft and manageable. The caramel smell also give its own charm in making it really effective. You can also use this as a pre shave beard softener.
8. Spruce Shave Club Beard Softener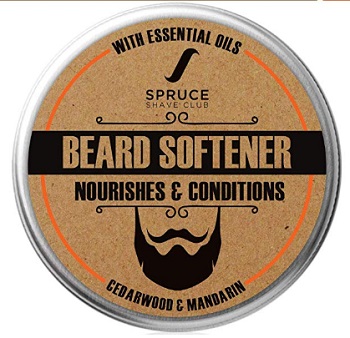 The beard softener cream conditioning product help to condition the beard with its unique blend of natural butters. It is extremely beneficial to tame your beard. With mango butter it becomes very nourishing for the dry and unruly hair. It also contains cocoa butter and shea butter which are known to smoothen the thickest and unruliest facial hair. This beard softening beard balm is rich in natural oils like olive oil, castor oil and coconut that initiates beard growth. Regular application of this product also reduces dandruff and hair fall. So if one would like to flaunt thick and good beard that looks polished, then this beard softener is a natural beard care product for you. Men can put it in their daily beard care regimen and use it daily. The product does not contain any sulphate, parabens or harmful chemicals, hence, there are no side effects even when you have extra sensitive skin.
9. Saint Beard Beard Softner and Conditoner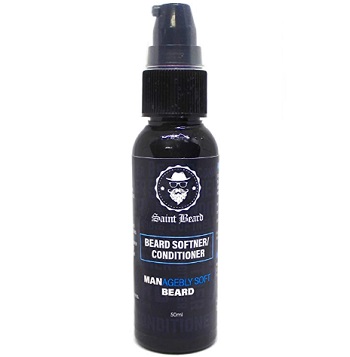 This beard product is more like a serum which is a blend of shea butter and oils. It's safe for all the skin types. Apply it after washing your beard with a good beard shampoo or beard wash. Apply it on the beard and leave it on for 5 to 10 minutes then rinse out. It's more like a beard softener and conditioner that you do not have to keep but wash it out after 5 to 10 minutes, while you are still in the shower. The beard softener oil is best in quality.
10. Brylcreem Beard & Mooch Butter Balm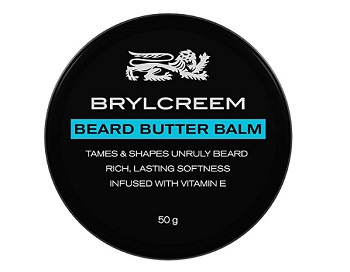 Brylcreem beard butter balm is rich in Vitamin E and coconut oil. Just massage it into your beard and arrange the way you like. It has the right consistency which makes it not too greasy or sticky. And the faint fragrance is suitable for everyone. If you are looking for a good beard balm, you can apply it as it is very easy available and light on the pocket. If your skin is a bit oily then you can feel it beinga  bit greasy. It reduces the beard itch and adds the shine to your beard. No more, rough hair when you have this best stubble softener.
These are the best beard softener products available in India. Hopefully using any of men's beard softener would be able to shape your unruly beard and flaunt the beard. Men's facial hair softener are handy products that one can keep in their gym bag or the travel bag.
Keeping a beard is not a difficult task, when you have the effective and reasonable priced products. These beard care products are available online at good prices and discounts. We've have given you links where you can buy them if you feel like. You can also apply the best oil for smooth beard available in the market when your skin happens to be dry and itchy.