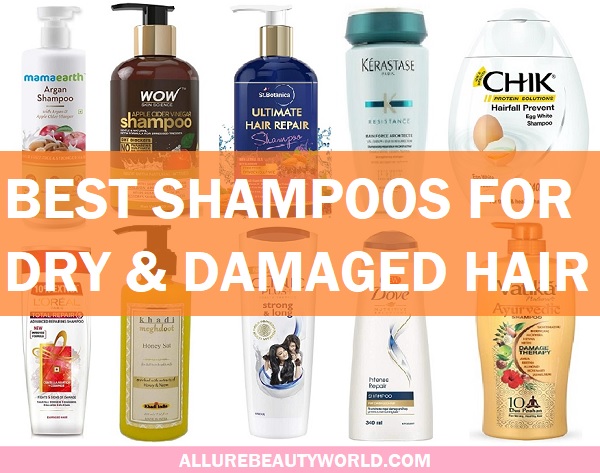 Are you looking for the best shampoo for damaged hair? Yes, there are hair care products available that can repair the damage and these hair products are specially made for the dry damaged hair with split ends. We've compiled this list of the best shampoo for damaged hair available in the market. These products can be added in your hair care routine so that you can enjoy great looking hair in no time. Damage is a result of excessive use of heat styling products, high temperature and even bleach. So, doesn't matter whatever was the reason of your hair damage, you can still get rid of that by using the suitable products for your hair.
List of Top 10 Best Shampoos for Dry Damaged Hair with Split Ends in India
1. Mamaearth Argan & Apple Cider Vinegar Shampoo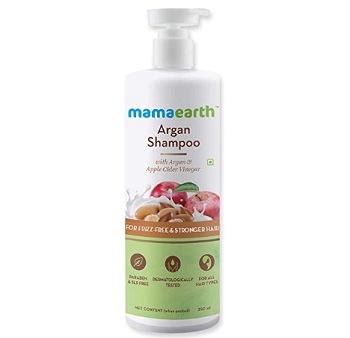 This is specially made for the dry and damaged hair. With the goodness of Argan oil, it helps to improve the texture of the hair. Apple cider vinegar is known to get rid of the product built by the use of hair styling products on daily basis. And it also makes the hair more manageable by sealing the cuticle in immense moisture. It's also free of any paraben, SLS and SLES. Therefore, it's the best natural and toxin free shampoo for dry and damaged hair in India.
2. L'Oreal Paris Total Repair 5 Shampoo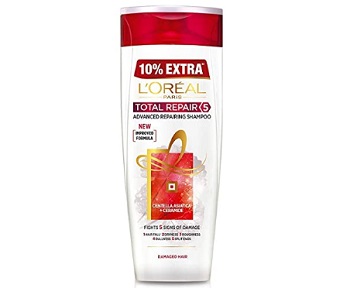 The shampoo is made to get relief in the 5 common hair problems. Majority of men and women with hair fall, dryness, roughness, dullness and split ends. It's a hair repair treatment for damaged hair
that is made specially to finght the damage and dryness of the hair . With proteins and ceramide rich formula, it helps to problem and gives you refreshing and smooth hair. It's also the best smoothing shampoo for coarse dry hair.
3. Keratase Resistance Bain Force Architecte Strengthening Shampoo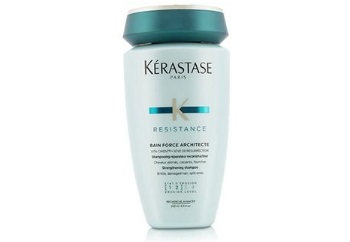 It's the best keratin shampoo in India. The keratin shampoo is a strengthening shampoo which is made for damaged hair and split ends. Even if the hair gets brittle and breaks quite frequently, the revitalizing shampoo is formulated to strengthen the weak and brittle hair strands. It contains intra cyclane, ceramides and pro-keratin. So, it actually reconstructs the hair fibre and cuticle while leaving your hair softer and smoother. It is also recommended for daily use for both men and women. It's a professional shampoo for dry hair.
4. Dove Intense Repair Shampoo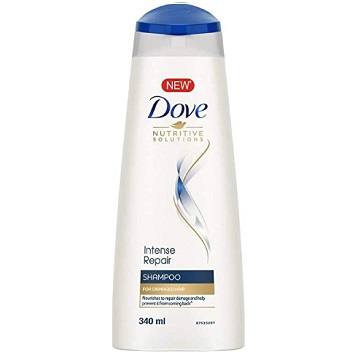 This intense repairing shampoo is one of the best products for dry and damaged hair. It nourishes the hair and repairs the damage within few weeks. It in fact, it helps to prevent the future damage when one stays long hours under the extreme sun exposure. So the shampoo lathers well and with its nourishing formula with fibre actives, it protects the hair against damage and split ends. It's also one of the best shampoos, which is affordable and very inexpensive for split ends treatment. It is ideal for men and women.
5. Khadi Honey Sat Shampoo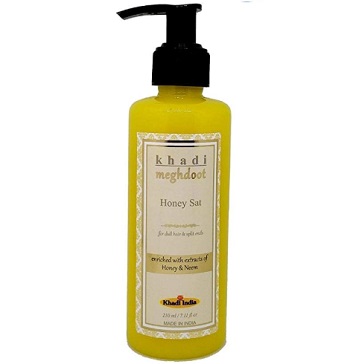 Loaded with the benefits of honey and Neem ingredients, this Khadi shampoo is made for dull hair and split ends. So, when you have split ends, because of the extreme chemical exposure and sun rays, the shampoo can be tried on regular basis. This is 100% Ayurvedic formulation that does not contain any paraben or sulphate. It does not lather a lot because there are no sulphates, yet cleanses well.
As, it's free of harmful hair damaging chemicals, it's safe even when you have sensitive scalp. It also contains Bringraj and Methi, which are known to have fresh growth. It initiatives growth of your hair as well. It's the best hair product for damaged hair.
6. WOW Apple Cider Vinegar Shampoo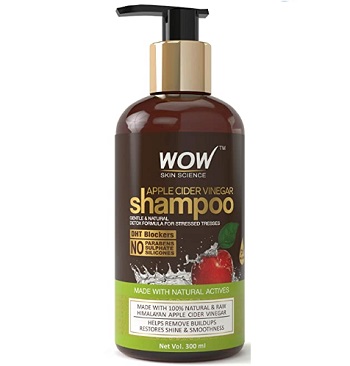 WOW shampoos are really popular, because of their paraben free and sulphate free formula. This is organic shampoo for damaged hair, this particular variant is rich in apple cider vinegar. Apple cider vinegar is a known compound in clarifying the scalp and getting rid of the oils, sebum and pollutants. For hair loss and damaged hair, this is one of the best shampoos to try. It is made with 100% natural and raw Himalayan apple cider vinegar. So while removing the product built up, it restores the shine and prevents hair from any damage. It is also a DHT blocker shampoo. There for men with DHT hormone hair fall can try it. It also initiates hair growth and is the best shampoo for bleached hair.
7. StBotanica Ultimate Hair Repair Shampoo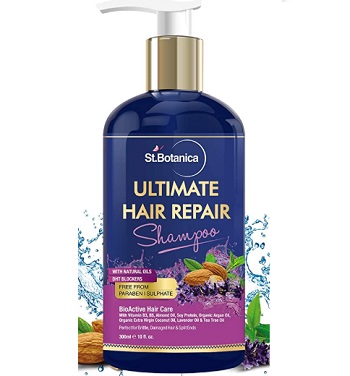 This shampoo is free of sulphate and paraben and is are quite gentle and effective for the scalp. Botanica shampoo is a hair repair products that contains the natural oils and DHT blockers. So it is wonderful shampoo for men's hair fall because of DHT hormone and even for females who are experiencing brittle, damaged hair and split ends. It's a good product to repair severely chemically damaged hair.
Key ingredients: Vitamin B3 Vitamin B5, Soya Protein, Organic Argan Oil, Almond Oil, Coconut Oil, Extra Virgin Olive Oil, Lavender Oil and Tea Tree Oil.
8. Clinic Plus Strong & Long Health Shampoo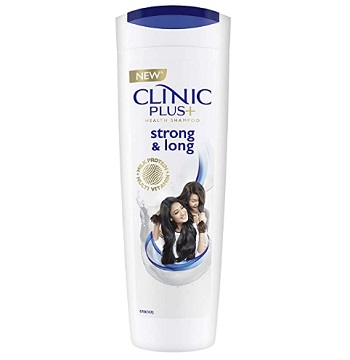 Clinic Plus shampoo is a popular brand of shampoos in India. It makes the hair more manageable. The shampoo makes hair stronger and with its milk protein formula loaded with multi-vitamins it is known to make the hair roots stronger. This can be used by the entire family even men and women. It is suitable for all hair types. The milk proteins in this shampoo penetrate in the hair strand makes them thicker and stronger.
9. Chik Hairfall Prevent Egg Shampoo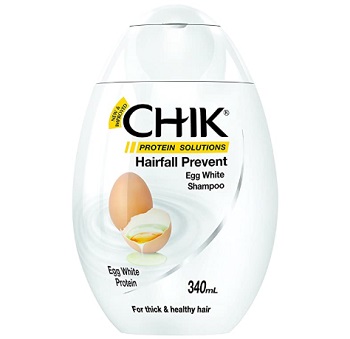 Made with the goodness of egg white proteins, this chick hair fall prevent shampoo is one of the best shampoos in India to treating hair damage. This brand is a really well known brand that makes shampoo for normal to dry hair. It's also mild enough to be used on daily basis to combat the dryness and splits ends. The shampoo thickens the hair and restore the moisture. So all in all, the shampoo is also one of the best hair fall and damage preventing shampoos in India.
10. Dabur Ayurvedic Shampoo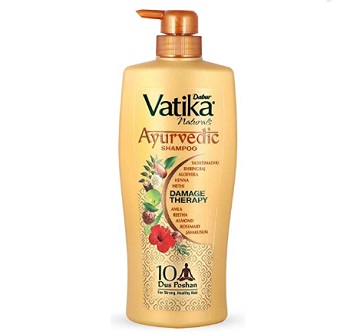 With goodness of 9 herbal ingredients, this Ayurvedic shampoo is from Dabur Vatika. It is a damage therapy shampoo that is made to give strength and nourishment to the dry and damaged hair. This shampoo has the formula which lathers enough and revitalises each and every dry hair strand from the roots to tips. You can enjoy healthy and thicker looking hair with its herbal and natural ingredients such as Yashtimadhu, Aloe Vera, Bhringraj, Methi, Amla Rosemary, Almond and Javakasam. It gives more protection from hair damage as compared to the other regular shampoos. It's the best shampoo for dry damaged hair with split ends.
These are the best hydrating shampoos for dry and damaged hair with split ends and frizz in India.
Homemade Conditioning hair mask for Frizz Control
Now that you know about the shampoos that you can try for your dry hair problem, you must also know about hair conditioning hair mask that can be applied once in a week so that the dryness can be cured all together.
Hair mask: Take one cup of curd and  3-4 spoons of honey in it. Make a paste and mix it well. After that apply it on your hair and tie the hair in a bun. After one hour , rinse it off with clear water.
Hot oil massaging: This can be done once in a week and other than that hot oil massaging is known to give great results when the hair has gotten dry and extremely dull with split ends. This can be done once in a week.
Essential oils like olive oil, almond oil, coconut oil, oil or even any oil that can be used for hair like castor oil, Rosemary oil and more. Take any two to three oils and warm them a bit. Massage the scalp and hair. After that with gentle fingertip pressure massage your head. Then leave it for night. Overnight  therapy gives amazing results in beautifying and strengthening the hair roots and to cure the damage.
Hair Care Tips To Restore the Damaged Hair
Now when your hair is already damaged, you must not do anything that can worsen the situation further.
Never wash your hair with too cold or too hot water. Try the normal water to wash the damaged dry hair.
Too hot or too cold water con strip the natural oils and hair can get even dry.
Never comb the hair when they are still wet, because at that time, the hair is in the weakest state and they can snap or break quite easily. Combing the hair also increases the chances of damage and it actually damages the cuticle of the hair.
To cure the split ends once in a month, you can have a minor trimming session at your salon. This would make sure that the split ends are removed. Then also make sure that after every hair wash you are applying a good serum that can seal the hair cuticles further.
To get rid of the pollution induced damage, you should use a deep clarifying shampoo with conditioning properties. Such products are known to give good results to damaged hair fall.