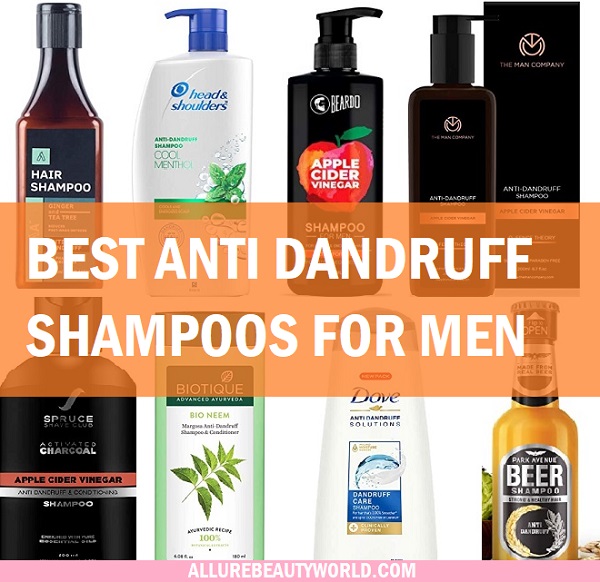 When you've dandruff in your hair, you may have noticed that there is itching and dryness in your hair. Dandruff, is a fungal infection, also known for the white flakes that flows all over the hair and falls on your shoulders.  Although, you can get rid of the dandruff by trying different home remedies. To tackle the dandruff, men can try the mild everyday shampoos. Man who washes their hair everyday must use the milder versions of the anti dandruff shampoo. As these are loaded with ingredients such as tea tree oil and Rosemary which can help cure the dandruff. Even some chemicals like Zinc Pyrithione are also added to the anti dandruff shampoos to alleviate the dandruff.
Best Anti Dandruff Shampoo for Men in India 2022
If you've trouble finding out the best anti dandruff shampoo for men, here in this article, we've compiled this list of the best dandruff shampoos for men available in the market.
1. Ustraa Anti Dandruff Hair Shampoo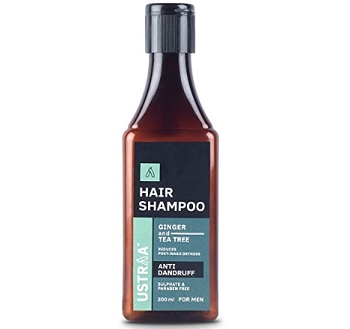 This is the best anti dandruff shampoo for men with the ginger and tea tree extract. The anti dandruff shampoo is gentle and mild, because it does not contain sulphate and paraben. In fact, it's one of the best daily use paraben and chemical free shampoos for men. The anti-inflammatory properties of tea tree oil and Ginger helps with the dandruff flakes and itching. Apply it daily to keep your hair free of dandruff.
2. Beardo Dandruff Control Shampoo with Apple Cider Vinegar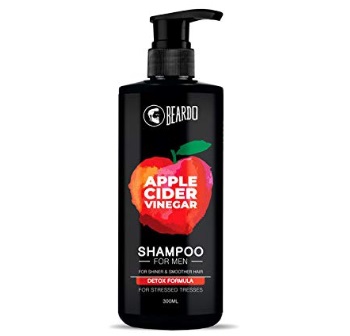 The dandruff control shampoo comes loaded with apple cider vinegar. It is a special formula that is made for men with dandruff flakes and scalp itching. It adds shine to your hair and clears the dandruff. Using the shampoos, you must not worry about the dandruff or dealing with the lifeless hair. It offers the right amount of moisture to the hair and keeps the hair shiny and silkier. This is one of the best men's shampoos for dandruff control with apple cider vinegar which can also be used on daily basis.
3. The Man Company Apple Cider Vinegar Anti Dandruff Shampoo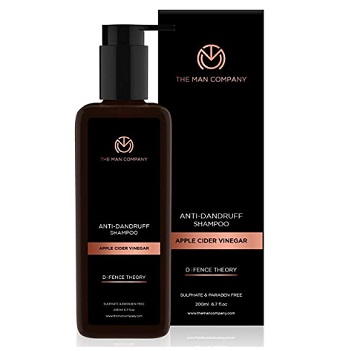 It's made exclusively for dandruff control for men's hair. The shampoo also contains apple cider vinegar and is a sulphate and paraben free shampoo. It's a natural product, which also contains aloe vera and bamboo extract. While getting rid of the dandruff flakes and dead skin cells, it also reduces the product built-up and excessive sebum. At times even when you have oily scalp, you can still have dandruff infection. So, it controls the itching and keeps the hair hydrated and moisturized. Apple cider vinegar is known to clear the dandruff from the scalp and let the pores in your scalp breathe. This is yet another reasonably priced dandruff shampoos for men in India.
4. Head & Shoulders Anti Dandruff Shampoo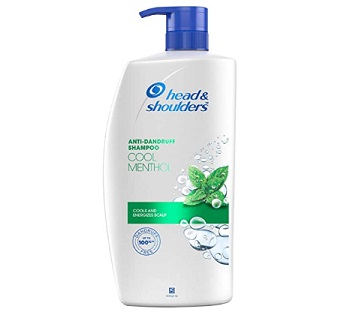 The product is the most popular anti dandruff shampoos in India, which men and women both can try. The effective dandruff shampoo, does not make your hair dry after using. It is suitable for normal hair with dandruff flakes. It has a fresh scent technology that gives you nice feel-good factor. This everyday use shampoo is formulated to deal with the dandruff and related scalp issues. It is rich with Zinc Pyrithione, which according to the research shows, that it's one of the best effective ingredients in controlling and dealing with dandruff infection.
5. Biotique Bio Neem Margosa Anti Dandruff Shampoo and Conditioner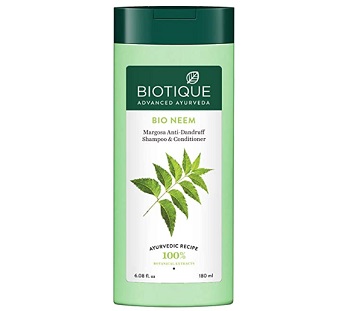 It's a 2 in 1 hair care product with neem extracts, which works to cure the dandruff infection. It eliminates the dandruff and flaking off the skin. The product is based on 100% Ayurvedic recipe that utilizes the effective anti-fungal power of neem. After the wash, the product leaves your hair fresh and less itchy. The cleanser is also ideal for adding the natural body and bounce to your hair, it also makes them super shiny. The product also contains Euphoria tree extracts with Bhringraj, therefore it also initiates hair growth.
6. Park Avenue ANTI DANDRUFF Beer shampoo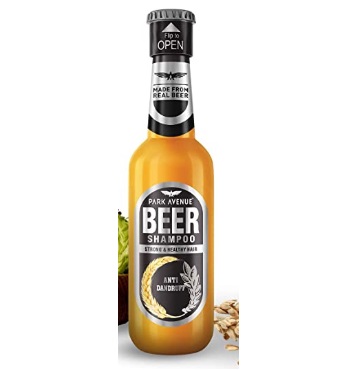 The beer shampoo is suitable for men and women with dandruff and itching. It is a 5-in-1 conditioning product that gives you 5 times better super conditioned hair. It is rich with soya and plant -proteins. With Barley and hops it reduces the dandruff by up to 90% right from the first wash. With the natural cleansing process, it eliminates dandruff and works really well. With its formula that helps to lift your hair roots and it gives you more thicker and lustrous looking hair. It's ideal for everyday use.
7. Dove Dandruff Care Shampoo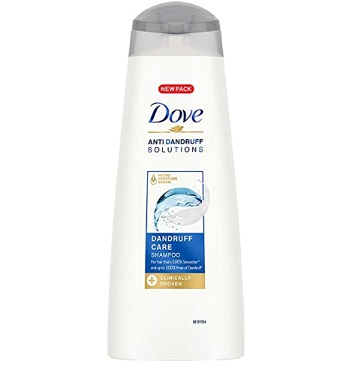 Dove dandruff care shampoo is yet another product, which is clinically proven to reduce the dandruff. Right from the first wash, it removes the dandruff with its micro-serum technology, it makes the hair and scalp. It is formulated with Zinc Pyrithione on complex, that is clinically proven ingredients used exclusively in this anti-dandruff hair care treatments. It's gentle and good enough to be used on every day basis. While leaving the hair smooth and flakes-free, it really works on the dandruff.
8. Spruce Shave Club Charcoal Shampoo For Men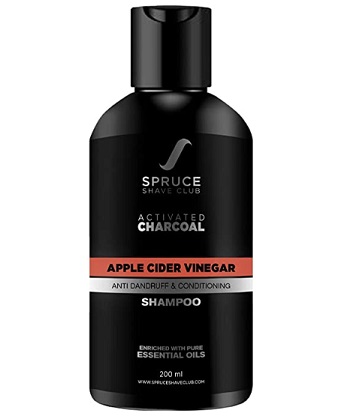 The product contains charcoal apple cider vinegar and biotin. It is yet another anti dandruff shampoo for men, which is again a paraben and Sulpate-free product. The charcoal helps to lift with the impurities and dandruff. While the other ingredients, are known to moisturize and condition the hair.  The shampoo also contains keratin and biotin, gives you super-smooth and stronger hair, it's also a rich blend of essential oils like Cedarwood, Arnica, Chamomile, Rosemary, Aloe vera but surely come up with orange and cider vinegar.
9. Scalpe Pro Anti-Dandruff Shampoo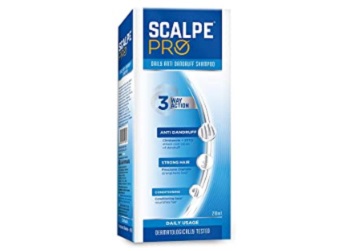 It's a medicinal or medicated shampoo that combines the effective power of Climbazole and ZPTO. It attacks the root cause of dandruff infection. As the dandruff is caused by the fungal infection, it ensures that it reduces the infection and cures it all together. It contains a conditioning base that insures that after removing the dandruff it does not make your hair dry or rough. It is an ideal shampoo for daily dandruff care. The product helps to remove the dandruff and flakiness built up on your scalp so that scalp skin can breathe and stays healthy.
10. Clear Complete Active Care Anti Dandruff Shampoo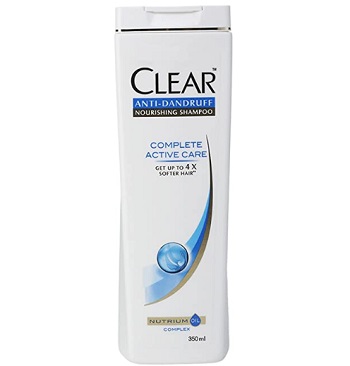 This brand is a very popular brand when it comes to anti dandruff shampoos in India. It gives you 4 times smoother and moistured hair. The shampoo contains the effective Nutrium Oil Complex that helps to safeguard the hair against the dryness, while it reduces the excessive oiliness on the scalp. It can be tried two to three times in a week.
11. WOW Anti Dandruff Shampoo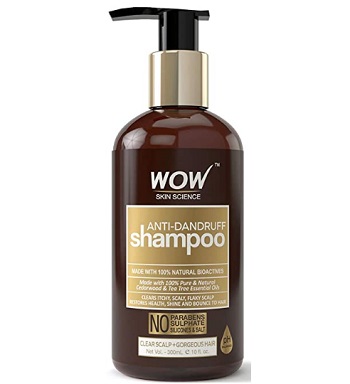 WOW anti dandruff shampoo is the most popular shampoos available online. In anyways, Wow products have been quite popular in a short span of time. The product is made with 100% natural biorganic actives like Cedarwood extracts, so you can say good bye to the dry and itchy scalp with dandruff. In fact, this is one of the best dandruff shampoos with no parabens, sulfate or silicones. So you get a clean scalp and gorgeously smooth hair. The product has a pH balanced formula that ensures that your hair does not get dry or damaged while clearing the dandruff. So the premium quality shampoo also contains soy and almond proteins along with Shea butter and Moroccan Argan oil.
12. L'Oreal Paris Professional Series Expert Instant Clear Anti-Dandruff Shampoo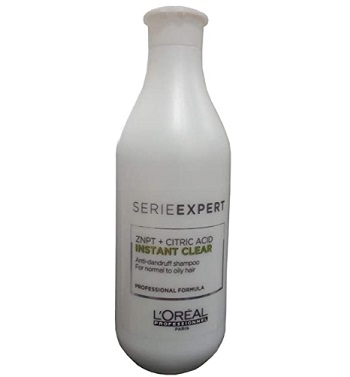 The anti dandruff shampoo comes from the professional hair care range. L'Oreal professional anti dandruff shampoo contains ZNPT and Citric acid. Both of these ingredients are well known for their dandruff clearing properties. The product is suitable for normal to oily hair and also gives a boost of volume to the limp and thin hair. The product does not dry out the hair, yet it controls the dandruff and flakes.
13. Himalaya Anti Dandruff Shampoo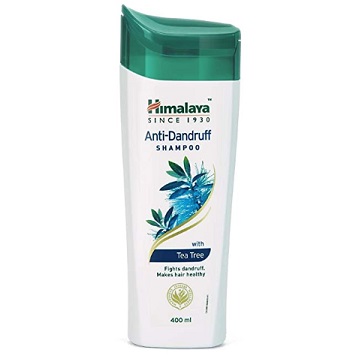 Himalaya anti dandruff shampoo is yet another popular and very pocket-friendly priced dandruff curing shampoos in India. The availability of the shampoo is also very easy as it can be bought from the nearby shops. With tea tree in it, this shampoo fights the dandruff and maintains healthy hair. The shampoo is suitable for everyday use for both men and women. The tea tree oil has dandruff clearing, terpenoids which are naturally occurring chemicals in tea tree oil.
14. Selsun Daily Anti-Dandruff Shampoo for Dry Scalp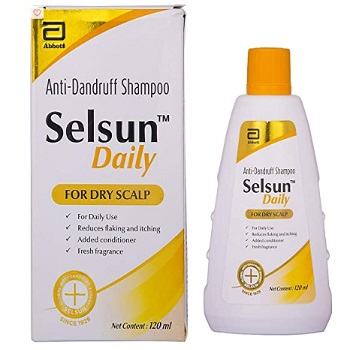 The trichologist recommended anti dandruff shampoo is perfect for daily use. It has added conditioners that don't leave the hair dry rather moisturised. With the fresh fragrance, it's ideal for everyday use and reduces the flakes and itching. This customise for dry scalp and dandruff. It helps in reducing the flakiness and the itching. With a pH balance formula, it's tough on the dandruff, while being gentle on your scalp and hair. Additionally, the product is SLS and SLES free which makes it very mild and gentle.
15. Sebamed Anti Dandruff Shampoo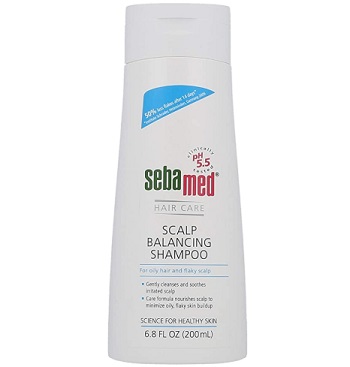 Paper made anti dandruff shampoo is made for oily hair and flaky scalp with dandruff. So if you are looking for the best shampoo for your oily hair with Android and this can be tried for sure. It has an Intensive Care in formula that nourishes the scalp and minimises the only flaky skin built up. While getting rid of the debris standard skin cells from your scalp it lets the scalp breathe properly to initiate new hair follicles and hair growth. The mild was active substances present in this product has to remove the visible signs of dandruff and itching. This is the best dandruff care shampoo for oily hair in India.
These are the best anti dandruff shampoo for men in India. Some of these can also be used by women as they are unisex products.