Shampoo for dry hair can really help you in making rough hair soft and silky. After all, hair is your crowning glory but because of the pollution, environmental stress and Lifestyle damage, your precious hair becomes rough and dry. For some, they are born with very dry hair which needs moisture the most while some of us have naturally silky hair. But please note that because of environmental damage and stress, many people are stating that their hair have gotten rough and brittle. This is why, choosing the best shampoo for dry hair in India becomes really important. You can't let the dry hair spoil your entire look while getting dressed up. While we cannot repair the dryness or damage in a single day but still we can make sure that our hair stays days smooth and soft in future. There are different home remedies and hair care products like shampoos that make voluminous and beautifully shinier. Furthermore, dryness also makes your hair to break more.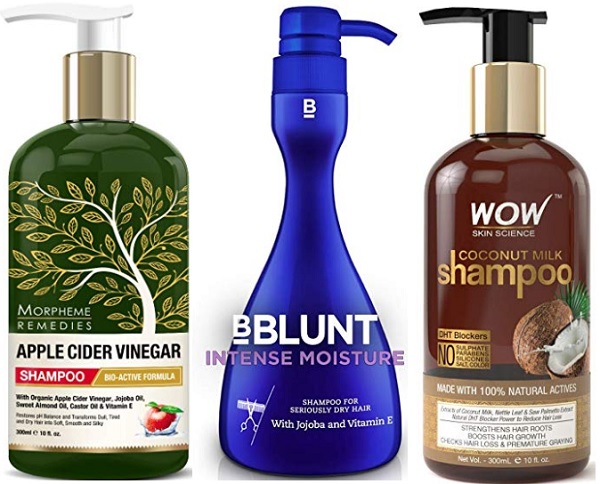 Top 10 Best Shampoos for Dry Hair in India: (2022)
Here is the list of the best dry hair shampoo in India available online and in the market.
1. WOW Coconut Milk Shampoo For Dry Hair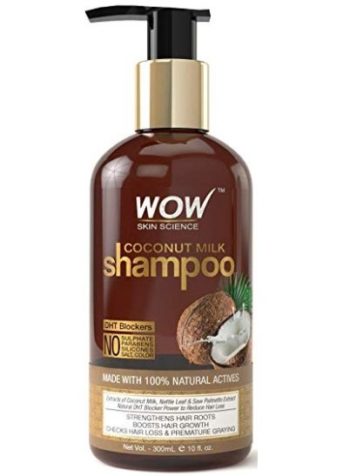 When you have dry hair, coconut milk can come to your rescue. This moisturizing shampoo for dry hair contains coconut milk extracts along with other 100% natural actives that can decrease DHT related hair loss. It also contains ingredients like nettle leaf and saw palmetto. These are well known to increase hair growth by minimizing the loss of hair and premature greying of hair. So, all in all, it's the best shampoo for dry hair and oily scalp, that does multiple things for you. Clearly, it boosts hair growth and moisturizes the dry hair. Moreover, it's a sulphate, paraben and silicone free shampoo. If you'll check the ratings from the users, you will realize how effective as a shampoo for dry hair, this product is. Clearly it is the best shampoo for not just dry hair but all hair types. I got it try it last year. I really liked its subtle coconut smell and the way it smoothen the hair.
2. Morpheme Remedies Apple Cider Vinegar Shampoo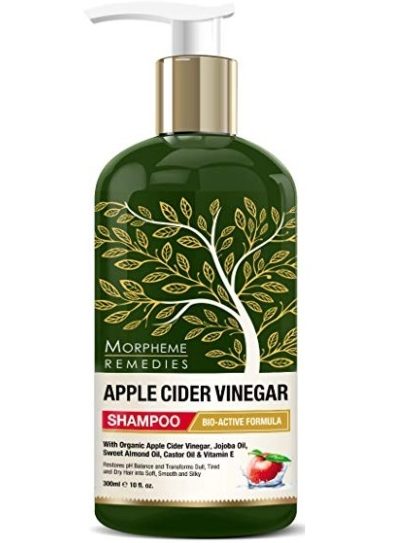 Apple cider vinegar is known to bring immense shine to your hair and reduces the excessive oils. However, you may not know that organic apple cider vinegar when combined with other Essential oils,  can transform your dull and dry hair into soft smooth and silky hair strands. This is why, I have included this shampoo in this list of best shampoos for dry hair. It contains jojoba oil, sweet almond oil, castor oil and Vitamin E. Now, you must imagine, how effective these oils are in making your dry hair extra smooth and stronger. It also enhances the natural shine and reduces split ends but is also the best shampoo for hair fall and dry hair.
3. BBLUNT Intense Moisture Shampoo for Seriously Dry Hair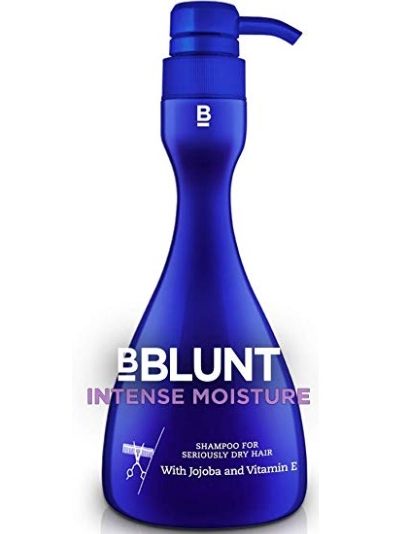 It's an intense moisture shampoo that is made for extremely dry hair. Loaded with jojoba and Vitamin E, the shampoo comes in an attractive bottle with pump dispenser. It also contains hydrolyzed keratin and wheat germ oil. Furthermore, its unique color protect formula, is ideal for Indian hair types. Having said that the product not just softens your dry hair but also gives you colour protection. Therefore, this is the best shampoo for dry colored hair. For this reason, if you have dry hair then to consider this. I've also tried it but as my hair is normal, I found it very moisturizing for my hair type. But actually, it's good in a way that it fares perfect for dry hair type.
4. StBotanica Ultra Nourishing Hair Shampoo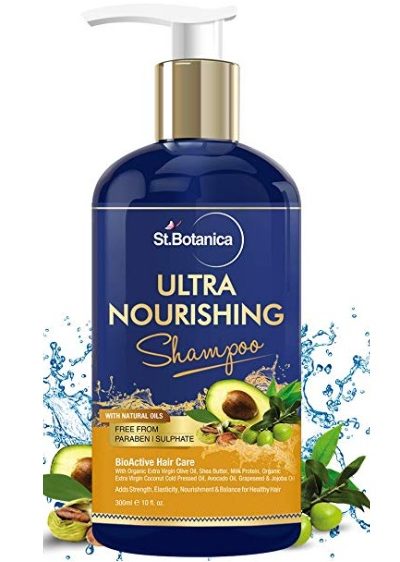 The Herbal shampoo for dry hair contains highly nourishing formula with essential oils, it is beneficial for your dry hair. This is an ultra nourishing shampoo that contains organic extra virgin olive oil, shea butter, organic coconut oil, avocado oil come grapeseed oil, milk proteins and jojoba oil. With an impressive list of ingredients, this oil is perfect choice for both men and women, who have dry and brittle hair strands. Therefore, repairing shampoo like this can add strength and vitality to your dry hair therefore, is also the best shampoo for dry scalp and hair loss. It is a paraben and Sulfate-free formula that does not pile up the chemicals on your hair. It gives full thick and shiny hair strands on usage. Other than that, the highly affordable formula of this shampoo is wonderful.  This is the best shampoo for dry and rough hair in India. 
5. Himalaya Damage Repair Protein Shampoo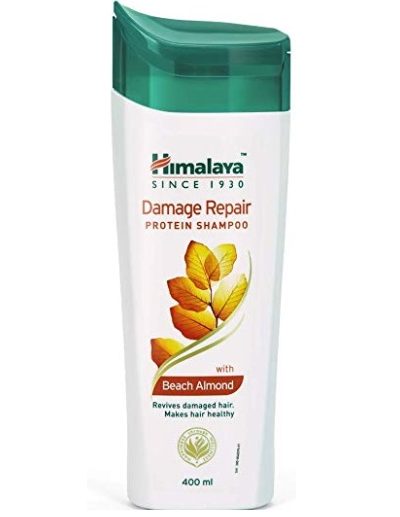 The reason this damage repair shampoo has been included in this list of best shampoos for dry hair is, simple. Often our hair is not naturally dry or brittle but due to sun damage and chemical damage that we go through every day in our life makes our hair dry. So to overcome that damage this protein shampoo is effective. It contains chickpea and beach almond extract for total nourishment and intensive conditioning. When your hair receives proper conditioning from roots to the tips, they appear smoother and softer. The herbal shampoo for dry hair heals the rough hair cuticle and protects from future damage. This is a best shampoo for dry hair for men and women in India which is very affordable.
6. Dove Oxygen Moisture Shampoo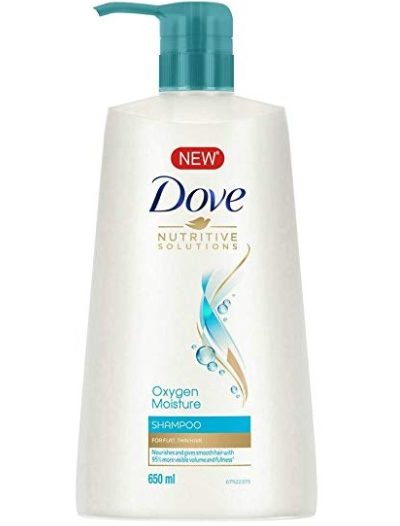 Coming to this next option in our list of best shampoos for dry hair. The shampoo for frizzy dry hair has been included here because it reduces the roughness and brittleness. It breathes new life in dull hair. The moisture rich shampoo hydrates the dry hair cuticle and results in shiny lustrous hair. I find it as the best shampoo for oily scalp and dry hair. It gives your hair up to 95% more visible volume, while smoothening the dry hair end. Other than that it is the best everyday use shampoo for dry hair in India.
7. Nyle Dryness Hydration Shampoo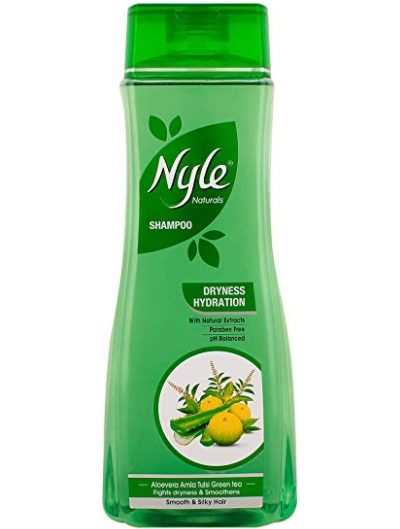 While making this list of the best shampoos for dry hair, I must not forget this Nyle dryness hydration shampoo. I have used it few years ago and honestly this shampoo with its aloe vera, Tulsi, Amla and green tea extracts, made my hair softer. While the ayurvedic shampoo for dry hair effectively fights dryness, it also boosts strength. It gives damage protection and makes hair silky. Point to be noted that it's not free of sulphates but yes it is free of parabens.  If you will check the reviews, you will find that it has really made its customers satisfied by its results. It's the best herbal shampoo for dry hair in India.
8. Rivona Naturals Coconut Milk Shampoo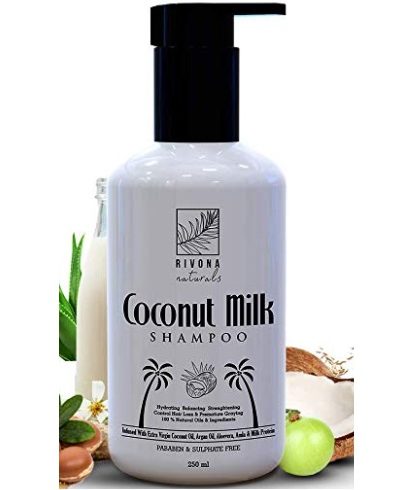 I started this list of best shampoo for dry hair with a coconut milk shampoo, considering the highly moisturizing features of coconut milk.  And again, I've got a coconut milk shampoo for you. It balances and strengthens your hair. It is a paraben and Sulfate-free natural shampoo for dry hair which is very affordable. So, all those of you, who would like to use sulphate-free shampoos must consider this option here. It is infused with Extra Virgin Coconut Oil, Argan Oil, Aloe Vera, Hydrolysed Milk Proteins and Oats kernel. Regular use of this shampoo claims to give you premature greying protection. It is a clinically tested product which is cruelty-free and FDA approved. Both men and women, can try this best natural shampoo for dry hair.
9. The Moms Co. Natural Protein Shampoo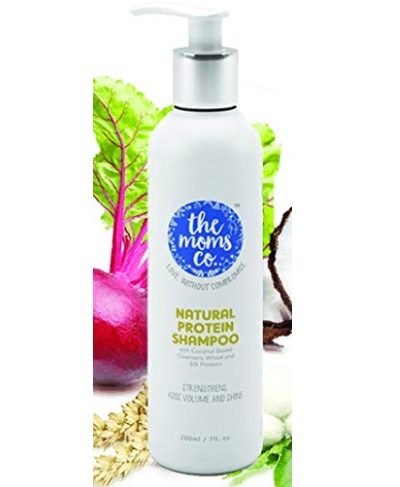 Like I mentioned protein shampoo can reverse damage due to heat and chemicals on your hair. This organic shampoo for dry hair is sulphate and paraben free and is one the best Australia certified drugs in free shampoo. It detoxifies your hair right from the first wash and gives you strong and Shiny here. Other than that the product also calms the itchy and dry scalp. In case of dry hair with dandruff, this is the best shampoo for dry damaged hair.
10. TRESemme Spa Rejuvenation Shampoo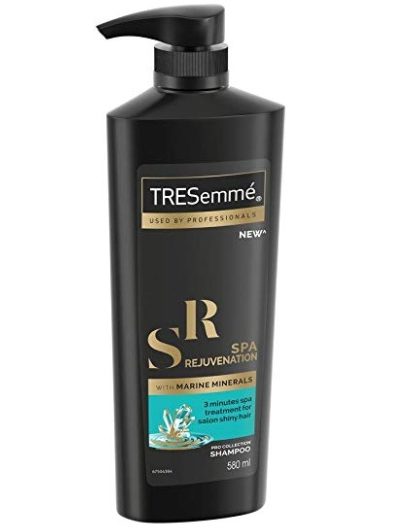 Lastly, I got Tresemme Spa rejuvenation shampoo. The popular shampoo for dry hair in India is more like a spa treatment for your hair. Primarily this shampoo is focused on getting shiny hair. Because when you hair is dry and brittle they appear very dull and none of the hair styles suit you. This can be your home hair sa for your hair. Try this hair product for dry hair after a hot oil treatment t night.
These are the best shampoos for dry hair in India. These are suitable for men and women. You must also do certain home remedies to soften your dry hair.