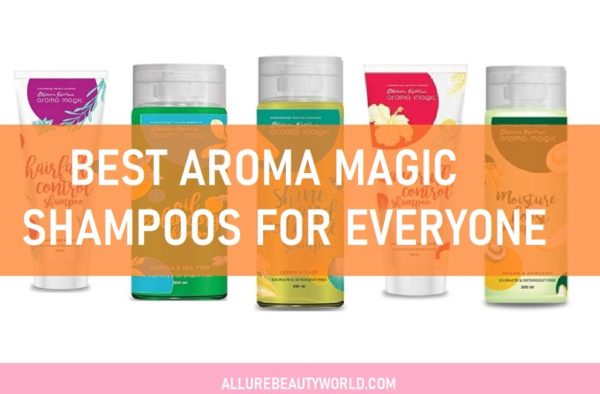 Aroma magic is a brand that is known for its paraben and Sulfate free formulas. In fact, it's a brand that formulates the natural and organic products. Shampoos from aroma magic are soap free and paraben free with affordable price range, this is why the shampoo and hair care range is popular from the organic beauty product lovers. In this article, we're going to talk about the best Aroma magic shampoo then came there is available in the market.
List of Top Best Aroma Magic Shampoos in India
If you're looking for the best shampoo from Blossom Kochchar's Aroma Magic brand, here is our take on the best hair cleansing products from Aroma Magic.
1. Aroma Magic Dandruff Control Shampoo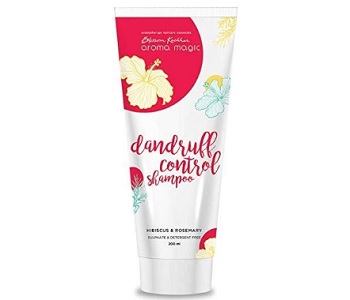 Aroma Magic dandruff control shampoo is meant to give your hair freedom from the dandruff flakes and anything that you have which disrupts the pH balance. In fact, the shampoo is an effective formula for fighting the dandruff problem. It is made with the natural extracts like Hibiscus and Rosemary that are known to clarify the scalp. The shampoo is detergent and soap free and does not contain any SLS or parabens. It gives instant relief right from the first use, when it comes to dandruff and itchy flakes. Try using it, two to three times in a week so that the toxic dandruff residue and flakes can be removed. It is priced reasonable and is one of the most effective anti dandruff hair cleanser is available in the market which is all natural and chemical free.
2. Aroma Magic Oil Balancing Shampoo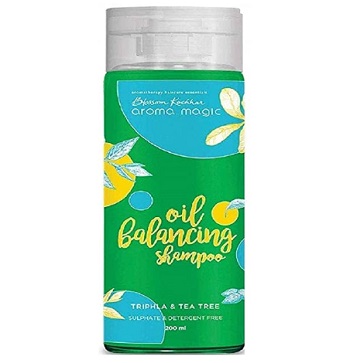 Aroma Magic Oil balancing shampoo is Triphala and Tea tree enriched shampoo which is sulphate free and detergent free. Basically, the shampoo is made to control the excessive oils from the scalp and to minimise the frizz during the summers and humid season. If wondering, which is the shampoo that can control the frizz as well as gives you oil-free here, then try this shampoo. In fact, this is one of the best shampoos available in the market for oily and greasy scalp. The hair shampoo from Aroma Magic is not harsh at all. Most importantly, it has all the natural products; therefore there are no toxic ingredients. Made from the goodness of Tea tree and Triphala, it is also bound to make your scalp clean and free of oils.  The mild shampoo is appropriate for daily use and even men can try it. It controls the oiliness really effectively, so that you can enjoy oil and grease-free non sticky hair. Pollution and summer heat also makes your hair sticky and appear very oily and clumpy. As a result, many of us observe lifeless and low on volume hair, therefore to make your hair voluminous and full of life, the shampoo can be tried.
3. Aroma Magic Moisture Boost Shampoo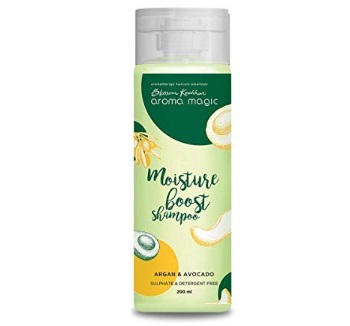 Aroma Magic Mositure Boost shampoo boosts the moisture in your lack luster and dry hair. This hair cleanser has the immensely effective moisturising ingredients such as Argan and Avocado. The ingredients are known to give moisturisation to the otherwise dry and frizzy hair. Men and women struggling every now and then with rough and brittle hair can try this conditioning shampoo for 2-3 times in a week. It combats the dryness by providing the adequate moisture for dry and damaged hair. It is one of the best Aroma magic shampoos for rough hair. The perfect blend of Lavender, Argan oil and avocado, it helps in enhancing smoothness of the hair even with split ends. Eventually with regular use, shampoo like this can make hair better and lively.
4. Aroma Magic Hairfall Control Shampoo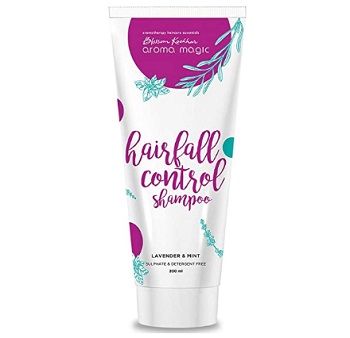 Aroma Magic Hair Fall Control Shampoo is dedicated to those who are experiencing excessive hair loss and hair fall. In the case of hair thinning and volumeless hair, this shampoo can be tried. Made with 100% natural and non-toxic ingredients, this shampoo is free of petrochemicals, sulfates and parabens. Natural oils and essential oils make the shampoo as one of the best to fight the hair fall in the most natural way. It has lavender and mint that you are known to soothe the scalp and maintain the pH level of the scalp. It not only minimises the falling of hair, it also promotes hair growth and shine. In order to achieve glossy hair without any excessive hair breakage, this natural oils induced shampoo can be tried at least 2 to 3 times in a week. It is suitable for all those who are struggling to combat hair fall and t would like to control it effectively by incorporating this cleanser in their hair care routine.
5. Aroma Magic Shine and Volume Shampoo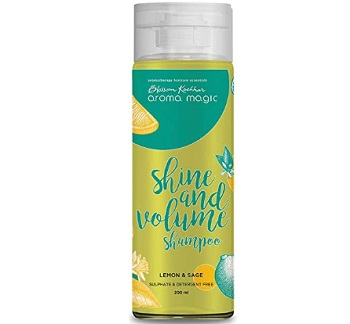 Aroma Magic shine and volume shampoo. For fine and shine-less hair, finding a shampoo can be really challenging. It's a shampoo that can boost the volume and make your hair thick. This gloss boosting  shampoo needs to be applied to 2-3 times in a week for best results. Talking about the Aroma Magic Shine and Volume shampoo, the paraben free shampoo is chemical and phthalates free too. With the soap free formula, it is rich in lemon and geranium. Loaded with antifungal properties, it also contains nettle leaf extract, known to enhance the thickness of hair.
During summer season, because of pollution and sweet, several men and women complaint of their hair getting sticky and life less, this shampoo can certainly do the magic. It has lemon oil, geranium oil, horsetail extract and lemongrass along with nettle leaf extracts. It's like a magic for those who are struggling to get lustrous hair. It is also known to regulate the sebum production.
This product does not lather as much but definitely improves the shine and texture of the course and lifeless thin hair. It restores the natural moisture but does not make the hair extremely sticky. So even if you have frizzy hair, it is one of the best shampoos for oily and frizzy hair.
These are the best shampoos from Aroma Magic available in the market. The best part of these products is that they are harmful chemical free and there are no dreaded sulphate and paraben. So even in the long run you can use these shampoos without any problem. If you have sensitive scalp, these are the best mild hair cleansers which will not irritate the scalp or disrupt the pH balance. So, out of these shampoos, which is the one that you have used or would like to use? These are also available online and discounts are also there. Aroma magic products are available at very affordable prices with no hair damaging chemicals at all.