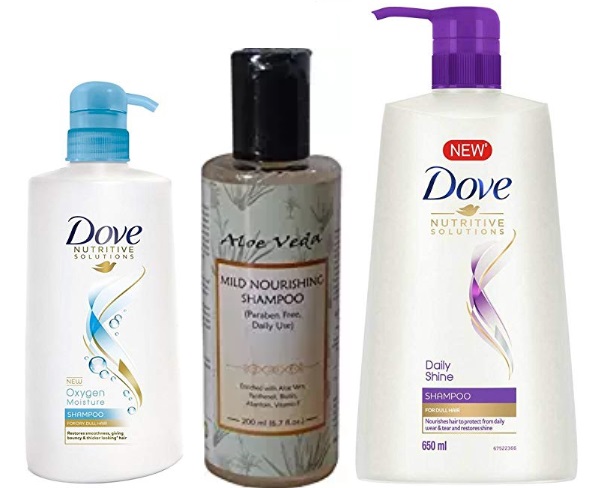 Best Mild Shampoos in India: Mild shampoos are suitable for those who wash their hair every day. We have put together this list about the top rated mild shampoos in India. Most of the popular shampoos contain harmful SLS and parabens thus people seeking organic gentle formulas should take a look at this list. A gentle shampoo helps to remove the excess oils and impurities, but does not make hair strands dry. These cleansers are also suitable for rough and damaged hair. Even when you have got oily hair, using the right mild shampoo daily help you get rid of oil and product residue from your scalp for refreshing bouncy hair. We have mentioned the hair type for which shampoos are suitable, So, please go ahead and check out the details in the next segment about the best gentle shampoos.
Benefits of Using a Good Mild Shampoos for Your Hair
Shampoos come in all shapes and sizes, but today as we mentioned here we're talking about the mild ones. Mild shampoos are like the gentle giants of the haircare world. They're kind to your hair and scalp, and here's why they're worth considering especially when the hair is dry and damaged.
Soft on Your Scalp: Mild shampoos are like a soothing massage for your scalp. Reason being, they clean your hair without being too harsh, which can be helpful if your scalp is sensitive or prone to irritation.
Goodbye, Harsh Chemicals: These shampoos often skip the harsh chemicals and sulfates that can strip your hair of its natural oils. Instead, they use milder ingredients to clean your hair gently.
Shine On: Even though they're gentle, mild shampoos still leave your hair looking shiny and healthy. Moreover, not to forget that they remove dirt and excess oil without overdoing it.
Color-Friendly: If you've got colored hair, mild shampoos are your friends. They help your hair color last longer by being less likely to fade it away.
Everyday Use: You can use mild shampoos every day if you want to, simply because they won't leave your hair feeling dry or brittle, even with daily use.
All Hair Types: Whether you have curly, straight, thick, or thin hair, mild shampoos are usually suitable for all hair types. They're versatile like that.
Less Frizz, More Manageability: These shampoos can help tame frizz and make your hair more manageable. So, if you're having a "bad hair day" kind of day, they can come to the rescue.
Aromatic Bliss: Mild shampoos often come in lovely scents that can turn your shower into a mini spa experience. Who doesn't love hair that smells fantastic?
Gentle for Everyone: Mild shampoos are safe for adults and kids alike. So, if you have a little one with delicate locks, you can trust these shampoos to be gentle on their hair.
Easy to Find: You can find mild shampoos at most stores, from the local pharmacy to fancy salons. They're pretty easy to spot, usually labeled as "gentle" or "mild."
Choosing a Gentle Shampoo: Quick and Easy Guide
Picking the best mild shampoo is like finding the perfect cozy sweater for your hair. It should be gentle, comforting, and make your hair feel good. Here's how to choose one without getting lost in the shampoo aisle:
Read the Label: Start by reading the shampoo bottle. Look for words like "gentle," "mild," or "for sensitive scalp." These hints can lead you to a milder choice.
Check the Ingredients: Look for shampoos that mention being free of harsh stuff like sulfates, parabens, and strong chemicals. A shampoo with fewer chemicals is usually kinder to your hair.
Know Your Hair Type: Consider your hair type. Is it dry, oily, curly, or straight? Some mild shampoos are specially made for certain hair types, so matching them up can work wonders.
Sensitive Scalp: If your scalp is extra sensitive or prone to allergies, seek shampoos labeled as allergen-free or hypoallergenic. These are designed to be super gentle.
Go for Natural Ingredients: Shampoos with natural ingredients like aloe vera, chamomile, or tea tree oil can be milder and soothing for your scalp.
pH-Balanced: Look for shampoos that say they're pH-balanced. This means they won't disrupt the natural pH of your hair and scalp, which can keep them healthy.
Test a Small Bottle First: If you're trying a new mild shampoo, it's a good idea to start with a smaller bottle. This way, you can see how it works for your hair before committing to a big bottle.
Budget Matters: Mild shampoos come in various price ranges. Choose one that fits your budget, as there are mild options available for different price points.
List of Top 15 Best Mild Shampoos in India (2023)
Let's take a look at this list of mild shampoos in India along with their prices and brands.
1. Organic Harvest Daily Shampoo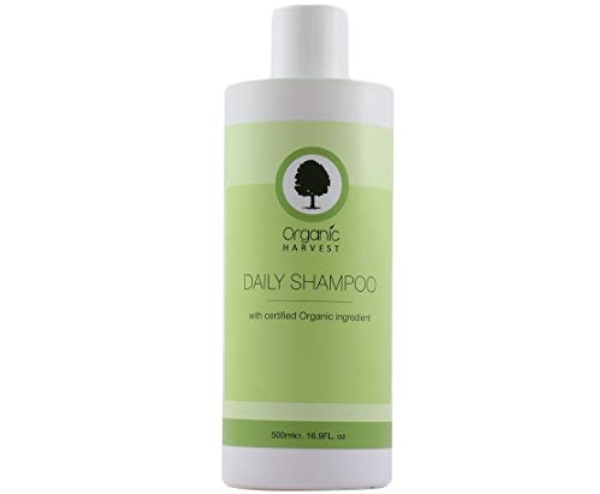 It's a mild shampoo in India for daily use containing certified organic ingredients. It is made for both men and women who can use it on every day basis. The product is suitable for oily hair type with product build up and sebum gunk. As a result of using this shampoo, you get beautiful oil-free hair.  It is one of the best everyday shampoos for thin and fine hair.
Recommended for: All hair types
2. Greenberry Organics Daily Mild Shampoo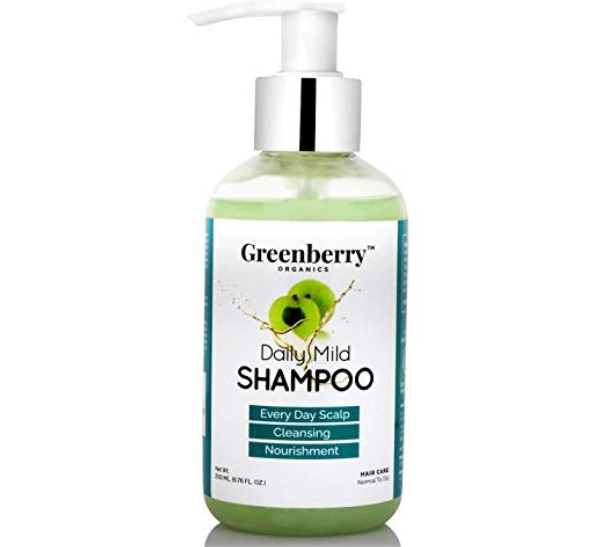 With the goodness of Amla, Rosemary, Bergamot & Citric Acid, the shampoo is perfect to be used on daily basis. Made with the 100% USDA Certified Organic ingredients, it offers gentle cleansing of the scalp and hair. The product contains. It gives sufficient lathers to get rid of the residue and impurities from your hair. Additionally, the formula contains no sulfates or any other harsh detergents, synthetic substances, artificial fragrances, chemical preservatives or toxic ingredients. It's the mild sulfate free shampoo in India.
Recommended for: Normal to oily hair
3. Himalaya Herbals Gentle Daily Care Protein Shampoo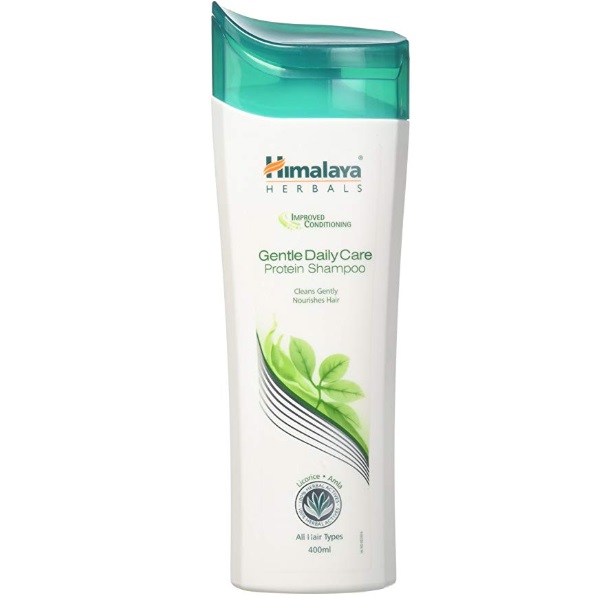 The protein shampoo does not lather as much but is able to cleanse your scalp and hair amazingly. It hydrates the hair roots without weighing them down. The shampoo is suitable for hair fall and combating hair loss. It is a chemical-free formula that is safe for sensitive scalp. Enriched with the extracts of Chickpea, Amla, Black Myrobalan, Eclipta, Licorice, Henna and Beach Almond, it is appropriate for daily application and to combat hair loss. It's the best mild shampoo for hair fall and a unisex product that does not damage the natural keratin of your hair.
Recommended for: All hair types
4. Biotique Bio Kelp Fresh Growth Protein Shampoo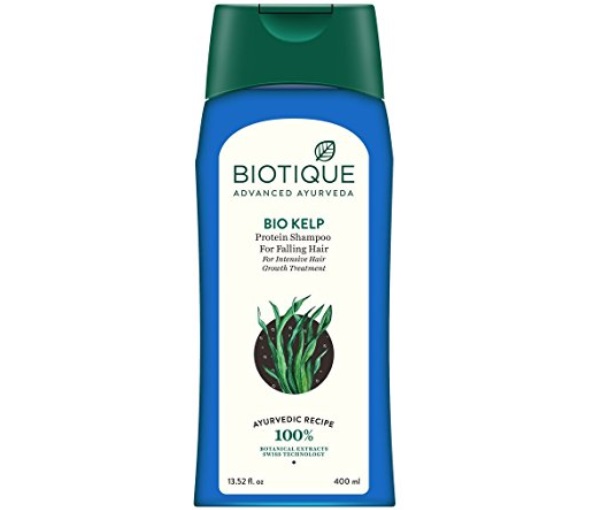 It contains a blend of pure kelp, natural proteins, peppermint oil and mint leaf extracts which is wonderful for hair growth. It mildly clarifies your hair and stimulates the fresh growth. The protein rich formula is safe for everyday use. It is not for very dry hair. The intensive hair growth formula of the shampoo is for thin hair and hair fall. It's the best mild shampoo for oily hair.
5. StBotanica Ultra Nourishing Hair Shampoo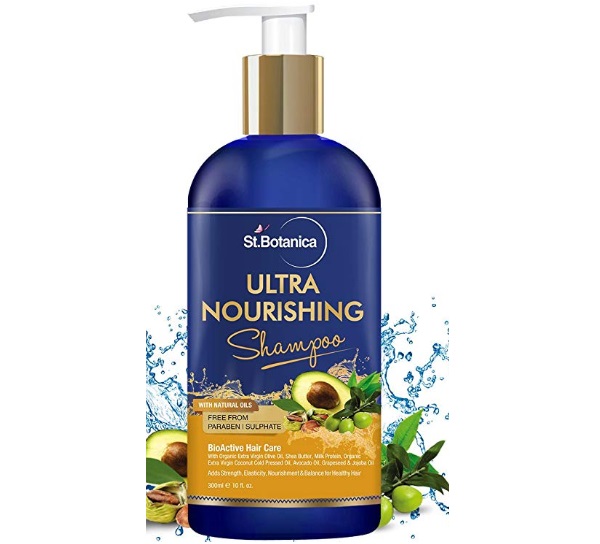 When hair Dryness is your primary concern then try this nourishing shampoo. It contains a powerful blend of Jasmine Oil, Vitamin B5, Aloe Vera Extract, Extra Virgin Olive Oil, Shea Butter, Milk Powder, Extra Virgin Coconut Oil, Avocado Oil, Grapeseed Oil, Neem Leaf Extract, Golden Jojoba Oil.  The list of ingredients is quite impressive and it is a unisex shampoo. It hydrates and balances and gets rid of the residue and product built up nicely. The mild sulfate free shampoo in India gives you full and thicker hair within few applications. And the best thing is that it is paraben, sulphate and mineral oil free and is the best mild shampoo for dry hair fall as well.
Recommended for: Normal to dry hair
6. Sebamed Everyday Shampoo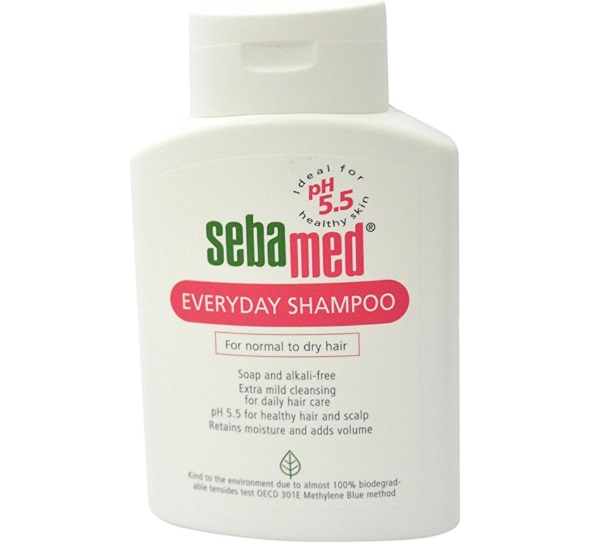 If you have dry to normal hair then this shampoo is perfect. It is soap and alkali free and has extra mild cleansing properties. It has a perfect pH of 5.5 for maintaining healthy and clear scalp. It retains the moisture and volume. Therefore the product is highly recommended and best mild shampoo for dry sensitive scalp.
7. Khadi Mauri Herbals Honey Shampoo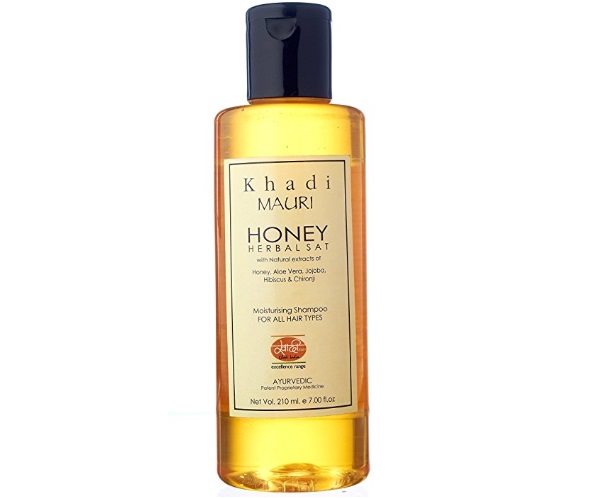 Honey is a mile ingredient that has a moisture retaining properties. This shampoo contains honey Along with aloe vera, mobile, Hibiscus and chironji. With the power of all these ingredients this shampoo is perfect for everyday moisturization of your scalp. It also relieves dandruff and itching and is the best mild shampoo for oily scalp and dry hair.
Recommended for: All hair types
8. Aloe Veda Mild Nourishing Shampoo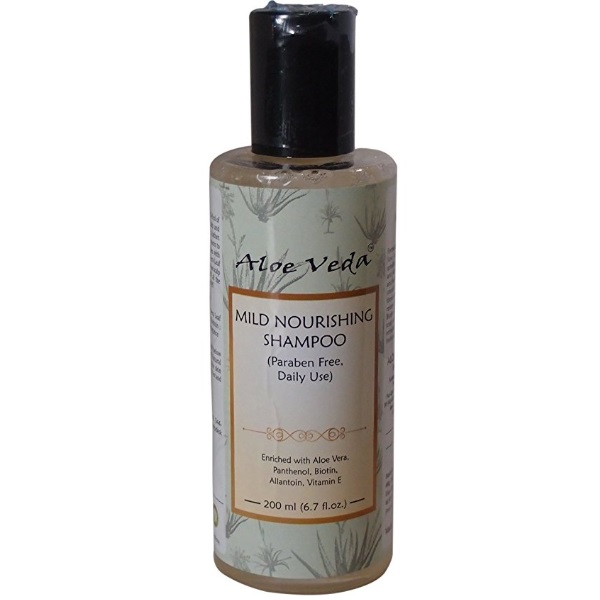 The paraben free and daily use shampoo is enriched with aloe vera, coco-diethanolamide, allantoin, kathon cg, d panthenol, biotin.  To get rid of the hair loss problem, biotin content in the shampoo makes it a perfect choice. Aloe vera gives it gentleness and protect the hair from everyday damage .
9. Dove Daily Shine Shampoo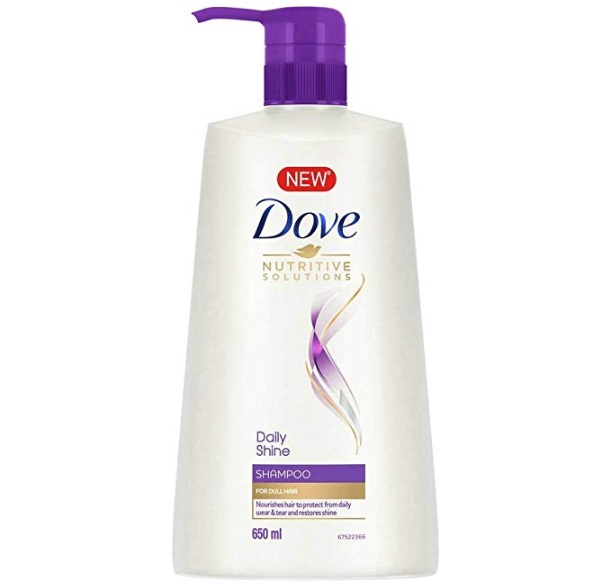 For those looking for daily shine and bounce on the hair, should definitely go for this Dove shampoo. The shampoo gives you notably beautiful hair. It protects your hair from daily wear and tear and pollutants. The nutritive formula fortifies and keeps the hair stronger to fight the damage that you face on every day basis.
Recommended for: Normal hair
10. Dove Oxygen Moisture Shampoo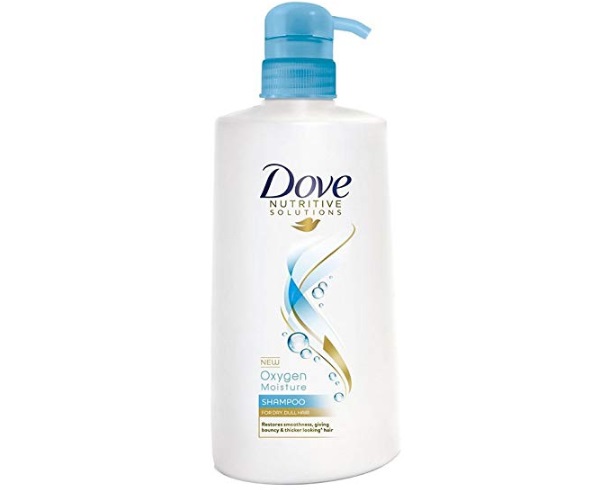 Hair that lacks volume and life should use oxygen rich shampoos. The dove shampoo is rich in oxygen technology that breathes life into your thin, limp and flat looking hair. It claims that it adds volume up to 95%. All it does is to take care of the everyday impurities and residue that we accumulate.
Recommended for: All hair types
11. Biotique Bio Green Apple Fresh Daily Purifying Shampoo and Conditioner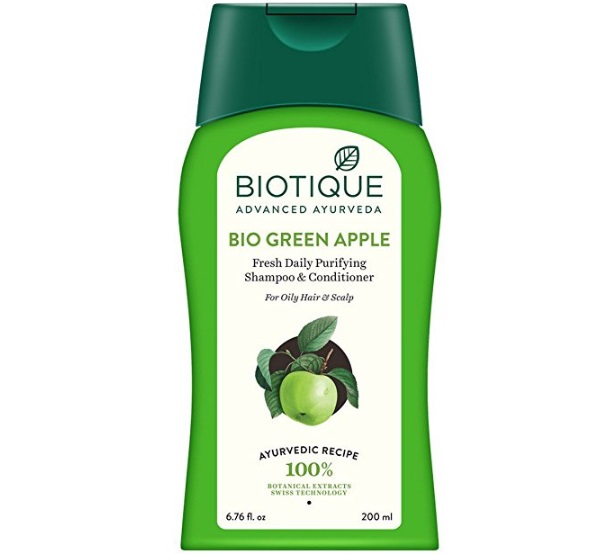 It's a double product that has shampoo and conditioner properties. It removes the sebum from your scalp everyday to get you enough bounce and shine.  Oily hair gets flat and limp as the day passes due to the constant release of oils on your scalp. This shampoo can be used daily to get rid of this problem. It is 100% rich in Botanical extract like Green apples.
Recommended for: Normal to oily hair and scalp
12. Soil and Earth Natural Shampoo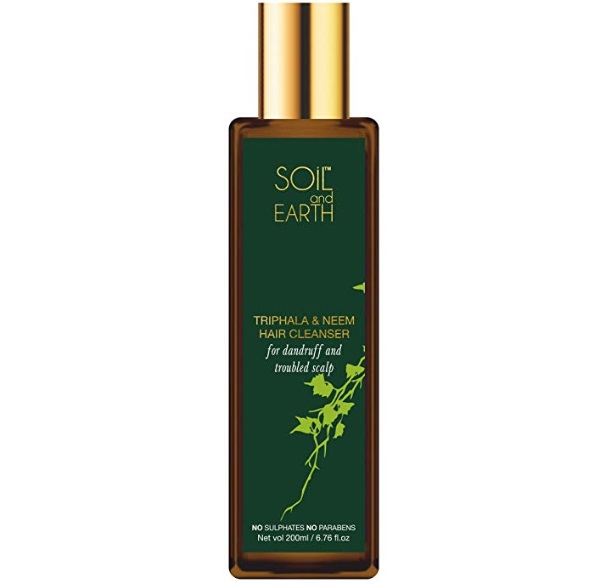 Soil and Earth organic sulphate and paraben free shampoo is a daily cleanser suitable for dandruff and itchy scalp. It comes with Triphala and Neem that cleanses the hair and fights the dandruff infection. It also contains glycerine that soothes and moisturizes the dry itchy scalp. The shampoo has a natural emollients and Sandalwood that hydrate your scalp and decrease is the inflammation.
Recommended for: Dandruff an oily hair
13. Seren Extra Mild Shampoo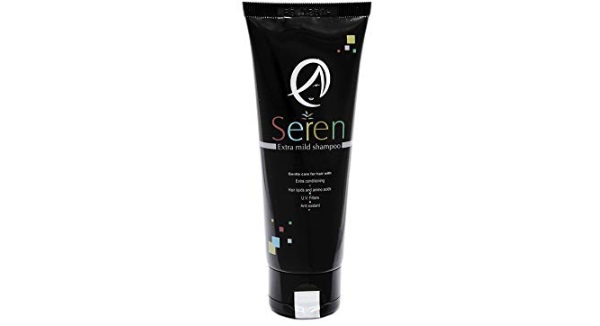 The extra mild shampoo is used when you have sensitive scalp. The shampoo cleanses your scalp gently and moisturizes it. The conditioning formula is suitable for all hair types and makes year brilliantly shiny. It can be applied regularly to get frizz-free and tangle-free hair.
Recommended for: All hair types
14. Ustraa Daily Use Hair Shampoo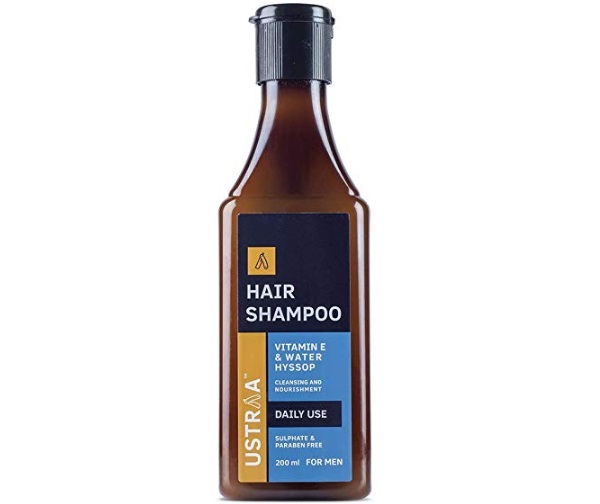 Men mostly shampoo their hair everyday. The daily use shampoo contains no sulphates and is paraben free. It has Vitamin E that helps nourish and strengthen the hair follicles. Water hyssop (Brahmi) checks split ends and it's the best mild shampoo for men.
Recommended for: All hair types
15. Indus Valley Daily Care Shampoo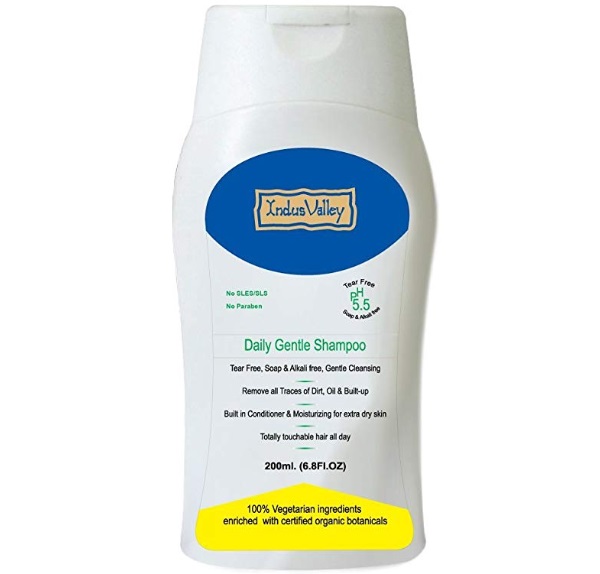 The organic ingredient in this shampoo, make sit daily use product. It an alkali free shampoo that is made to moisturize the extra dry scalp. It gives you touch-ably soft hair and fights dryness. The gentle shampoo has a pH formula of 5.5. It is rich in vegetarian and botanical ingredients.
Recommended for: For extra dry hair
This is our list of the best mild shampoos in India. These shampoos can be used every day and this is why they are gentle and chemical-free. Most importantly, people with oily hair can use them to get fuller and bouncier hair every day. In a nutshell, mild shampoos are the gentle heroes of haircare. They clean without being harsh, work for all hair types, and are generally easy to find. So, next time you're in the shampoo aisle, consider giving a mild shampoo a try. Your hair and scalp might just thank you for the gentle treatment!