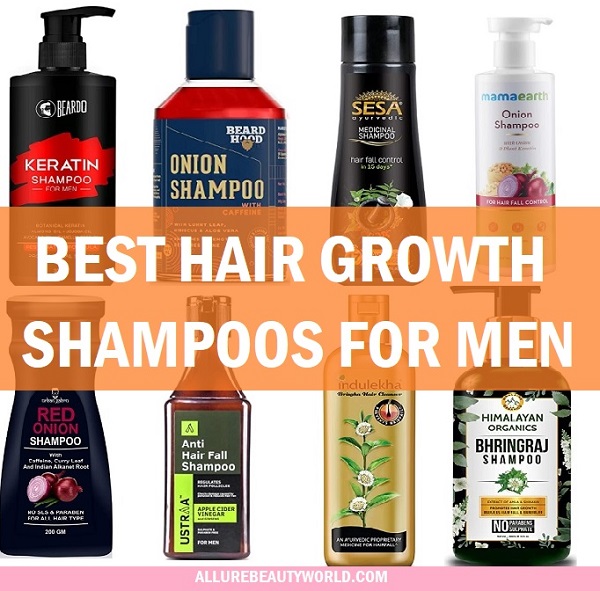 Thicker and fuller hair is a boon and when they get thinner it can become quite stressful. Hair is wall said as the crowning glory and for men this glory is even more important. Thinning hair start to make you look older, to get a solution to accelerate the natural hair growth, markets are flooded with multiple hair growth boosting products. We've listed the best hair growth shampoos for men in the market. Excessive hair fall can reduce the hair density and make the bald patches overtly visible. Male pattern baldness is also associated with the dihydrotestosterone (DHT) hormone in men. In our list of products, we have even shared some of the brands of shampoos which help to combat the DHT hair loss as well.
List of the Best Men's Hair Growth Shampoo in India (2022)
Such shampoos also help to rebuild hair and reduce the environmental damage of the hair strands.
1. Beardo Keratin Shampoo for Hair Growth & Damage Control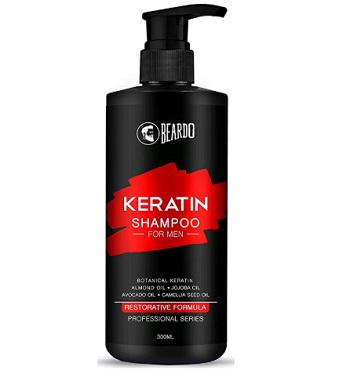 Beardo men's shampoo is made for hair growth and to control the damage. The shampoo is exclusively made for men using the effective botanicals like Keratin Oil, Avocado Oil and almond oil. The effective formulas restore rating formula of the shampoo has to repair the damage and strengthens the weak hair strands. By using it regularly, it also helps to control the frizzy dry strands, giving that extra smoothness and bounce. Use this shampoo two to three times in a week for fast results in initiating hair growth. Keratin is a natural product that helps to control the hair issues by adding a protective layer on the hair. It works for men with all hair types.
2. UrbanGabru Hair Growth Onion Shampoo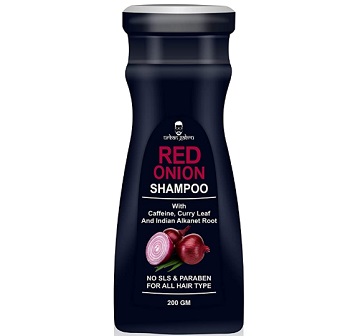 The hair growth shampoo for men is for strengthening the hair with weak roots. Being a natural hair strengthening product, it's a paraben and sulphate free shampoo for men. The product is rich in Indian Alkanet, Onion, Caffeine and Curry Leaf extract. These ingredients are well known to promote growth and reducing hair fall. Onion, being rich in sulphur boosts the blood circulation of the scalp promoting new hair follicles from the roots. It also washes away the excessive oils and dirt, which can make the hair look dull.  It's the best men's shampoo for hair growth at very reasonable prices.
3. Ustraa Anti Hair Fall with Apple Cider Vinegar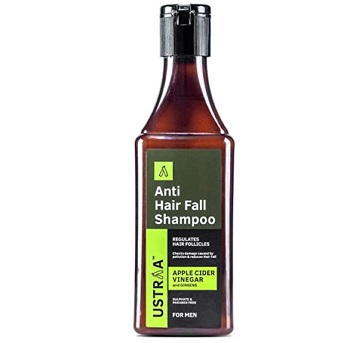 For curbing the excessive hair fall, shampoo made with hair fall control ingredients really help. Ustraa hair fall control shampoo is loaded with Apple Cider Vinegar. It is acidic in nature, which is known to make the hair shinier and lustrous. It gives life to the dry and dull hair.  It also contains Indian ginseng which is known to prevent the hair loss and strengthens the week and fragile hair. The shampoo is also paraben and sulphate-free shampoo for men, is available at very reasonable prices online.
4. Beardhood Onion Shampoo For Hair Growth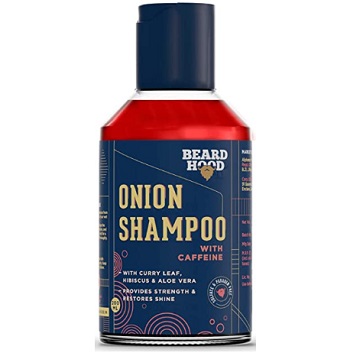 When hair growth is on your mind, then onion as a key ingredient should be looked for in a shampoo. This onion shampoo for men, is great for expecting hair growth and hair fall control. Beardhood men's shampoo contains Red Onion extract along with Curry Leaf, Hibiscus and Aloe vera, all known to increase and enhance the hair growth naturally. It gives you benefits in case of solving different hair related problems. When you'd like to make your hair beautiful, this would definitely help. The men's shampoo for hair growth fights the dirt and dryness and also reverses the heat damage. As it also nourishes the dry and dull hair follicles, it targets the main cause of men's hair loss, due to DHT hormone. Trying the shampoo 2-3 times a week or even every day, makes hair thicker and initiates hair growth. The product is also silicone, paraben, sulphate and mineral oil-free.
5. Indulekha Bringha Anti Hair Fall Hair Cleanser Shampoo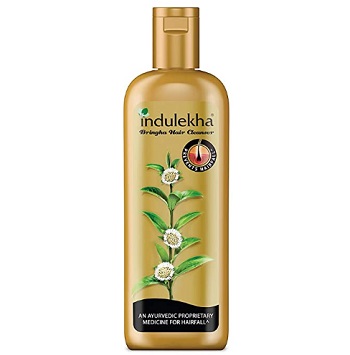 Indulekha Bringha hair oil is extremely popular and so does this anti hair fall shampoo. It contains the natural extracts of Bringha plant, known for its anti-hair fall properties. Because of this, the shampoo controls the rate at which hair fall due to breakage. This Ayurvedic  formulation is made to reduce the hair fall and encourages the hair follicle growth. Use it Three times in a week and is suitable for men as well.
6. Sesa Ayurvedic Medicinal Shampoo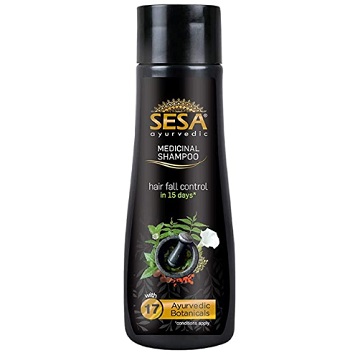 The shampoo is a medicinal and Ayurvedic shampoo that not just controls excessive hair fall, but with its herbal extracts, the product initiates and promotes the hair growth. It's made with the natural goodness of 17 Ayurvedic ingredients that restore the lost texture and smoothness. The product is chemical product and safe for men and women both.  Other than promoting the natural hair growth, it also combats the dandruff and itchy scalp condition.
7. Himalayan Organics Bhringraj Shampoo for Hair Growth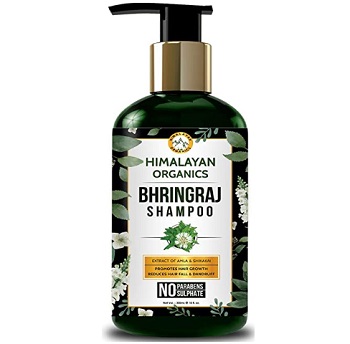 Made with Ayurvedic Herbs, like Bhringaj, well known for amplifying the growth of hair. This bhringraj shampoo has paraben and sulphate free formula. It has extracts of Amla and Shikakai as well that accelerates the hair thickening. It also fights the dandruff and hair fall issues. The product comes in a very easy to use pump packaging. The deeply conditioning formula, packed with nutrients and conditioning properties. While nourishing the dull hair strands, it makes them shinier and safeguards the hair follicles.
8. Mamaearth Onion Hair Fall Shampoo for Hair Growth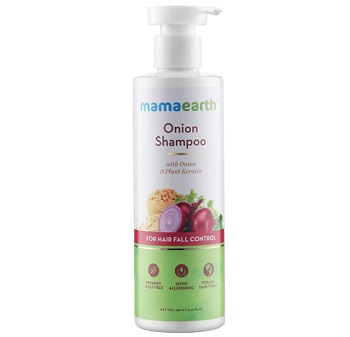 When we say hair growth shampoos, Onion is one such ingredient, which is exclusively used in all such hair growth and thickening products. Hair growth products have ingredients like onions, Bhringraj, bound to make your hair grow faster and thicker. Like in this shampoo, Onion oil is a key ingredient. It stimulates the scalp and reinforces the blood circulation and elevates the hair density. Additionally, it also contains natural plant keratin that strengthens the hair and makes them frizz-free.  Even while you have coloured/dyed hair, the shampoo is safe. Free of parabens, Mineral oil, sulphates and silicones, this shampoo is safe for sensitive scalp.
9. Oriental Botanics Red Onion Hair Shampoo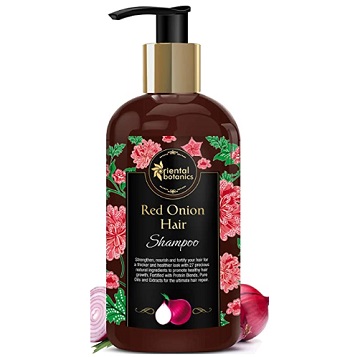 This shampoo contains Onion oil, Caffeine and other plant proteins that help to control hair loss and supports the healthy hair lengthening. It fortifies the hair and makes them thicker and fuller. With the protein blend, It's a product that ultimately repairs the hair. Product is price reasonably and gives the complete hair protection. With the high antioxidants, it helps fight against damage and reduces the hair fall. It also contains ingredients like Aloe vera, Rosemary, Fenugreek and more. It is a sulphate and paraben free shampoo loaded with active hair density encouraging elements.
10. WOW Red Onion Black Seed Oil Shampoo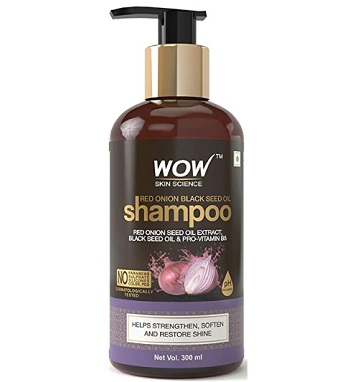 Wow onion shampoo also contains Black seed with Red onion. Black seed and Red Onion, both are known for men's hair growth properties. It strengthens the hair and when the hair gets weak from the roots, it makes them stronger. The shampoo revives the tired scalp and hair. The red onion shampoo also helps to improve the circulation of the blood. It is ideal for men and women, who are experiencing hair loss or would like to initiate hair growth. Lacking the paraben, sulphate or silicones, it won't harm the hair in anyways.
These are the best hair growth shampoos for men available in India at pretty affordable and reasonable prices. The shampoos are available easily at some discount. You can buy it online and make sure that the shampoo that you are choosing should suit your hair condition.
Hair specialists recommend using appropriate shampoos, which can help hair growth. To encourage the hair growth you must also take good diet.
Take diet rich in proteins like lean meats, leafy greens, nuts, beans, and fish. Good fats like those found in nuts, flaxseed and avocado are also suitable for hair thickening. Also take multiple vitamins like vitamin A, Vitamin C, Iron and Vitamin B complex.