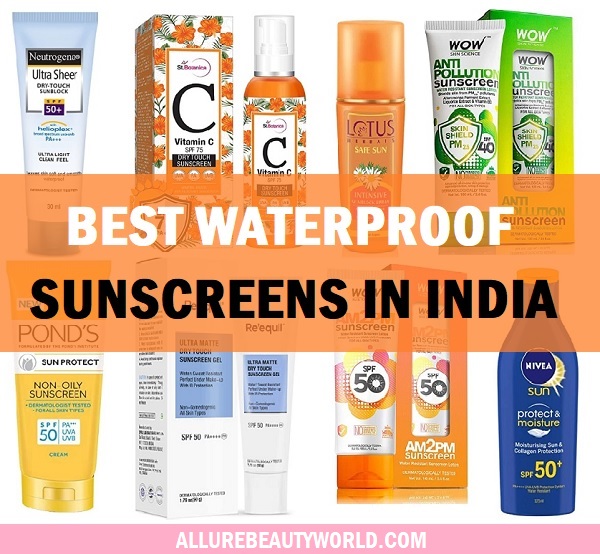 Sun rays help your skin to make enough of the Vitamin D, but it can also make your skin look dark, patchy and even age prematurely. Not to forget the chances of skin cancer that becomes high when not using any sunblock at all. Swimmers or people who sweat heavily, definitely need sunblock lotions which are waterproof in nature. Here are the best water resistant sunscreens in Indian market. Water proof nature of sunscreen helps them to stay a lot longer and does not get washed off even while you swim or indulge in outdoor sports activities.
Waterproof sunscreens are specially formulated sunblock products designed to provide long-lasting protection against the harmful effects of ultraviolet (UV) radiation from the sun, even when they come into contact with water. They are ideal for activities such as swimming, water sports, or any situation where you're likely to be exposed to water or sweat.
Key characteristics of waterproof sunscreens include:
Water Resistance: Waterproof sunscreens are formulated to resist being washed away by water. They provide a degree of protection even when you're swimming or sweating.
Broad-Spectrum Protection: They typically offer broad-spectrum protection, meaning they shield the skin from both UVA and UVB rays. UVA rays can prematurely age the skin, while UVB rays can cause sunburn.
SPF Rating: Waterproof sunscreens come in a range of SPF (Sun Protection Factor) ratings. The SPF indicates the level of protection against UVB rays. Higher SPF values indicate higher levels of protection.
Application Instructions: It's important to follow the application instructions on the product label. Most waterproof sunscreens need to be applied to dry skin about 15-30 minutes before sun exposure to allow them to properly bond to the skin.
Reapplication: Even waterproof sunscreens have limits to their water resistance, so it's essential to reapply them after swimming, sweating, or towel drying. The frequency of reapplication will vary by product, so check the label for guidance.
Active Ingredients: Common active ingredients in waterproof sunscreens include zinc oxide, titanium dioxide, avobenzone, octisalate, and octocrylene. These ingredients provide protection against UV radiation.
Skin Type Compatibility: Some waterproof sunscreens are formulated for sensitive skin or specific skin types, so consider your skin's needs when choosing a product.
Hypoallergenic Options: If you have sensitive skin or allergies, look for hypoallergenic waterproof sunscreens, which are less likely to cause skin irritation.
Resistant to Rubbing: Waterproof sunscreens are often designed to resist rubbing off, which can occur when you towel-dry your skin after swimming.
List of The Best Water Poof Sunscreen Lotions In India for (2023)
While choosing the best sunscreen for your skin type, you must also keep in mind the ingredients listed. Let's check these waterproof sunscreens for swimming in India.
1. Neutrogena Ultra Sheer Dry Touch Sunblock SPF 50+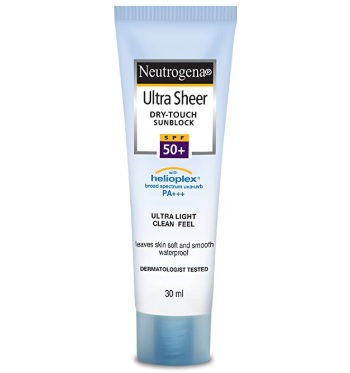 The dry touch sunblock has very ultralight feel so that when you apply it, it blends right away without the heavy or sticky finish. The daily use sunscreen lotion comes with broad spectrum UVA/UVB shield technology that protect from majority of the sun rays and radiations. It has SPF 50 + and it is one of the best sunscreen lotions for all the skin types, especially when your skin is extremely oily during the hot and humid summer season. It is an oil-free and non-comedogenic sun protective lotion. It is one of the best waterproof sunscreen lotions as well.
2. POND'S SPF 50 Sun Protect Non-Oily Sunscreen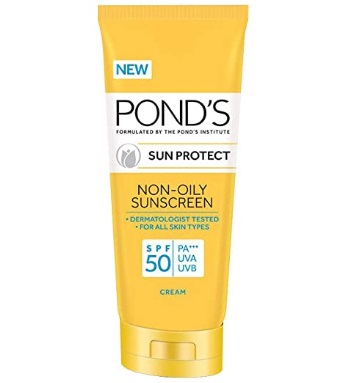 Pond's sunscreen is made for oily and greasy skin type. It is a dermatologically tested product with SPF 50 in it. The light weight and non-greasy or sticky formula, helps to safeguard the skin from the skin problems that is caused due to sun exposure. When uneven skin tone dark patches, dark circles, dark spots and redness are your skin related issues, then the sunscreen lotion can be really effective for you. It is suitable for all skin types and even men and women both can try it. The hypoallergenic and dermatologist tested product is safe for sensitive skin and with a non-comedogenic formula, it does not block the skin pores therefore, even when you have acne prone skin one can try it.
3. RE' EQUIL Ultra Matte Dry Touch Sunscreen Gel SPF 50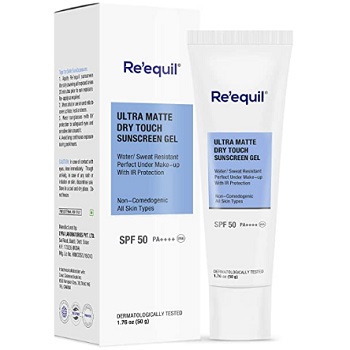 The waterproof sunscreen lotion is dry touch; this means, it has the oil-free and light formula which is perfect for all skin types but best for oily and sticky skin. It is a formula that easily blends into your skin and does not leave the horrible looking white cast behind. It has the highest UV protection with SPF 50. It is a water and sweat resistant sunscreen lotion that makes it perfect sunscreen for swimmers, sports people and even cricketers. It has an oil-free formula and a water-resistant formula because of that this gel sunscreen lotion can also be applied under the makeup. The oily skin sunblock is an oxybenzone free sunscreen with physical filters with zinc oxide and titanium oxide.
4. StBotanica Vitamin C SPF 75 Dry Touch Sunscreen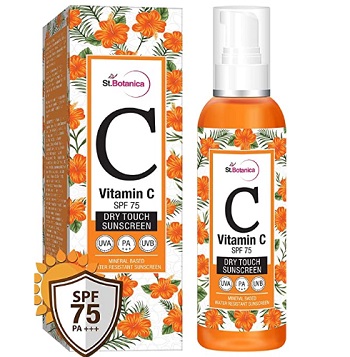 The vitamin C loaded waterproof sunscreen has SPF 75 and it's a mineral based and water resistance formula, this is one of the best sunscreen for all skin types. When you have oily skin, it will work really like a charm. Vitamin C helps to improve the skin texture and reduces any dark spots. It absorbs rapidly in the skin layers and leaves the skin soft and silky. As it has a non-greasy and dry touch matte finish, it helps to shield the skin without giving greasy look or sticky feeling. It contains organic cold pressed oils and plant butters, which doesn't block the pores; however it helps to fight the dark spots and pigmentation on the skin.
5. WOW AM2PM Water Resistant SPF 50 Sunscreen Lotion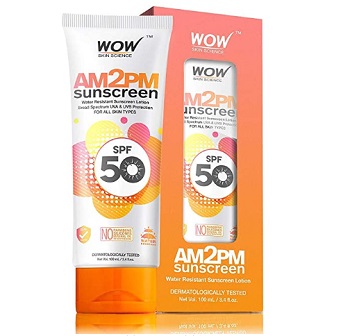 This morning to evening sunscreen lotion is one of the best waterproof sunscreens that has broad spectrum UVA and UVB protection. It has SPF 50 and is suitable for all skin types. The organic sunscreen does not contain parabens, silicon, benzophenone or mineral oil. It is a dermatologically tested product, which is waterproof as well. This sunscreen can be applied by people of all skin types and because of its water resistant formula it gives a long lasting protection. It's good for swimming too and for heavy sweating conditions.
6. Nivea Sun Moisturising Lotion SPF 50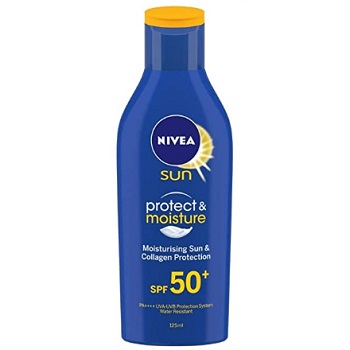 The Nivea sunscreen lotion is also a moisturizing lotion with SPF 50. It has the moisturising and collagen rich formula for extra protection. It is one of the best waterproof sunscreen for dry skin and combination skin. It is a face and body sunscreen lotion, but for body it works the best. Apply the sunscreen lotion before going out of the home at least 20 minutes. Re-apply whenever you need.
7. Lotus Herbals Safe Sun Intensive Sunblock Spray SPF 50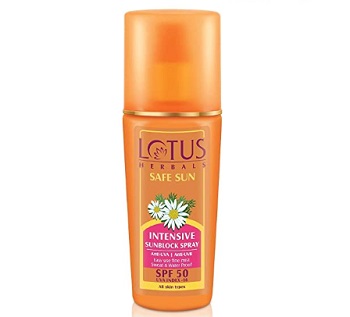 The spray sunscreen lotion is good for your face and such formulations are easy to apply without even touching your face. This sunscreen is sweat and waterproof, with SPF 50 and broad spectrum protection. The intensive sunblock spray has easy-to-use fine mist formula which can be applied conveniently. To apply it is really hassle-free and its light weight formula is quite fast absorbing. This is one of the best herbal spray waterproof sunscreen lotions for the face in India for all skin types.  It's also a chamomile based sunscreen, which is soothing when you have sensitive skin. It can be applied on the body parts as well.
8. WOW Anti Pollution SPF40 Water Sunscreen Lotion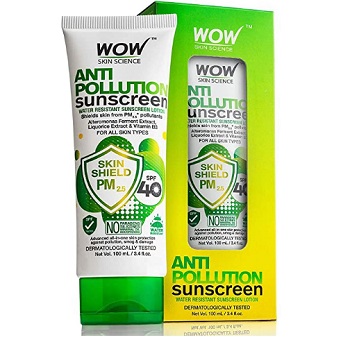 The anti pollution sunscreen lotion is for all skin types, but it works better for dry to normal skin. Because of its formula, being a bit sticky in nature, it's better for the dry skin types. As it's an anti pollution sunscreen lotion with waterproof formula, it does not strip down even when the hot and humid season makes you sweat more. It has liquorice extract along with vitamin B3. With SPF 40, it also shields the skin of PM 2.5. With no parabens and silicones, the dermatologically tested sunscreen lotion is wonderful and affordable. When you roam around in pollution, smog and dusty environment, your skin goes through a lot of everyday wear and tear and damage.
In such situations, sunscreens like this can be really effective. It does not get inside quickly but needs a little bit of massaging because of it's pretty moisturizing formula.
9. Ustraa Sports Sunscreen SPF 50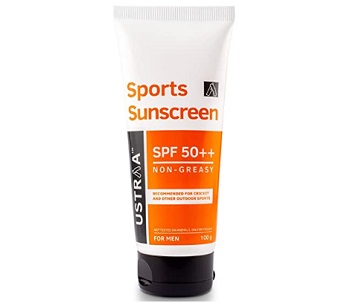 The Sports sunscreen lotion has SPF 50 and is recommended for sports activity and other outdoor sports. As it's not tested on animals, this is one of the best men's skincare brands, which is cruelty free. The daily use sunscreen product is very lightweight and yet is able to give you good amount of protection. It protects your skin from the harmful sun rays with zinc as one of the physical sunscreen protector in it. The natural sunblocker stays on the skin for long and making it work effectively as aprotective shield. It does not get washed away even when you sweat while playing your favourite outdoor Sports. Being free of SLS and paraben, it's one of the best sunscreen lotions for men.
10. Lotus Herbals Safe Sun Sports Pro-Defence Sunblock SPF 100+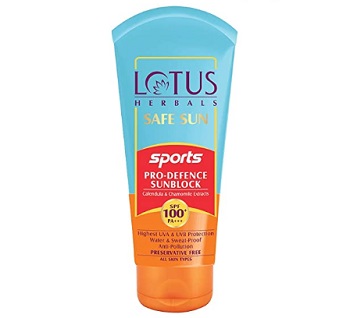 This sunscreen from Lotus Herbals is also a sun sports protection Sun sunblock with SPF 100. It has calendula and chamomile extracts, which help to soothe the skin under hot sun and humid season. With high sun protection factor of SPF 100, it's one of the highest UVA/UVB protection available at affordable prices. It is water and sweat-proof and also has anti-pollution feature. Free of paraben, it is one of the best high SPF waterproof sunscreens in India.
11. Man Arden Sunblock Sport Sunscreen SPF 50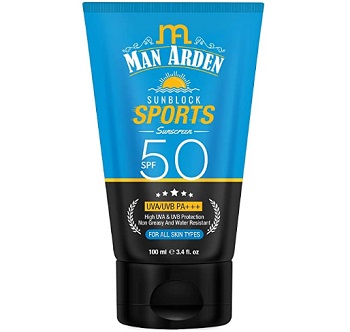 Man Arden sunblock sports sunscreen contains SPF 50. Being non-greasy and waterproof, it gets applied easily on the skin. It is suitable for all skin types. Apply it on your face and body on the exposed body parts to shield them from the harmful radiations. It is rich in antioxidants rich Botanical extracts for advanced skin care and protection. It is a mineral based sunscreen which is gentle on skin and free from the harmful chemicals.
12. Brinton Face & Body Sunscreen Gel SPF 50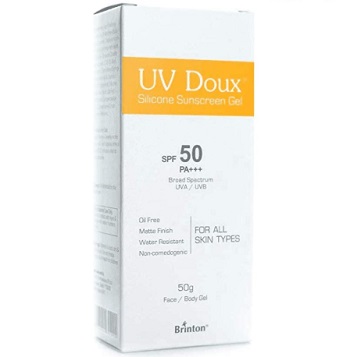 The water resistant sunscreen is for face and body sunscreen with SPF 50 and matte finish. With an oil-free and non-comedogenic formula, it is one of the best water resistant sunscreen lotions for all skin types. But for acne prone skin, it's amazing.  It comes with oil-controlling properties, it makes sure that it acts a protective film over the skin. It contains physical radiation blockers like zinc oxide and Titanium dioxide.
13. Organic Harvest Sunscreen SPF 60 For Oily Skin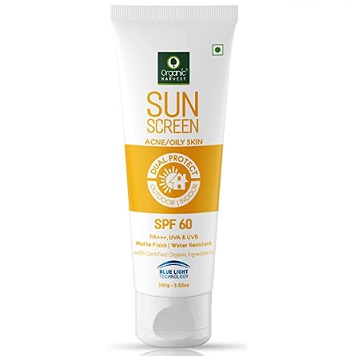 The water poof herbal sunscreen lotion has SPF 60 and is for oily skin types. The water proof and sweat resistant sunscreen has certified organic ingredients. Because of the blue light technology and mild formula, it feels light on the skin. The matte nature of the sunscreen does not make your skin appear greasy or sticky after you apply it. It also keeps skin hydrated, while protecting the skin from the radiations and UV rays.
14. Greenberry Organics SPF 40+ Sunscreen Spray Lotion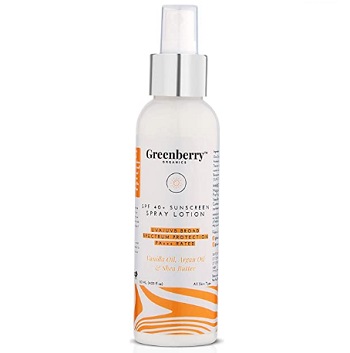 With SPF 40, it is also a sunscreen spray that protects with just a spray. Being water-resistance, it's ideal for swimming and even for sweat proof conditions like when you go for outdoor sports. It gives protection for up to 6 hours after which you can re-apply it. It contains natural ingredients that are certified and does not cause any harm to the skin. It works for oily acne prone and even sensitive skin types. This is one of the best natural and organic sunscreen lotions that do not have the harsh chemicals or ingredients which can disturb the skin layers.
15. IPCA Acne-UV Oil Free Gel SPF 30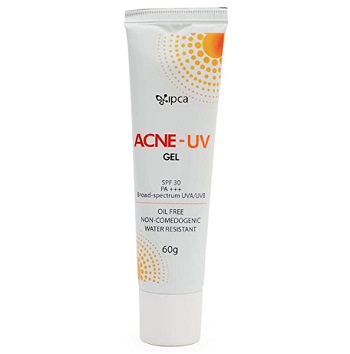 The water resistant sunscreen is an oil-free with SPF 30. Having a broad spectrum formula, it's non-comedogenic and waterproof. The SPF 30 sunscreen is suitable for everyday use and is a good sunscreen gel for oily and acne prone skin. It is not have the harmful Chemicals and is one of the best rated sunscreens that soothes, even the oily and acne prone skin. So, when all the reputed brands of sunscreens break you out, then this dermatologically tested and suggested product would surely work for you.
These are the best waterproof sunscreen lotions available in the Indian market. Some of these are from the popular brands, while some are from the not so popular brands and some of them are also dermatologically suggested or recommended products. Like the last one that we have mentioned is a dermatologically recommended sunscreen for Acne prone skin that does not cause breakouts.
Remember that while waterproof sunscreens offer protection in water, no sunscreen is truly waterproof, and their effectiveness decreases over time, especially when exposed to water. It's crucial to reapply them as directed and limit sun exposure during peak hours (10 a.m. to 4 p.m.) to reduce the risk of sunburn and skin damage. Additionally, consider wearing protective clothing, such as rash guards, wide-brimmed hats, and sunglasses, for added sun protection.