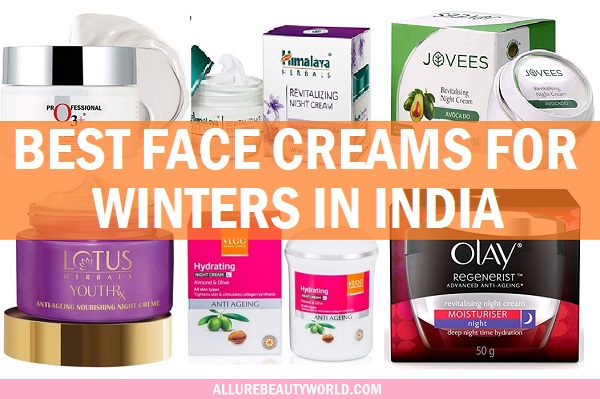 Night cream should be there in everyone's skin care routine. Because you not just get good healthy skin you also get beautiful glow on the face. Night cream is an excellent product to repair your skin because of the environmental factors, sun tan, ageing and even the dryness during winters. Winters can be quite harsh on the skin especially, when it's dry and sensitive. It can also cause skin issues like pigmentation, blotchiness, dryness and roughness. To deal with all that you can try using the winter night creams. So this is the topic of today's post on Allurebeautyworld, the best winter night creams in India.
Benefits of using Night Creams
While you get busy doing your daily cores your skin goes through a lot. So, night creams give you that essential moisture that protects your skin from the wear and tear and aging. It's like a rest for your skin to overcome the everyday fatigue and environmental damage. Your body not just rest during the night time but your skin also rejuvenates and repairs itself. And this simple fact applies to all skin types. In this list we have compiled the best winter night creams for different skin types in India.
Best Night Creams For Winter Season Skin Dryness in India
List of best night creams for winters season with reviews
1. Himalaya Herbals Revitalizing Night Cream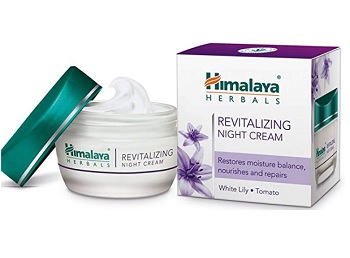 Himalaya night cream is one of the best for normal to dry skin. The reason is its ingredients, which are impressive enough to give you bright and glowing skin overnight. It works wonders on sunburnt and damaged skin. As the product also heals the dark patches, it cures the dryness effectively. So, overall your skin glows and shines. Additionally, the cream also improves the elasticity of your skin so even if you are in your mid thirties you can try using this cream.
2. Lotus Herbals YouthRx Anti Ageing Nourishing Night Crème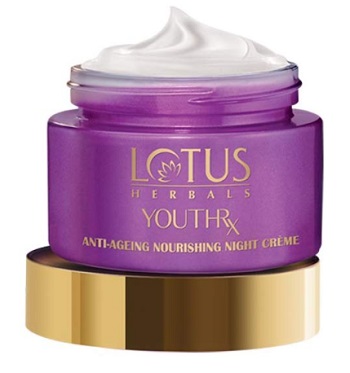 Lotus Herbals anti aging cream is a nourishing night cream suitable for people over 30 years of age with normal to dry skin. The cream also works for sensitive skin because of its dermatologically approved and tested formula. As it reduces the fine lines and wrinkles, it reveals plump, smooth and firm skin. With ginseng as a natural component in the cream it is one of the best anti aging night creams in India for dry skin.
3. VLCC Hydrating Anti Ageing Night Cream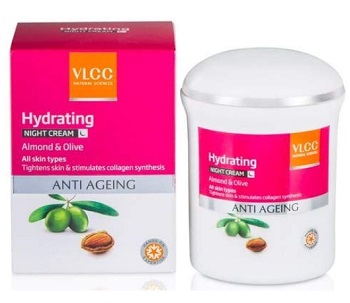 VLCC night cream is suitable for all skin types and is majorly a cream to stimulate collagen synthesis. It is rich in almond oil and Vitamin E that works excellently to give good moisture to the parched skin. So if you have oily to combination skin it can be used during winter season but not for the summers, as it can be slightly sticky during humid weather.
4. Oriflame Love Nature Night Cream Wild Rose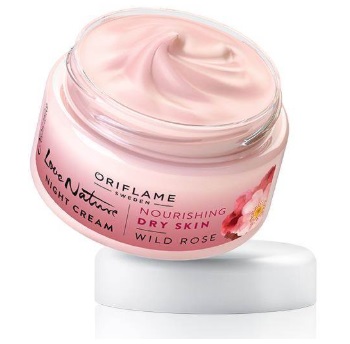 Oriflame night cream wild rose is the best cream for treating rough and dry skin in all the seasons. The cream is rich in texture and is very creamy. It blends well on the skin layer and there is no sticky, greasy layer or glossy experience post application. It can be applied every night during winter season to smoothen the skin. It's suitable for dry to normal skin and is the best night cream in budget. People in their 20s can start using this.
5. Olay Regenerist Advanced Anti-Ageing Revitalizing Night Skin Cream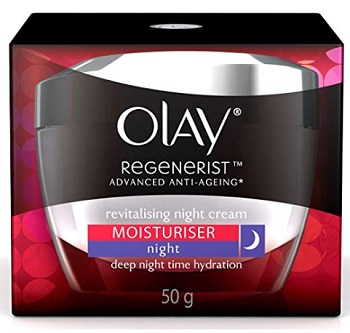 Only Regenerist anti aging night cream is one of the best anti wrinkle creams in India for people in mid thirties and over. So, even if you are in their forties and over, you can try this cream for age control. It reduces lines and wrinkles around your mouth, forehead, near the eyes and more. The cream helps to regenerate skin cells which make the skin to glow and get plump day by day. The product is bit heavy on the pocket, but if you can afford it, then why not it is definitely amongst the best winter anti aging night creams in India for dry to combination skin.
6. Jovees Avocado Revitalising Night Cream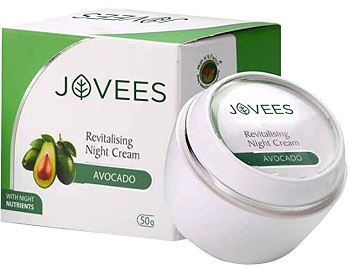 Jovees avocado night cream is made for normal to dry skin and the sole purpose of the cream is to keep the skin supple and smooth. It is not a skin whitening or anti aging cream but just the night cream to provide immense moisture. So it can be applied during the entire year when you have very rough and itchy skin.
7. O3+ Night Repair Cream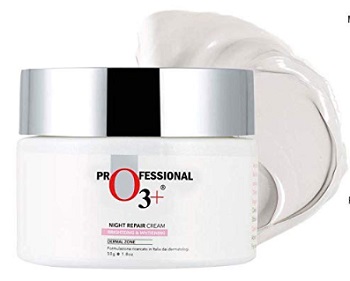 O3+ Night Repair Cream is one of the best night creams in India, when it comes to repairing dull and damaged skin. After receiving good ratings from the people who've used, it has become the most favorite night cream for normal to dry skin. It gives you multiple benefits like repairing skin, reducing dullness, lightening pigmentation and giving skin plump and younger look. While it tackles the problem of dullness, it dries quickly. But please note it's not a night cream for oily to acne prone skin.
8. Oshea Phytonight Night Cream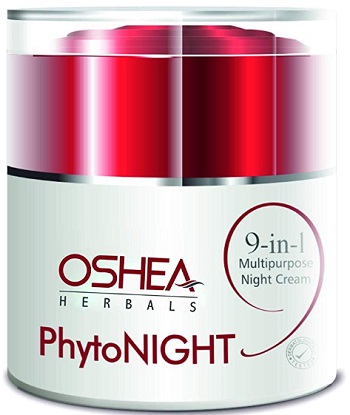 We totally love this cream for its lightweight texture that blends like a dream on your skin. It's a 9 in 1 multipurpose cream. Now you must be asking what's that? The night cream hydrates the skin, minimizes the pores, reduces lines and wrinkles and brightens the dull dark skin. It also inhibits the excessive melanin formation for bright skin tone. Blended with natural actives and multiple vitamins from the plant derivatives, the cream is suitable for all skin types. As it lacks the moisture  bit, it may not be the best cream for winter for dry skin but definitely the best night cream for oily to normal skin for winters in India.
9. The Body Shop Aloe Vera Soothing Night Cream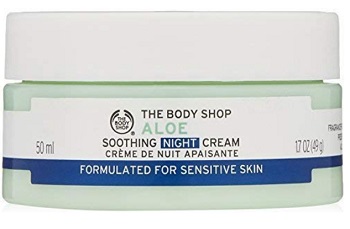 During the winters when your skin is dry and rough, you need the moisturizing products. Considering that The Body Shop aloe vera night cream is the best for winter dry skin. It contains the aloe vera extract that miraculously transform your skin to make it beautiful and healthy.  For dry skin, the cream gives relief in itchiness and dry patches.
10. Biotique Bio Wheat Germ FIRMING FACE and BODY NIGHT CREAM For Normal To Dry Skin
The next product is not just a face cream but also a body cream for normal to dry skin. It has pure wheat germ extracts loaded with sunflower, almond oil and carrot extracts. These amazing components make this cream highly nourishing for rough dry winter skin. The firming cream reduces the wrinkles with time but make sure you apply it regularly.
These are the best night creams for winters in India which men and women both can apply depending on their specific skin type. Also make sure that, it doesn't matter, if it's winter season and you are loving the sun rays on your skin, yet you need to put sunscreen to reduce the induced damage.
Let me also tell you a quick face mask recipe that will transform your dry skin into beautiful glowing shining star. Take 2 spoons of honey and add 2 spoons of oatmeal powder. Mix them up and apply on your face and body too. Keep it for at least 30 minutes and then wash off. You will amazed by the wonderful results it will give you in making your skin glowing during winters.