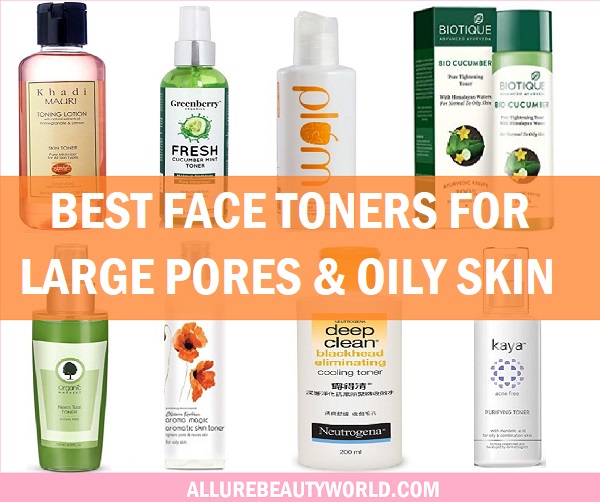 Skin toners come with multiple benefits and not using them can be a beauty mistake that you're making. A good skin toner maintains healthy pH balance and to get rid of the traces of makeup residue, dead cells and dirt. We have put together this list of the best 10 toners for oily skin to cure your large pores as well. Using facial skin toner can help you not just get rid of the excessive oils but your open pores also gets shrunk. These toning products also help to clear the pores and to regulate the old balance. During warm weather, use of toner should be a regular habit. During hot and humid weather, your skin secretes more sebum and accumulates more dirt on the surface. Let's check which are the best pore minimizing products for oily skin with large pores? We'll also tell you how and when you can apply toners. Read about the best face washes for oily skin
Top Best Toners for Oily Skin and Large Pores in India: (2022)
1. Khadi Mauri Cleansing and Toning Lotion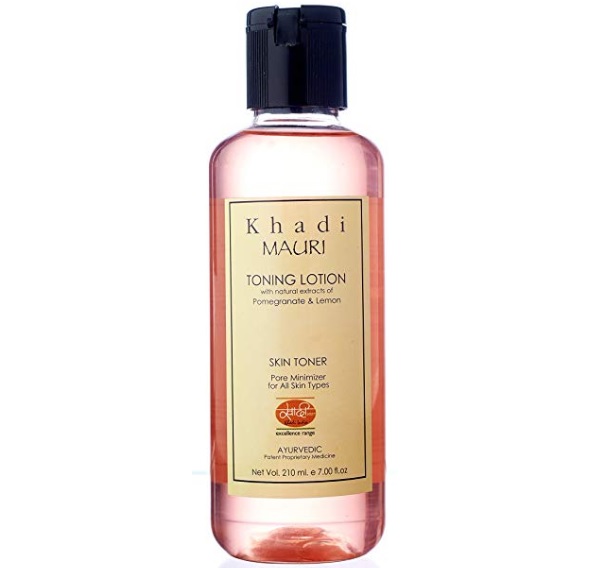 With the presence of pomegranate and lemon extracts, this herbal Ayurvedic formula is used for minimizing your open pores. It's perfect skin toner formulated for oily and acne prone skin. The product is paraben, sulphate free and has a gentle formula. It's alcohol-free that do not strip the natural lubricating oils from your skin surface rather moisturizes it. Pomegranate extract also lightens the dark spots. It helps to balance pH of your skin so that it stays dewy but does not look oily.
2. Greenberry Organics Fresh Cucumber Mint Toner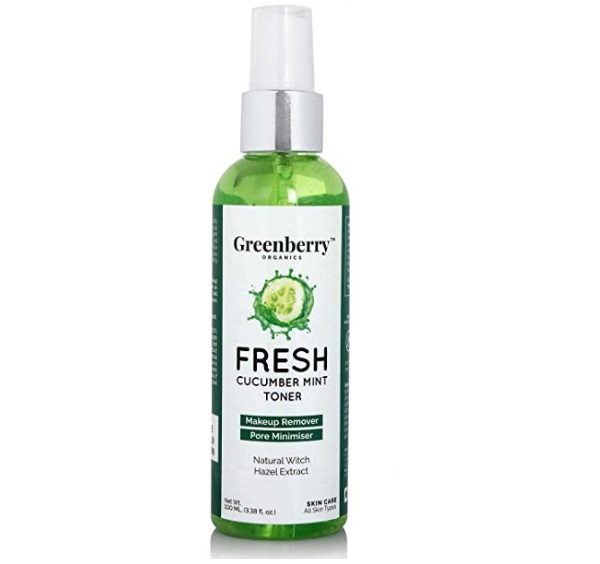 The organic toner for oily skin is rich in which Hazel extracts. Along with cucumber and mint, this combination works the best to minimize the pores. It shrinks them so that there is no room for dirt in oils to block your pores. It keeps your skin radiant and also works as a makeup remover.
How to use: As it comes in a spray pump packaging, you can spray it directly on your face and wipe off using clean cotton balls.
3. Lakme Absolute Pore Fix Toner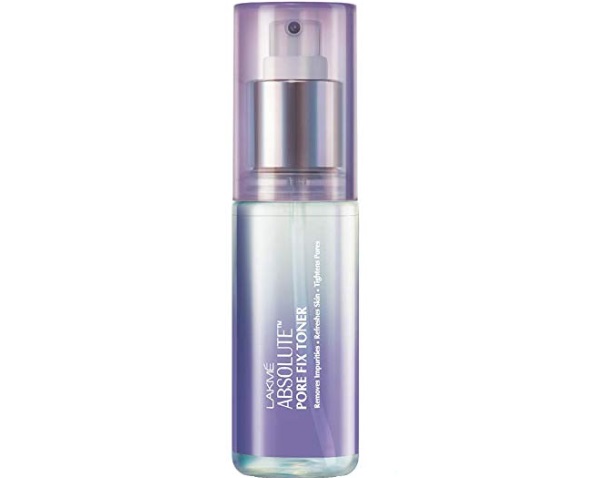 When you have open pores as a beauty issue, then do try this Pore fixing toner from Lakme Absolute range. It tightens the pores and gives your skin fresh look. The alcohol-free product removes the excess oils from your skin, making it clear and even toned. It also helps remove the residue of makeup, debris and it suitable to be used before makeup. This is one of the best toner for large pores on your skin.
4. Biotique Bio Cucumber Pore Tightening Toner with Himalayan Waters for Normal to Oily Skin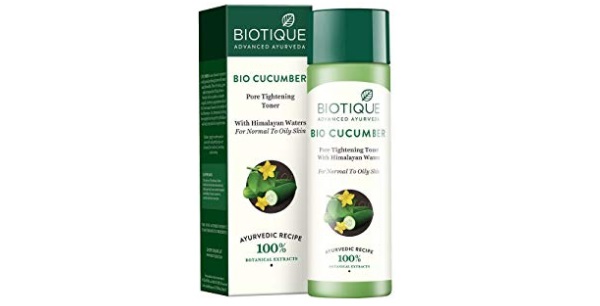 This next product here is the best seller in the toners for oily skin category in Indian market. It helps reduce the risk of skin aging and combats the harmful effects of Sun. The product is formulated with Himalayan water along with cucumber that shrinks your pore size to revive dull skin. It's also blended with cucumber, coriander, nutgalls, bearberry, peppermint oil.
How to apply: The product can be applied two times in a day on your cleansed face and neck with the help of a cotton pad.
5. Aroma Magic Aromatic Skin Toner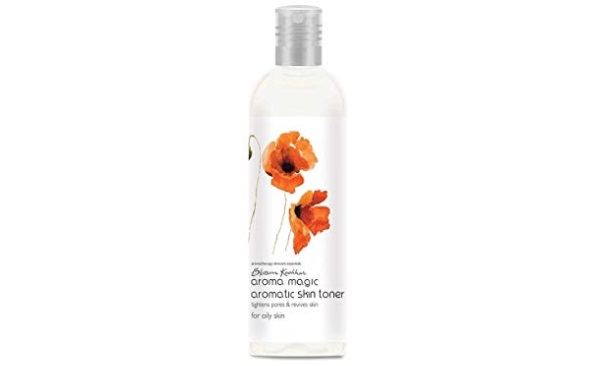 Aroma Magic is a brand that formulates paraben and chemical free products. This is a skin toner that reduces your pore size and clarifies dull oily skin. It's also the best alcohol free and paraben free toner for acne prone skin. The natural product is extremely of affordable and comes with extracts of pomegranate and lavender that heals the inflamed skin. Use it twice in a  day and even before applying foundation.
6. Kaya Skin Clinic Acne Free Purifying Toner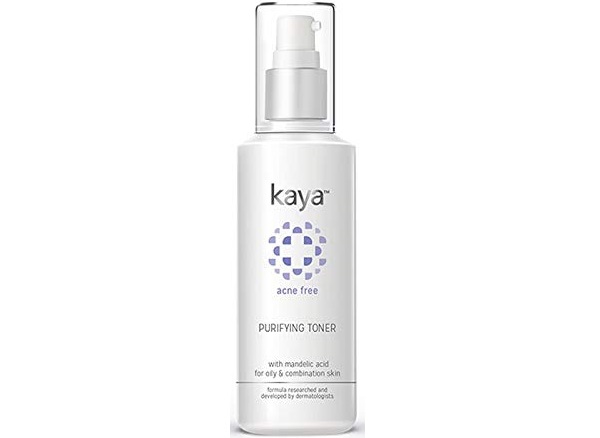 The acne treating toner contains niacinamide. It helps clear the blemishes and dark spots on your skin. Rich in Mandelic Acid, it cures the marks and pigmentation on your skin. This purifying skin toner is made for oily and combination skin and is a dermatologically tested product. It provides numerous benefits by exfoliating your skin and getting rid of the dead skin cells, it will unclog the blocked pores.
How to use: Apply some on cotton ball and dab it on your face gently. You can use it two times in a day. This is the best toner for greasy sensitive skin with open pores as a concerning issue.
7. Organic Harvest Neem Tulsi Toner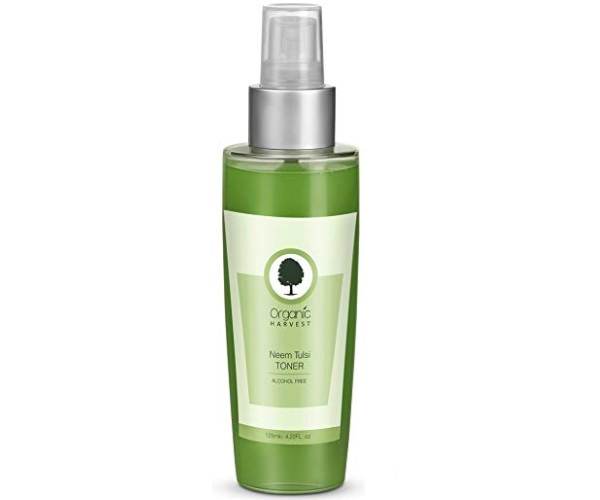 just like its name organic harvest is paraben free brand that relies on the certified Organic products. It's the best affordable toner suitable for crazy and acne prone skin. It's a water based product that is free of alcohols. It removes oils and minimise is large open pores on your skin. It's absolutely suitable for both men and women and can be used after cleansing your skin.
8. Neutrogena Deep Clean Blackhead Eliminating Cooling Toner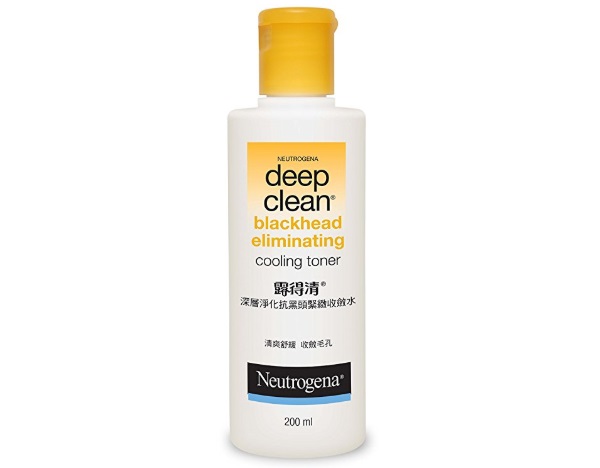 This next product on our list is the very popular Neutrogena Blackhead Clearing Cooling Toner. It targets multiple problems that we have on oily skin like blackheads, whiteheads, acne and large pores. This has Blackhead Fighting Complex with an oil-free formula. This is one of the best toners when you have blackhead prone oily skin.
9. VLCC Punarnava Astringent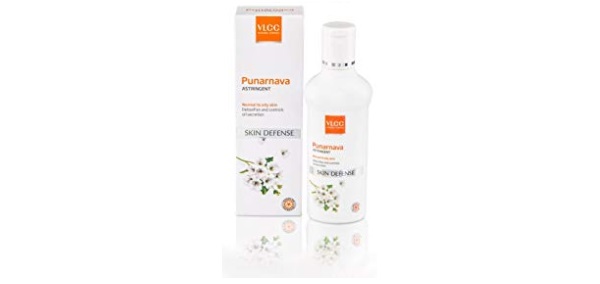 The astringent toner is exclusively made for normal to oily skin. The product is rich in lemon, honey, almond and aloe vera extract that prevent the breakouts of pimples on oily skin and aids in tightening the pores. It's also an antiseptic astringent that combats the bacterial infection and treats the acne.
10. Plum Calming Chamomile and White Tea Antioxidant Toner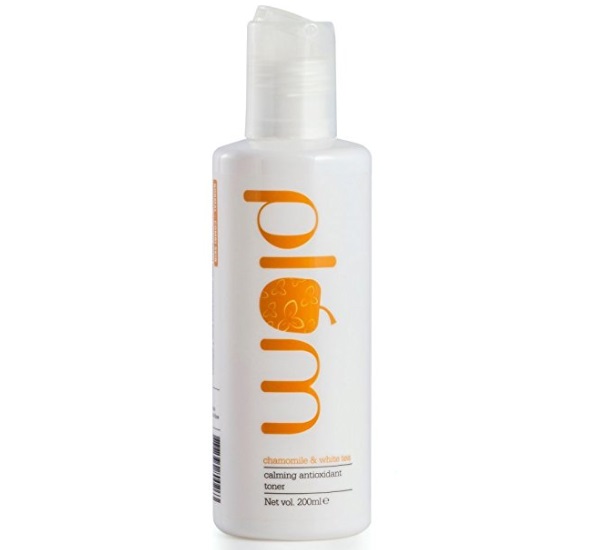 With the presence of chamomile and white tea, this is a perfect toner for all skin types, especially sensitive greasy skin. It's a gentle alcohol-free toner suitable for everyday use. It can be used before and after sun exposure to soothe your sun-burnt and tanned skin. White and green tea extract helps to smoothen the itchy and inflamed skin. It's a sulphate and paraben free toner for oily and acne prone skin.
How to Apply Toner on Oily Skin
Cleanser your skin with a good facial cleaner

Pat dry the skin using a towel

Pour 3-5 drops of toner on a cotton ball or pad

Dab it over your nose, forehead, cheeks or just swipe off

Dab more over your open pores

Once you've covered the entire face, wait for few minutes

You can now go ahead and apply the other products.
Wrapping up our list here friends, these are the best pore minimizing toners in India that works the best for greasy and acne prone face.