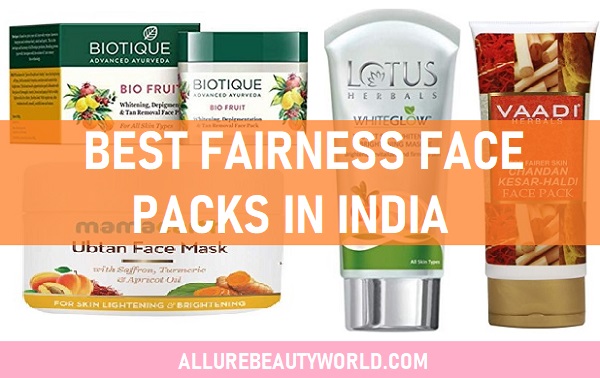 Fairness face mask is a quick and instant way to get skin brightening and rejuvenating effects on the skin. And when your skin is dull and dark, the fairness face pack instantly brightens the skin with its effective ingredients. This is why, there are so many different brands of fairness face packs available in the market. Out of those, we've created the list of best fairness face packs in the market for glowing and beautiful fair skin. The fairness or skin whitening face pack contains ingredients like liqcorice, sandalwood and essential oils that can improve the skin complexion and decreases the melanin production. Using these skin whitening facial packs regularly ensures that the skin complexion gets lighter day by day and you get to enjoy beautiful skin. In fact, applying fairness face packs on regular basis also doesn't let sun tanning make your skin appear dusky and dark. So, let's go ahead and check, which are the best fairness face packs in India.
List of Top Best Fairness Face Packs in India (2022)
1. Himalaya Herbals Fairness Kesar Face Pack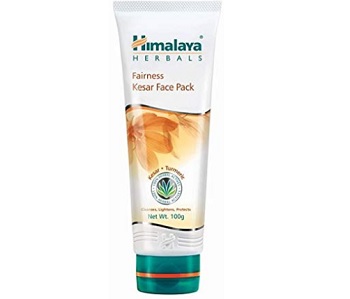 Himalaya fairness Kesar face pack is rich with saffron and turmeric. Saffron or Kesar and turmeric are known to decrease the dark spots and. Applying this face pack increases the glow and protects your skin from the harmful sun rays. Even to decrease the sun tanning and to determine the skin effectively, you can apply this face pack. It can be applied two times in a week and is fairly safe for all skin types including the sensitive skin type. This is the best Himalaya fairness face pack for everyone out there.
2. Biotique Bio Fruit Whitening and Depigmentation and Tan Removal Face Pack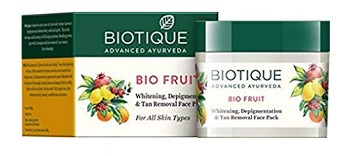 Biotique fruit whitening face pack is for De pigmentation and tan removal. Enriched with multiple fruits like pineapple, lemon, tomato and papaya fruit, it visibly lightens your skin to give you flawless look. It also gets rid of the dead skin cells therefore also closes the pores and lets you enjoy healthy beautiful skin. Applying this fruit face pack for fairness regularly like once or twice in a week gets rid of the sun tanning and helps the skin to rejuvenate at a better rate. The affordable skin whitening face mask can be used by men and women both. It's one of the best face pack for fairness at home.
3. Mamaearth Ubtan Face Pack Mask for Fairness
Mamaearth Ubtan face is loaded with saffron, Apricot oil and turmeric. It is the best skin lightening and brightening face pack that also has anti aging properties of apricot oil and Mulberry. It retains the moisture balance with its ingredients such as kokum butter and olive oil. The sulphate and paraben free whitening face mask for men and women in India. The skin lightening Saffron in this removes the tanning from the upper layers of your skin. It can be used two times in a week by people with all skin types. It's the best skin brightening face pack in India.
4. Bella Vita Organic De Tan Removal Face Pack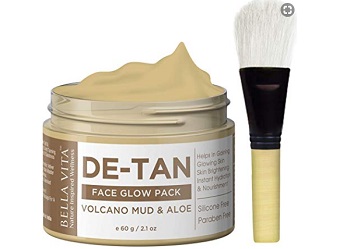 Bella Vita face pack is primarily used for sun tan removal and to increase the skin glow. With volcano clay and aloe, it is the best fairness face pack for oily skin for summer season. It contains grape fruit extracts, Sandalwood, glycerine, clove oil, poppy seed extract, bentonite clay, Apricot oil and walnut. Definitely applying this tan removal face pack will not just remove the sun tanning from the skin in fact would give fairness.  It can be used 1-2 times in a week.
5. Lotus Herbals White Glow Yogurt Skin Whitening and Brightening Masque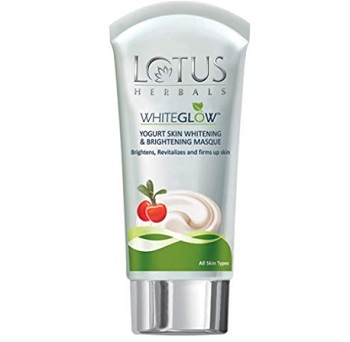 Lotus Herbals white glow skin whitening and brightening face mask has pure yoghurt extracts and lactic acid. Suitable for all skin types, it's rich in yoghurt extract and lactic acid. It brightens the dark and dusky skin layers and unblocks the skin pores. The creamy mask is extremely easy to apply and comes with a pleasant smell. Rich with yoghurt and vitamin B has bearberry extracts that gives you young and fair skin tone.
6. Vaadi Herbals Chandan Kesar Haldi Fairness Face Pack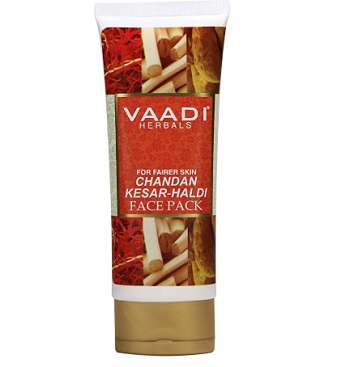 Vaadi Herbals Chandan Kesar haldi face pack is a multipurpose face pack for all skin types. Saffron improves skin complexion and gives beautiful glow. It can be used for the party season to get the instant party glow. It prevents the skin aging and makes it beautiful. It is basically a fairness face pack for people with dry, combination and normal skin.
7. Biotique Bio Milk Protein Whitening and Rejuvenating Face Pack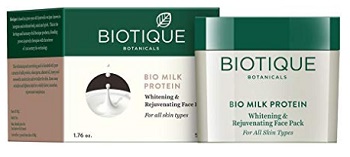 Biotique milk protein whitening face pack is for all skin types and is one of the best skin whitening face pack for men and women in India it is blended with milk protein, almond oil, Honey, wheat germ and Seaweed. It moisturizes and revitalizes the skin and gives you fair skin. Apply it on your clean skin and wash after 15 to 20 minutes. Using this face pack 1 to 2 times in a week can make skin even tone. It's the best face pack for oily skin for fairness.
8. Lotus Herbals Frujuvenate Skin Perfecting and Rejuvenating Fruit Pack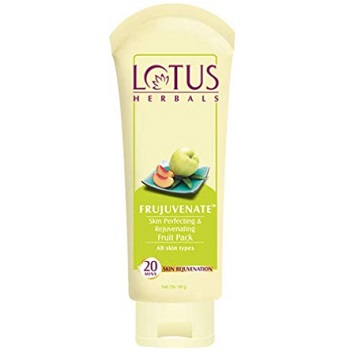 Lotus Herbals fruit face pack has fruits like green apple grapes, carrot, Apple, pineapple and peaches. The moisturizing and softening face pack for fairness is a natural source of Alpha hydroxy acids with the natural ingredients in it. It prevents sun damage and environmental stress on your skin. It works as an anti aging antioxidant for your skin. Applying it two times in a week gives you even toned and fresh skin.
9. Oshea Glopure Fairness Face Pack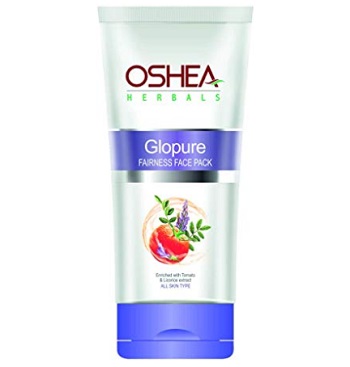 Saffron skin whitening face pack is loaded with saffron, licorice and lemongrass oil. The fairness face pack is suitable for all skin types, especially for dry to normal skin. It works better to lighten the acne scars. It reduces the dark spots and other blemishes that make your skin look patchy and dull. To take care of the pigmentation and blotchiness of the skin, this face pack can be applied two times in a week. Price is also very affordable of this face pack.
10. Vaadi Herbals Saffron Skin Whitening Face Pack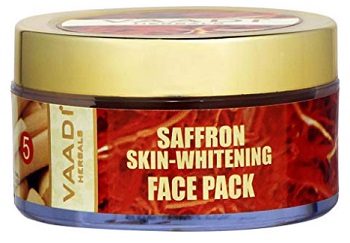 The fairness face pack is a blend of fruits which are rich in Alpha hydroxy acid and liquorice. It instantly brightens your skin complexion and gives you fresh feel. Use it regularly so that your skin stays brighter for a long time. The dermatologically tested products for all skin types to get refreshing feel with in just 10 to 15 minutes. It can be used by men as well and once in a week is okay that you should apply this fairness face pack. It's the best saffron fairness face pack in India.
11. Khadi Mauri Herbal Rose Sandal Face Pack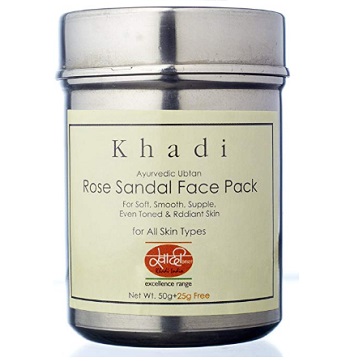 Khadi Rose sandal face pack gives radiant skin. It is suitable for all skin types and you can use it for oil control and sun tan removal benefits. It is a powerful herbal combination that has ingredients which fights the UV rays damage and pollution damage from showing up on your skin. It's in the form of powder which you can mix with rose water or plain water. Apply it for 20 minutes and wash with plain tap water.  Use it 1-2 times in a week.
12. Jovees Insta Fair Liquorice Glow Pack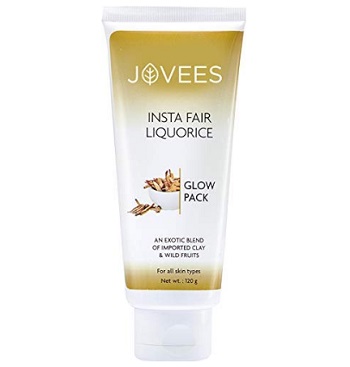 Jovees Insta fair liquorice glow pack is for fairness. It is an exotic blend of clay and wild fruits along with the. It helps improve skin texture and brings glow on the skin. Apply a thick layer on the face and neck and leave it for 20 minutes. Rinse it only with plain water. The fairness face pack calms the irritated skin during the summer season and with the benefits of liquorice, it certainly revitalizes the stressed skin.
13. Khadi Natural Herbal Sandalwood and Mulethi Face Pack Mask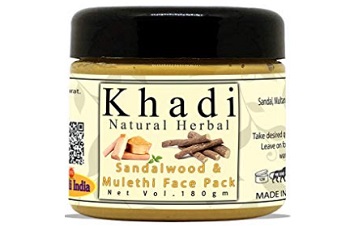 Khadi herbal Sandalwood and mulethi face mask is yet another one of the best fairness skin whitening face packs in India. With two of the most effective ingredients for skin whitening are used in this face pack. It has sandalwood and mulethi. Apply this readymade face pack on the face and wash after 20 minutes. It is certainly keeps your complexion blemish free and fresh.
14. StBotanica Vitamin C, E & Hyaluronic Acid Brightening Face Mask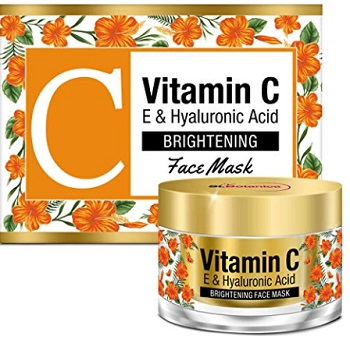 StBotanica Vitamin C and hyaluronic acid brightening face mask is for people with all skin types. For people with dry and dull skin, it works the best during the winter season. Vitamin C enhances the skin complexion and hyaluronic acid makes skin supple and softer. It boosts the hydration and erasers the fine lines from the skin. It works on the lines wrinkles, age spots and some spots. You can definitely pamper your facial Skin by using this face mask 2 times in a week. It also comes with turmeric lemon peel, green tea extracts that makes your skin.
These are the best fairness face packs in India for different skin types. Make sure that for oily skin, you choose the best fairness face pack especially for the summer season when most of the oils come and your skin becomes dull and oily soon.
To preserve your fairness, make sure you use sunscreen and drinking lot of water to keep the skin hydrated. Additionally, use face scrub for face at least twice in a week and get rid of the dead skin cells which can also make your skin look dusky.