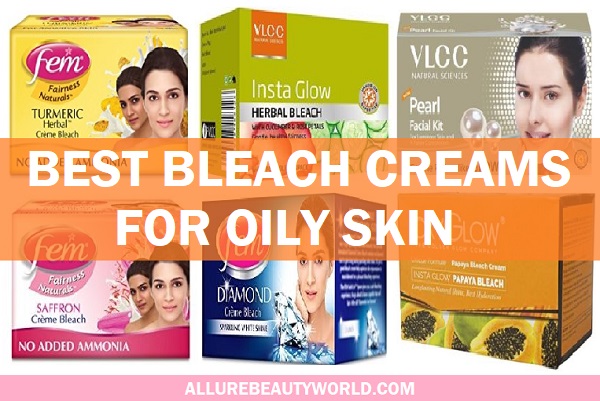 Bleach cream is a face lightening product that is known to reduce the pigment of the unwanted facial hair.  At Allure Beauty World, we will be talking about the best face bleaching creams for oily skin in India suitable for acne prone skin and combination skin too. The bleach creams for oily skin decreases the melanin from the hair strands, so that they get matched with the skin color.
When to Bleach Oily Skin
Doing so, help your skin to look brighter and fairer. Many people use bleach creams to get rid of the tanning and dark spots as well. Bleaching is good for your skin when it is done once in 15 days or twice in a month. Too much bleaching can also harm your skin. But when it is done in the required frequency then, it shows good results. Bleaching is also beneficial for acne prone skin since, it unclogs the pores and keeps the skin blemish-free.
Reaction of bleach cream also kills the bacteria causing acne and pimples on the face. Bleach creams contains hydrogen peroxide that removes the bacteria and their growth.
Let's check some of the benefits of bleaching for oily skin
Benefits of Face Bleaching
Lightens hair: First of all, a facial bleach cream is a very inexpensive skin lightening treatment that makes your skin brighter. It matches the unwanted dark facial skin hair with the skin color.
Treats Acne & Pimples: Bleaching also decreases and treats the acne formation and other bacterial infections on the skin. Bleach cream contains chlorine that unclogs the skin pores due to which skin looks clear and less pimples are formed.
Removes Tan: Use of bleaching regularly makes your skin glowing and lighter. Not just that bleaching also removes the sun tanning and pigmentation when applied regularly.
Dark Spots & Blemishes: In case your skin has blemishes and spots use of face bleaching cream helps to fade away dark spots and hyper pigmentation.
Patchy Skin: For patchy and uneven skin tone as well bleaching has shown some really significant results. When your skin texture is rough and dull, applying bleach cream helps to get rid of the dead skin cells and makes the skin smooth and glowing.
Bleaching is pretty safe and inexpensive then the options like Chemical peeling, laser treatment and even skin polishing
How to Apply Face Bleach Cream
If you are new to the face bleaching creams then it is very important that you apply them with care.  Take one scoop of bleach cream and mix that with one pinch of powder activator.

Mix both of them well using your finger or a spatula.

Apply the bleach cream on the face evenly avoiding the areas like eyes lips eyebrows.

Keep the cream on the face for 15 to 20 minutes.

If you have dark skin tone than 10 minutes would be fine.

After that with the help of cotton or tissue paper wipe it off and wash your face thoroughly with cold water.

Do not use soap for the next five hours.

Apply a mild toner for oily skin and pores after the bleach cream removal.
When To Apply:
Evening time is considered good to apply facial bleach creams.
How Often to apply bleach creams
It can be done once in a month or twice in a month depending on the requirement.
Best Bleach Creams for Oily Skin in India
1. Oxylife Natural Radiance 5 Creme Bleach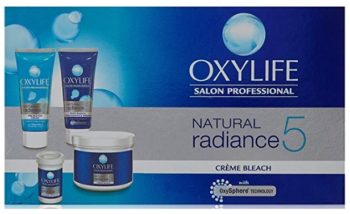 This oxygen bleach is the best bleach cream for oily skin In the market. It helps fights multiple fairness problems to give natural radiance. It is a pocket friendly product that is easy to apply. It is dermatologically tested and is safe to use. It contains aloe vera that makes skin moisturized and regulates oil production. If you're facing difficulties managing your oily skin, you must use face packs, I have very oily skin and I tried some of the homemade remedies that has given me clear skin. I posted about the Ayurvedic Face packs for oily skin and pimples recently which can help you too.   
Pros
Opens clogged pores

Removes dead skin

Fades sun tan

Rich in aloe vera
Cons
None
Price: 230 Rupees for 125g
2. VLCC Insta Glow Oxygen Bleach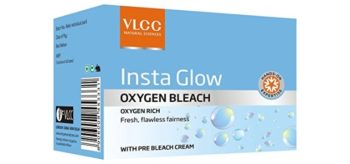 VLCC oxygen bleach cream is the best bleach cream for oily skin in India for all seasons. It removes the excessive oil and sebum production. It clarifies the skin quickly and adds glow on the face. You can apply this bleach cream once in 2 weeks to make oily skin beautiful and less greasy. Oxy bleach creams are the best bleaching creams for oily and dull skin tone.
Pros
Easy to apply

Has a pre-bleach cream

Gives skin fairness

Gives skin a boost of oxygen

Suitable for oily and acne prone skin

Cleanses the skin

Reduces dark spots and pigmentation
Cons
None
Price: 80 for 51 grams
3. O3+ Meladerm Vitamin C Gel Bleach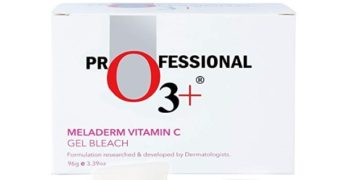 O3+ skin bleaching cream comes with Vitamin C. It's the best cream bleach for oily skin and sensitive face with tanning. It has a gel formula that gets applied on the skin very well. It is formulated with a prolonged Research and has been developed by Dermatologists. It is advanced bleach that is enriched with ammonium persulfate that works to retain hydration level. This bleach brands is best for oily facial skin.
Pros
Peroxide free

Safe for oily skin

Suitable for acne prone skin

Does not block the pores

Gel Base
Cons
None
Price: 550 rupees for 100 grams
4. Olivia Herb Bleach For Oily Skin

It is one of the best bleach for oily skin and acne prone skin in India. The bleach cream has herbal ingredients which reduces bacterial infection. When your skin is oily you need ingredients that can help regulate sebum production and pimples. It contains ingredients like turmeric, sandalwood, aloe vera and lemon. It protects your skin from mild inflammation and bleaches the dark hair strands. Herbal bleach cream with turmeric is considered as the best cream for sensitive oily skin. Men and women with combination facial skin types can also go for this one.
Pros
Soothe the sensitive skin

Contains Ingredients like haldi, chandan, aloe vera and lemon

Treats dark spots

Lemon cures tan
Cons
Not for very dry skin
Price: 300 rupees for 270 g
5. VLCC Pearl Bleach Cream kit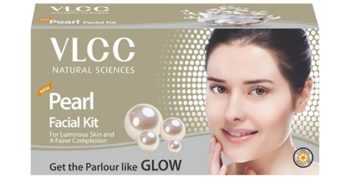 It is one of the best bleach cream for oily skin with tan removal and darkness removal features. The face bleaching cream has pearl extracts that give you Luminous skin and fair skin complexion. Within 15 minutes that lighten the dark facial hair strands and matches them with your original skin color. Regular use of the split screen gives you pearl like glow. The pearl extract helps to maintain fresh and bright glow. I make sure to go for a facial after using the bleach, check here to know about the best facial types for oily skin.
Pros
Suitable for sensitive skin

Good for oily and acne prone skin

Make skin glow

Hydrates the skin

Lighten spots
Cons
None as such
Price: 250 rupees for 60 grams
6. Fem Fairness Naturals Turmeric Herbal Skin Bleach

Fem Turmeric Bleach cream is also one of the best bleach creams for oily skin in India at an affordable price. Availability of Fem bleach cream is very wide and you can get it from any nearby shop or online. Turmeric helps to unclog the skin pores and also treats acne and pimples. It brings glow on the skin by removing dead skin cells. You can apply it once in 15 days safely.
Pros
Turmeric is good for oily skin

Unclogs pores

Reduces spots

Safe for all skin types
Cons
None as such
Price: 32 rupees for 8 grams
7. Oxyglow Golden Glow Papaya Bleach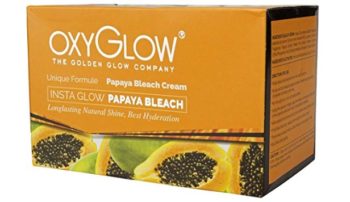 Oxyglow is the best bleach cream brand for oily skin. It fares well for acne prone skin with problems like dark spots, tan and pigmentation problems. When oily skin is a concern then use of fruit extracts has proven to be beneficial. Papaya extract are rich in papain helps to decrease the mentioned skin problems. This bleaching cream also removes the dead skin cells and makes oily skin clear. Make sure that you use a good facial cleanser daily if you've large pores, check here about the best face wash for pores and oily skin.
Pros
Contains papaya

Lightens the dark spots

Decreases sun tan and pigmentation

Good for acne scars and marks
Cons None
Price: 240 rupees for 240g
8. Fem Diamond Crème Bleach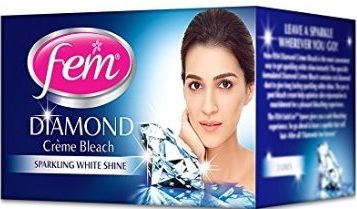 Diamond bleach creams are also considered wonderful, when you have oily skin but for acne prone skin you should avoid diamond bleach creams. Fem bleach cream contains Diamond ash which revives dull and dark skin tone. It gives you a perfect glow and makes your skin sparkling bright. It's the best diamond bleach cream for oily skin to remove dullness. I personally like it a lot. I have got some very good results by utilizing remedies for my tanned skin, here they are to help you too: home remedies for sun tan removal faster
Pros
Gives glow

Makes skin sparkling

Lightens the tan
Cons
Not for sensitive skin or acne prone facial skin
Price: 78 rupees for 30 grams
9. VLCC Insta Glow Herbal Bleach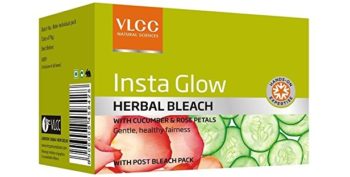 VLCC Insta Glow Bleach cream is rich in cucumber and rose petals. It gives you a healthy glow and fairness. It also comes with a post bleach pack that further lightens the skin tone. It gives you bright facial skin and light hair strands within 10 minutes. It cleans the skin and remove the impurities. Your sensitive skin cannot adapt well, to a lot of products hence, know about the best herbal bleach creams that I shared earlier.
Pros
Rich in cucumber and rose petals

Smoothens the skin texture

Brighten the skin

Fades dark spots

Gives rose glow

Safe for sensitive skin
Cons
None
Price: 355 rupees for 345g
10. Fem Fairness Naturals Saffron Bleach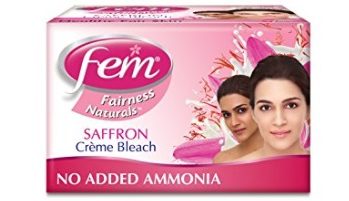 Fem Natural fairness Saffron bleach cream has the power of Saffron or Kesar. Saffron is regarded as a natural product to heal your skin and works the best in getting fairer skin tone. It gives you glowing skin and improves the texture of the skin. It's the best bleach cream brand for oily and dark skin tone.
Pros
Has Saffron

Lightens complexion

Suitable for sensitive skin

Can be applied twice in a month
Cons
None
Price: 175 rupees for 314 grams
These are the best bleach creams for oily skin and acne prone skin available in India. Feel free to write comments for any queries, I'll reply soon friends. Also do read about the homemade papaya face packs to naturally bleach the skin. I've also recently shared about the different types of facial and their benefits that you must know the next time you go for a facial.