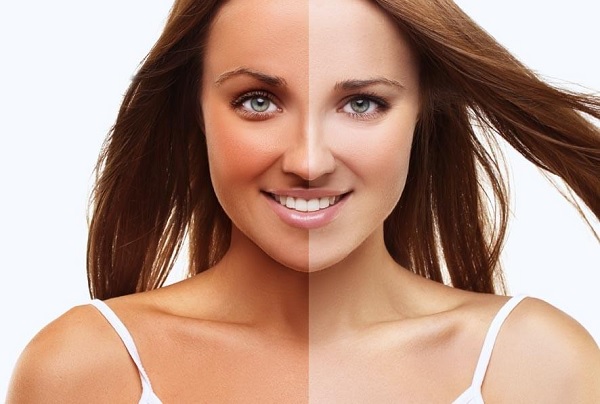 Sun tan is the darkening of your skin when you stay under the sun for long hours. College students, field workers and people with outdoor related jobs are the ones, who experience sun tanning on their skin the most.
Discolored or hyper-pigmented skin appears patchy and there are treatments that helps to get rid of all that. But using home remedies is still the best methods to remove sun tan from your face, neck, back hands and even legs.
Sun tan and burns creates skin troubles and makes your skin dark and lifeless. It increases the melanin levels and pigmentation. It should not take longer than the 7-10 days to get rid of the natural tan to fade from your skin, but you need to regularly follow the natural treatments and home remedies to achieve tan-less skin.
Using natural methods and ingredients help to fade the tan quicker than not doing anything for that. Using the tan removal face scrubs also work in lightening the darkness of the facial skin.
Let's check which are those natural ways to lighten tan and get the bright glow instantly.
Home Remedies for Tan Removal and Curing Sun Burn
1. Lemon and Gram Flour for Tan Removal
Gram flour exfoliates the skin and deeply cleanses the pores. It removes all the dust away and improve skin complexion. It is rich in vitamins and fats that reduce tan from the face and body. Lemon is really good to attain fair and youthful skin, considering it has natural skin bleaching properties. Lemon is rich in Vitamin C, that is effective in removing tan and pigmentation. This face pack also removes spots and acne without drying out your skin.
How to use it?
Take 2 full spoons of gram flour in a bowl.

Mix 2 spoons of lemon juice in it.

Also add a pinch of turmeric.

You can add some rose water to maintain the consistency of the face pack.

Mix all the ingredients well and clean your face or other tanned skin areas.

Apply all the mask onto the affected parts of body.

Keep it for 15-20 minutes and allow this to get dried.

Wash it with cold water.

This can be used everyday on the sun tanned skin areas, till you see sufficient results.
2. Papaya and Honey Treatment for Sun Tan
It is one of the best sun tan removal pack for all skin type especially dry skin.
How to use it?
Take one small papaya an wash it with purified water

Now peel off its skin and cut it into slices

Take one papaya slice and further cut it into small pieces

Now mash it with a spoon

Add a half table spoon of honey in the bowl

Mix all the ingredients well using a spoon.

Clean your skin with a mild cleanser.

Apply this mask on the tanned skin.

Massage it little and then wash it off with cold water.
Benefits:
Papaya is rich in an enzyme known as papain, which is good for the skin. It is a good source of Vitamin-E and Vitamin-A that induce whiteness on the face and increase blood circulation. Honey reduces spots and dark dull skin. It adds shine to your face and restores lost skin moisture. Honey has anti-inflammatory properties that treat itchiness on the skin caused by sun.
3. Potato and Tomato Juice for Lightening Sun Tan
This facial remedy removes dark spots and tan easily at home. It treats acne and stops its recurrence.
How to use it?
Take one fresh tomato

Peel off one potato and take out its juice in a blender

Also add a pinch of turmeric powder

Mix all the ingredients well

Clean your skin with a milk cleanser first

Now damp a cotton ball in the mixture

Apply the tan removal face pack evenly on the face.

Massage it gently and do not rub too much

Let it dry for at least 20- 30 minutes

Rinse off with cold water
This can also be used for your neck and other body parts like your hands, legs and feet to get rid of sun tan faster.
Benefits:
Potatoes are rich in potassium, magnesium, iron and starch. It is really beneficial to reduce skin tan and sun burns. It heals acne and oiliness from the face. Tomatoes are a good source of anti-oxidants that improves skin tone and blood circulation.
Vitamin-A and vitamin-C are considered beneficial nutrients for the skin to make it healthy and flawless. Turmeric has been used since years to increase skin tone and natural fairness.
4. Tan removal scrub recipe:
Here is this effective remedy with natural products, that can lighten your tanning pretty fast and within few days. This will help to lighten the stubborn tan from your face, feet, hands and even the neck. Use it like a body scrub to reveal a glowing tan-free skin.
You will need:
Fine sugar

Honey

Lemon Juice

Turmeric
How to prepare?
Take 2 spoons of sugar in a bowl.

Add 2 inches of turmeric powder and 1 spoon of honey in it

Add 1 spoon of fresh lemon juice.

Mix using a spoon

Apply this tan lightening scrub on the face

Massage and exfoliate the skin with this

But do not wash with water, rather keep it for 15 minutes on your skin

This way, it'll work effectively.

Wash with lukewarm water.

Repeat this beauty treatment twice in a week.
5. Homemade tan removal cream
Do you know that other than using the skin cream to lighten sun tan, you can also make one at your home. Yes, it'll require few things and you're ready to go.
You will need:
Milk cream

Turmeric

Potato juice

Tomato juice
How to prepare?
Add one spoon of milk cream in a small bowl.

Put ½ spoon of lemon juice and ½ spoon of potato juice

Add 1 pinch of turmeric powder

Mix this thoroughly

The tan lightening cream is ready.

Apply this on the skin and massage for few minutes.

Wash in the morning.
This can be applied don the face, and body parts to lighten the tan. But it must be used during the night time before going to bed. This overnight sun tan removing cream helps to get you light skin.
The best way to prevent the sun tanning and skin darkening because of the UV rays, is to apply generous amounts of sunscreens when you leave the house during the day. Never mind, even if it's windy or cloudy, a sunscreen should be your best mate. Also do try these tan removal skin creams available in India.