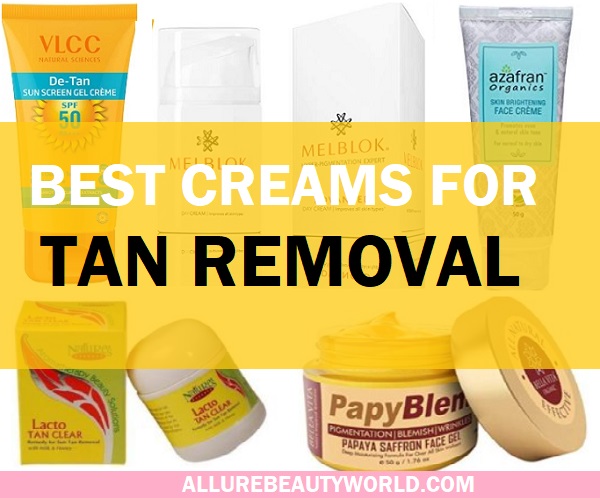 Sun tan removal creams lighten the skin by eliminating the darkness on the upper layers. These tan removal creams are rich in active ingredients and botanicals that help to feed the successive melanin and thereby making the skin tone lighter and back to its original complexion. While the sun tanning is unavoidable due to heavy UV exposure due to our day to day activities. Over with proper care and preventions we can certainly get rid of the tanning and prevent it completely. Because of the sun tan the skin loses the original brightness and the natural glow. This is why a lot of brands are coming up with skin creams, foundations and even moisturizers loaded with SPF in them. So if your skin has gotten tanned because of UV rays, these tanning removal products will help you. This list of the best tan removal creams in India available for both men and women is going to certainly aid you.
Top 10 Best Tan Removal Creams in India (2022)
Here is a list of the best tan removing face creams in India that men and women can try for getting radiant it and fair complexion.
1. Nature's Essence Lacto Tan Clear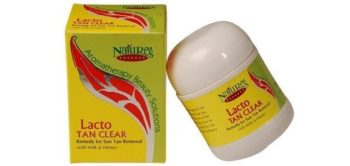 Lacto Tan Clear Cream aids in getting back the original skin complexion. It helps in sun tan removal with effective milk and honey formula. These ingredients work on your uppermost dark layers to fade the effects of damage, sun tanning and darkening.  It can be applied on the face for 10 to 15 minutes. Then remove it using lukewarm water. It restores the natural fairness of your skin and provides relief in the pigmentation as well. It is the best tan removal product that has work effectively for lots of people. Even after coming back to home from excessive or prolonged sun exposure, you can use this tan removal cream to not let the tan get permanent.
2. Bella Vita Organic Anti Blemish and Pigmentation Face Gel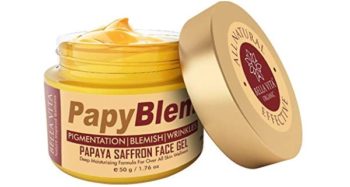 It's a face gel that contains the active ingredients and extracts of papaya and Saffron. Papaya is known to lighten the skin pigmentation, scars and any blemishes that you have. The major reason is the enzyme papain present in the papaya extracts. Along with that, it also contains saffron which works on your tan to improvise the skin complexion naturally. The product is rich in organic ingredients and hence is also safe for sensitive and dry skin. The gel texture of this product is safe for oily and acne prone skin. It reduces the excessive oil, breakouts and repairs the sun damage. The product is one of the best to maintain a youthful skin.
How to use: Apply a small amount of gel after cleansing your skin with a suitable face wash. Massage it until it gets absorbed in the skin. Use it daily as a night and day time treatment for blemishes and pigmentation.
3. Raaga Professional De-Tan Tan Removal Cream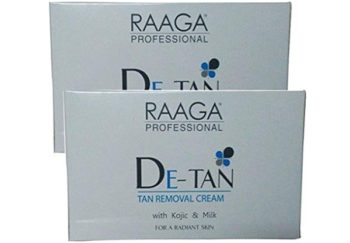 It's a product that is exclusively made to remove the tan from your skin. It is rich in kojic acid and milk. Kojic acid has this natural property to increase the cell renewal rate and to exfoliate the skin chemically. This entire process helps to remove the tan and lighten the skin complexion. You just have to make sure that you use sunscreen when you are using any kojic acid rich product on a regular basis. As it makes your skin slightly peeling therefore, application of sunscreen can protect the new for skin layer from getting tanned. It reclaims the skin softness and youthful tone.
How to use: Apply the Detan cream all over the face and neck. Leave it for 10 to 15 minutes. Then remove it to the wet cotton.
4. VLCC De Tan Sunscreen Gel Creme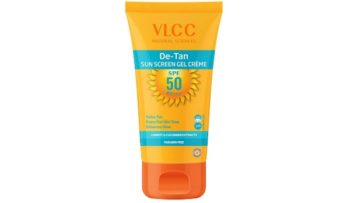 You may have seen the tan removal creams but this is a detaining sunscreen gel. It helps your skin to stay youthful and fair by acting in multiple ways. It contains carrot and cucumber extracts, known to whiten and brighten the skin. Using this everyday ensures natural glow by protecting the layers from UV rays damage with SPF 50. Is a sunscreen that doesn't leave a white cast or comes across as a sticky lotion. It's safe for oily and sensitive skin. Within a few applications, it improves the skin complexion while protecting it from the damage.
5. Mesmara Professional Kojic Acid De Tan Cream 

The tan removal skin cream that comes with kojic acid to lighten the tanning settled on the skin layers. The cream helps in removal of the tan and repairs the damage that one has caused by UV rays. It also  initiates whitening of the skin. It's a product that is paraben free, mineral oil free and free of any synthetic fragrances.
6. ZENVISTA SPF 30 Sun Protection Cream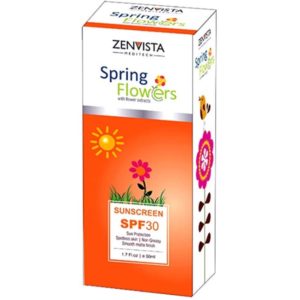 The sun protection cream comes with Spring Valley flowers. These floral extract helps to increase the cell renewal rate and the bio-active ratio formula boost the oxygen flow into the skin layers. It is a chemical free product that is of best quality. Based on Ayurveda and the natural healing ingredients, it protects the skin from tanning and hyper-pigmentation. On a long-term use, it also cures the dark spots.
7. Melblok Advanced Pigmentation Removal Day Cream SPF 20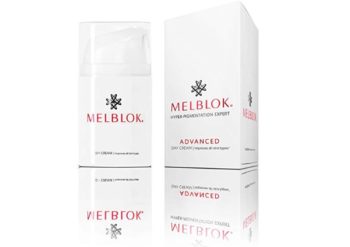 It's the bestselling and clinically proven product. Use of this product fades the dark cell and controls melanin production while shielding the skin from UV damage. It contains SPF 20 to give that long lasting sun protection. It also works to fight acne and their scars. It doesn't smell bad rather is a lightweight and non-greasy product with a pleasant smell.  Apply it to brighten the skin and to win the fight with acne, scarring and dullness. Other than tanning, it also combats any pigmentation on uneven skin tone that you have.
8. Azafran Organics Skin Brightening Face 

Cream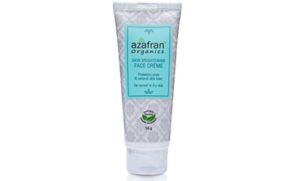 Made for the normal to dry skin, this product will help you in minimizing the darkness due to suntan. The sun tan removal cream is actually skin brightening face cream to minimize the excessive melanin and darkness. It has a very lightweight and non greasy formula that is able to provide enough for the moisture to your dry skin. It has ingredients like Shea Butter and coconut oil which acts to regenerate and hydrate the tissues. While the product works on the epidermal layers of the skin, it makes them appear brighter. It has Niacin, which is vitamin B3 that reduces pigmentation and facial tan. Even though it is made for dry skin, some people have claimed, it work for oily skin as well due to its light formula.
9. Everyuth Naturals Tan Removal Night Cream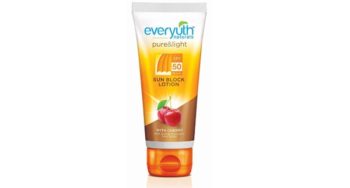 The tan removal night cream is a wonderful product that lightens the tanning and give your skin a boost of glow. When your skin is exposed to the sun and pollution everyday it get tanned and damaged. This night cream is an ideal solution to reverse all the damage and telling that you have gathered on the skin layers. It is an addition formula containing cherry extract and chocolate.
10. Lotus Herbals Safe Sun Skin Lightening Anti-Tan Sunblock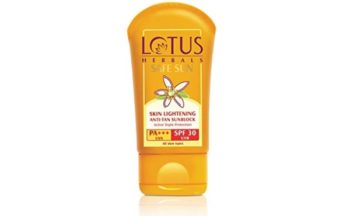 Lotus Herbal Sunblock contains the skin whitening ingredients along with the active triple protection with SPF 30. Appropriate for all skin types and apart from being a sunscreen to protect the skin from UV rays, it also helps to lighten the skin. By eliminating the results of sun tanning, it enhances the tone. T has lime blossom, kiwi extracts and mint to sooth the sun burnt tanned skin. Apply it before stepping out under the sun to keep your skin protected and hydrated.
These are the best tan removal skin creams in India.  Apart from that, I would also suggest you to exfoliate regularly and apply tan removal face pack on the face. We also have got tan removal face washes that you can try to further enhance the results in lightning your tan.
With these products, you can easily lighten the sun tanning. All you have to do is to be consistent and regular in whatever treatments that you are doing to your skin.