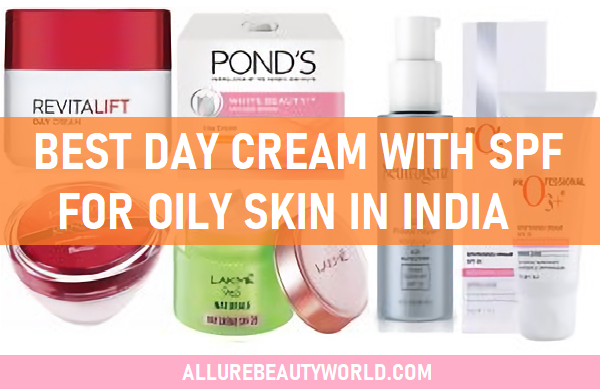 Whenever you are in a search of a good day cream for your oily skin, you must also look for the added sunscreens. Because using the day cream with SPF helps to create a shield on the skin that keeps the environmental stressors, pollutants, suspended particulates, toxins and other particles from sticking on your skin directly. A day cream adds a fine layer that fights all these elements from damaging and destroying your skin. Apart from that a good day cream also aids in providing enough of the moisturization, so that the skin does not feel dry. Additionally, SPF present in the day cream helps to protect the skin from ultraviolet rays, sun rays from damaging and darkening the skin. You might be aware about the harmful effects that sun rays can do for your skin when you spent a lot of time under the excessive Sun. So, using the product for the day time that contains sunscreens, will help a lot in keeping the skin damage free and to stop the premature aging of the skin.
Therefore, if you have hard time choosing the day cream for oily combination skin with SPF, then this article is going to help you out.
Best Sunscreen Lotions and Day Creams for Oily Skin In The Market (2022)
Let's check out the products for oily skin for the daytime. 
1. L'Oreal Paris Revitalift Moisturizing Day Cream SPF 23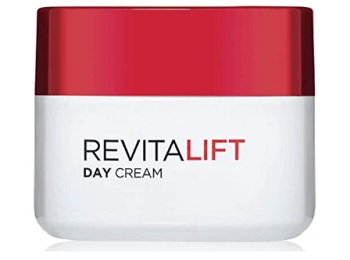 The day cream with SPF is perfectly suitable for oily, sensitive and combination skin. It's a moisturizing product that gives the right amount of moisture to the skin but does not make it greasy. This also helps in improving the fine lines and wrinkles appearance. Apply it during the daytime after using a good facial cleanser.
2. Pond's Age Miracle Wrinkle Corrector SPF 18 PA++ Day Cream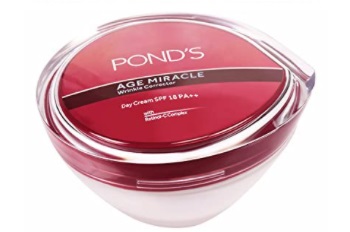 It is a wrinkle corrector product which is suitable for oily skin that needs the SPF and the power of anti wrinkle ingredients like Retinol. This anti-aging day cream is suitable for oily and normal skin. The light and matte finish of this product does not let your skin become sticky or tacky. But for very excessive summer season, this can break out. Therefore, keep it for the moderate hot days and for the wintertime for your oily skin.
3. Pond's White Beauty Anti Spot Fairness SPF 15 Day Cream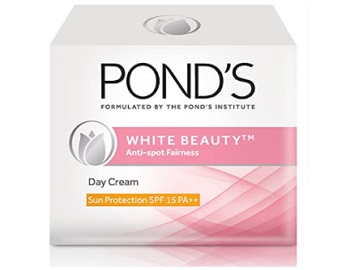 The Pond's Beauty product is an anti spot fairness cream which is for the daytime. With the power of SPF 15, it's suitable and decent enough to block majority of the ultraviolet rays. It is ideal for people who are still very young or even teenager with oily blemished skin. It helps to reduce the acne spots and dark spots on the skin and improves the skin complexion. Or at least the product can keep the sun tan away for sure. It does not have a sticky or oily formula but the texture is thick yet blends nicely on the skin.
4. VLCC Snighdha Skin Whitening Day Cream SPF 25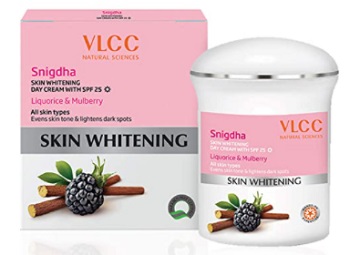 VLCC Snigdha skin whitening day cream is yet another good product for greasy and sticky skin. It comes with SPF 25 and the day cream for combination-oily skin retains the moisture, brightens and reduces sun tanning. It also shields the skin from a lot of variety broad spectrum ultraviolet rays which could potentially harm the skin and causes the skin to get darker. Apply this cream during the daytime to achieve better and healthy skin.
5. Lakmé 9 to 5 Naturale Day Creme SPF 20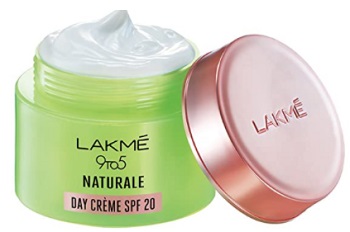 The lightweight day cream is one of the best products from Lakme 9 to 5 skincare range. It contains SPF 20 and has light gel-like formulation. The product would really help to achieve the glow without the stickiness and oily feel on your skin. In fact, you can also apply this product as a makeup base to prep and prime the skin. This product is suitable even during the hot and humid atmosphere and climate.
6. StBotanica Bulgarian Rose Otto Glow Day Cream SPF 30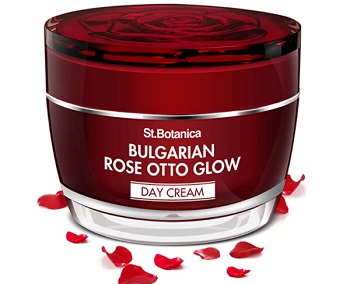 This product is an extremely beneficial day cream with SPF for oily and sensitive skin. It contains the Bulgarian Rose extract and this cream has received huge response from the consumers, who have your state. This cream is for dry to normal skin and combination skin. So, we would say, if you've oily skin, you can try this product for the winter season and exclude it for the very hot summer season. Because for oily skin, you would need different type of products, you might have noticed that the products for summers may not work as effectively in winters.
7. StBotanica Vitamin C Brightening Day Cream With SPF 30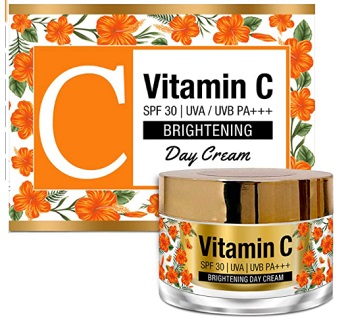 St. Botanica brightening day cream contains vitamin C with SPF 30. The SPF 30 is the right amount of Sun protecting factor which shields and protects the skin from wide variety of ultraviolet rays from making your skin darker and damaged. It is yet another good day cream for oily skin that contains the sunscreens. The texture of this cream is non-greasy and is suitable for all the skin types including the oily and sensitive skin.
8. Neutrogena Rapid Wrinkle Repair Anti Ageing Day Moisturizer For Face With Retinol SPF 30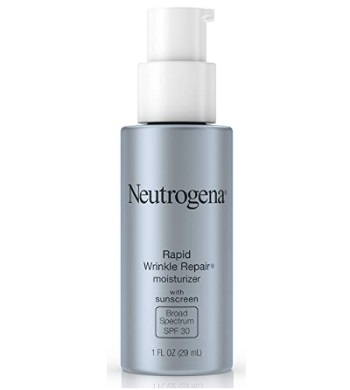 Neutrogena Rapid Wrinkle Repair Anti Aging Day moisturizer cream is for oily to combination skin and not for very oily skin. It is a lightweight moisturizing product, which contains SPF 30. So with the power of retinol and Niacinamide, this Neutrogena day moisturizer helps to revive the dull shallow skin and keeps it hydrated. The product is also suitable as a makeup base.
9. POND'S Men Daily Defence SPF 30 Face Creme Sunscreen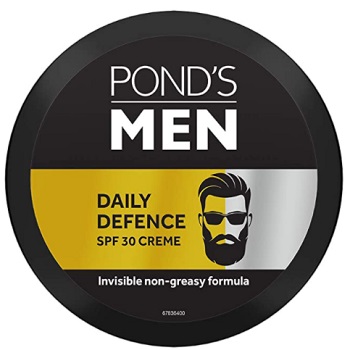 Pond's Men non greasy cream has SPF 30 and does not make the skin sticky or oily to touch. This is yet another best men's day cream for oily acne prone skin that contains SPF 30. So putting this cream on your face will surely put a stop or at least safe guard the skin from getting dark, rather it also helps the skin to become brighter. So, if you need an everyday use day cream for men than this can be tried. Additionally, the moisturizer for men with SPF comes with a very reasonable and pocket friendly price tag. This is also available online easily.
10. O3+ SPF 30 Whitening Cream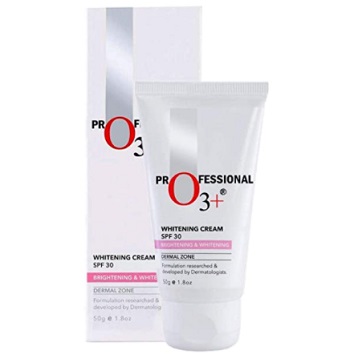 The O3+ skin whitening cream is a brightening product that safeguards and protects the skin from UVA/UVB harmful rays. Hence, one can care-freely roam around during summers and winters without think about the sun tanning. The product is non greasy and easy to blend in the skin layer. The texture is known oily and lightweight. It is suitable for all the skin types and for improving the skin complexion, this is yet another good fairness day cream for oily skin.
11. Lotus Professional PhytoRx Whitening & Brightening Gel Crème SPF 20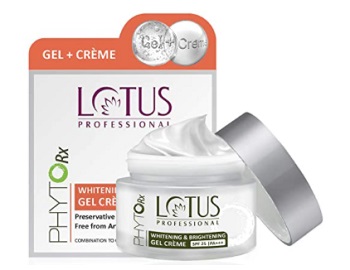 Lotus Professional Phyto RX range is skincare range that offers a really good and effective skin care product. Like, this product is a gel cream that contains SPF 20. It is yet another best fairness cream for oily skin with SPF. SPF 20 is decent enough to fight the wide variety of sun rays. Thus, it not just protects skin darkening and tanning, it also ensures that with its effective ingredients, will help make your skin smooth and fresh. Even teenagers can apply this product.
12. Mamaearth Vitamin C Face Cream SPF 20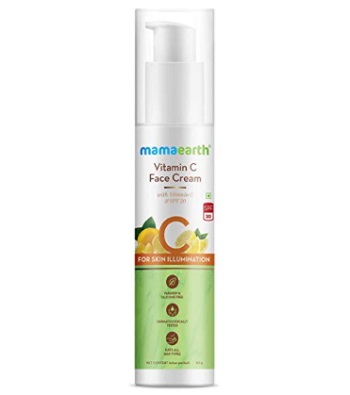 Vitamin C face cream helps in the skin radiance and illumination. Vitamin C is one of the most beneficial products in your skin care range. The direct benefit that you get using a Vitamin C product is the increase in the skin clarity and brightness. By improvising the skin cell renewal the product helps to make your skin fresh and glowing. Apart from that the product helps in lightning the dark spots and age spots. With SPF 30 minute this lightweight day cream helps to ensure your skin complexion looks glowing with no sticky or greasiness.
13. Joy Revivify White Expert Brightening Serum Cream SPF 25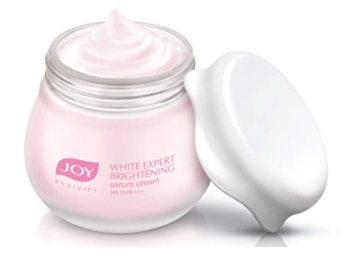 The brightening face cream a daily use cream for oily skin containing SPF 25. The product is lightweight and is non greasy. Upon application it penetrates the skin layers quickly. So without adding a shiny or greasy layer on the skin, it gives the right amount of moisture. As an everyday use day cream the product is suitable.
14. VLCC Water Resistant Sunscreen Gel Crème SPF 60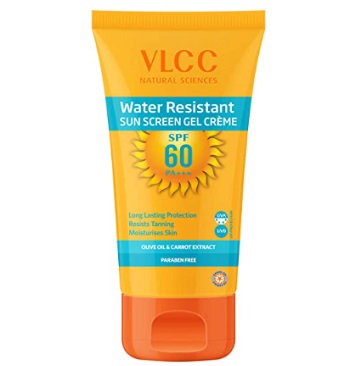 If you need a sunscreen gel with high SPF, then you can try VLCC sunscreen gel cream with SPF 60. The product is quite promising and effective. By keeping the skin matte and non-oily, it prevents the dullness, darkness, sun tanning and skin cell damage. On top of that, the product is gel formula with no sticky feeling formulation. One can apply it after using any serum or cream or just use it like a cream itself, because it also gives moisture. For oily skin, this is one of the best sunscreen creams for oily skin.
15. O3+ Mattifying Gel Cream SPF 50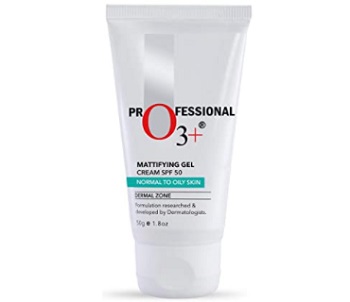 When your skin is oily, what else can you ask than a mattifying gel cream? It prevents the sun tanning and with SPF 50 it is the right amount of SPF to shield the skin. With light water based formulation and pocket friendly price, this cream is the best product. With the mattifying gel cream formula, the product will help to make your skin get the right amount of moisture but not the oiliness. It's major benefits are its non-oily formula with a whitening properties. This is the best sun tan preventing and everyday use day cream for normal to oily skin even for the extreme summer season, it really works for the oily skin as a day cream and a sunscreen. With matte finish, it can also be worn under the makeup as a primer.