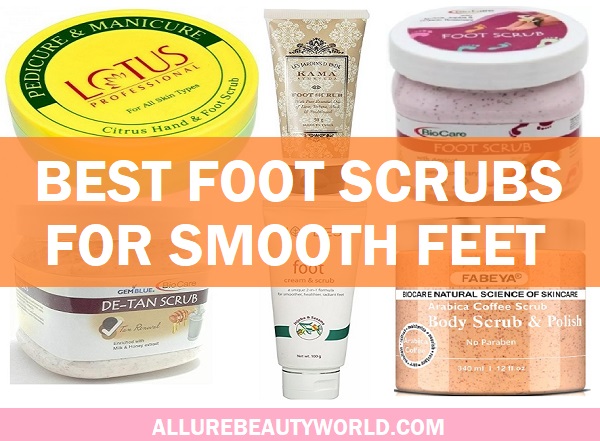 Foot scrubs are important to keep your feet look smooth and polished. Do you have cracked heels and rough feet? If that is a yes, then you must use the foot scrub that gives you smooth and beautiful feet. Often due to neglecting our feet, they become rough and callus is also accumulated. The dead skin cells that surrounds your feet make them appear rough. Let's know which are those food scrubs available in the market which you can use and take help.
Best Foot Scrubs Available in India
1. Kama Ayurveda Foot Scrub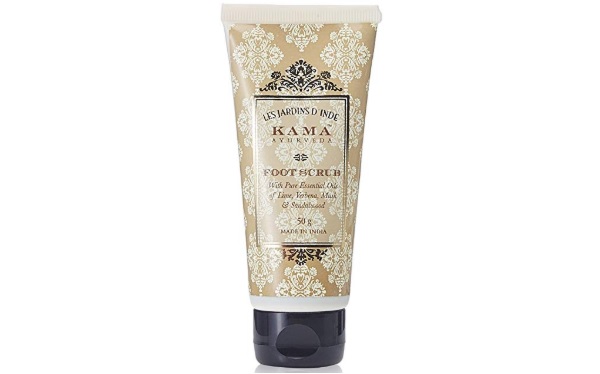 Kama Ayurveda foot Scrub is an expensive product but worth trying if you do not mind the price. It consists of chamomile that is known for its soothing properties. In heals dry and damaged skin and also gets rid of the fungus and bacteria that can cause foot odor and infections like corns and calluses. Even to heal the cuts and scrapes on your feet you can try this scrub. It has antifungal tea tree along with purifying Basil extracts that gives you relief in stress. It also contains essential oils, musk and sandalwood to keep your feet fresh.
How to use:
Take the foot scrub in small quantity and rub on your wet feet. Massage for few minutes. 2 minutes time would be sufficient. After that wash your feet and apply a foot moisturizer. Use it to 2-3 times in a week.
2. BioCare Foot Scrub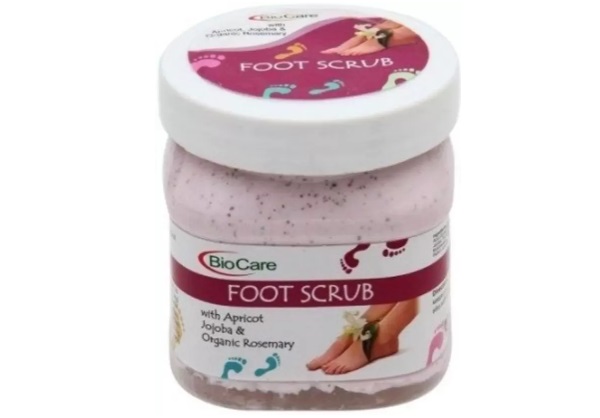 The extremely affordable foot scrub comes in a large packaging. It contains apricot extracts and organic Rosemary Essential oil. It promotes the blood circulation and makes your feet and legs look silky soft. It also removes the dry patches and blemishes from your skin. It can be used twice in a week to make sure that you have smooth skin.
How to use:
Take a spoonful of this foot scrub and apply on your feet and legs. Massage and rub the scrub to remove the dead skin cells. Keep it for few seconds like a pack. Remove it with clear water.
3. Biocare De-Tan Scrub Enriched With Milk And Honey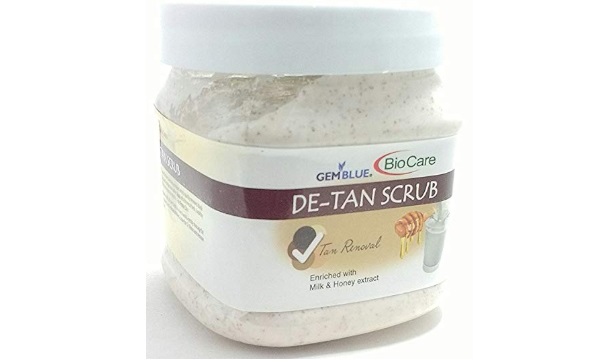 If you have tanning on your feet than, this tan removal scrub consisting milk and honey is the best product to use. It eliminates the foot odor and also gets rid of the sun tanning. Milk and honey are powerful combination that is known to smoothen and revitalize the complexion.
How to use:
Wash your feet and take the foot scrub. Apply it on your feet and in circular motions and rub it. This will increase the circulation of blood. Apply it twice a week for better skin.
4. Lotus Professional Pedicure & Manicure Citrus Hand and Foot Scrub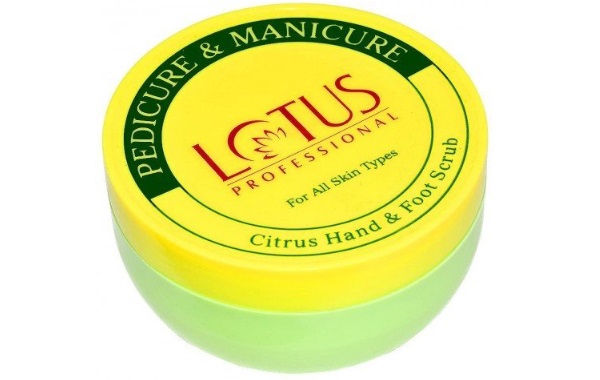 The affordable foot scrub is from Lotus professional. It is for all skin types. You can have a wonderful experience in your home pedicure and manicure using this hand and foot scrubber. It consists of citrus fruit extract that revitalizes the skin and also gives you that pleasant fresh feel after using this. It consists of citrus fruit extracts that contain high levels of antioxidants. It gives you a good night's sleep after a tiring day.
How to use:
Taking some foot scrub, apply it on your heels. Massage gently in circular motions, so that the dead skin cells can be removed. Focus more towards the heels and toes where the dead skin accumulates. After 5 minutes of massaging, wash with clear water.
5. Biotique Bio Papaya Revitalizing Tan Removal Scrub

To get rid of tanning and darkening of your skin on the feet, this is the best tan removal Scrub. Coming from the house of Biotique, this is made on the Ayurvedic recipe to remove the tanning. It consists of papaya extracts that lighten skin tone and effectively whiten your skin. Other than that, it also contains Papita, Khajoor, Kela, Methi, Yasad bhasm, Bees wax, Gun acacia, Himalayan Water, Moongphali, Aam beej, Ban Heldi.
How to use:
Splash water on your feet and apply the scrub like a cream. Massage it so that the scrubbing particles can get rid of the dead skin cells. Wash your feet with clean water. Use it twice a week for polished feet skin.
6. FABEYA Arabica Coffee Body Scrub and Polish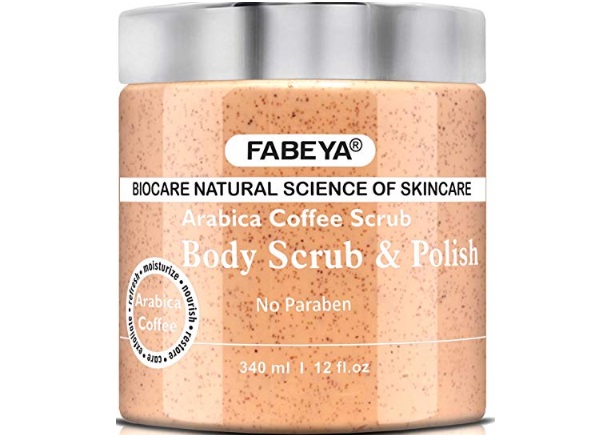 If you like organic product then this one would be best to use. It is a paraben free body scrub that polishes the skin with its arabica coffee scrubbing particles. It is a formulation that is gentle yet very effective to relieve the sore muscles. It can be used on your feet and the overall body to increase the blood circulation and to soften the dry skin.
How to use:
Apply the scrub and rub gently. Massage for few minutes. ed Arrange your feet with clean water. And apply a light moisturizer.
7. Yaso Pedicure Scrub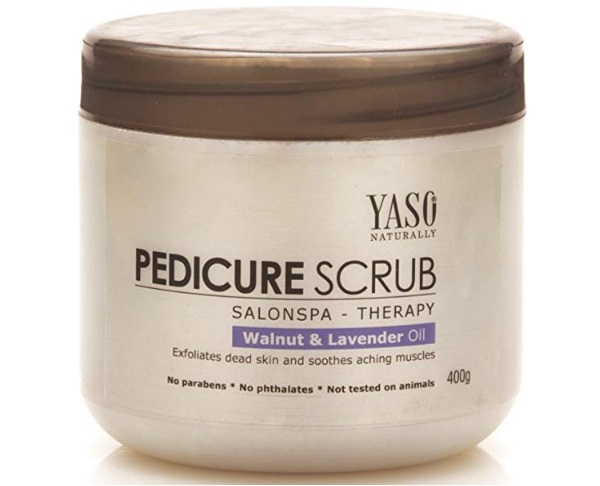 The foot scrub has received good ratings from those people who have got used who have used this product. It has lavender and walnut extract that exfoliates your dead skin and choose the aching muscles. It is a paraben and Sulfate-free product which is not tested on animals that is the main highlight of this product.
How to use:
Wash your feet with clear water first. Massage them with the foot Scrub for 5 minutes. Keep massaging on the heels and toes. Wash the feet with clean water. Repeat two to three times in a week.
8. Jovees 2 in 1 Foot Care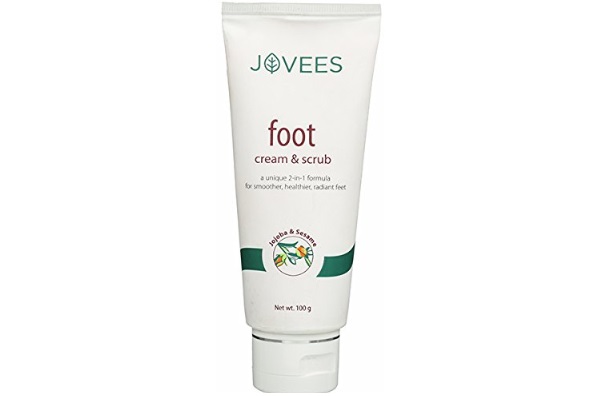 The two in one foot care scrub is from the brand Jovees. It has a unique double action formula. Due to one side not along with other extracts, it gives you smooth and supper feet. The product is rich in so many natural extracts that it is able to heal the dry feet and to reduce the damage. It can be used every day or every other day to keep your feet smooth and beautiful.
Ingredients: Jojoba seed nuts, sesame, kokum butter, geranium oil, lemon grass oil and rosemary extracts.
How to use:
Apply the foot scrub on your feet evenly and then start rubbing. Make sure to use circular motions. Don't be too abrasive. Use firm hand motions on your heel and their skin areas. Wash with clean water. Apply a light cream.
9. Old Tree Herbal Face and Body Exfoliating Scrub with Kashmiri Walnut and Kashmiri Almond Oil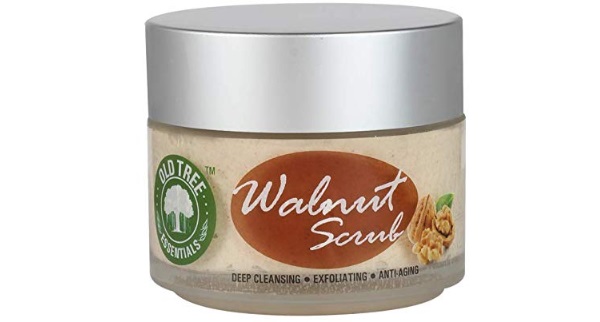 Made with the expensive walnuts and Kashmiri almond oil, this is enriched with 100% pure organic ingredients. It is the best product for your feet to get smooth and soft skin.
How to use:
Apply the foot Scrub two to three times a week for smooth skin. Gently massage the scrub on the feet and wash. Follow up with a light moisturizing cream or foot cream.