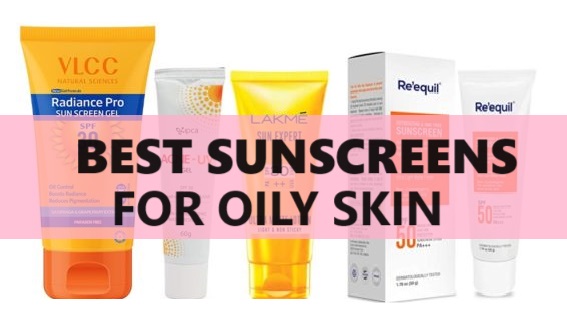 Best sunscreens for oily skin in India: If you also think this, then this article will talk about those best sun block lotions for oily and sticky skin type. For Breakout prone skin, you must use skin care products especially formulated for your skin type. Not doing so and using the wrong skin care products can lead to breakouts and blemishes on the skin.
It's recommend that even if it's rain or shine, you must wear proper sunscreen lotions. Every single day your skin is exposed to UV rays that can darken you and also cause premature aging. A lot of people presume, applying sunscreen is an unnecessary step in the skin care routine. However, you must know about this statistic that sun causes around 90% of the skin aging and damage. See here: how you can combat sun tan with creams.
You can also wear your sunscreens for oily skin under the makeup products like your Foundation. In fact a lot of different foundations are loaded with SPF. But the reason why a lot of people would use foundation with SPF is that they tend to give you white cast once you go for flash photography, otherwise they are pretty good for the day time.
Finding the Best Sunscreen for Oily Skin
While a lot of formulas can be suffocating for your skin type, yet there are sunscreens which are suitable for oily skin during summer season and during humid weather. So, how to choose the best sunscreen lotion for oily skin, let's talk about that.
If your skin tends to be oily and greasy, you must try sunblock lotions which are oil-free and water-based. The reason is pretty simple, non-comedogenic products don't clog your pores and hence are suitable for breakout prone oily skin. Out of the different formulations of sunscreen, we've powder sunscreens, lotion, gels and even the matte finished once. If you've got oily skin, dermatologists recommend that you choose a formulation that is gel, matte or oil free.
Sunscreen for oily skin should not depend on entirely the SPF amount but it's all about the right formulation. As we mentioned above, that light weight and oil-free sunscreen products are considered the best ,when you've oily and acne prone skin. Men can know about the best sunscreens for men in India here.
How sunscreen protects your delicate skin
It is recommended that you apply sunscreen everyday to prevent the premature aging, cancer, loss of skin elasticity, fine lines and wrinkles. Sunblock protects your skin from two types of sun rays. That is UVA and UVB rays. UVA rays penetrate deep into the skin and are responsible for accelerating photo ageing of skin and cancer. While UVB rays stays on the superficial skin layers causing sunburn and skin darkening. These rays can be blocked by sunscreen lotions with broad spectrum protection.
By broad spectrum we mean that your sunscreen should be able to cover or shield your skin from a variety of sun rays. Now, you're wondering which type of sunscreen is best for oily skin. The physical sun creams or chemical sunscreen? The physical sunscreens or the mineral sunscreens block the UV rays by elements like zinc oxide or Titanium dioxide. They help to filter the UVA rays, thus, protecting the collagen. Chemical sunscreens contain carbon based compounds to absorb the UV photons. In short, mineral sunscreens or physical sunscreen helps to reflect the UV rays while chemical sunscreens absorbs the UV photons thereby, protecting the skin layers underneath.
Choosing the right sunscreen for oily and acne prone skin
While choosing the best rated sunscreen for oily skin, you must determine few factors:
Check the SPF amount. For everyday use SPF above 20 is adequate. However if you live in high altitude areas where you are more likely to get tanned and hit by sun rays, use sunscreen with SPF 30 or more. 
Go for sunscreens, which have broad spectrum coverage. It will help to protect the skin from multitude of radiations like UVA/UVB rays.
The formula of your sunscreen should be light, non-greasy and most importantly non-comedogenic. Fluid sunscreens and water based products are the best.
A good sunscreen lotion for oily skin should be able to penetrate or blend in the skin flawlessly without leaving greasy or whitish layer.
Best Sunscreens for Oily Skin and Acne Prone Skin In India
So, based on these factors, we have compiled this list of the best sunscreen lotion for oily skin and acne prone skin in India.
1. Lotus Herbals Safe Sun UV Screen Matte Gel SPF 50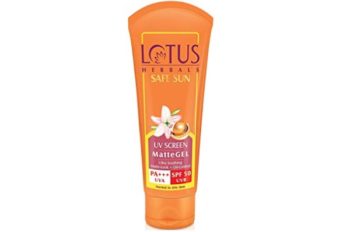 The Lotus sunscreen for oily skin has a matte gel formula that comes with SPF 50. It contains ultra soothing ingredients and oil control properties. The lotion is specially formulated for normal to oily skin. While it controls the excessive oils to come upon your skin, it also makes the skin fresh. It has sebum control Vanilla that doesn't let the oiliness to affect you. Sun rays are extremely harmful for your skin and this sunscreen offers broad spectrum protection. It gets absorbed in the skin layers easily and fights against the skin darkening. Key ingredients like Comfrey, Soothing Horse Chestnut and Sebum Control Vanilla give effective solution against tanning. The gel formula is non-comedogenic and water based. Apply it on your face neck and other exposed body parts. This is the best sunscreen for oily face.
2. RE' EQUIL SPF 50 Sunscreen for Oily, Sensitive and Acne Prone Skin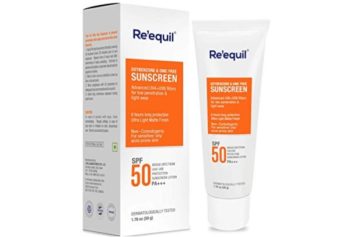 While some sunscreens are made for oily skin and others for sensitive skin. This is the best best sunscreen for oily skin that we've seen.  Formulated for oily, sensitive acne prone skin, it's free of oxybenzone and is OMC free. The product is safe to be applied on sensitive skin type. It protects the skin from the UV rays and has a broad spectrum protection for your skin. Its non-comedogenic formula is perfectly suitable for acne prone skin. It doesn't clog the pores with a oil loaded texture. The lotion gives 6 hours long protection. With advanced UVA/UVB filter, this is safe for daily use. Single application shields your skin for around 5 to 6 hours. It's a dermatologically tested and recommended sunscreen. 
3. Neutrogena Ultra Sheer Dry Touch Sunblock SPF 50+
Neutrogena Sheer Dry Touch Sunscreen Lotion offers SPF 50. Is an ultra light cream filled with Helium Helioplex broad spectrum. It fights and filters UVA and UVB rays therefore, protecting your skin from darkness, sunburn, suntan and skin cancer. The oil-free and waterproof formula is safe to be used on beaches and pools. People living in areas where humidity is high and you are more likely to sweat profusely, this is the best sunscreen lotion. It relieves your skin's softness and smoothens without the greasiness. Neutrogena sunscreen for oily skin is dermatologist tested non-comedogenic sunscreen lotion in India.
4. IPCA Acne-UV Oil Free Gel SPF 30 PA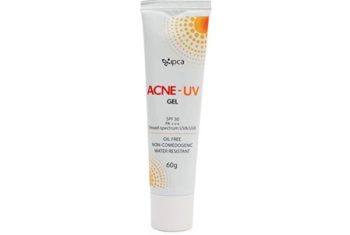 Formulated by the Dermatologists, it's a non-comedogenic and water resistant sun block lotion. It comes with SPF 30 and has a broad spectrum protection for your skin. The product is preservative free, alcohol and dye free. Its oil-free nature makes it the best sunscreen lotion for oily and acne prone skin. The medicated gel based sunscreen for oily skin gives hydration and total softness to the skin.  You can even use it as a makeup base under your Foundation. It's a purely gel based sunblock available in Indian market.
5. VLCC Radiance Pro SPF 30 Sun Screen Gel
VLCC Radiance Pro sunscreen gel has a light oil control and gel based sunscreen lotion. The VLCC sunscreen lotion for oily skin works on dark spots and lightens the skin tone, thereby reduces the pigmentation. This paraben free sunscreen has grape fruit extract and saxifraga. It's suitable for all skin types, however is a gel based sunscreen that blends easily even if you've oily skin. It's rich in vitamin B3 that lightens and whiten the skin. While it prevents from tanning and premature aging of skin, it keeps it matte. It's ideal for hot and Indian summer season and is the best sunscreen for oily acne prone skin. It controls the oils for few hours after which you can add dab a tissue to get rid of the oils or use an oil blotting sheet.
6. Lakme Sun Expert SPF 30 PA Ultra Matte Lotion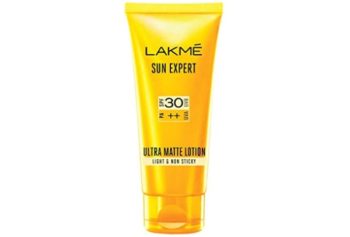 Lakme Sun expert lotion is ideal for winter season for oily and acne prone skin. Rich in SPF 30, this sunscreen cream for oily skin safeguards your skin against UV rays. It prevents the sunburn, dark spots and premature aging of the skin care for your skin. Your face is shielded for a lot longer and from variety of UV rays. It prevents the tan lines by lightening the complexion and tone on regular application. The sunblock lotion contains ingredients which brighten the skin and yet feel the light on your skin. Included amongst the best sunscreens for oily skin, it gives you all round protection. Apply it on your forehead, Chin, cheeks and nose with gentle massaging. Reapply it after every 3 to 4 hours for best sun protection. It's the best sunscreen for oily skin in summer.
7. Cheryl's Dermashade SPF 30 Spray for Oily and Sensitive Skin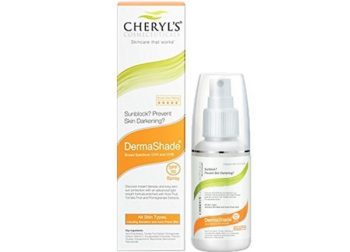 The spray sunscreen is exclusively made for oily and sensitive skin type. It protects the sunlight induced damage on your skin and any type of irritation. Its natural hydro fruit all formula keeps the skin moisturized and bright. Your skin breathes even after the application, because of its lightweight texture. This is one of the best sunscreen lotions for sensitive skin during summers and humid weather. Apply it 20 minutes before going out of the house under Sun exposure.
8. Derma Essentia Sunscreen SPF 50 Anti Pollution Sunscreen Gel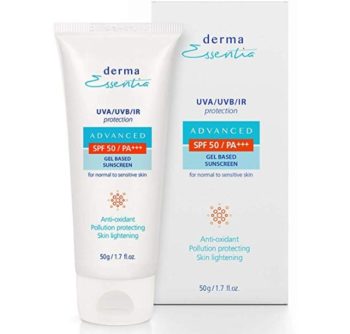 Pollution can take a toll on your skin by making the skin is dull lifeless, dark and prone to breakouts. This organic sunscreen lotion has a gel base which is made for normal to sensitive skin. It has antioxidant rich formula that protects the skin from UV damage and also the pollution related damage. It's a skin lightening sun block lotion which offers broad spectrum. With SPF 50, this gel based sunscreen gives you light feel and provides prolonged and consistent protection. It's the best non greasy sunscreen. Dermatologically recommended sunscreen is non-comedogenic and is perfect sunscreen for oily skin and sunscreen for men and women both. As it's oil free you can safely use it during summer season even when you've acne prone skin. It's the best sunscreen for combination skin and oily face.
9. POND'S SPF 50 Sun Protect Non-Oily Sunscreen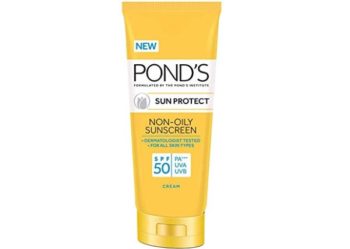 This is the latest launch from Pond's. It's a non oily sunscreen which is dermatologically tested and is suitable for all skin type. However, we feel that for very oily skin, this may not be the best option for summer season. But for oily and acne prone skin, you can still use it during winter season. It prevents your skin from the sun exposed damage like uneven skin tone, dark circles, fine lines, dark spots and even the redness. It's tested against a variety of allergies and has a gentle formula. It's non-comedogenic but not a paraben free sunscreen, if in case you only use paraben free products. Apply it 15 to 20 minutes before the sun exposure. Reapply it after 3 hours to ensure that the skin stays protected from the sun damage. It's pleasantly scented and the best sunblock for oily skin for colder seasons.
10. Kaya Skin Clinic Sweat Proof Sunscreen SPF 30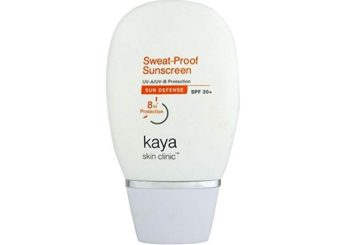 While going to a beach or pool, you would like to have a sunscreen lotion that is waterproof and should not get wiped off under heavy sweating. This helps to lighten your skin tone and to give the proper protection. The water resistant sunscreen delivers up to 8 hours of broad spectrum protection against the harmful UV rays. The light coloured cream has a non-greasy and non-oily texture. Rich in aloe vera and Vitamin E, it makes your skin soft and smoother. It's also beneficial in skin lightening, if in case you've some tanning and darkness of the skin. Don't forget to read about the home remedies to treat sunburn and tanning faster.
These are the best sunscreens for oily skin in India. These sun protection products are also suitable for acne prone skin. You should always choose the products for your skin as per points that we have mentioned above. The most important factor is that the products should be oil-free. Always check your product label to search for terms like oil free, non-comedogenic and even the formula which should be lightweight. Sure that you use your sunscreen at least 15 minutes when you step out in the sun.
Lastly, If sun tanning has made your skin dark, do read about these best products to remove sun tan.