Sunscreen lotions help your skin to stay protected from the harmful ultraviolet rays. Do you know that UV rays can cause excessive damage to your skin? It causes skin issues like Sun tanning, skin darkening, freckles, premature aging of the skin and UV rays are also linked to the skin cancer. This is why use of Sun lotion and sunscreens should be an integral part of your skin care regimen. And this holds true for all seasons.
While choosing the best sunscreen lotion in India, you've to keep in mind certain factors. Choosing a product just by going blindly, how a celebrity endorses it, sunscreen brands or the over the sky claims is not right. A good sunscreen lotion should have the decent sun protection factor which is also known as SPF.
Application
Other than that the application of the best sunscreen lotion is also to be taken care of. You just cannot apply sunscreen like a skin cream rather, its application should be generously on your face and neck and entire body areas which is exposed to the direct contact of UV rays.
If you are someone who would repeatedly move out of your house without applying physical sunscreen, then we would advise you to break this habit of yours and start using sun protection lotions. Applying the best suitable sunscreen for your skin type is also to be taken care of. There are best SPF for face which are rich in certain ingredients other than the sun protection factor which makes it suitable for different skin types.
Okay, let's see, there are some best sunblock for face, that are made for acne prone and oily skin, while the moisturizing or hydrating sunscreens are better when your skin is normal to dry.  Now, moving back to finding the best sunscreen lotion in India, depending on the skin type.
Deciding which is the best sunscreen lotion in Indian market is not an easy task. But we have made it quite simpler for you, in terms of the various brands that are giving you loads of different variants of sunscreen products. You can decide the variant over the brand depending on your budget, ingredients, skin type and the other added benefits that you would like to have.
With added benefits, I mean if your sunscreen cream has skin whitening or sun tan removal features and something like that. This makes the choice of best sunscreen lotion in India quite easy for you. At the end of this guide, we will hope that keeping in mind the factors that I have discussed about you will be able to buy the best sunscreen lotion in Indian market. Check these key factors you need to check while purchasing the best sunscreen for face in India.
Points to consider when choosing the best sunscreen in India (2022)
1. Sun Protection Factor (SPF)
This factor is the measure of how efficiently a sunscreen protects your skin from the sun rays. It also ensures how much is the effectiveness of your sun lotion to prevent your skin from the sunburn, premature aging and even skin cancer. Because other than that, this SPF number also helps you know the protection your sunscreen gives against the UVB rays. So if the SPF is higher, you will get more protection. Most of the people would need somewhere between SPF 15 to SPF 30 for their everyday requirement. While you are on a beach then you may require high protection sunscreens like sun lotion containing SPF more than 30. SPF also means the time, it takes the UV rays to penetrate your sunscreen.
2. Spectrum 
Spectrum means the whether your sunscreen protect your skin from the harmful UVA and UVB rays. Are the main culprit that makes your skin turn red and dark. UVB however, can make your skin more prone to photo-aging and premature aging. Both of them increases the risk of skin cancer when your skin is exposed to them. Therefore while using the best sunscreen in India you should make sure that your sunscreen has a broad spectrum to protect your skin against the UVA/UVB rays.
3. Skin Type
People who've dry skin, you need to choose the best sunscreen in India which has high emollient ingredients.
If you've oily and acne prone skin, always choose the best sunscreen depending on the formulation. Sunscreen lotion for oily skin should have gel or water based formula. Basically look for "oil-free" on the label.
However, when you've sensitive skin, you need to consider using sunscreens which are dermatologist formulated keeping in a mind your skin type. There are physical sunscreen ingredients like Titanium dioxide and zinc oxide, which you may also have noticed in your makeup products like foundation and compact powders.
4. Ingredients
It's important that you know about the ingredients in your sunscreen products. So that if in case you're allergic to a particular ingredient, you can avoid that sunscreen all together and look for sunscreen lotion which are paraben free and free of elements that doesn't suit you.
5. Formulation
Formula of your sunscreen is the texture and type. There are brands that makes sun lotions which are water-proof, sweat proof and even have spray formula. If you are someone who would like to go to a beach or to the pool then obviously a sunscreen with water resistant features would be best for you.
There are waterproof spray based sunscreens also available. While choosing the best sunscreen lotion for your skin type, you should avoid spray based sunscreen for oily skin. Rather go with light texture, noon-greasy and oil-free formula. While going with a waterproof sunscreen would be a good idea in case you are at a place where you would like to sweat a lot.
6. Sunscreens for Kids/ Babies
Most babies would have sensitive skin that gets sun damaged and burnt easily. Using sunscreen lotions for kids with gentle formulas and ingredients would be the best thing to do. Therefore, avoid sunscreens with oxybenzone, parabens, harsh chemicals and sulphates.  There are brands that make sunscreen for kids that are safe for their delicate and sensitive skin.
Does It Hinders Vitamin D Synthesis?
A sun cream for face is very beneficial for your skin but it's also thought that using sunscreen on regular basis can make you vitamin D deficient. Because sunscreen shields the sunlight and UV rays therefore your skin cannot synthesize the natural vitamin D from the sunlight that touches your skin. It's not right as your skin still makes enough amount of vitamin D.
So, before buying the sunscreen lotion these are the factors that you should definitely keep in mind. Choosing the right product is not difficult till the time you are following the guidelines. So, whenever you are buying the best sunscreen in India, you must check for the pointers.
To safeguard your skin from sun and even the chemicals.
Now there you know how to choose the best sunscreen for yourself depending on your skin type and the other factors that you need to keep in mind. Let's go ahead and check the best sunscreen lotions in India for different skin types. Please skip to the section according to the skin type you've.
List of the Top Best Sunscreen Lotions in India (2022)
The list is divided into three sections, where we have mention the best sunscreens for dry skin and for oily and acne prone skin and lastly the sunscreen for babies and kids in India.
1. Neutrogena Ultra Sheer Dry Touch Sunblock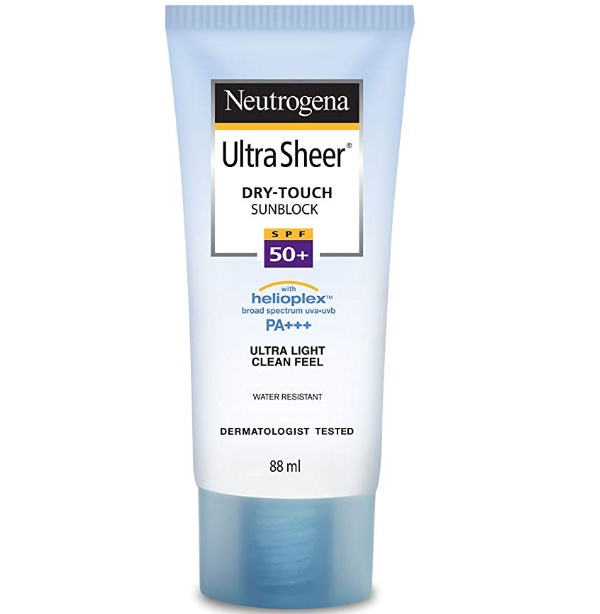 Neutrogena Ultra Sheer Dry Touch Sunblock is one of the best sunscreens for people with normal to oily and acne prone skin in India. It has a dry touch formula without the greasiness after the application. Thanks to its light formula which is also water resistant. The benefits like oil-free formula and sweat proof features makes it a go to product for everyday use. It contains SPF 50 with broad spectrum to shield the majority of UVA and UVB rays. It helps to Shield your skin from getting dark and sunburnt. It's rich creamy formula is very easy to blend on your skin and doesn't leave that horrible white cast on application. Available in a tube packaging, it's very easy to carry with you in your bag and with fresh scent and is safe in a folder in. It's dermatologist tested product which can be applied to 30 minutes before going out.
2. Lotus Herbals Safe Sun UV Screen Matte Gel, SPF 50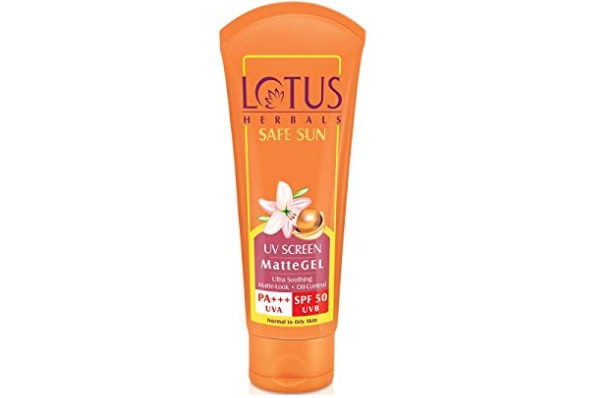 Lotus Herbals Safe Sun UV Screen Matte Gel is the best summer sunscreen for oily skin in India. It has SPF 50, which is considered as decent amount to stay protected under the heavy sun exposure. Containing the key ingredients like horse chestnut and Vanilla, it's suitable for normal to oily skin type. It can be applied by women and men both. Even for kids over 3 to 4 years of age, this is a safe sunscreen gel. Based in gel formula, this is extremely quick to get absorbed and apply. Without leaving any greasy layers of the skin, it sinks inside. This gel sunscreen controls the oil secretion while keeping your face clear fresh. In India, a good sunscreen gel like this with SPF 50, is your one-stop solution to protect your delicate skin from sun tanning. It works effectively on oily skin and because of its tube packaging. It's a daily herbal sunscreen gel with natural ingredients that doesn't cause any irritation.
3. RE' EQUIL Oxybenzone and Zero-Omc Sunscreen for Oily, Sensitive and Acne Prone Skin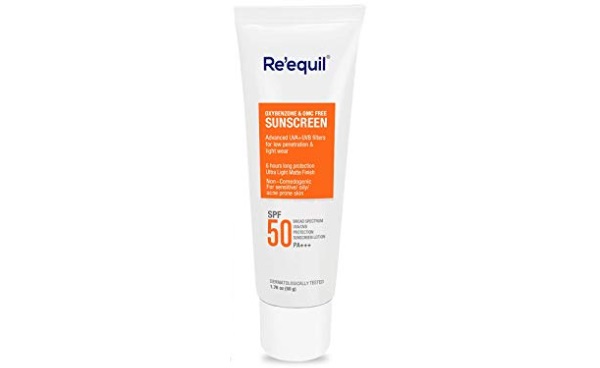 The best face sunscreen for sensitive skin has everything that your skin requires. The reason I'm saying is that it has SPF 50 which protects the skin from heavy UV exposure. Choosing this sunscreen during summer season for your sensitive skin would be the best thing to do.  Free of oxybenzone and mineral oils this is it safe for kids and people with acne prone sensitive skin. It's also OMC free. The non-greasy and matt finish of this product helps you get oil-free skin for a lot longer. It comes with a non-comedogenic and dermatologically tested formulation. Hence, it's safe to apply everyday specially if you've irritation prone skin type. Your redness and itching prone skin will thank you, when used a safe product like this. Its price is very affordable and in budget. The key features would be light texture, paraben free sunscreen suitable for oily sensitive acne prone skin. It gives us and protection up to 6 hours. Packaged in a tube form, this is easy to use product. The texture is creamy and easy to blend with no ashiness or white cast on your face. It's the best sunscreen for oily skin in India.
Best Sunscreen Lotions For Dry Skin In India
4. Lakme Sun Expert SPF 50 PA+++ Ultra Matte Lotion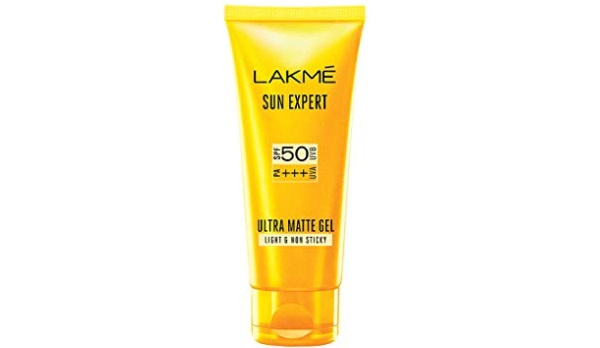 Lakme Sun Expert SPF 50 PA+++ Ultra Matte Lotion is  the best selling sunscreen lotion in India for all skin type. Its Ultra Matte gel and non sticky texture makes it perfect to be used for summer season for oily and acne prone skin. It prevents tanning on your skin by shielding the sun rays from damaging your skin. While the product block 97% of UV rays, it also protects the skin from getting sun burnt. Its creamy formula is very easy to blend on the skin without leaving residue that looks bad. It's a long wear sunscreen lotion that you can we have when you are more likely to spend long hours under the sun. It saves your skin from a broad spectrum of UV rays. The higher protection doesn't make it greasy rather effective. It controls the dark spots, tan lines and Sunburn as we mentioned. Other than that, the sunscreen gives protection against premature aging and lines that show up on your skin over a period of time. Dermatologically tested and hypoallergenic formula of this is safe for sensitive skin.
5. WOW Anti Pollution SPF40 Water Resistant Sunscreen Lotion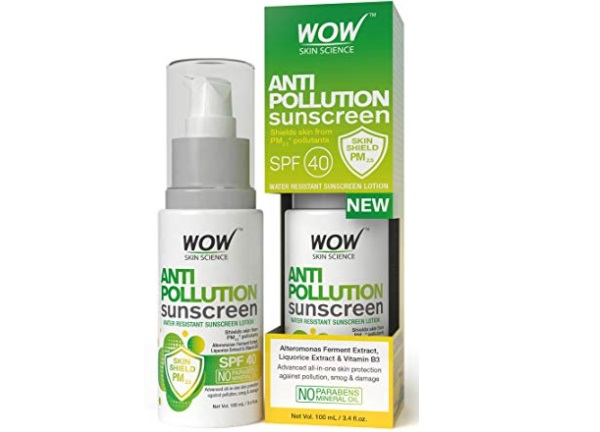 When you need a sunscreen lotion for your dry sensitive skin, this option will fit he bill. It's an anti pollution sunscreen lotion with water resistant formula. It protects your skin from pm 2.5 level pollution, known to cause itching allergies and damage of the skin. On application on regular basis, this sunscreen lotion helps to protect the skin from pollutants, smoke, fuel exhaust, sun rays and smog. It gives clinically proven results against safeguarding the skin from a variety of damaging issues. It boosts the skills capability of self healing. Additionally, it also neutralizes free radical damage on your skin while reviving your skin. It's an all in one sunscreen lotion which is rich in anti-oxidant, vitamin B3 to lighten the skin tone once used regularly. It's hydrating texture is suitable for dry skin but not at all for oily face.
6. NIVEA Sunscreen Lotion SPF 50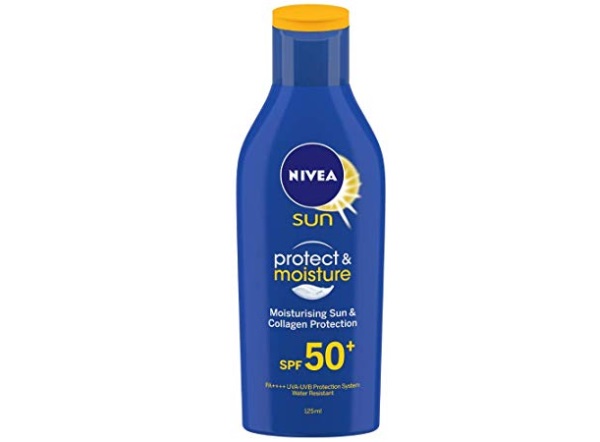 Nivea sunscreen lotion with SPF 50 is your best product to stay protected from sun rays and to ensure skin safety. The high SPF formula is moisturizing and protects the collagen. It's a water resistant sunscreen lotion that doesn't get removed, when you sweat or indulge in water activities. It has light a non-sticky formula which gets absorbed quickly in the skin layers. It safeguards skin against both UVA/UVB rays. The lotion formula is very easy to apply and gets inside the skin without leaving the residue or white substance on the top. By protecting the collagen and skin layers, it actually gives you anti-aging benefits. The Nivea sunblock's non-greasy yet hydrating nature is safe for dry sensitive skin to eliminate the roughness and dry patches. Apply it generously, 15 minutes before stepping out in the sun to get the best sun protection.
7. Ustraa Sports Sunscreen-SPF 50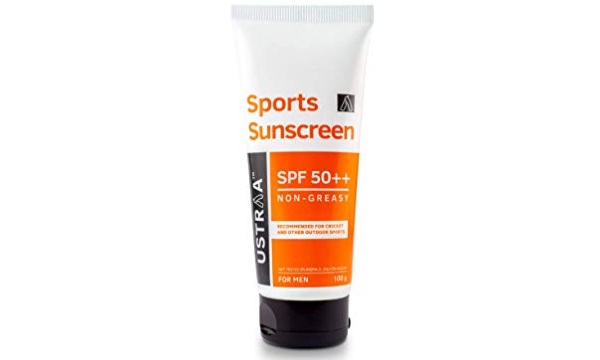 Ustraa Sports Sunscreen-SPF 50 is the best mineral sunscreen lotion for men who've dry to normal skin. Even though it has a non-greasy formula that doesn't make your skin oily yet gives ample amount of moisture. Therefore, it would be better for normal to combination and dry rough skin. It's a paraben and Sulfate free sunscreen lotion free of all those harmful chemicals. Apply it 15 to 20 minutes before moving out under the sun. It protects your skin from the sun damage for up to 6 hours. The product has a nice creamy texture that blends well on the skin without leaving the whitish layers. It's one of the best summer sunscreen lotions for men who go for beaches, water parks and even for trekking. In cities where the sun rays are more damaging, using a sunscreen lotion like this can certainly help your skin.
8. Kaya Skin Clinic Sweat Proof Sunscreen SPF 30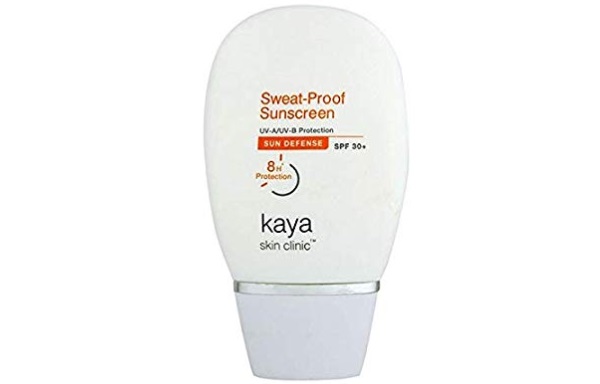 Kaya Skin Clinic Sweat Proof Sunscreen is from Kaya Skin Clinic, known for their expertise in skincare. It delivers up to 8 hours of broad spectrum protection from the harmful UV rays. It's a light white color cream that is non-greasy and gives total hydration to your rough and dry face. It leaves the skin soft and smoother. Developed by the Dermatologists, the sun cream is very gentle on the skin. It's water and sweat-resistant, hence is perfect for combination dry and normal skin. Loaded with SPF 30, it protects the skin from premature aging, tanning, dullness and the damage due to free radicals.
Best Sunscreen Lotion for Babies and Kids in India
9. Mom & World Mineral Based Baby Sunscreen Lotion SPF 50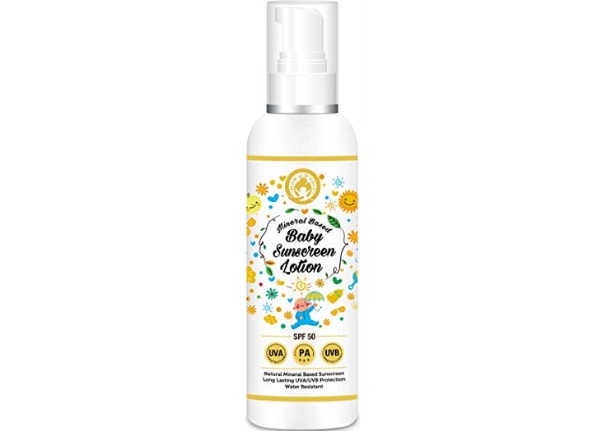 The baby sunscreen is the best selling product which is gentle and effective. It has a non greasy and hypoallergenic formula that is safe for kids sensitive skin. The sensitive skin friendly formula blends extremely seamlessly into the skin without leaving all those white layers and blotches on the skin. With broad spectrum SPF 15, it gives protection to the baby's skin from UVA and UVB rays. It's perfect for travelling and is a water resistant product. Your kids can go to pool wearing this. It has a mineral based formula that quickly absorbs on massaging with light hands. The titanium dioxide base formula gives excellent protection in protecting your child's delicate skin. It prevents Sun burning and its vitamin and antioxidant rich formula fight free radical damage. Most importantly, it can be used in the higher altitude regions like mountain areas where the sun burns and tanning is very common.T he packaging is really user-appropriate and travel friendly. Make sure you apply it on kid's skin 10 to 15 minutes prior to Sun exposure.
10. Cocomo Natural Moisturiser

Sunscreen

Lotion for Kids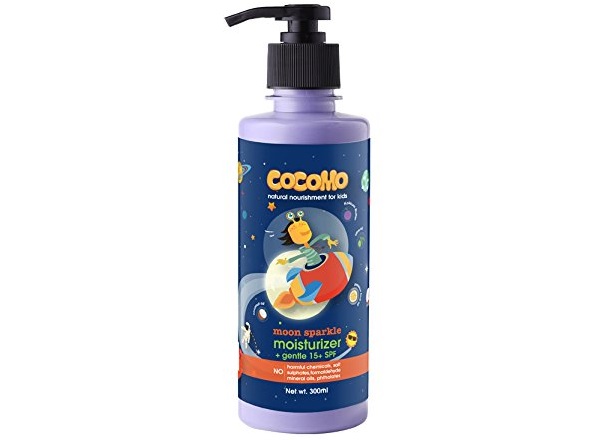 The kid's sunscreen lotion is rich in SPF 15. It's the best sunscreen for kids above 4 years of age. It's a most favorite formula that gives moisturization and sun protection to your kids delicate skin from UV damage. With ingredients like shea butter, kokum butter, olive oil, coconut oil, almond oil, Jojoba oil, Calendula, Aloe Vera and Passion Fruit Oil, it gives enough of the moisturization to dry skin. Also soothes  the skin and prevent sun burning. It's 100% safe and is a dermatologically certified safe sunscreen lotion for kids. It's paraben and SLS free and doesn't contain any harsh chemicals, synthetic fragrances, artificial dyes or scents. Pump packaging is easy to use. This is the best sunscreen lotion for small kids.
These are the best sunscreen lotions in India for different skin types and for babies/ kids. Apply them at least 15 minutes before stepping out and re-apply after 5-6 hours. They are with high SPF therefore will shield the skin for long duration.