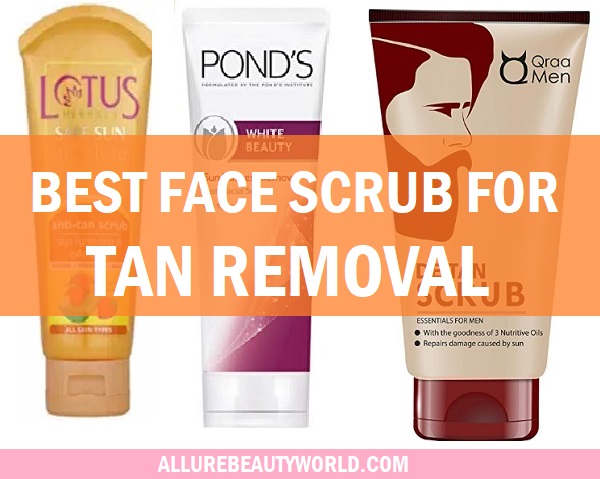 Tanning can be easily removed from your skin by regular exfoliation or scrubbing with tan removal scrubs. For that you would need an effective facial scrub which is a great way to exfoliate the dead skin cells and to make your skin super clean. For this, you must go for the readymade face scrubs dedicated to lighten the sun tanning. Due to everyday UV exposure and pollution you are exposed skin areas like face and neck hands and legs can get tanned. But you do not have to worry about the tanning becoming permanent, unless you are regularly scrubbing and moisturizing your skin. In this article, I have compiled this list of the best effective tan removal face scrubs in India. These are the facial scrubs formulated to remove sun tanning and blemishes from your skin. The list includes different brands in the market, which are effective and unique in their own sense. Therefore, choosing the best face scrub to remove tan in India, makes the task easy.
Best Scrubs for Tan Removal and Glow in India (2022)
1. Biotique Bio Papaya Revitalizing Tan Removal Scrub 

It is the best tan removal facial scrub in India, which I personally use during summer season. The goodness of papaya in this scrub makes one of the most effective product, with which one can remove sun tan and get back the original skin complexion. Even if you have that long time tan, that isn't budging off, you can vanish that by using this product. It can be applied once in 2 to 3 days so, that whenever the dead skin cells get accumulated on your skin surface, those can be removed. And this process actually helps your skin to stay blemish-free and glowing. As an anti aging aspect as well, you can start using face and body scrubs. It's good for oily skin to remove tanning.
Recommended for: All skin types
2. Lotus Herbals Safe Sun Absolute Anti Tan Scrub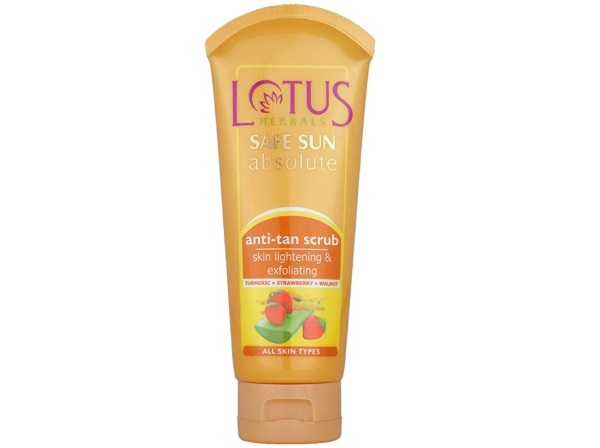 Lotus Herbals Safe Sun Absolute Anti Tan Scrub is their best selling products. It has a skin lightening and exfoliating properties. Loaded with turmeric, strawberry and walnut extracts, this also contains aloe vera. As a combined result, this anti tanning facial scrub makes skin lighter and glowing. On regular use, with this, it's possible to remove tan in just a day. It removes the tanning and that darkening of skin, which you experience after staying long duration under the sun. It can be applied on your face, neck and hand and for forehead tanning. It's the best scrub to remove tan in India.
Recommended for: All skin types
How to use to use this facial scrub
Apply it on the wet facial skin and neck. Gently massage this. Massaging in circular movements for 2 to 3 minutes on the area, gives best results in lightning the sun tanning and to get rid of blackheads on your skin. Wash off with lukewarm water.
3. Phy No Tan, Man After-Sun Face and Body Scrub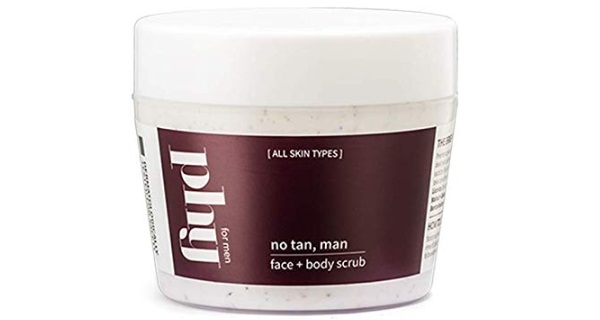 Men who spend a lot of time outdoors are more likely to get sun tanning. The product is suitable for men with all skin types and can be applied on the face and body. It is recommended to be used daily to get rid of the fresh sun tanning. It is made using the ingredients like licorice, which is known to the whiten the skin. It also contains walnut and cellulose scrub particles that polishes your skin surface. It's the best tan removal face scrub for face and body in India. When you apply a product like this, it also make sure that your skin stays healthier and it reduces the ingrown hair. This will also make your shaving experience much easier and quick. This brand is 100% Vegan and is one of the best anti tan face scrub for men too
Recommended for: All skin types
4. Bella Vita Pigmentation Tan Removal Face Scrub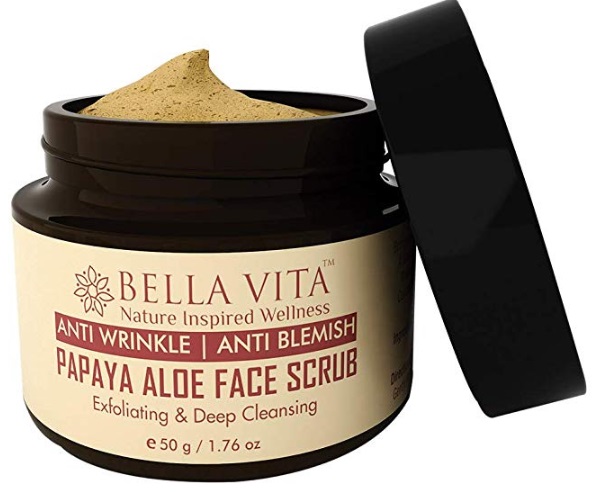 The facial Scrub is from a very popular herbal brand. I really like this brand because it makes a Herbal Skin care products which are free from the parabens, SLS and harmful Chemicals for your skin. The Scrub is in the powder form and is rich in papaya and aloe vera extract. It effectively exfoliates your dead skin and brightens the face.  The product reduces the dark spots and enhances the skin texture. It can be applied once every 2 to 3 days.
How to apply: Take small quantity of this face scrub and apply it on your wet face and neck. Do gentle movements for 2 to 3 minutes, then rinse with plain water. The product is a naturally certified product which lightens your blemishes and pigmentation. It is one of the best selling tan lightening products.
Recommended for: All skin types
5. Ustraa Detanning Face Scrub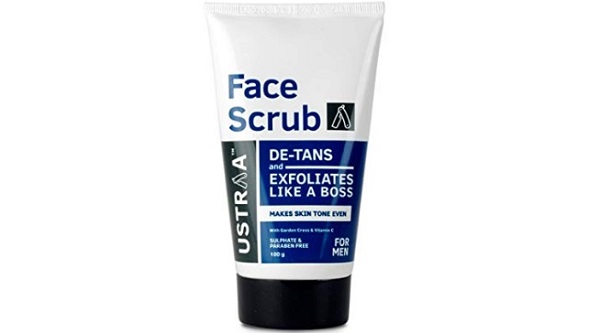 The detanning facial scrub is made for men skin but it can also be applied by women. After the application, it gives you a refreshing skin and smoothness. Swiss Garden cress sprouts extracts are known to give you fair and younger looking skin tone. It also contains glycolic acid that aids in the removal of dead skin and pimple marks. The product is SLS and paraben-free and is devoid of all those harmful chemicals. It's the best tan removal scrub for men.
Recommended for: All skin types especially oily and acne prone
6. Pond's White Beauty Sun Dullness Removal Daily Facial Scrub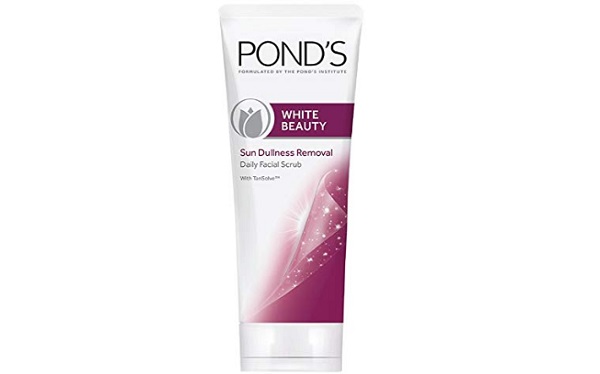 Ponds White Beauty Daily Facial Scrub contains microbes which exfoliate your skin and brighten the dull and tanned skin complexion. It promotes the renewal of cells and smoothness the skin surface. Made with the combination of Tan solve beads and brightening skin cream, this is one of the best facial scrub for all skin types. It efficiently scrubs away the dullness, impurities which get rooted deeply in your skin layers. With this, you can also say goodbye to blackhead and even whiteheads. This is a best face scrub to get rid of Sun tanning in India.
7. Everyuth Naturals Chocolate and Cherry Tan Removal Scrub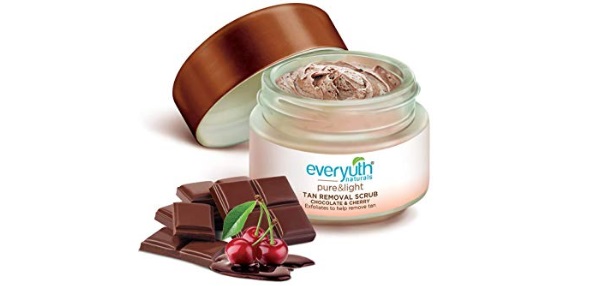 Everyuth products are very popular and this is a newly launched product in fact it has the entire range of skin cream, Scrub and face wash that contains chocolate and Cherry extracts. The De tanning facial Scrub contains chocolate and Cherry extract which exfoliate your skin to help remove then. When you have to lighten the effects of the sun from your skin is an application of fruit and Vitamin C rich products is best method. This is the best skin lightening and whitening facial scrub in India.1` It can also be applied on your exposed body parts.
Recommended for: All skin types, more for dry combination skin
8. Qraa De-Tan Scrub For Men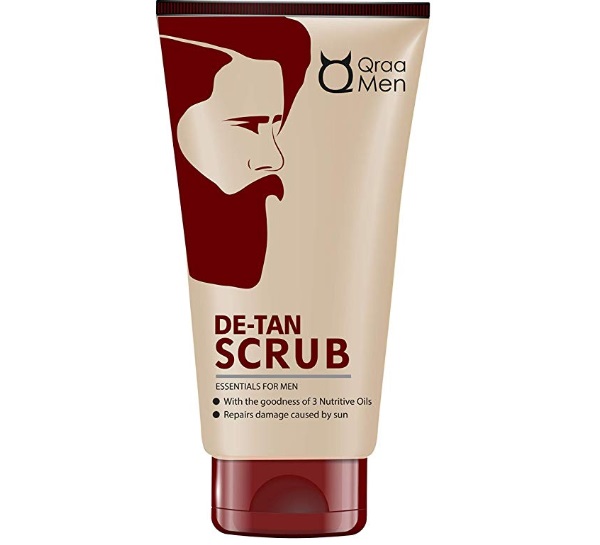 Qraa anti tanning scrub contains tea tree and clove oil. These two ingredients are exclusively used for skin care products, which are formulated for men having oily and acne prone skin. This has a very affordable price and can last more than a month. The Ayurveda based formula of this product blends the finest oils to brighten your skin. It can be your best face scrub to quickly remove tan.
When you apply it every 2 to 3 days, it lightens the skin and stimulates the blood circulation which in turn also decreases the pigmentation on your face, but make sure that you apply sunscreen after scrubbing your face.
Recommended for: All skin types
9. Greenberry Organics Tan Removing Exfoliating Scrub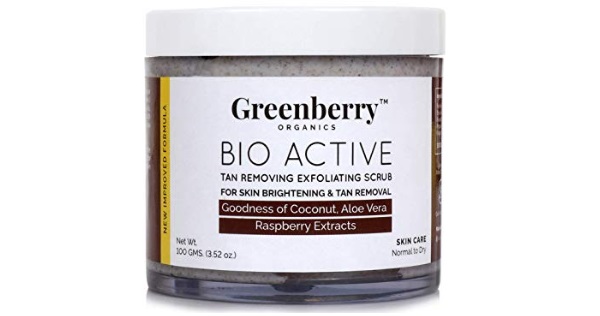 The product has received some of the best ratings from users on online portals. It contains the goodness of coconut, raspberry extracts and aloe vera. For skin brightening and tan removal, you can apply this scrub twice a week. Loaded with bioactive scrubbing particles, this removes the tanning instantly and skin appears smoother.
How to use: Apply the scrub on your wet face and neck. Spread it evenly and massage in circular motions. Leave it for 15 minutes and then rinse off with water. Apply twice for better results. The product is best suited for dry to combination skin and is the best tan removing scrub in India.
Recommended for: All skin types
These are the best tan removal face and body scrubs in India. Choosing the best de-tanning scrub would be easy when you have this knowledge.