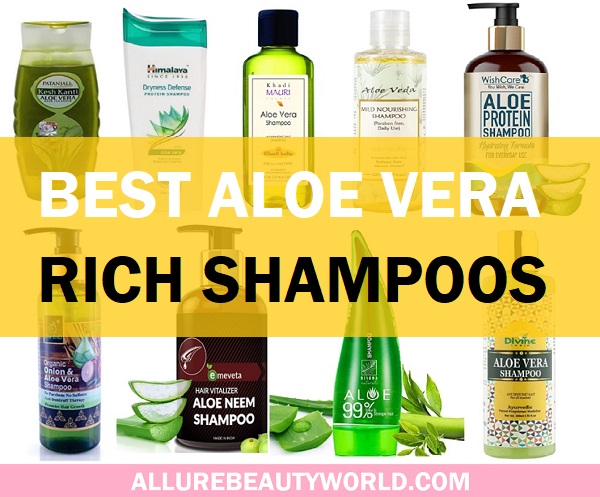 Aloe vera is a one stop solution for hair care. There are numerous aloe vera shampoos available in the market, considering the immense benefits of aloe vera for hair care. These aloe rich hair cleansing products help in hair fall, dandruff and in boosting the hair growth. Other than that, there are many natural organic aloe vera shampoos from different brands. but when it contains aloe vera, they become really beneficial for the hair fall. It doesn't matter, what hair type you've, an aloe vera shampoo would surely suit your hair type and the concerns. If you're looking for the best aloe vera shampoos in the market, then surely this article will help you to choose the best shampoo rich in aloe vera as a key ingredient.
Best Aloe Vera Shampoos In Indian Market (2022)
1. Patanjali Kesh Kanti Aloe vera Shampoo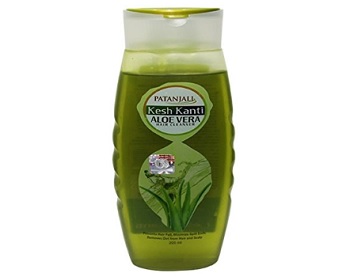 Patanjali Kesh Kanti aloe vera shampoo is one of the most popular aloe vera shampoos available in the Indian market at reasonable prices. It lathers really well and is the best shampoo for normal to oily hair. Using this shampoo during the summer season, when hair gets sticky, helps to clarify the scalp and gives oil-free feel. The gentle formula of this aloe vera hair cleanser has a mild greenish color with gel like texture. It's the most popular shampoos in India for all hair types.
2. Himalaya Dryness Defense Protein Shampoo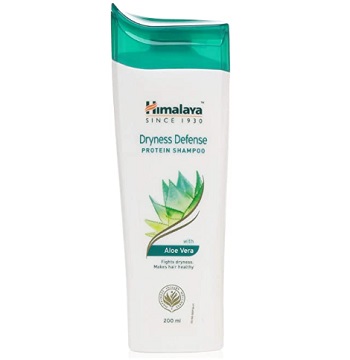 Aloe vera with protein is a powerful combination to grow your hair faster. It's suitable for even the long hair, wherein the length is responsible for tangles and breakage. It gives manageability to the tangled hair by reducing the static and providing protection from roots to tips. So, thereby the shampoo protects hair from future damage and also safe to be used on artificially colored hair. It's a mild shampoo with aloe vera for everyday use.
3. Khadi Herbal Aloe Vera Shampoo
Khadi is a brand known for its paraben free shampoos which are also affordably priced. Khadi Herbals aloe vera shampoo has all the natural ingredients suitable for all hair types. Aloe vera is known for its efficiency in promoting hair growth and reducing hair fall. The shampoo is made with Ayurvedic formula and natural ingredients. It lathers decently and is suitable for all the hair types like fine hair oily hair, curly and colored hair as well.  It's one of the best natural shampoos in India at cheap prices.
4. Aloe Veda Mild Nourishing Shampoo 
Aloe Veda is a brand that is known for their mild and paraben free products. Like this Aloe Veda mild shampoo which is rich in Aloe Vera, Biotin, Panthenol, Allantoin and Vitamin E. The impressive list of ingredients says a lot about the efficiency of this natural organic shampoo for men and women in India. It's the best sulfate free cleanser that is gentle and non-harmful. Aloe vera leaf extract and along with biotin helps to promote the natural hair growth. So if you're experiencing thinning of hair and hair loss in bald patches in the centre of the head, applying shampoos rich in biotin can certainly help. The shampoo actually cleansers the scalp and hair well and promotes the thickening of the hair cuticle.
5. WishCare Aloe Protein Shampoo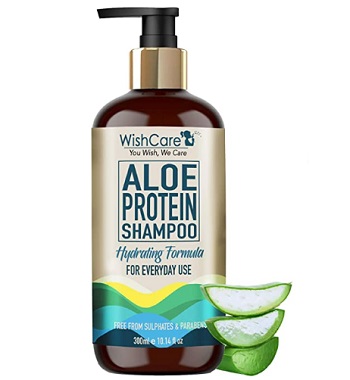 When you are fighting hair loss and lack luster hair, aloe vera shampoo with protein would be extremely beneficial. This aloe vera and protein shampoo is made with natural ingredients. It's suitable for regular use and men and women both can try. The shampoo also reduces the dandruff and dryness of the scalp that causes itching and hair loss, when untreated for long period of time. Proteins are known to make your hair thicker and fuller. It's 100% chemical free shampoo which does not have any SLS, paraben, mineral oils and other chemicals. It's the best cruelty free shampoo in India.
6. Emeveta Herbal Aloe Vera Neem Shampoo for Hair Growth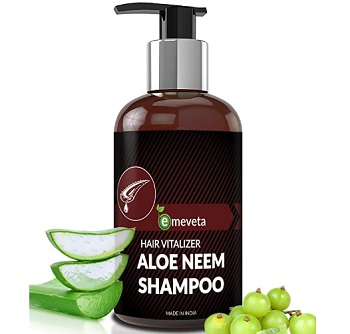 When dandruff is left untreated for very long time, it can also become one of the reasons for hair loss and hair fall issues. An aloe vera shampoo loaded with Neem can be a solution to this everyday hair breakage problem. The shampoo contains Amla, Reetha and Bahera also to help hair grow faster and make hair thicker in no time. This chemical free product and is also a reasonably priced.
7. The EnQ Organic Onion & Aloe Vera Shampoo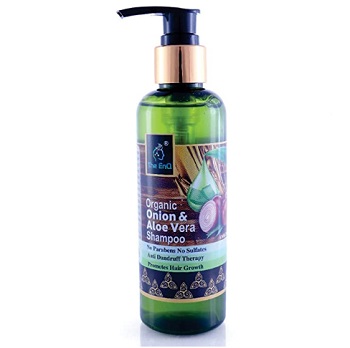 The shampoo is made to promote hair grow faster and thicker. It hydrates the dry hair and gives hair natural sine and sheen. Rich with onion and aloe vera extracts, this is one of the best shampoos to promote the natural hair growth without any damage.  Affordable price is yet another benefit of using this organic aloe vera shampoo available in India.
8. Rivona Naturals Aloevera Bamboo Hair Shampoo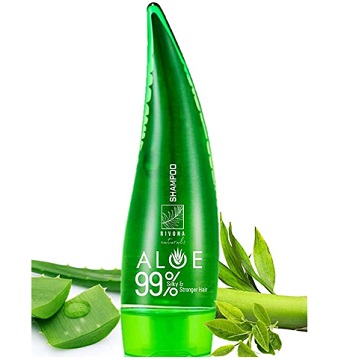 This natural aloe vera and bamboo shampoo gives silky and stronger hair. So, if your hair are dry and damaged with lot of frizz, the shampoo like this can be highly beneficial. The proteolytic enzymes in aloe vera help to reduce dandruff and makes hair smooth and softer. During winter season when the dryness of scalp increases, such a moisturising shampoo surely combats the dryness and itching. Bamboo is an excellent product to cleanse scalp and hair. This shampoo also removes the product build up. Therefore, it's an excellent aloe vera rich shampoo to cure the product build up which happens on day-to-day basis.
9. Divine India Aloe Vera Shampoo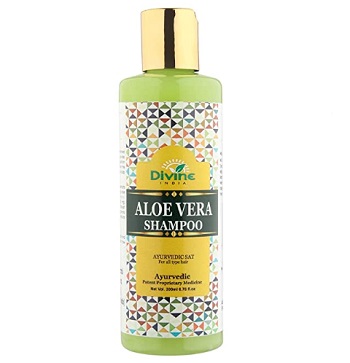 It's the best Ayurvedic aloe vera shampoo with no chemicals or harmful colorants used. It's a good shampoo to treat the dull and dry frizzy hair in just few washes. Enriched with goodness of natural aloe vera, it's an effective hair cleansing product to include in daily hair care routine. It boosts the hair growth and keeps hair thicker for a lot longer. Even to fight the pollution damage that we experience on daily basis, the shampoo works well.
10. SoulTree Hibiscus Shampoo with Honey & Aloe Vera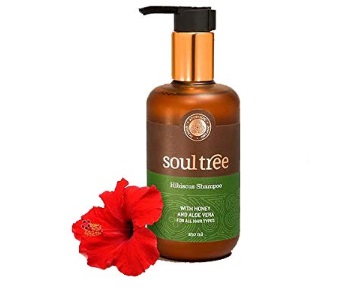 Soultree is a brand, known for their high quality and chemical free products. In fact, their products are certified as well. Soultree Hibiscus shampoo with honey and aloe vera is made for all hair types. It cleanses the hair without stripping the natural lubricating oils from the scalp as well as hair. After the wash, the hair feel smooth and nurtured. It's a shampoo free of chemicals like parabens, phthalates, silicons and SLS. Moreover, it's also the best cruelty free vegetarian shampoo available in India.
11. Herbal Essences Argan Oil of Morocco Shampoo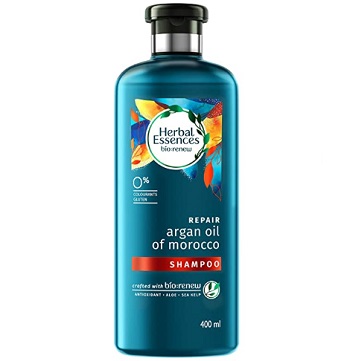 Argan oil of Morocco in a shampoo is amazing for hair that is dry and frizzy. It's a color safe and pH balance formula with no paraben. The shampoo makes hair smell really good with exotic scent of citrus, exotic spicy and creamy Vanilla, post wash. It's a shampoo that is made to cure damaged hair and to make them look lustrous and silkier.
12. Pukhraj Aloe Brahmi Shampoo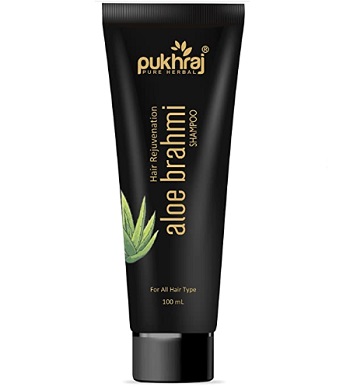 Pukhraj Aloe vera Brahmi shampoo is made for hair growth and to revitalize the dry hair. Brahmi also darkens the hair color and enhances the hair growth. So if the hair is getting prematurely grey and rough, this shampoo helps.
13. Sunsilk Coconut Water & Aloe Vera Shampoo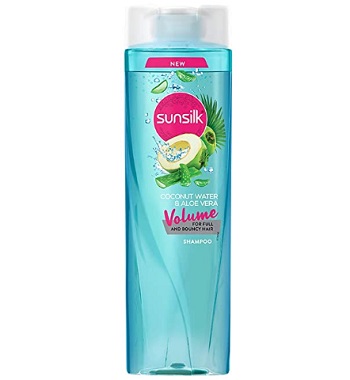 Infused with not just aloe vera but coconut water aslso. This Sunsilk aloe vera shampoo is the latest edition in the Sunsilk shampoo range. This is for full and bouncy hair with a light blue translucent gel-like formula. With goodness of natural coconut water and aloe vera, it's made to give the hair volume and natural bounce. It's mild and gentle formula is suitable for daily use. The shampoo gives oil-free free flowing hair, that one wish to get especially during the summer season, when sweat and humidity weighs down the hair.
14. Nyle Dryness Hydration Shampoo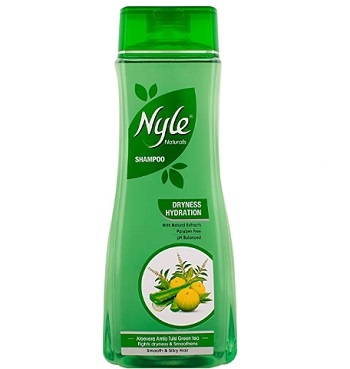 Rich with Aloe vera, Amla, Tulsi and Green tea, the Nyle shampoo is made to combat dryness and to smoothen the damaged hair. This organic and paraben free shampoo has a pH balance formula that gives healthier hair. It shields and protects the damage from everyday wear and tear and environmental stressors. With an excellent blend of natural ingredients; it plays a role in strengthening and revitalizing the hair. It's also known to promote the hair growth.
15. Siso Aloe Vera Hair Care Shampoo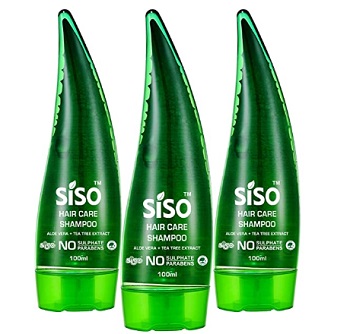 With beautiful packaging, this aloevera shampoo does not contain any sulphates or parabens. It also contains tea tree extract to further give a boost to the hair growth. It's a suitable shampoo for all the hair types that prevents the hair loss and promotes hair growth. The best thing about an aloe vera and tea tree loaded shampoo is the quick relief in dandruff. It also initiates growth of new hair follicles from the scalp. It can be used on a daily basis because of its gentle and sulphate free formula.
These are the best aloe vera shampoos in India. Aloe vera shampoos are really good for your hair, because they help in getting rid of the dirt, dust and pollutants from the scalp and hair. It leaves the hair beautiful and shiny. Aloe vera apart from having many wonderful benefits for the hair, also removes the itching and dandruff issues. After using aloe vera shampoo a lot of individuals say they will not require a conditioner but if you wish you can go ahead and use any organic hair conditioner of your choice.
Can we mix pure Aloe Vera Gel to any shampoo?
Yes, we can and in fact, it makes the hair smoother and shinier.  This step also straightens the hair and makes them more manageable with less tangles and breakage. You can try adding Aloe Vera Gel to any shampoo before hair wash. Just take one teaspoonful of aloe vera gel and one spoon of any shampoo. Mix them and apply it on your wet hair and massage with the fingertips. Rinse the hair and scalp thoroughly.