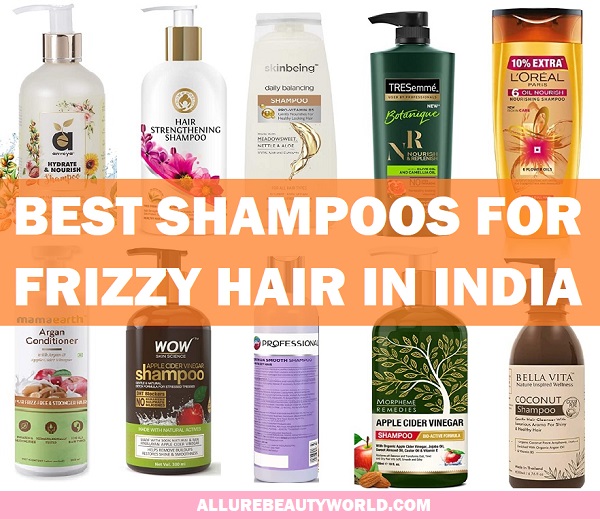 The frizz factor is a thing that is prevalent in hot and humid season. Frizz controlling shampoos can be extremely helpful. This article will help you in choosing the best and superbly moisturizing shampoos that gives amazing nourishment. These anti-frizz shampoos are effective and using the heat styling treatments will also not be as damaging. 
List Of The Best Shampoos for Frizzy Hair in India (2022)
We've rounded up this list post of the best shampoos for frizzy hair available in India, to help fight humidity soon after you cleanse your hair.
1. Anveya Hydrate & Nourish Shampoo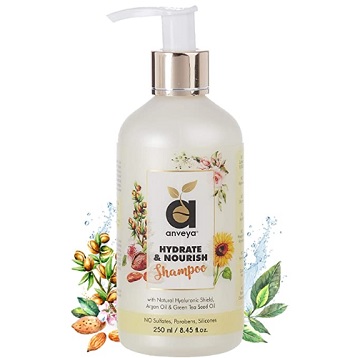 The shampoo is hydrating and nourishing shampoo for dry and frizzy hair. It contains Argan oil and Green tea along with Hyaluronic acid. The shampoo nourishes and makes the thick and curly hair so that the friction and frizz can be reduced. This product is devoid of paraben, ammonia, alcohol and sulphate.
2. Mamaearth Argan & Apple Cider Vinegar Shampoo for Frizz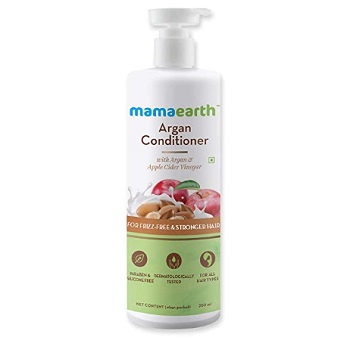 Mamaearth Argan oil shampoo is rich with efficient and mild ingredients to nourish the tresses deeply and reduce the frizz. This contains Argan oil, almond oil, apple cider vinegar. It restores pH balance, while the shampoo gets rid of the product built up and keeps the dandruff at bay. Almond oil nourishes the hair and reduces the frizz. It is a wonderful shampoo for dry and damaged hair.
3. WOW Apple Cider Vinegar Shampoo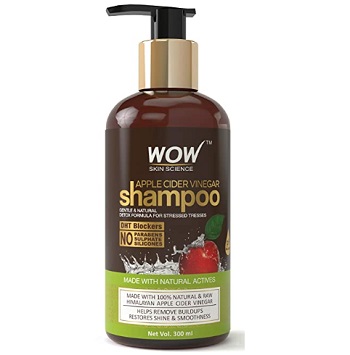 The apple cider vinegar shampoo is a natural product that is rich with tea tree oil too. Being paraben and Sulphate free, it encourages hair growth and retains the moisture. It also helps with split ends. It is rich with natural botanicals, that's why it maintains the hair health and unclogs deposit of product build ups. Basically it's a hair stimulating shampoo that also reduces the frizz.
4. Godrej Professional Quinoa Smooth Shampoo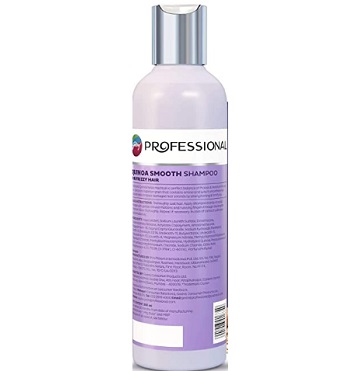 Made for frizzy hair, this Quinoa shampoo is smoothening product with wonderful amazing nourishing properties. It smoothen the hair cuticle and repairs the damaged hair strands. The shampoo is also a colour safe product, which is why it is especially created for Indian hair. So if you have bleached or highlighted hair, the shampoo is an effective herbal product to add to your existing hair care routine. It has hydrolysed quinoa extracts and a perfect balance of protein and moisturizers.
5. Morpheme Remedies Apple Cider Vinegar Shampoo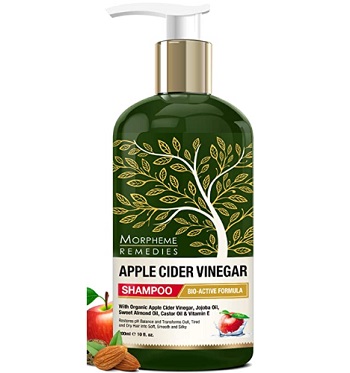 Being rich in Apple Cider vinegar, this shampoo is for dry and rough hair with frizz. It contains organic apple cider vinegar, YouTube oil and sweet almond oil, castor oil and Vitamin A. It restores the disrupted pH balance and transforms the rough, tired and frizzy hair into soft and smooth hair. The hair cleanser is suitable for all hair types, including the frizzy curly hair. With so many natural essential oils, it's bound to make your hair beautifully smooth and lustrous.  This too does not contain any SLS or paraben.
6. Skinbeing Daily Balancing Shampoo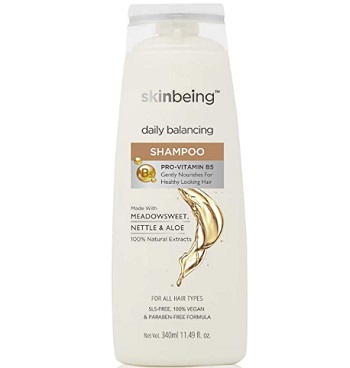 It's a daily balancing mild shampoo, which is rich in provitamin B5. It is an essential product for healthy looking hair. With sweet nettle and yellow it is 100% natural product. This is suitable for all hair types. The product is SLS free and is 100% Vegan and paraben-free formula. It is made to combat the frizzy hair and balances the hair so that the shampoo becomes lustrous and stays healthy all day long. So even if you are washing your hair with this everyday, it makes sure that the hair looks moisturised and beautiful.
7. TRESemme Botanique Nourish and Replenish Shampoo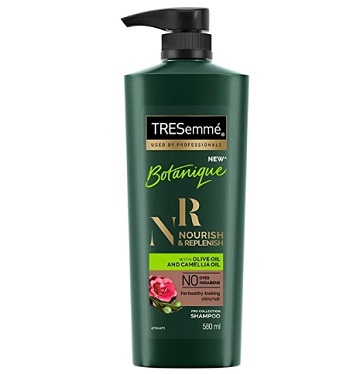 Olive oil and Camellia oil in this Tresemme Botanique shampoo is known to combat weather induced frizz. It is suitable for all hair types, even when the hair is curly and extra dry, the shampoo can work really well. It is safe for colour treated hair and highlighted hair. Made for Indian hair, this product is suitable to use with oil treatments as well. It water lily and plum fragrance, which gives you feel good effect while using this shampoo in the shower. So, the product is a rich botanical blend that can control frizz up to 24 hours.
8. Mom & World Hair Strengthening Shampoo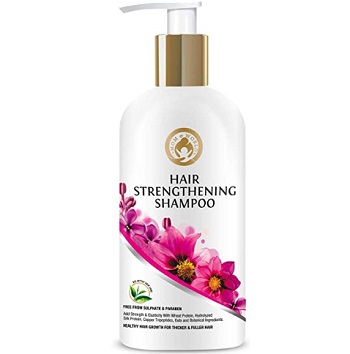 The hair straightening shampoo contains protein to make hair thicker and fuller. It is a free from sulphate and paraben free hair cleansing product that adds strength and elasticity. The key ingredients are wheat protein, hydrolysed Silk protein, copper tripeptides and Botanical ingredients. It is one of the best shampoos for healthy hair growth to get thicker and fuller hair. In fact, the product when applied daily can control and smoothen the frizz. It is also a good shampoo product for curly and damaged hair.
9. Bella Vita Organic Shampoo for Frizzy, Dry and Damaged Hair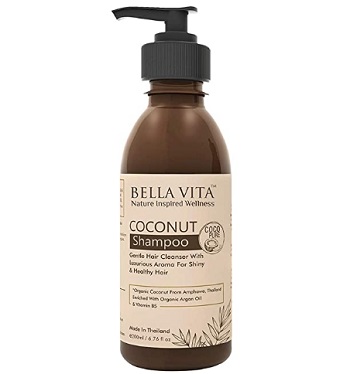 The organic coconut shampoo cleanses the hair gently and promotes hair growth. Additionally, the organic coconut extracts, Argan oil and vitamin B5, this is a product that is made for controlling frizz. It hydrates the dull and dry hair and also eventually reverses the heat damage. It restores the moisture and gives you beautiful looking hair. Pollution effects can lead to hair become dull and dry. It is an SLS, SLES, Paraben, Mineral oil free shampoo.
10. L'Oreal Paris 6 Oil Nourish Shampoo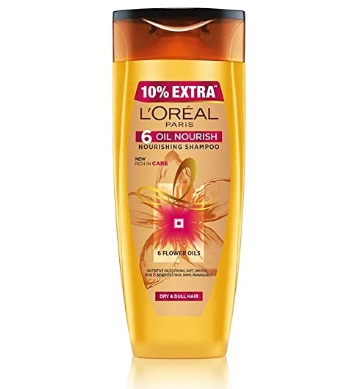 The very affordable product is 6 nourishing shampoo from L'Oreal Paris. It has 6 flower oils that are so nutritious that they help to deeply nourish every hair strand in just one wash. The best thing is that it revives all forms of hair damage including frizz. So, whether its heat styling, colour processing, perming or even the dryness that is making your hair look lifeless and dull, the shampoo will definitely help you in smoothening the hair. It has 6 micro oils like Argan, Almond, Olive oil, Jojoba, Rosemary and coconut oil, that penetrates deep into the scalp and hair shaft to give utmost nutrition.
These are the best shampoos for frizzy hair available in the Indian market. You can choose any of these depending on your hair type. Generally curly hair gets frizzy during a hot summer season. So the shampoos are also good shampoo products for summer season when the temperature is really high and weather is very polluted. One shall also go for the hot oil treatment at least once in a week to keep the frizz under control.