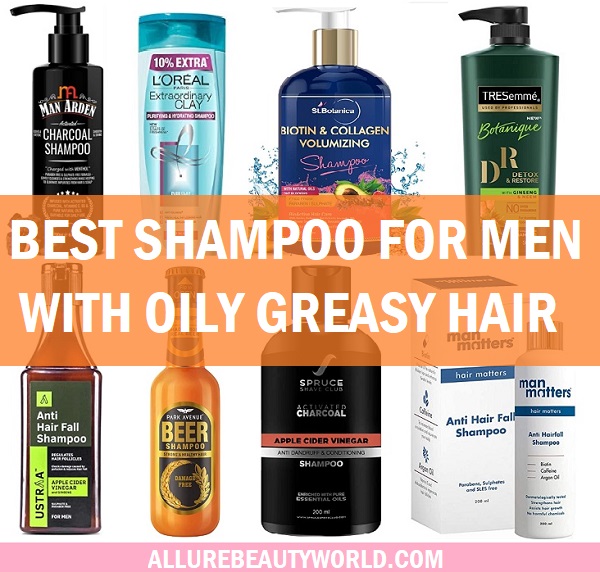 Why my hair is so oily? Are you wondering the same? Release of too much sebum on the scalp can make your hair greasy and sticky. For men, this greasy hair problem can even aggregate as men generally have shorter hair. Which is why, their hair gets clumped and looks really low on volume. To combat all that oily hair related problems, oil control shampoos are perfect. Such oil balancing shampoos clarify the scalp and also get rid of the sebum and oil built up. These shampoos are made with effective ingredients, which are known to reduce the build up of sebum in the scalp.
As a result, you can enjoy rich and voluminous hair. Men with habit of washing their hair everyday shall choose a shampoo, which is mild and effective enough to remove the sebum off the scalp. So considering that, we've created this list of the best shampoos for men with oily hair available in the Indian market.
Let's take a look at this list wherein, you'll find the best oily hair shampoos for men, when the hair gets greasy. Some of these brands are made only for men, while others are unisex products, i.e. can be tried by both men and women. Always check the ingredients of a shampoo and choose it according to your hair type.
Best Shampoos For Men With Oily & Greasy Hair in India
Let's take a look at the best oily hair shampoos for men. However, you need to ensure that the shampoo that you are using for your daily hair washing must be mild and gentle.
1. Man Arden Activated Charcoal Shampoo With Argan Oil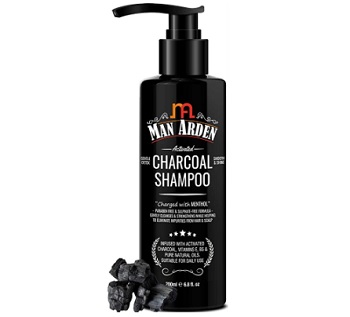 The Man Arden activated charcoal shampoo contains Argan oil and Menthol. Menthol gives you cooling sensation and makes it one of the best shampoos for men for summer season. The best thing is, it's paraben and sulphate free formula that gently cleanses hair. It lifts away the impurities and sebum built up which causes hair to get stickier. As a result, men can enjoy thick and voluminous hair. The product strengthens the hair root and helps to eliminate the impurities like dust and dirt. Infused with Activated charcoal, Vitamin E, Vitamin B5 and pure natural oils, it's suitable for everyday use. So even when you wash the hair every day, this brand is appropriate.
2. Ustraa Anti Hair Fall with Apple Cider Vinegar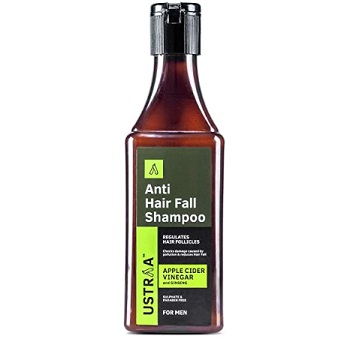 Coming to this amazing shampoo, which is a best-selling men's shampoo. This anti hair fall shampoo is made to put a stop on excessive hair fall and to make your hair stronger and shinier. The shampoo contains ingredients like apple cider vinegar and ginseng. Presence of both helps to combat the hair fall by reducing the excessive sebum and strengthening the hair roots. So, if you've oily scalp that produces too much of sebum, apple cider vinegar definitely helps to cleanse the oils away. Oils and sebum attracts dust and dirt, which is why your hair can also start to fall. This is one of the best sulphate and paraben-free shampoos for men in India.
3. Park Avenue Damage Free Hair Beer Shampoo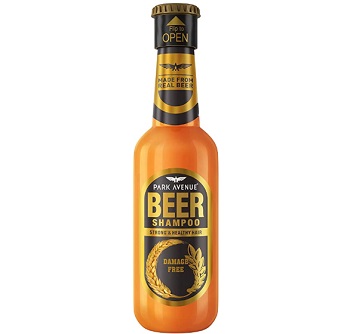 Park Avenue Beer shampoo is one of the best shampoos for oily hair. Not just for man, even women can try the shampoo because of its formula which is loaded with the real bear extracts. You must be wondering why Beer Shampoo? Beer is known to reduce the dandruff and to get rid of the sebum built up. It contains natural proteins and bioactives like Barley and Hops. The natural proteins in this product help to revive and strengthen each and every hair strand. Due to that, you can get to enjoy fuller and shinier looking hair. The shampoo is ideal enough to be used on every day basis. Just use a coin size amount and it gives enough of the lathers to make your hair and scalp squeaky clean. It is a very deep conditioning product that gives you conditioned and clean hair.
4. L'Oreal Paris Extraordinary Clay Shampoo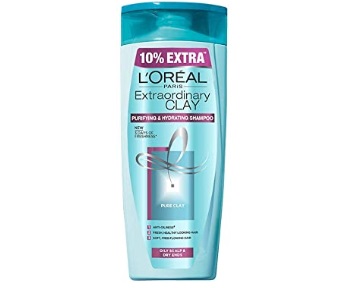 The recent launch in the shampoo category from L'Oreal Paris is the extraordinary clay shampoo. The product contains the pure play extract which are perfect to lift the oils and Sivam. It gives you fresh and healthy looking hair.so if you want the free flowing and healthy hair then the shampoo is perfect for oily scalp and dry hair ends. Men who have a bit longer hair can also try this because you may not wash your hair every shampoo will give you 3 days of fresh and fuller looking here. It is the magic of clay that absorbs successive oils.
5. Spruce Shave Club Charcoal Shampoo For Men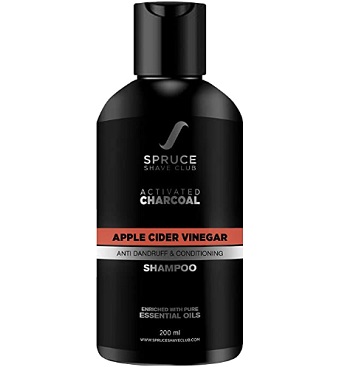 Coming to this anti dandruff shampoo, made with apple cider vinegar and other essential oils. Apple cider vinegar as we've mentioned is a perfect ingredient to get rid of the extra oils from your hair without making the hair dry or rough. In fact, apple cider vinegar is rich in maleic acid that helps to tame down the roughness and frizz. It really improves the hair texture. The men's shampoo also contains activated charcoal which is known for its immense cleaning and antifungal properties. Giving relief in dandruff, itching, dryness and roughness, this product can do everything for you. Additionally, the product is rich with keratin and biotin, which are known to make hair thicker and put a stop on hair fall. It's also a good men's anti dandruff shampoo for oily hair.
6. StBotanica Biotin & Collagen Volumizing Hair Shampoo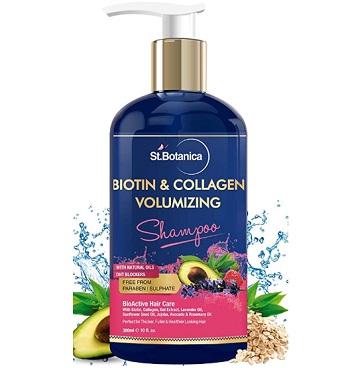 StBotanica biotin and collagen volumizing shampoo is made for thin and limp hair. So if your hair is oily with very low volume, then this product will definitely help you. It's the best shampoo for oily scalp and hair loss. Formulated with the mild and efficient natural ingredients, it can be applied on daily basis. It is a unisex product, which means even men can try it. The shampoo for men is paraben and sulphate free shampoo which works for dry hair too. Bio-actives like Collagen, Lavender oil, Sunflower seed oil, Jojoba oil, Rosemary and Biotin. It contains ingredients which fights the DHT related hair fall in men. As a result, men with male pattern baldness can effectively fight the DHT hormone induced hair loss.
7. Man Matters Hair Fall Control DHT Blocker Shampoo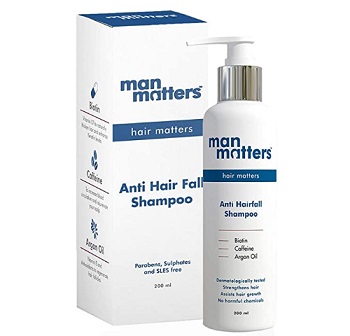 The men's brand makes this anti hair fall shampoo, which is paraben and sulphate-free. So with no harmful chemicals, it contains the natural products like Caffeine, Argan oil and Biotin. It is one of the best DHT blocker shampoo for men. At times, you have noticed that excessive oil on your hair also makes your hair to fall more. Dihydrotestosterone (DHT) hormone is linked with the male pattern baldness. This is why, the shampoo helps to strengthen the men's hair and put a stop on that.
8. Aroma Magic Oil Balancing Shampoo
The Aroma Magic shampoo is made to balance the oils on your scalp. With excessive oils on the scalp, at times your hair looks really clumpy and sticky. This product is rich in triphala and tea tree with detergent and sulphate free formula. It unclogs the hair follicle and maintains an ideal pH balance of the scalp. As a result, the product helps in getting good hair growth and shine. It retains the natural oils from the scalp and only removes the excessive  oils from the scalp. This is one of the best affordable oil balancing shampoos in India.
9. TRESemme Detox and Restore Shampoo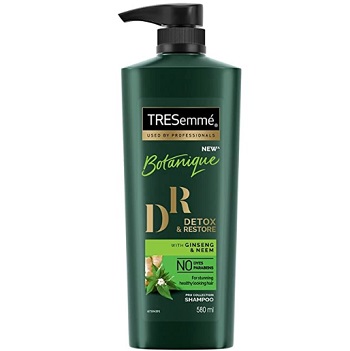 The Detox and Restore variant of Tresemme Botanique shampoo does not contain the dyes and paraben. It's rich with ginseng and Neem, known to reduce the oils and gives relief in dandruff. The product is very easily available online and in the shops. The best part about this product is its amazing smell that keeps you fresh. The shampoo lathers enough to cleanse the hair. The best thing about this product is, its price and easy availability. However it is not a sulfate-free shampoo.
10. Hugva Elixir Shampoo For Greasy or Oily Hair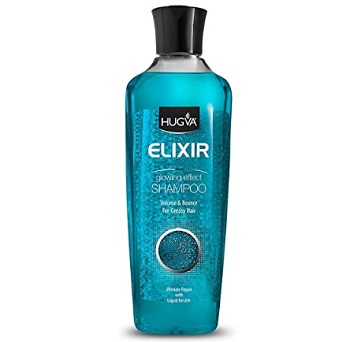 This product is one of the best shampoos for greasy and oily hair. Made with 100% bioactive rich formula, it is free of those potentially harmful chemicals, like sulphate, paraben or mineral oils. It makes the hair follicle stronger because of its keratin rich formula. It adds natural volume and shine by eliminating the excessive sebum and oil build up.
These are the best men's shampoo for oily hair available in the Indian market.
Sebaceous glands in your scalp secrete the lubricating oils known as sebum. It gives your hair natural shine and lubrication. However, when this is produced in access, it results in oily hair. Greasy hair can also be because of your lifestyle, climatic conditions, genetic or even because of the hormones. So, now that you know what causes, you must try the appropriate shampoo for men to tackle these issues.
How to Prevent Oily Hair
You can definitely prevent oily and greasy hair by following some tips and tricks. Now, that we have shared this list of the best shampoos available in the market to treat oily hair, you must also know about some tips and tricks, that your oily hair will thank you for.
Generally men with oily hair must use good shampoos with oil clearing properties. If the product is mild, it can be used once a day too.
While shampooing hair always wash the hair properly. Washing the hair correctly can also make your hair even oilier or excessively dry. To shampoo, just apply the shampoo on the scalp and hair and massage for 10 to 15 seconds.
At times because of using too many heat styling and chemical treatment, your hair can lose their natural beauty, therefore, always stick to the natural procedures like air drying your hair and using less heat treatment.
You must never put a dirty brush on your clean hair. At times our regular hair brush may have hair styling product residue still clinging to the bristles, which can make the freshly washed hair weight down. Therefore, always keep a different brush for your freshly washed hair.
Always use the hair care products formulated for oily hair. Otherwise extra moisturising hair product can make your hair look stickier and thin.
Apple cider vinegar works impeccably well for the oily greasy hair. Thus, while choosing the shampoo for oily hair, you must consider apple cider vinegar as one of the ingredients. Even shampoos with tea tree oil works well in reducing the dandruff, itching and to get rid of the oils.