Gone are the days, when men used to have only limited products and they used to raid the women's skin care product. These days men's grooming industry is blooming and flourishing. Therefore, no more flaky or dull skin, when you have men's face scrubs available in the market. Choosing a good face Scrub would give you relief in blackheads, acne, dryness and sun tan.
So, even when you have dry flaky skin which makes your skin complexion rough, a scrub is best product for you. Definitely, using a face scrub for men would give you Radiant and bright skin with moisturization. For men's oily skin, a good facial scrubbing product would help in the removal of deep-seated impurities which can be one of the reasons for the breakout. In fact, there are multiple blackheads removal face scrubs for men are available in the market so no excuse for those blackheads on your nose. Face scrubs loaded with antiseptic and antibacterial ingredients are helpful in killing the black heads causing bacteria. So with so many different products and range here comes the best face scrubs for men in India.
In this post, we will discuss about the best rated facial scrub products for men available in the market currently. We will also tell you how to use the scrub and the reason why you should use them timely. These exfoliators are easy to use and let's check how to use them first.
How to Pick the Best Face scrub for skin type?
Choosing the best exfoliator would help your skin to stay blemish free. Undoubtedly, face scrub can be an important part in your skin care routine. There is a facial scrub for each and every skin type that men have. So if your skin is dry then, always choose the face scrub that has some essential oils, Vitamin E, hydrating ingredients that not just deeply exfoliate the skin but also gives you more hydration and enough of the hydration to replenish the lost moisture of the face.
For oily and dry skin, always choose the facial scrub that contains ingredients like Neem, tea tree, charcoal and more, which are known for their antiseptic properties. In fact, salicylic acid is also a good ingredient to look for when you have oily and blackheads prone skin. Additionally, charcoal and tea tree are such ingredients that helps to deeply cleanse the skin and the clogged pores.
It prevents the breakouts in the future. In fact, these face scrubs for oily skin balances the skin to reduce the excessive sebum production. For very oily skin, facial scrubs are like very helpful products.
Now that, you know why you should use a face scrub for men's skin, let's check how to use a face Scrub for Indian men's skin.
How to properly use a face scrub?
Splash your face with lukewarm water before you use your face scrub.  Warm water dilates or opens the pores and it makes the scrub easier to penetrate and clean the pores. Apply a small amount of Scrub on the skin and using circular motions the face. Use the tip of the fingers to apply the product and to massage the face. Do not scrub too vigorously as that could irritate the skin and remove the natural oils as well. If you plan to shave the face, then scrub the skin then go for the shaving because this will get rid of the dead skin cells and softens the facial hair for a smoother and close shave. Always rings of the scrub with warm water then follow up with cold water to shrink the pores so that no more oils and impurities can get back to them. Scrubs can be used two to three times in a week for good results.
Top Popular Best Face Scrubs For Men In India (2023)
1. Ustraa Activated Charcoal Face Scrub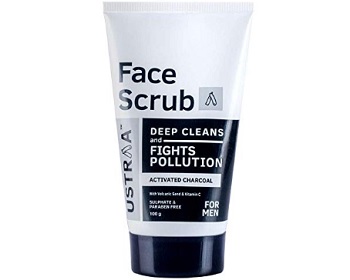 With deep cleansing properties of charcoal, this face Scrub product for men helps to buff off the skin thoroughly and get rid of the dead skin cells. Timely removal of pollutants and dead skin cells from the skin also prevents the acne breakouts, whiteheads and blackheads. It comes with the Tahitian volcanic sand, walnut granules along with activated charcoal that is known to deeply cleanse pores. It's the best sulphate and paraben free skin care products for men in India.
2. Beardhood Tan Removal Face Scrub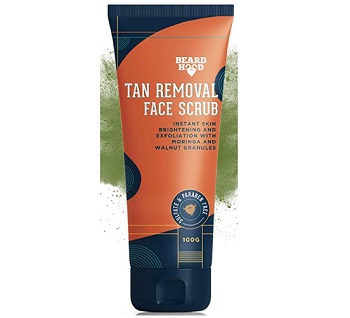 When sun tanning is making your skin lifeless and shallow, a tan removal face scrub can come to your rescue. By giving you instant glowing and skin brightening, this is the best tan removal facial scrub product for men. It exfoliates with its walnut granules and moringa so, effectively that your skin glows and becomes quickly bright. It removes the dirt and grime deeply seated in the skin pores, which can later break out or forms blackheads. Exfoliating face scrub helps to determine the skin by dissolving the dead skin cells and unclogging the pores. This is why you ask in stays flawless and blemish free. It's a paraben and Sulfate free detanning face Scrub Made For Men specially. So you can use it to two three times in a week for a beautiful and healthy skin. In fact it is one of the best face Scrub for oily and acne prone skin in India.
3. Beardo De-Tan Face Scrub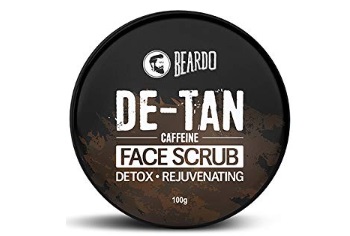 This detaining face scrub is a caffeine face scrub that detox and rejuvenates the skin. It exfoliates the clogged pores as it's loaded with antioxidants. Lightening and brightening your skin, this exfoliation it gives quickly revises and rejuvenates the dull and tired skin complexion. So, next time whenever, your face appears worn out or dry, a face scrub like this would surely help. This is also a skin lightening coffee face Scrub which is made with the natural and organic ingredients such as coffee powder, sugar, coffee oil, almond oil and a mild fragrance. It is one of the best face scrubs for men in India that gives you clear and flawless skin complexion. This too can be used 2 to 3 times in a week for radiant and spot-free skin.
4. mCaffeine Naked & Raw Coffee Face Scrub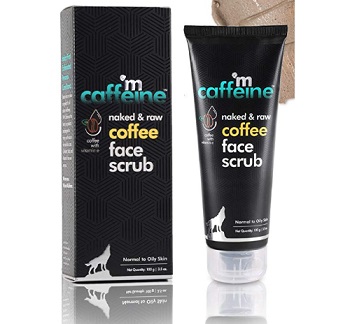 It's a coffee face Scrub which exfoliates the dull and lifeless skin. It one of the best face scrubs for dry skin and in fact oily and acne prone skinned men can try it too. It buffs the skin by removing the dead skin cells and blackheads. So if blackheads on your nose and T-zone irritates and cringe you then this scrub would definitely going to give you smooth skin. By reducing the skin's puffiness, it also shrinks the open pores. It is an FDA approved, SLS free and paraben free face scrub made for normal to oily skin. Both men and women can try this face scrub.
5. Biotique Bio Papaya Revitalizing Tan Removal Scrub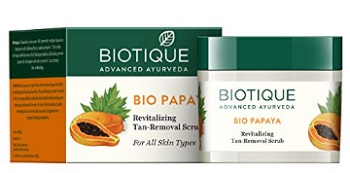 Biotique papaya tan removal face scrub is one of the best products from the brand. It is blended with the papaya fruit with other botanical extracts that are known to dissolve the dead skin cells and unblock the open pores. So when your pores are clogged, an effective face scrub can help a lot. The refining nature of its exfoliating beads helps to uncover the skin's natural brightness so, that your skin not just looks younger but glowing. It can be used by both men and women two three times a week. Apply the Scrub and massage gently with wet fingers. Rinse that after 2 to 3 minutes.
6. Redux Rejuvenating De-Tan Scrub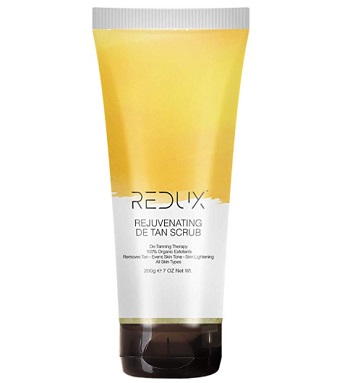 This rejuvenating and de-tanning face scrub is one of the best products, then you have dark and pigmented skin. Over sun exposure can cause suntan, especially during the hot summer season. Made with hundred percent organic exfoliants and ingredients, this boosts the skin repair process by exfoliating the dead skin cells. So, it also protects the skin from UV damage, Sunburn, pollution, tanning and most importantly dark spots and hyper pigmentation. This is a best face Scrub for pigmented skin for both men and women. In fact, this face scrub is also supercharged with Niacinamide and Arbutin. These two powerful ingredients that help to control the pigmentation like anything. At the same time, it also reduces the enlarged and open pores and gives you deep moisturising action. Free of parabens and sulphates, this is one of the best face scrubs in India that have received immensely positive rating from the users.
7. Neutrogena Deep Clean Blackhead Eliminating Daily Scrub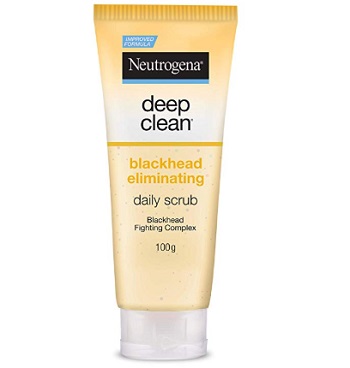 With an affordable price, this Neutrogena deep clean blackhead eliminating daily scrub is a miracle product, when you have blackheads as your major skin problem. It is an oil free formula and allergy tested product. Package in YouTube microbeads that fight the blackheads. Just apply on your skin everyday for 2 to 3 minutes and massage gently. It ensures that skin space blackheads free and no blackheads are formed on the skin parts like cheeks, nose, forehead and more.  This is the best blackheads clearing face Scrub in India for men and women and even teenagers.
8. Lotus Herbals Apriscrub Fresh Apricot Scrub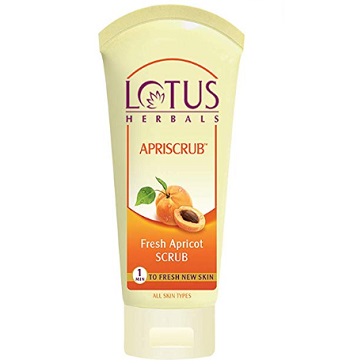 Lotus Herbals face Scrub is a popular Scrub available for men and women. Not just for your face it can be used for the other body parts like your neck, hands and feet. It exfoliates the dead skin cells and reduces the blackheads on your face. By gently cleansing the skin and dirt, it nourishes the skin. It is more like a face scrub for dry to normal skin, with effective moisturising texture. This product has parabens, but for people who would like to try paraben free face scrubs look at the other options that we have given you already.
9. Whiskers Walnut Shell Powder Face Scrub For Men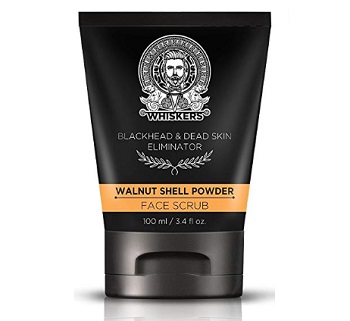 This is yet another top trending face scrub for men in India. Basically, it's a pore minimizes face product for men that contains walnut shell particles that exfoliate the dead skin cells and blackheads so, effectively that your skin looks almost smooth and radiant. It delays the skin aging and moisturizes the skin. Rich with Vitamin E, it's a face scrub for all skin types. It doesn't matter if your skin is dry or oily, this face scrub would work for you. However, if you have oily and acne prone skin then, take a look at the other options that we have shared with you.
10. The Man Company Charcoal Face Scrub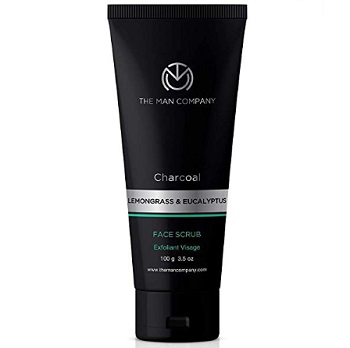 The Man Company charcoal face scrub is best for exfoliation and the best part is charcoal as the key ingredient. It also contains lemongrass and eucalyptus extracts, which exfoliates and calms the irritated acne prone skin. So while it treats the acne, it also reduces the inflammation because of its antifungal nature. Lemongrass has healing properties, which is why it is an exfoliating cleanser for all skin types. Activated charcoal without a hint of doubt is one of the best products for deeply cleansing the pores especially when you have oily and acne prone skin. So while treating the acne activated charcoal can do a lot for your skin.  This product is an affordable face scrub for men in the market with charcoal in it.
11. Beardo Activated Charcoal Deep Cleansing Face Scrub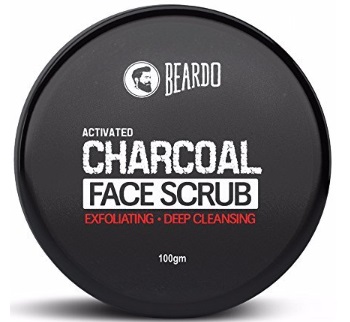 Beardo activated charcoal deep cleansing face scrub is yet another activated charcoal loaded facial scrubbing product that men can try. The men's exfoliator product helps to get rid of the dead skin cells, pollutants, dust and grime so effectively that the skin glows like anything. You can count on this product as a natural and effective skin care for men. It can be applied by all skin type men, however for oily skin it works like a charm.
12. Beardo Neem Face Scrub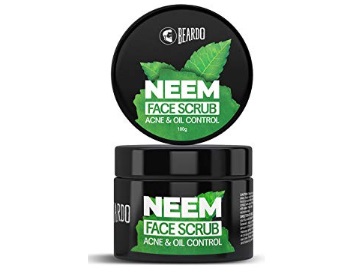 Beardo Neem Face Scrub is a popular product which is loaded with neem. Neem as we know is rich in antibacterial and antifungal properties, which is why it's the best face scrubs for oily and acne prone skin. In fact, for oil control as well it gives good results. It helps in healing the pimples on your face and clears them faster. With almond oil, aloe vera extract, walnut shell powder and Neem extracts, it is a powerhouse of natural ingredients to combat acne on the skin. Say goodbye to the common normal skin problems, when you have a face scrub for excessively oily skin like this.
13. Beardhood Green Tea & Charcoal Gel Face Scrub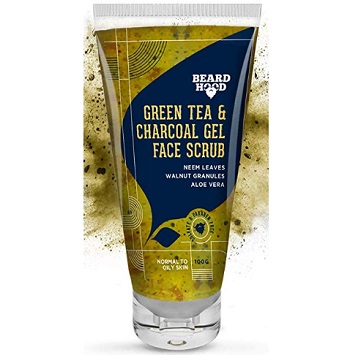 We like the fact that Beardhood men's skin care products are paraben and sulphate free. It is yet another best face scrub for normal to oily skin men in India. With green tea and charcoal is like a gel Scrub which comes in gel and beaded formula. So, when you would like to make your skin extremely glossy, face scrub like this would help you a lot. The charcoal and green tea face scrub gets rid of the blackheads. Additionally, with neem leaves and walnuts, this exfoliates the face.
14.

L'Oreal

Paris Men Expert Pure Power Scrub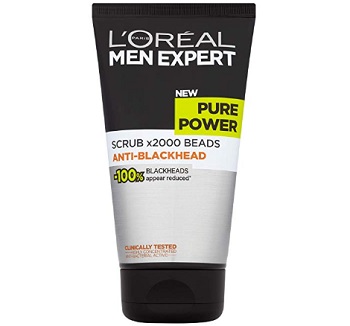 L'Oreal Paris men expert powder scrub contains anti blackheads formula. Because, it's one of the best blackhead control face scrub for men. The only thing is that the product has a bit high price tag do it but it is really effective. If you don't mind the price, then go for it because it can clog the pores, reduces the pore size and is rich in salicylic acid. Yes it is among the best salicylic acid face scrubs for men for fighting blackheads and dead skin cells.
15. Bombay Shaving Company Charcoal Face Scrub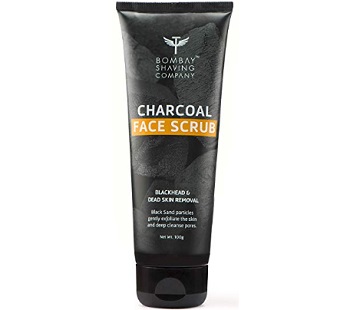 Bombay Shaving Company charcoal face Scrub has goodness of black sand particles that gently cleanses the skin pores so no more for clogging or blockage. It's gentle on the skin and is suitable for all skin types for both men and women. It has an SLS free formula that does not damage the skin and there are no parabens in it. It is yet another good face Scrub which can be used multiple times in a week.