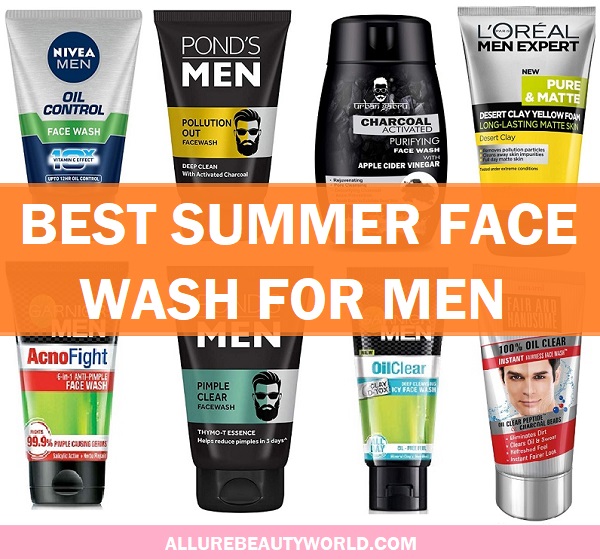 Oily skin is shiny and looks greasy because of the overactive sebaceous glands. Men with oily skin experiences acne and pimples a lot then the other skin types. This problem of over oiliness of the skin, leads to men searching for the best face wash for men's oily skin available in the market? Considering that we've created this list where in, you'll find the best face wash for cleansers for men's oily face. These cleansers are loaded with ingredients that reduce the oils and control them for a long time. Additionally, this face washes also contains ingredients which prevents the acne and pimples. So, let's check which are those men's face wash for oily skin care.
Best Men's Face Wash For Oily Acne Prone Skin In India (2022)
1. Nivea Men Oil control Face Wash with Vitamin C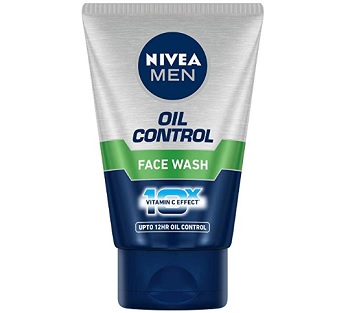 When you have oily skin, you can take help from Nivea men oily skin face wash. The best thing about this cleanser is that it contains vitamin C and controls oils up to 12 hours. Honestly, it may not be completely true claim. However, it does control oils for up to 5 hours which is also decent time. Just apply the face wash twice in a day and experience beautiful matte looking skin. Nivea face wash for oily skin is a good face wash for college going boys.
2. Garnier Men Acno Fight Anti-Pimple Face Wash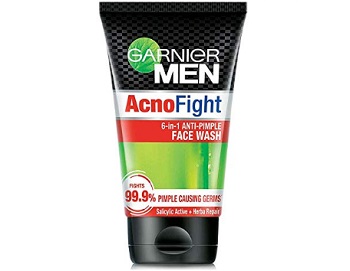 Garnier Men acno Fight Face Wash is amongst the best Garnier face wash for men in India. The reason is quite simple that the acne control face wash contains salicylic acid and other ingredients that repairs pimple and kills the bacteria causing pimples. Garnier oil control face wash is an anti pimple face wash for men which has gel base and controls oils for long. This is the best face wash for men with oily and acne prone skin.
3. Pond's Men Pimple Clear Face Wash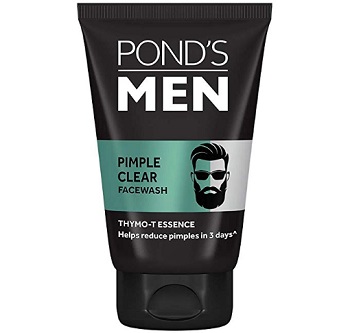 Pimple clear face wash also does the same thing as Garnier. It's the best men's face wash for oily skin and pimples. The affordable face wash for men from Ponds helps to clear the pimples within few days and reduces the redness or inflammation, when a pimple forms. To reduce the breakouts on your skin, you can try this pimple clear face wash and to reduce the oil secretion. Perfect for oily and men's acne prone skin, it leaves your skin soft and non-oily. Specially developed for men, this face wash heals dryness of your face therefore for summers, it is suitable for men with oily face.
4. Garnier Men Oil Clear Clay D-Tox Deep Cleansing Icy Face Wash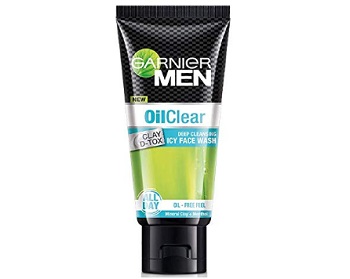 If oily skin is your primary issue and not the acne then Garnier Men oil clear face wash is the best men's face wash for oily skin. It clears the oils with its menthol and clay extract and removes the excess oils from soaking your skin. It gives the clean and matte looking skill and gives oil-free feel. The clay ingredients present in this face wash help to soak up the excess oil that keeps on releasing all through the day. So the oil trapping mud particles eliminate excess oils without drying your face. It is yet another best men's oily skin face wash in India.
5. Emami Fair and Handsome 100% Oil Clear Face Wash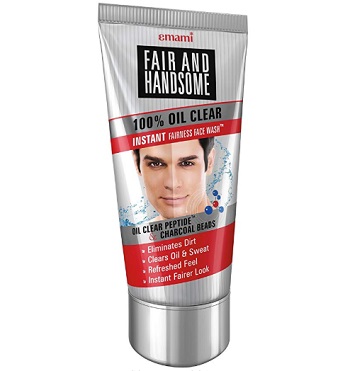 Fair and Handsome 100% oil clear fairness face wash does double things for you. It clears the oils and gives you brighter looking skin. This is the best face wash for men with oily skin for fairness and Glow. This is the best face wash for oily skin men for summers because during summer season more oils and sweat are released. This is why for instant fairness and oil clear and face wash like this can be tried.
6. L'Oreal Paris Men Expert Dessert Clay Face Wash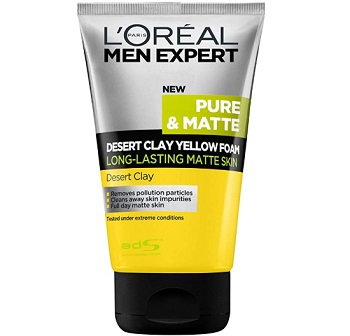 Dessert Clay clear face wash from L'Oreal Paris is yet another affordable and good face wash to remove the pollution particles and deeply cleanse your skin. When you do not deep cleanse skin then break outs are more likely to happen on the skin. L'Oreal men face wash for oily skin absorbs the excess oil from the skin and even under the high temperature like in summers, it keeps the skin matte and oil-free. It is a dermatologically tested product and it is safe for oily sensitive skin.
7. Pond's Men Pollution Out Activated Charcoal Deep Clean Face Wash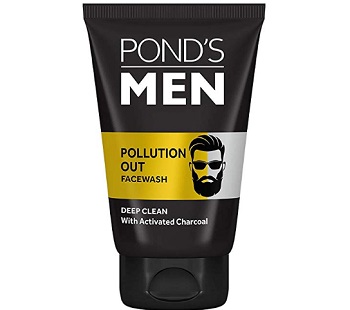 Ponds men pollution out charcoal face wash is to keep skin free of the toxic and pollutants. Boys who stay outdoors or are into sports activities, shall try the pollution control face washes. It removes the extra oils and gives a pollution-free bright look. The pollution particles can make your skin look dirty unblemished. Specially developed for men, this deeply cleanses the pores and gives you bright and glowing skin.
8. UrbanGabru Charcoal and Apple Cider Vinegar Face Wash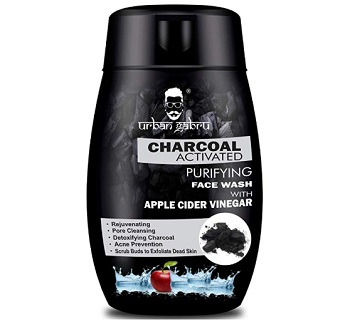 Apple cider vinegar has the exceptional power to cleanse the pores and keep your skin complexion sparkling right. This is why they are urban Gabru charcoal face wash with apple cider vinegar is best for pimple and oil control. It keeps the skin glowing and oil-free. The micro scrubbing beads exfoliate the dead skin cells thereby making the skin. This men's cleanser for oily skin can be used two times for changing the face regularly. It is the best face wash for men's oil clear and pimples.
9. Fair & Lovely Instant Oil Clear Magnet Action Face wash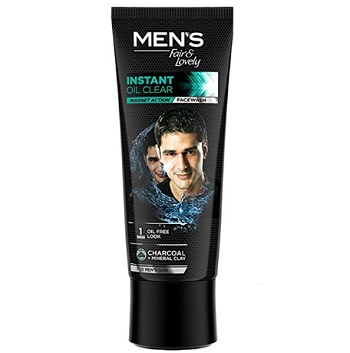 Fair and Lovely instant oil clear magnet action face wash is an excellent oil clear face wash, it's just that after the application it may dry your face, if it is combination like during winter season. So this is the best summer face wash for men with oily skin. The men's face cleanser for oily skin works like a magnet and sucks the excessive oils, dirt and dust that are sticking on the face layer. It keeps your skin cool and fresh. Containing charcoal and mineral clay formula, it works excellently for oily skinned men.
10. Clinique For Men Oil Control Face Wash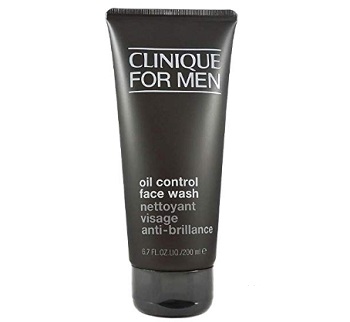 Clinical oil control face wash gives the excellent oil controlling benefits to this face wash. It keeps your skin oil free and matte for long and clears the acne. Right from the first use, you can see exceptional difference in the acne and breakouts. In case of terrible cystic acne, it heals them faster right from the first use. This can be applied twice in a day for better results. It's the best men's face wash for oily sensitive skin.
11. Beardhood Green Tea & Charcoal Face Wash For Man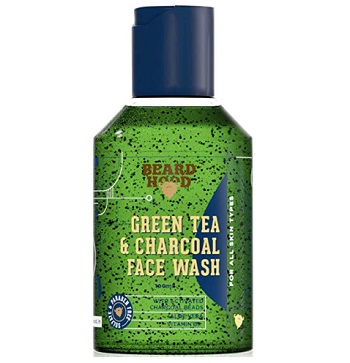 Beardhood green tea and charcoal face wash contains not just the power of black activated charcoal but green tea as well. Green tea is an antioxidant which also he is the skin from dark spots, dullness and acne scars. This is why we have included this in the best face wash for men in India for oily skin list. It also contains multivitamin that makes the skin tissues nourished. It gives proper hydration and improves the skin moisture retention while controlling the oils. Having said that, it's the best men's oily skin face wash at reasonable prices.
12. Set Wet Studio X Charcoal Face Wash For Men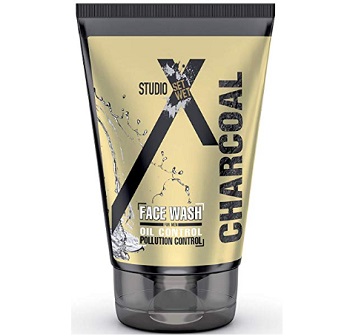 Like we have said charcoal face washes are best when you have oily skin, considering this Set Wet oil control pollution control face wash also does a good job. The affordable facial cleanser is easy to buy from the shops and online. It removes the dirt and unnecessary oil clogging the pores making the skin Radiant and fresh. It is suitable for all skin types however men with oily skin will find it much better for themselves.
13. Himalaya Men Intense Oil Clear Lemon Face Wash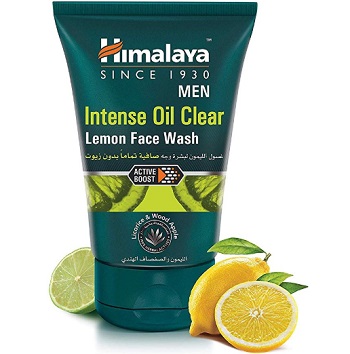 Himalaya men intense oil clear lemon face wash is for men's oily skin. Powered with the active boost technology that increases the penetration of lemon extracts in the skin, it make face glow. It contains lemon and Indian Willow to take care of excessive oils and pollutants from your skin. It is yet another good and affordable face wash for men that you can try during summers and winters to keep the skin shine-free. The face wash also contains anti microbial and astringent properties that are excellent when your face is oily and acne prone.
14. Ustraa Face Wash for Oily Skin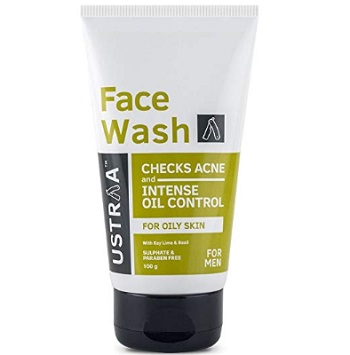 Ustraa face washes for oily skin and acne and well as provides you all control features. This is one of the best chemical free and paraben free face wash for men in India. Formulated with Key Lime and Basil extracts, it's best for oily skin during summer season. You can also prevent the occurrence of blackheads by using this face wash.
15. The Real Man Caffeine Coffee Oil Control & Energising Face Wash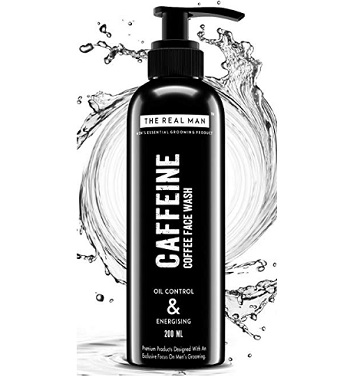 The Real Man caffeine coffee face washes for oil control benefits. We have used this face wash and amongst the most effective oil controlling face washes for men. It keeps your skin free of oils that helps you in making a charismatic personality by controlling the oils and not letting your oily skin ruin your look. It is a natural and vegan product which is free of chemicals. It's the best soap free face wash for men's oily face.
Hope guys, now you know about the best face wash for men's oily Skin in India. With this, you would be able to find the best men's facial cleanser. Other than that applying a good face wash, it's necessary or even mandatory to scrub the facial skin.
Always make sure when your skin is oily, you must scrub the face twice in a week and apply a mud or clay mask at least once in a week. This simple skincare routine for oily skin would ensure that your skin would stay free of oils, blackheads and whiteheads and breakouts. Another most important thing to remember is that, whenever you choose a skin cream, moisturizer lotion make sure it's oil free and suitable for your oily acne prone skin. Otherwise, using wrong skin care products would lead to acne and pimples and it will not matter, if you are using the correct face wash for oily skin or not.