When it comes to men's grooming, body washes are important product for many men. In fact, body wash for men are available in multiple variants like some can only be used for the body and few are made to be used for hair as well as face.
Earlier men used to apply the regular bar soaps but as the time has changed, even men can get spoilt for the choices. Out of the multiple choices of body wash is available for the top best body washing products for men, they can get really confused.
In this product roundup, we have chosen the best body wash for men available in the market. If you're wondering which body wash is suitable for men's skin, then there are different types of body washes like some can be detoxifying while others are hydrating in nature. Men's skin too needs certain things, like if someone has sensitive skin, they need a body wash that helps to calm down their skin. Men who are active, with a busy lifestyle or who are into sports activities need body washes that are powerful enough to fight the body odor.
You can have endless options, with the different types of body washes like exfoliating body wash, moisturizing gel body wash or the regular shower gels. Shower gels are better for dry skin while the body wash moisturizing in nature are suitable for men who stay lot in the outdoor environment. Choosing the best smelling body wash for men can never be difficult, when you have different types shower gels and body washes available. Let's take a look at the best body wash for men in India.
List of Best Body Washes for Men in India (2023)
1. Phy Mountain Rain Invigorating Body Wash
The mountain rain invigorating body wash is suitable for all skin types. With 100% Vegan and cruelty free formula, it's also a dermatologically tested product. The men's body wash gel is a sulphate and paraben free product which is soap free too. So with a soothing formula and mild fragrance it is bound to give you freshness all day long. It contains high in antioxidant ingredients like Ginkgo leaf extracts and Olive. It gives you hydrated skin while removing the upper surface level impurities, it really works really like a charm.
2. NIVEA Active Clean Body Wash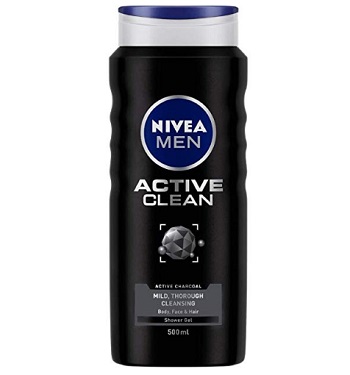 Nivea active clean charcoal body wash is one of the most popular Nivea body washes for men in India. It is a three in one product which means it can work as a body, face and hair cleanser. With active charcoal extracts and other ingredients, it lathers to cleanse the body but won't strip the natural essential moisture from the skin. Men can also use this body wash for hair and face. It leaves the skin and hair feel refreshed and revitalized. For sports people, it is one of the best body washes in India. The Nivea product is suitable for all skin types. Even Nivea deep impact body wash is also good for sports people.
3. Adidas Pure Game 3 In 1 Body, Hair And Face Shower Gel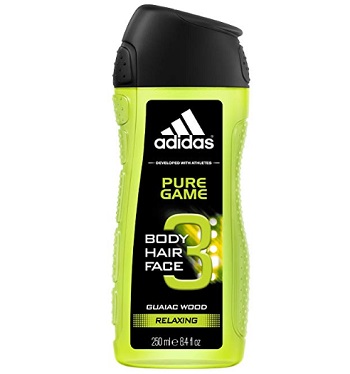 Adidas shower gel is a 3 in 1 product. This is also a body, hair and face cleansing product which is dermatologically tested and has a pH balanced formula. It's suitable for everyday use and gives you relaxing feel. It has gauaic wood extract and green apple fragrance helps to relax your body and mind. It hydrates the skin and gives soothing lathers that help to cleanse the impurities and dead skin cells. The product is safe for even the sensitive skin type. This is available in different variants like Team Force, Ice Dive, Dynamic Pulse and Pure Game. This is amongst the best men's body wash in India.
4. BEARDO De-Tan Body Wash For Men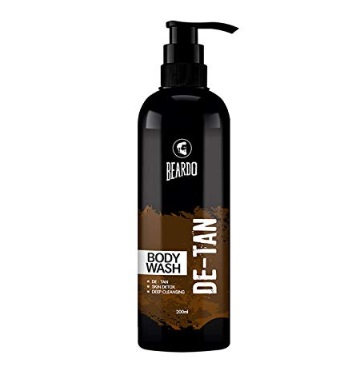 Beardo De-tan body wash for men is yet another one of the best rated and reasonable price product. If you are experiencing difficulties in removing suntan from your body during summer season then this is a tan removal body wash that you can apply. In fact, it also brightens the body skin and soothes the tanned and sun burnt skin. With the goodness of Aloe and coffee extracts, it vitalizes your skin for the natural glow.  It's also suitable for men with sensitive and dry skin. For summer season, this is one of the best body washes for men.
5. Dove Deeply Nourishing Body Wash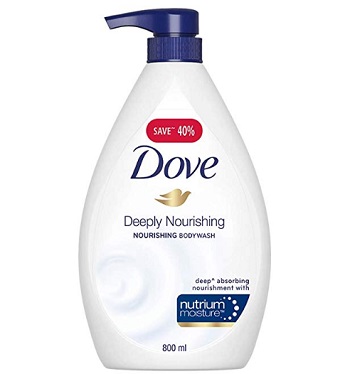 Dove Nourishing body wash contains nutrient that gives deep nourishment. As the product contains natural ingredients which are hydrating enough to give you smooth skin, it is a body wash product for men with dry skin. If you are finding it really tough to get the best hydrating body wash for dry skin in the market, then this product can be your perfect choice. Which smell is smile and gentle and is perfect when you do not want a strong smelling body cleansing products. It's considered as the best body wash for men with dry skin.
6. Beardhood Green Tea & Charcoal Body Wash For Men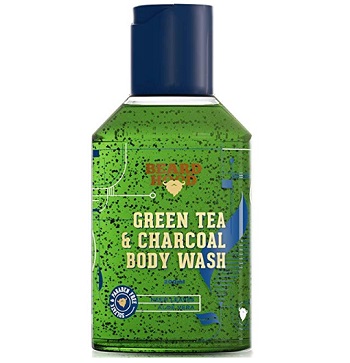 It contains green tea, charcoal and Neem leaves. It's a paraben and Sulphate free product which is known to exfoliate and hydrate the skin. With the goodness of charcoal, it's bound to remove impurities, environmental pollutants and dead skin cells. Everyday wear and tear and pollution can disrupt the skin layers which can lead to irritation, dryness and redness. So if you want something to get rid of and prevent all this, this is a choice for you. It is one of the best charcoal body washes for men in India. Primary ingredients, being very effective antibacterial products are suitable for men with skin conditions as well. The gel like formula with exfoliating beads and Neem leaves is yet another feature that makes it one of the best body washes for men for daily use during summer season. It's the best men's shower gel body wash.
7. Cinthol Head to Toe 3-in-1 Wash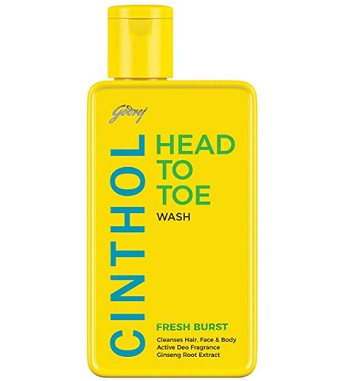 This Cinthol body wash product gives you head to toe cleansing. It is available in two variants and Fresh Burst is the yellow coloured packaging that has active duo fragrance and comes with the goodness of ginseng root extract. Perfect for all skin types, it also contains Argan oil. So if you have dry skin, this can be tried. There are multiple products which are for your hair, face and body but we will advise that you use them only for your body and use a shampoo and good face wash for the hair and face respectively. Its rich lathering formula is good for daily cleansing of the dirt and dust of the skin.
8. Dettol Body Wash and shower Gel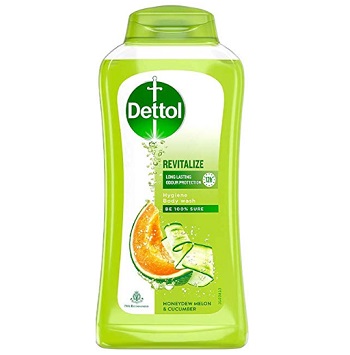 With Honey Dew, Melon and cucumber the body wash is one of the best body washes for men who stay in polluted environment. This is from Dettol, that is known as brand for good antiseptic hand and body washes. It is made from naturally drived ingredients and plant derivatives. The body cleanser is soap free and dermatologically tested with no triclosan. It's for both men and women with gel formula making it to produce rich forming lathers. This product has managed to earn good reviews. With ingredients, it is safe even when you have dry skin but for winter season, this product alone may not be sufficient to quench the winter dryness. Therefore, apply a good body lotion after the shower.
9. UrbanGabru Charcoal Body Wash With Avocado & Indian Alkanet Root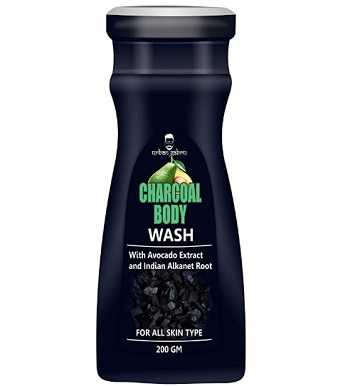 To fight off the body acne and pollutants sticking on the skin surface, use of charcoal body wash is the best product to try. This is UrbanGabru Charcoal Body Wash. It contains avocado and Indian Alkanet root extract along with Avocados. It excellently moisturizes the skin and keeps your skin soft and smooth. Rich in fatty acids, it also protects the sensitive skin to maintain skin's flexibility. While maintaining the skin health and it also gives antibacterial benefits. Charcoal helps to adsorb pollutants and reduce the oil secretion. It also has body odor fighting properties because of charcoal which is why you can apply it on daily basis. Men with active lifestyle or who're into sports activities, can try this. It's the best charcoal body wash for athletes.
10. Wild Stone Edge Shower Gel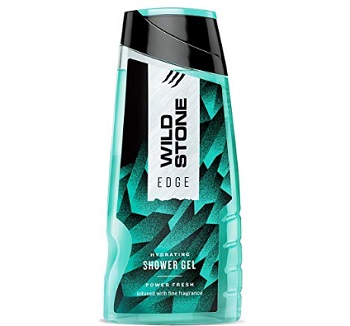 Wild Stone Edge is a shower gel that is available in multiple variants, out of which you can pick the one that suits your requirements the best. It is actually deodorizing or active smelling body wash that helps to not just cleanse the skin but makes you smell good after the bath. It does not contain artificial perfumes, but yes it has nice smell. The product gives moisturization and nourishment to the skin and skin does not feel dry. It's considered as the best smelling body wash for men.
11. Axe Sports Blast Shower Gel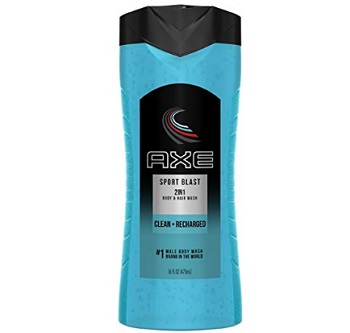 Axe is a well-known name, when it comes to deodorants and shower gels for men. Axe shower gel in Sports Blast, is a popular variant that is a two in one product. It's a body wash and shampoo to give you invigorating scent that delivers energy boost. With it's refreshing fragrance, you can surely kick off your day to feel good all day. What a new product when it comes to men's grooming but it has really made its mark. It also fights bacteria that causes odor and gives fresh smell all day long no matter what you are up to. It's a good men's body wash for dry skin.
These are the best body washes for men available in the market currently. You may also check out the different variants of the brands that we have mentioned about. Using body wash and shower gels daily really moisturizes and refreshes your skin. Even for the intimate areas, body wash with charcoal and antibacterial or antiseptic ingredients would certainly help you in feeling fresh down there all day long. If you have oily skin, then pick the men's anti septic body wash or charcoal body wash would do better. You would certainly appreciate how these body cleansing products can combat bacteria, odor and dead skin cells. Finding a good body wash for men won't be difficult after this compilation.