Grooming is important even for men. And gone are the days, when grooming was only a woman's thing. These days men to need some style attention and care for their skin, hair and overall personal hygiene. In fact, this is what makes a man's personality even shine brighter. A grooming kit can be of different types like face grooming kit, hair grooming kit or a beard care kit. Here in this post, we are going to talk about the best men's grooming kits in India. These are the must have grooming kits for men in India. One can buy men's grooming products online too as they are easily available online at some discount, therefore, you may consider buying online as well. So let's go ahead and check the best men's grooming kits in India.
Top 10 Best Men's Grooming Kits in India (2023)
1. Axe Men's Grooming Kit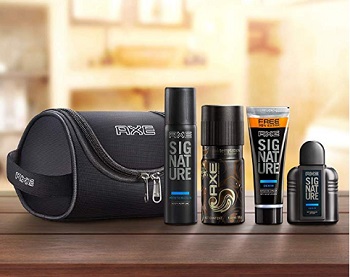 Axe men's grooming kit's a travel friendly kit wherein you also get a travel bag in which you can keep these grooming products. This kit comprises of four men's grooming essentials like Axe Signature Body Perfume in Mysterious, Axe dark Temptation Deodorant Body Spray, Axe Signature Denim After Shave Lotion and Axe Signature Denim Shaving Cream and a free travel pouch is also included with this kit. The lotion and shaving cream makes the everyday or shaving on alternate days easier for you, while the body spray and perfume makes you smell good even while you are travelling. This is a very travel friendly kit, which comes at an affordable price. In fact, it's a very good option for gifting and the best brand for men's grooming kit.
2. Park Avenue Essential Grooming Kit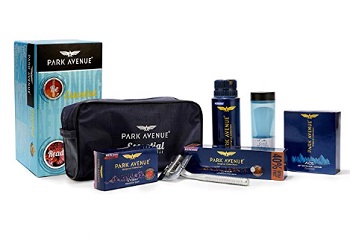 Park Avenue essential grooming kit contains 6 products and a free travel pouch. It contains shaving Brush, Park Avenue Deo Soap, Park Avenue Deo Talc, Park Avenue shaving cream, Park Avenue shaving razor and Park Avenue shave lotion. This is a grooming and shaving kit for men that they can also take along while travelling. For gifting, daily use and travelling, it's the best men's grooming kits available. It caters to the man who needs these things the most. Park Avenue men's grooming kit is really one of the best and ideal for gifting, when you can't think of a good gift.
3. Gillette MACH3 Limited Edition Travel Pack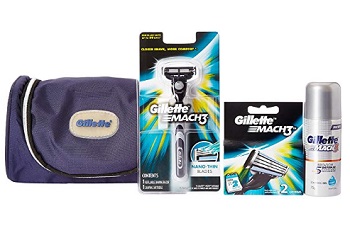 Gillette Mach 3 limited edition kit contains a razor with Gillette Mach 3 shaving gel. It comes with 2 cartridges that can be used for 2 months. It's a shaving kit for men.  So if you are looking for a travel kit or shaving then this is one of the best options as Gillette Razors are extremely good quality . This grooming kit also comes with a free travel pouch. So even if you are away from home you can definitely get a clean shave.
4. Nivea Men Grooming Kit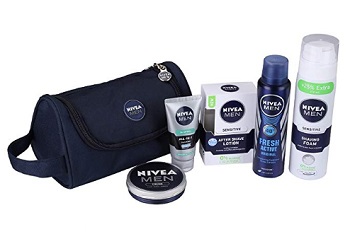 Nivea men grooming kit five products. For shaving, it has Nivea Men Sensitive Foaming and Nivea Men Sensitive After Shave Lotion. It also comes with Nivea All In One Face Wash, Nivea Dark Spots Cream and Nivea Fresh Active Original Deodorant. So this is like a one stop solution for your travel. This is one of the best men's grooming kits that has skin care, shaving and body care product. These products are packed in a classic kit bag which is absolutely free. In this, you can keep your products in one place. Nivea Men's grooming kit is available at discount online.
5. Set Wet Studio X Men's Grooming Kit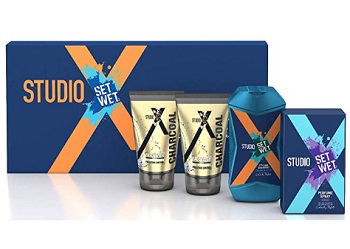 Set Wet Studio Men's Grooming Kit contains a Set Wet charcoal face wash, Set wet charcoal peel off mask, Set Wet perfume spray and Set Wet shampoo. So it's like a skin care and hair care kit for men. You can keep the products in a travel bag when you travel out. The charcoal products in this combo are effective in getting rid of the dead skin cells, excessive oils from your pores and making the skin look fresh and better. It's especially for oily skin care. The Perfume spray has notes of Musk, Cedarwood that are perfect for most of the man. The styling shampoo has mint cooling sensation.
6. Qraa Men Look Good Kit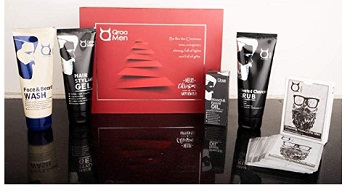 This men's kit contains a face wash Scrub and beard oil. So it's like your face and hair styling kit. With Charcoal face wash and Scrub, it keeps skin clear in summers. Its beard oil is quite moisturizing and tames the beard so it keeps the beard in place and hair smoother. If you are looking for a face and beard kit then this can be tried.
7. The Man Company Charcoal Grooming Kit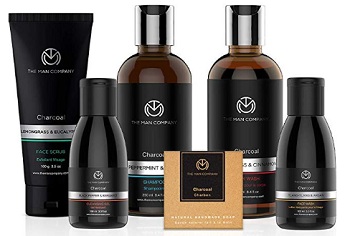 If you love charcoal as a product for your glowing skin, then this charcoal grooming kit by The Man Company is a must have. It's packaged in an elegant wooden gift box which means it's also good for gifting purpose. It contains a charcoal body wash, charcoal shampoo, charcoal face Scrub face wash a cleansing gel and charcoal soap bar. This is one of the best charcoal men's grooming essential kit sthat is surely made for men, who are into outdoor activities like sports, training and even heavy athletic activities. Even men with oily skin would love to enjoy charcoal products. For summers , charcoal  products are must have for every man's kit.
8. Ustraa Grooming Kit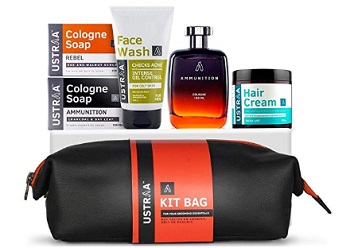 Ustraa grooming kit comes with a free travel bag. It contains Ustraa Cologne Soap, Ustraa Rebel Cologne Soap, Hair Cream Ustraa Ammunition Cologne and Ustraa face wash for oily skin. So, basically it's a body care, skin care kit with a hair cream. So, even if you are going for a wild night party the cologne can be used.
Ustraa hair cream is extremely nourishing and is suitable for all hair types. Both the Cologne soap are loaded with the goodness of charcoal and walnut granules respectively that gives long lasting fragrance and antibacterial properties of their individual ingredients. Ustraa face wash for oily skin keep the oils in check and makes your skin beautiful.
9. Beardo Face Care Kit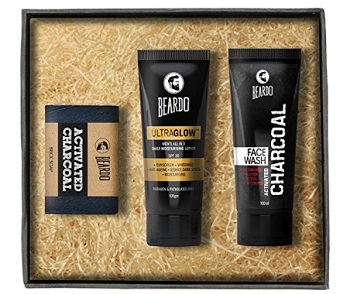 Beardo activated charcoal soap face wash and Ultra glow face lotion are included in this kit. They make your body and skin squeaky-clean. The charcoal brick soap is must have for sports people during summer season. When pollution is on its high levels in the metropolitan cities, this charcoal soap would give you squeaky clean skin. The Ultra glow lotion is suitable for all skin types. But for oily skin, it can be a bit sticky though for normal to dry skin is really good. The best part is it comes with SPF 40.
10. Urban Mooch Beard Grooming Kit For Men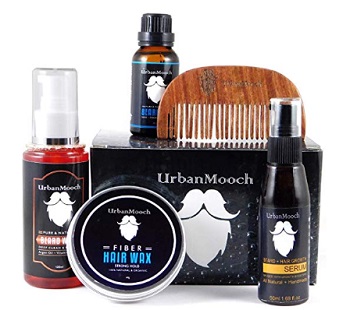 This Men's beard grooming kit contains a beard growth serum, beard oil, beard wash and a beard comb. It's a must have beard grooming kit for men. The beard oil helps to tame the unruly beard and to keep the beard hair smoother and softer. While dandruff can make beard to itch, a nourishing hair wax can really come handy. While a beard growth serum is necessary, if you would like to grow your beard faster. The combo kit is yet another good set that makes maintaining the beard really hassle-free.