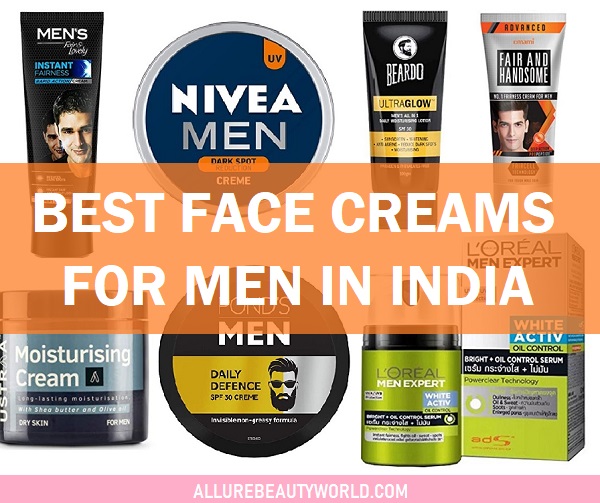 Face cream is the most important thing that everyone should apply. In fact, after the face cleansing, we apply face cream that stays on our skin all through the day. Applying a good face cream and moisturizer on your skin also protects the skin from sun damage, pollution induced damage and so on. So let's get to know more about the best face creams for men available in India. There are different men's skincare brands that make suitable face creams that are effective for men's daily use. Just like we have different skin types, similarly there are men's face creams which are formulated for different skin types for men. However, there are creams that are suitable for all skin types. So in this post, we have also mentioned the skin type the product is perfect for. The list shares the best every day use creams for men's skin, focusing the concerns like anti aging, skin whitening, acne control and dark spots removal.
List of the Best Men's Face Creams in India for Daily Use (2022)
1. Nivea Men Dark Spot Reduction Cream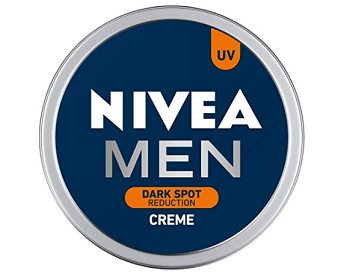 Nivea Men face cream is one of the best for men with dry skin. It improves skin quality and reduces the dark spots. However, it takes some time so be patient. The men's cream is light but is a bit oily, therefore, we'll not recommend it to the oily skinned boys and men. It's better fade the dark spots and blemishes visible on the normal to dry skin men. The best face cream for men can be applied twice in a day. It's the best dark spot removal cream for men.
2. BEARDO Ultraglow Face Lotion For Men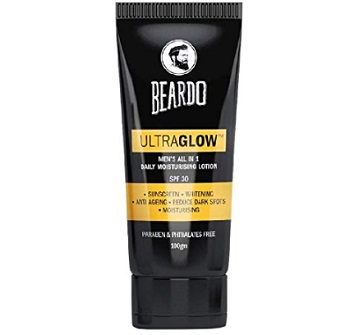 Beardo Ultraglow Lotion is a daily moisturizing lotion with SPF 30. This makes it one of the best face moisturizers with SPF for daily use, but it's not for all skin types. It is a men's anti aging cream, skin whitening product that reduces the dark spots and comes with good amount of sunscreen. So all in all, it is one stop solution for men to get good skin and a suitable face glow cream for men. It sufficiently hydrates the skin and keep it moisturized. The men's face lotion is easy to apply on the skin though it's a bit sticky in texture, men with dry to normal skin will find it best.
3. Fair and Handsome Fairness Cream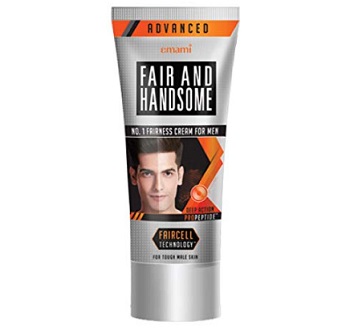 Fair and Handsome cream is for men with oily skin. With "faircell technology" (as per the brand) the cream gets inside the skin layers easily and does not leave oily residue or white patches. It absorbs very well and controls the oil for long. The skin whitening cream for men also lightens the dark spots that arise because of the acne scars and pimple marks. During are testing, the facial cream for men has managed to score well because it makes skin tone better and smoother. Please not that it's a bit thick so blend it nicely.
4. Fair & Lovely Men Anti Marks Fairness Cream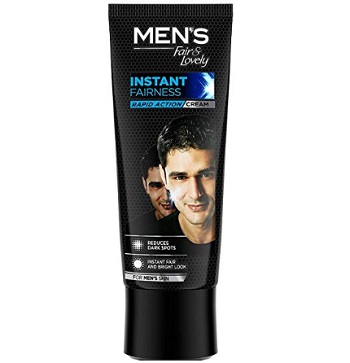 Fair and Lovely instant fairness cream is also an anti marks fairness cream for men. The cream has a thick texture that does not make skin oily but it doesn't work really well for the dry skin. After using it for few weeks, one can realize their skin tone gets better. It removes the acne scars and spots also. The males' cream is very affordable and is available in the local shops and online.
5. Pond's Men Daily Defence SPF 30 Face Crème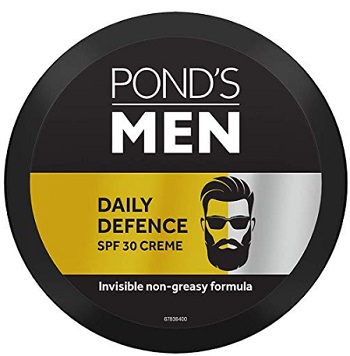 If you are looking for a daily use day cream with SPF or best sunscreen lotion for men, Ponds Men cream is just perfect. It comes with SPF 30 and shields the skin against the harmful sun rays. After applying there are no white patches and has a non-greasy formula, suitable for all skin types. The men's face cream also lightens the sun spots and dark spots. It is one of the best face creams for men that we have seen as per the ratings for marks removal.
6. Garnier Men Acno Fight Pimple Clearing Whitening Cream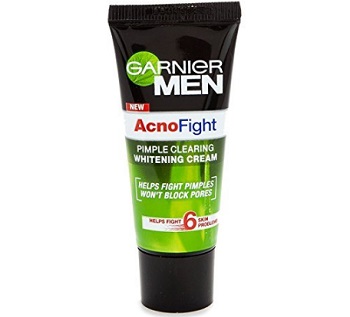 If acne is your major problem then you must try a skin cream like Garnier Men acno fight pimple clearing whitening cream. This is the best day cream for men that fights pimples and makes your skin fairer. What else do you need if your skin is dark dull and you constantly experience acne. It controls oils and lightens the marks. In fact, it also fights blackheads eruption. Make sure that you scrub your face at least once or twice in a week to maintain the skin clarity and prevent the acne from forming. Garnier men Face cream is the best cream for oily skin for men.
7. L'Oreal Paris Men Expert White Activ Oil Control Fluid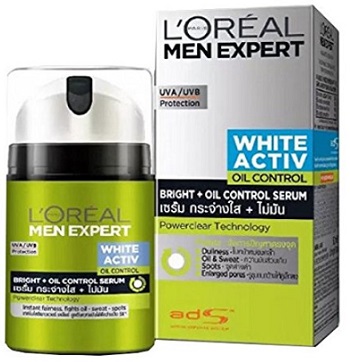 If you want oil control feature from your moisturizer or cream then L'Oreal Men Expert White Activ Oil Control Moisturizer can be tried. It has very light formula that blends well in the skin. It is a combination of Vitamin C and Melano Block Technology. The face lotion regulates the excessive production of melanin in your skin layers and hence your skin becomes better than before. So it gives you oil control and also has SPF 20. It is one of the best face creams for boys for daytime for oily skin to get skin whitening for men.
8. O3+ Equisite Men Tea Tree Meladerm Whitening 24 Hr Cream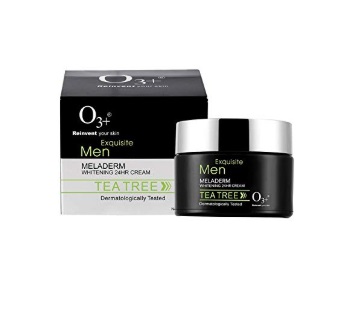 O3+ Meladerm tea tree whitening 24 hours cream is specially made for men's skin. It is suitable for normal to oily and acne prone skin. Containing aloe vera and tea tree oil, it nourishes the skin and also makes it resistant towards acne and breakouts. It also fights the dark spots and makes your skin clear. Also the product is best men's fairness cream for oily skin.
9. Ustraa Moist,urising Cream for Men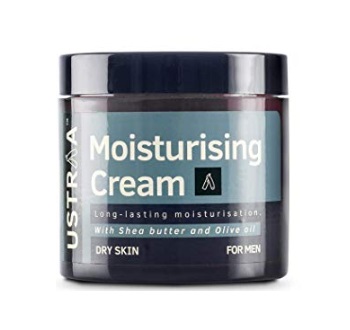 If you have very dry skin, you must try a gent's face cream that moisturizes well even in winters. Ustraa dry skin cream for men is exclusively made with shea butter and olive oil for dry skin. During winter season when the skin is extra dry, hydrating skin care products really helps to get away with dry patches. It contains vitamin A and D. It's like a super food for your skin. It can also be applied as a night cream or winter face cream for boys.
10. Meglow Men's Face Fairness and Whitening Cream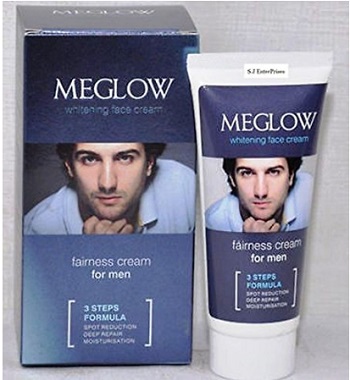 Meglow premium fairness cream is for men with oily skin basically. It is one of the best creams that is not greasy or leaves white residue on the skin.  The skin cream does take time to improve your skin complexion but right from the first use your skin looks a bit better. Therefore it can be used daily by men with normal to oily skin.
11. Himalaya Youth Eternity Day Cream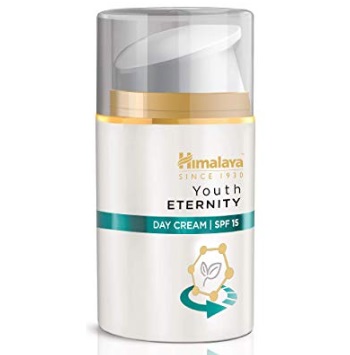 Now, if you are looking for the anti-aging creams then Himalaya Youth Eternity Day Cream with SPF 15 is one of the best choices for men as well. It efficiently fights the fine lines and wrinkles and diminishes age spots and pigmentation. Fighting the photo aging and visible open pores, this is a light and non-greasy cream that blends well in your skin. This anti aging cream is suitable for normal to dry skin better.  There is a night cream variant as well that you can try.
12. UrbanGabru Insta Glow Fairness Cream with Anti pimple and SPF 50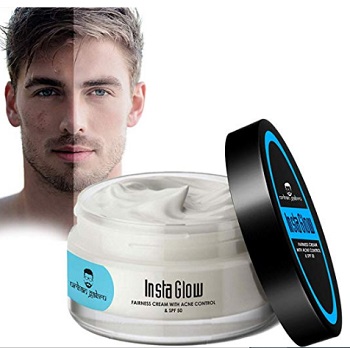 Urban Gabru Insta Glow Fairness Cream with anti pimple and SPF 50 is one of the best daily use daytime skin creams for oily to acne prone skin with SPF. Now this statement says it all. The cream contains sunscreen to protect the skin from the harmful UV rays. It can also darken the skin. So you're not only protected from the potential harm of sun rays but also prevents Sun tanning from happening. The active formula off this men's product has acne control ingredients which aids in keeping skin pimple-free. On top of that, the cream is paraben and sulphate free, that matters to you. It's the best face cream for men in summer.
13. The Man Company Daily Moisturising Cream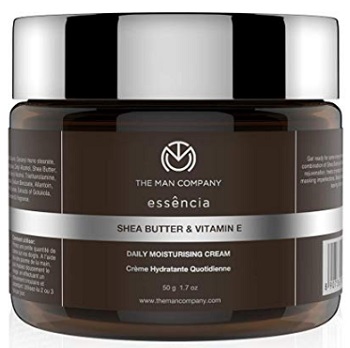 This daily moisturising cream with shea butter and Vitamin E is like a miracle for the dry skin. It lightens the skin tone and restores skin elasticity and smoothness. Men with dry and chapped skin need extra nourishment and hydration optimally. It is a daily face moisturizer for men that give you smoothness.
14. QRAA Daily Defence Instant Fairness Cream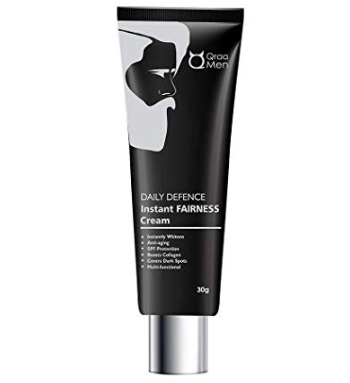 The daily defense fairness cream is for dark spots removal and anti aging. It also comes with SPF 15. Made for men with normal to dry skin the cream comes in a decent packaging. The anti aging cream can be used during the daytime. It has key ingredients like Indian Aloe Rosa Centifolia etc.
15. Garnier Men PowerWhite Anti-Pollution Brightening Moisturiser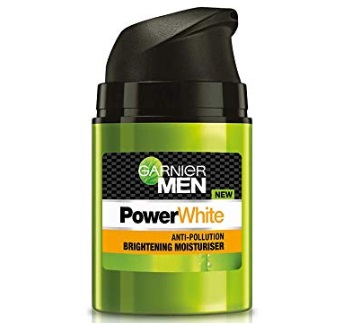 If you are looking for a good moisturizer for oily to normal skin, then try the Garnier Men power white anti pollution writing moisturizer. The face moisturizer is lightweight and protects skin from the pollution affects. So you get double benefits with this. One is to create a shield for the skin to repel the pollution effects and to brighten the skin complexion. It also contains UV filters that act as sun protection. Formulated with the goodness of lemon and green tea this cream is perfect for everyday use.
Choosing the Best Face Cream for Men
These are the best everyday use face creams for men in India. We are mentioned each and every creams with details about the purpose and skin type. If your skin is aging and you need a moisturizing cream, you must try the anti-aging creams or the cream for dry skin. Whereas, if your skin is oily and acne prone, then naturally you should apply face cream for men which have ingredients that protect the skin from pimples and regulate the oil balance.
Tips to Keep Skin Healthy
Having said that, face creams alone cannot give you beautiful skin and this is absolutely true. Therefore, you must also take care of your skin in other ways. So try exfoliating the skin at least twice in a week. And this simple step works for all the skin types. Men usually spend their time outdoor therefore the pollution effects shows up more on men than women. Exfoliating twice would get rid of the upper dead skin layer and pollutants. Your skin would be better. Also after the exfoliation apply a toner and good moisturiser. Exfoliating at night gives good results as you would sleep and then your cell renews at a better rate. Using a men's night cream also helps a lot. It keeps skin youthful and aids in cell regeneration. For sun tan, apply a detan pack for men.