Struggling to tame down those dry and rough hair strands? If yes, then you might take a look at this list of the best men's shampoos for dry hair. Dryness can be irritating especially when you see men out there with perfectly silky and smooth hair. Finding the best dry hair shampoo for men can be a daunting task as there are brands which makes product conditioning enough for the dry scalp, but they turn out to be just the opposite.
We picked up the products which men can try to deep hydrate their dry hair. So, let's get to know what all products are featured in this list of the best shampoos for dry hair in Indian that men can use. These products will definitely make your rough and dry hair shinier. We also recommend you to apply conditioners after the wash and getting a hot oil treatment at least once a week.
List of the Best Shampoos for Men with Dry Hair Type in India (2023)
1. StBotanica Moroccan Argan Hair Shampoo With Organic Argan Oil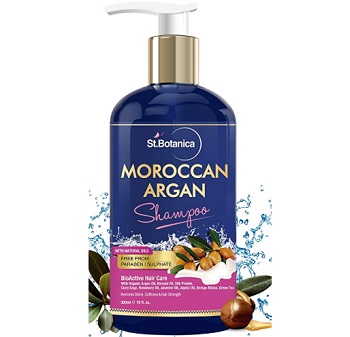 The organic dry hair shampoo is loaded with Argan oil for smoother and soft to touch hair. The shampoo can be tried by both men and women. Looking at the reviews and impressive list of the involved ingredients, one can be sure that it's one of the best paraben and sulphate free shampoos for men with dry hair. It contains some of the highly moisturising ingredients such as Argan oil, Almond oil, Silk proteins, Jasmine oil and Rosemary oil. While adding shine and strength to the hair, the shampoo also penetrates deeper into the hair shaft and makes you uncover your newly restored shiny hair. The shampoo is packed in pump dispenser pack, which is easy to keep in your bathroom.
2. Spruce Shave Club Natural Red Onion Shampoo For Men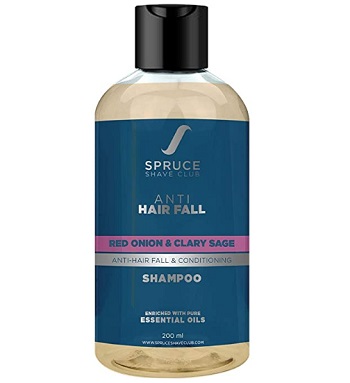 The red onion and clary sage shampoo adds volume and shine to the hair. While reducing the hair fall from the roots, the shampoo also makes the hair extremely smooth and soft. It is a coconut based creamy cleanser rich with plant cell proteins. The rich lathering formula of the shampoo does not leave the hair dry after the washing. It rather makes the hair extremely conditioned after using. It's a sulphate and paraben free shampoo, which is very conditioning for the dry and dull hair. It gives visibly clean and smooth feel, while working really well for dry and very frizzy hair as well.
3. StBotanica Pro Keratin & Argan Oil Smooth Therapy Shampoo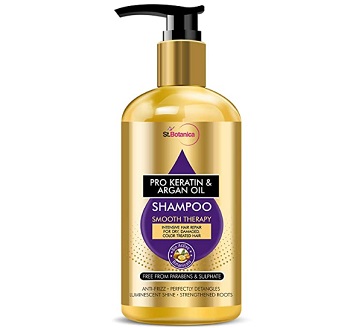 The Pro-keratin shampoo is rich with the active botanicals. Made with the chemical and paraben-free formula, this sulphate free shampoo gives you anti-frizz benefits. It perfectly detangles the hair and adds the shine. It strengthens the roots and makes your hair lustrous.  The dryness healing shampoo is perfect for healing the dry and damaged hair and even works on the colour treated hair.  While making the hair smooth and conditioned, it does not strip the color making your hair color appear and faded.
4. Dove Healthy Ritual for Strengthening Hair Shampoo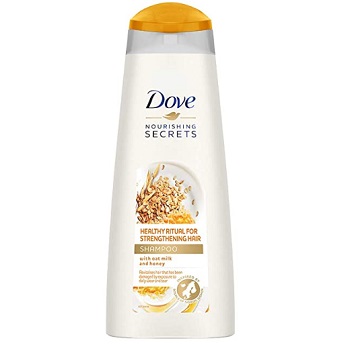 Ingredients like goat milk and honey, makes this a refreshing formula that revitalizes the hair which are damaged because of everyday and daily wear and tear. The super conditioning formula of this product makes your hair deeply nourished from within and gets stronger. The product is gentle and mild apart from being really hydrating, so that it can be applied on daily basis by men with dry and damaged hair.
5. Wella Professionals Invigo Nutri Enrich Deep Nourishing Shampoo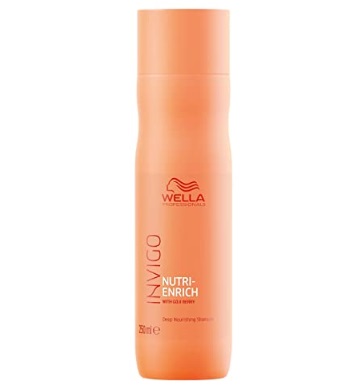 The Nutri-rich deep hydrating shampoo is made for dry and damaged hair. Hair dryness can also be caused because of the chemical treatments and overuse of heat styling products. This product is known to give deep hydration transforming the dry hair to become extremely conditioned and smoother. 
6. BBLUNT Intense Moisture Shampoo for Seriously Dry Hair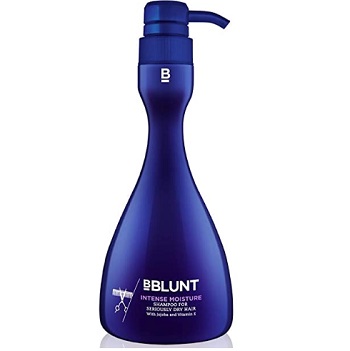 The shampoo is an intensive moisturizing shampoo for seriously dry hair. It's packed with Jojoba, Hydrolyzed Keratin, Wheat Germ Oil and Vitamin E. With the handy and very attractive looking packaging, the product is easy to use. It is ideal for Indian hair types and for men as well. The moisturizing product helps to tame down the rebellious and frizzy hair so much that they actually get extremely smooth to touch.
7. Herbal Essences Argan Oil of Morocco Shampoo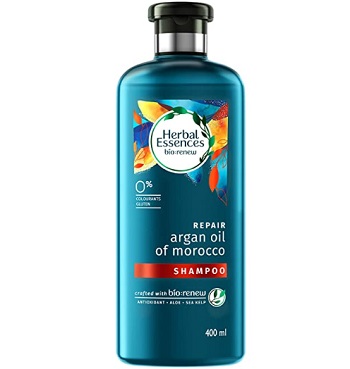 Herbal essences argan oil shampoo is made to combat the frizz and the dryness. It is made from 90% naturally derived ingredients and is crafted with a fine and unique blend of natural antioxidants along with aloe and sea kelp. It is a colour safe product which has a pH balanced formula. It is free of paraben, glutens, and colorants. However it does contain sulphates. The rich botanical infused shampoo is made with frizzy citrus and exotic vanilla fragrance.
8. StBotanica Ultra Nourishing Hair Shampoo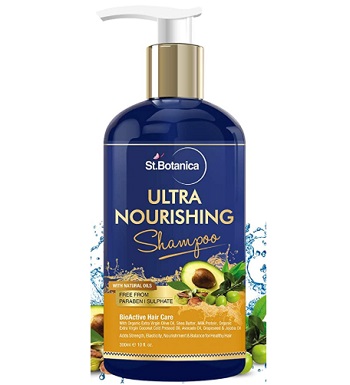 The Ultra nourishing hair shampoo is for dry to normal hair. With the goodness of olive oil, avocado, shea butter, milk protein along with other essential oils it adds strength and elasticity to the lack luster dry hair. This is yet another best dry hair shampoo with paraben and sulphate free formula. The SLS free shampoo is best for both men and women.
9. Brillare Heavy Moisturising Shampoo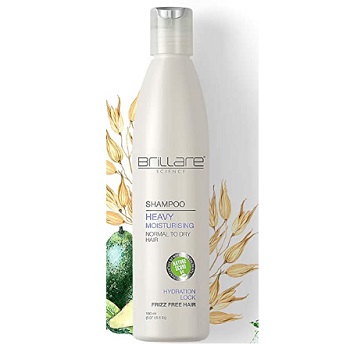 The heavy moisturizing shampoo is made to tame down the normal to dry hair. With the natural score of hydrating and natural ingredients, this product does not contain harmful chemicals. Free of the chemical this is rich in hydrating avocado, wheat protein and shea butter. The richly and hydrating ingredients make the formula very intense moisturizing that helps to make the hair manageable and trees free for long time. By amending the natural hydration, it ensures hair becomes very flexible and hydrated.
10. Brylcreem 3 in1 Conditioning Shampoo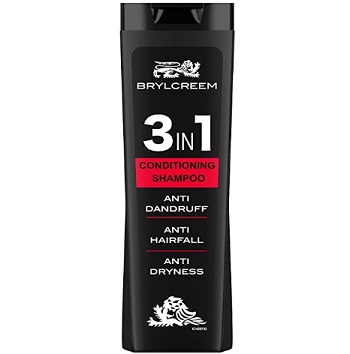 The Brylcreem 3 in 1 conditioning shampoo is a product that is anti-dryness anti hair fall and gives relief in dandruff. The product has the immense moisturising abilities that fight the target areas. Men can try this my product every day and it keeps the dryness away.
These are the shampoos that men with dry hair type can try. Try to stay away from the regular use of heat styling treatments. Apply the deep hydrating shampoos and massage the hair with hot oil treatment.
Using organic and natural products helps to make the hair softer and supple.
Some Tips To Improve the Dry Hair
Get hot oil massage once a week or twice, if possible.
Choose a deep hydration shampoo and conditioner
Avoid direct UV rays exposure.
Drink enough of the water
Use  deep hydrating hair mask once in a week.