Head lice is a problem that not just kids or babies experience but even adults also gets irritated by this hair problem. There are different remedies to get rid of head lice, but it's also important to know what head lice are and how they are causing nuisance for your hair. Head lice actually have three forms like the Nymphs, the immature lice, then the Nit, which are also known as lice eggs and the adult lice, which are the full grown lice, which resembles a small sesame seed. So to completely treat lice infestation on scalp and hair, you would have to kill all the three types. Because, if you just kill the adults, then the nits and nymphs can go ahead and make more adults lice in the future. Therefore, all the three should be killed in order to make hair free of any lice infestation. For total head lice removal process, you would need a treatment that removes the nits and eggs effectively or you can either use an anti lice treatment like a lice killing shampoo. So here we are going to talk about the best anti lice shampoos available in India which adults, babies and kids can try.
Best Anti Lice Shampoos in India (2022)
1. Mediker Natural Anti-Lice Treatment Shampoo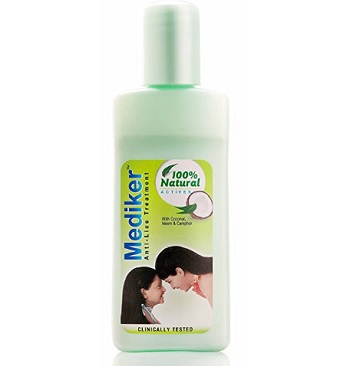 Mediker anti lice treatment shampoo is one of the most popular lice shampoo available in the Indian market easily. Mediker shampoo contains bio-active extracts and ingredients such as Neem, Camphor and sitafal extracts. The lice removal shampoo is a clinically tested shampoo which is the known to have no side effects and helps in transforming the rough dry hair to smoother strands. It's an anti lice treatment that has transformed the lice removal in a painless activity. So you do not need any lice comb or any other product after using this best shampoo for lice removal. It's one of the best shampoos to kill the lice and eggs.
2. Licenil Anti Lice Nit Treatment Shampoo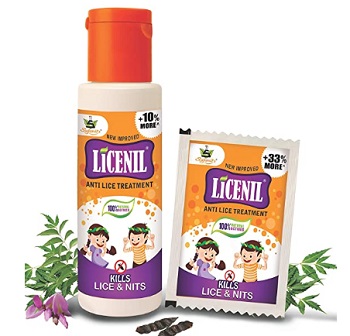 This is a proven and clinically tested product that helps in killing the lice. It is suitable for kids and it is a unique shampoo based remedy to get rid of the hair lice effectively. Made from 100% natural active ingredients, this product gives quick relief. Even it is effective on the nits or lice eggs. Using the shampoo gives beautiful hair and does not dry the hair, rather it also works on dandruff and dryness. Even the formula does not irritate the eyes as much and the lice is gone for good.
3. Hairshield Anti Lice Cream Wash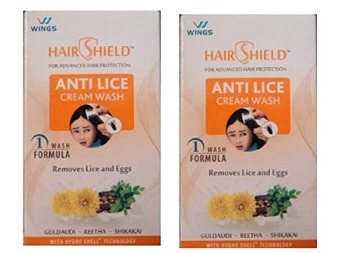 Made with the clinically proven and natural herbal formula that includes Guldaudi, Reetha and Shikakai, it is a Hydro Shell Technology that removes the lice and their eggs effectively. This product is a creamy wash and an anti lice shampoo that gets rid of the lice infestation effectively. The moisture retaining properties of this shampoo also contains anti-frizz features. It also smoothens and moisturises the hair. With just one use, the hair lice and the eggs can be removed so that there is no itching.
4. Bakson's Sunny Anti-Lice Shampoo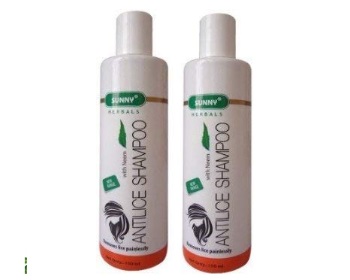 The snti lice shampoo is made with natural products like Neem. It has effective ingredients that contain Benzalkonium Chloride, Silicone Emulsion, Glycerine, Amidopropylbutane and Neem extracts. The shampoo that's really good helps in curing the lice infestation quickly with a single use. It can be applied on 2 to 3 times to get the better protection from the head lice. There is no foul smell after using the shampoo product.
5. Jungle Formula Head Lice Shampoo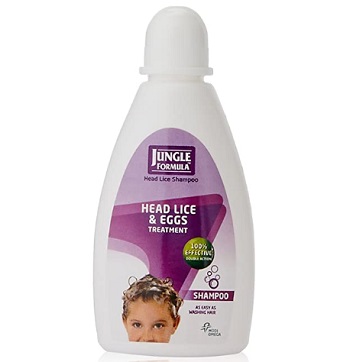 This lice removal hair shampoo is for getting rid of the head lice and eggs. It is a 100% effective formula for kids. The mild and safe shampoo is for using 2 to 3 times to fully remove lice from scalp and hair.
It eliminates the lice 100% and with its double action formula, it suffocates and dehydrates the head lice and their eggs so that they can be removed easily from the head. It is insecticide free and with node resistance at all. The product is safe for children and removes the lice painlessly. So, there is no painful feeling for the kids that they might experience while using the head lice comb. It's the best lice treatment or long hair also.
6. Lice Nil Premium Lice Nit Treatment Shampoo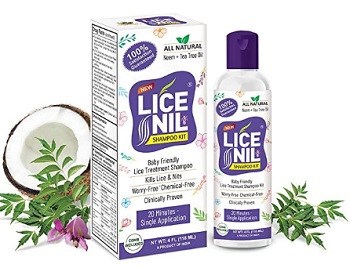 The premium lice killing treatment does not have any chemicals and dryness causing ingredients. Therefore, even the kids can use it. It's a clinically proven formula, which is made with natural ingredients. It gives 100% satisfaction and guaranteed results in killing the lice and their nymphs and eggs. The chemical free product is also a baby and kids friendly product. It includes natural ingredients such as Neem, Tea tree oil which are known for their antifungal and antibacterial properties. It also suffocates the lice so that they are killed effectively without giving any pain. It's even is the best anti lice shampoo for babies.
7. Lice Shield Lice Shield Shampoo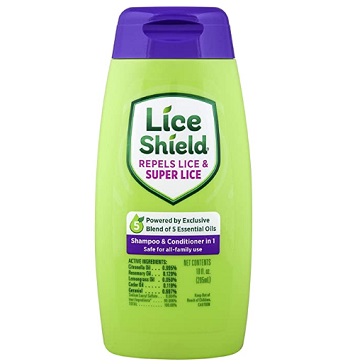 Lice Shield shampoo is a product that is a blend of five essential oils. It is a shampoo and conditioner like a two in one product, safe for all family use. So, even if you are an adult or a kid, this shampoo can be used very effectively and without any so-called harmful or side effects. It contains citronella oil, lemongrass oil, Olive oil, Rosemary oil and gesrinoil. Applying it on the scalp also makes the hair tangle free and lightly scented. It's also the best lice treatment or adults.
8. Medilice Anti Lice Cream Wash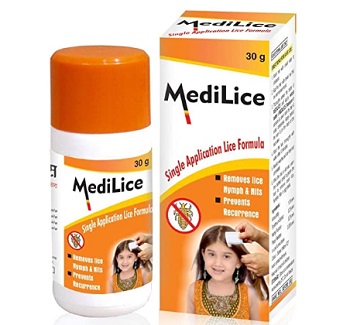 The anti lice cream wash gives good lathers and is a single application lice removal formula that is perfect for the kids and babies. This shampoo wash removes the lice adults, nymphs and eggs. In fact, regular use of this shampoo also prevents the re-occurrence of head lice. This is a product that helps to give you anti-frizz beautiful hair. Head lice are a common problem with the school children and kids, with this product all the head lice related problems can be treated. It is the number one trusted anti lice shampoo and formula.
9. Oribelle Igon Anti Lice Shampoo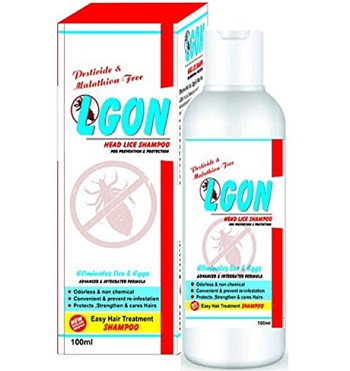 This formula is an advance and integrated formula with no bad odor or chemicals. It is a very convenient to use product that prevents the re-occurrence or re-infestation of head lice. The product also strengthens and cares for the hair. It's a quick and effective easy-to-use product that does not causes dryness to the year. It kills the head lice and makes the hair free of any lice or their nymphs.
10. Leeford Anti Lice Shampoo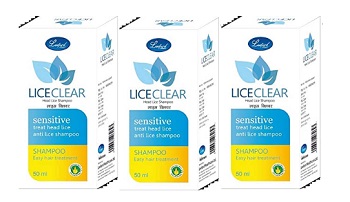 Leeford anti lice shampoo is for sensitive scalp and it kills the head lice really effectively. It is an easy to apply hair treatment shampoo that contains the ingredients which can find the occurrence and re-infestation of the head lice. The best thing about this product, is that effectively kills the lice and prevents them from returning back. The technology in the shampoo also forms of protective layer around the hair cuticle. The goodness of natural ingredients, does not have any foul smell after the use. It also prevents the lice from growing and breeding on the scalp and hair.
These are the lice treatment shampoos, really effective and convenient way to minimize the lice infestation and to remove them forever. However, if you are eager to try on some home remedies to kill the head lice, then try Vinegar. Yes you can remove the lice from your hair using vinegar at home. Even vinegar is believed to dissolve the sticky glue that the adult lices and eggs use to stay attached on the hair strands. Apply the vinegar directly on the hair or either dilute some vinegar with half part of water. Apply on the hair and keep it for an hour and then go ahead and clean your hair with lukewarm water. Vinegar is even helpful in increasing the shine and dandruff if in case you have any.
Now let's take some of the readers question and queries.
Head lice is commonly found behind the ear and around the nape area. That is the place where they can hide easily without any breeding issues.
You can check lice infestation by checking any signs of a nymphs or adult loves in your scalp hair. Lice infestation or infestation can spread from person to person like when they share their hair brushes, hair clips, combs or even pillow. Lice infestation is a common thing in kids because when other kid have that. Kids are more likely to mingle up and catch the infestation. Lice shampoos are also suitable to kill the infestation and eggs.