In search of the best Argan oil shampoos available in the market, you may have reached this page. If that's a yes, it's the right place friends! Argan oil is extremely hydrating and with it's a completely natural way to get damage-free hair. Argan oil rich shampoos are enough to treat the underlying scalp condition like Seborrhoea, dry scalp, Psoriasis, dandruff and to prevent hair loss. Argan oil shampoo does not make your hair greasy or sticky rather are ideal moisturizing that makes your hair soft and sleek. So, if you've dry hair, Argan oil shampoos can really help. While there are some shampoos that can make your hair greasy or clumpy, Argan oil shampoos are exactly opposite as they help in restoring body and shine to the hair. To some extent, Argan oil also works as a DHT blocker. DHT blocker is a compound or anything that inhibits the production of Dihydro testosterone hormone. So with this DHT related hair loss, it can put a stop on hair fall. 
List of Best Argan Oil Shampoos in India (2022)
1. OGX Moroccan Argan Oil Shampoo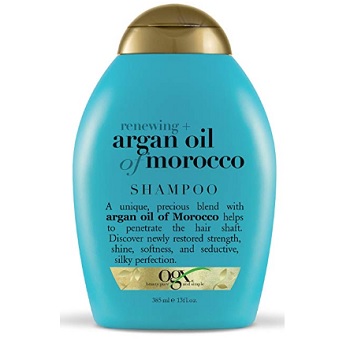 Unique blend of Argan oil of Morocco, it helps to remove the product residue and retain moisture. Adding body and bounce to the otherwise dry and damaged hair, this shampoo ensures high volume with smoothness from roots to tips.  It's paraben and chemical free shampoo that is not tested on animals. With reasonable price, this shampoo is suitable to get away with the styling products and heat damage.
2. StBotanica Moroccan Argan Hair Shampoo With Organic Argan Oil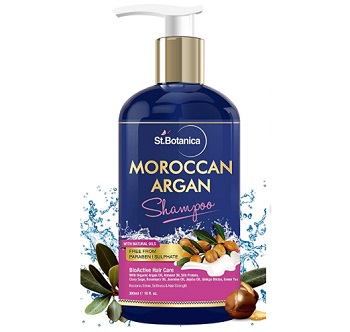 This is one of the best seller Argan oil shampoos in India which comes with good ratings. The very affordable paraben and Sulfate free Argan oil shampoos in India, is infused with Almond Oil, Silk Proteins, Rosemary Oil, Jasmine Oil, Ginkgo Biloba And Green Tea. This is the best shampoo for dry and damaged hair that restores sign and smoothness to the hair. So if your hair has become damaged due to photo damage, the shampoo adds bounce and body. It contains a blend of essential oils that are best known to control hair fall effectively. Silk proteins improve the hair's elasticity to make them break lesser.
3. WOW Skin Science Moroccan Argan Oil Shampoo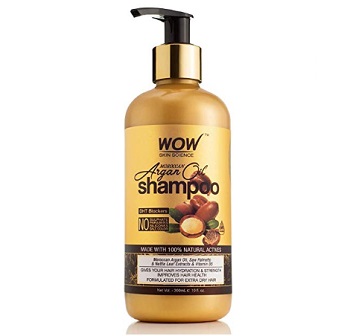 We've got another affordable and best rated Argan oil shampoos in India. Wow Argan oil shampoo is also a DHT blocker product. With no paraben, sulphate, mineral oils and silicones, this is the best chemical free shampoos in India loaded with Moroccan Argan oil, Saw Palmetto, Nettle Leaf extract and Vitamin B3. A powerhouse of nutrients, this is formulated for extra dry hair and falling hair. During winter season, when your hair becomes dry, flaky and dull, the shampoo would improve the hair health and gives you the best possible results. For dry hair and dandruff also, this is the best shampoo to try.  Men too can try this useful shampoo product.
4. Herbal Essences Biorenew Argan Oil of Morocco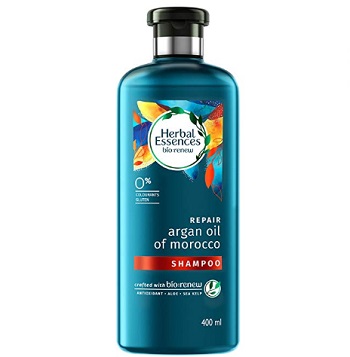 With paraben-free formula, this damage repair Argan oil infused shampoo is made from 90% natural derived ingredients. It's a colour safe formula for even when, if you've coloured hair or chemically treated hair. It contains real botanicals and is a PETA certified products,. With citrus fragrance and vanilla essence this contains Aloe and sea kelp. The shampoo is for normal to oily hair.
5. Khadi Mauri Herbal Argan Oil Shampoo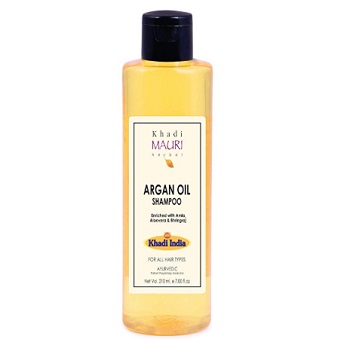 If you are looking for a completely vegan 100% Natural Shampoo then try Khadi Argan oil shampoo which is understood with Amla, aloe vera and bring Raj. Made for all hair types the shampoo boost the hair growth and make them long and dark. By reinforcing the hairs sign and Leicester this makes hair smooth and silky. Ingredients such as bhringraj and Amla are known to prevent hair loss and initiate the growth of new hair follicles. So while treating the dry hair it also treats the hairfall. It's the best Argan oil shampoo for daily use for dry and damaged hair.
6. WishCare Argan Oil Biotin Shampoo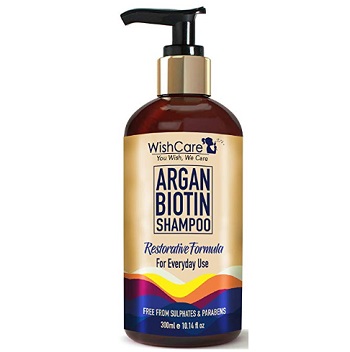 Biotin, is known to initiate hair growth and put a stop on hair fall. With a blend of Argan oil and Biotin, the shampoo is a must try for those who are looking for a moisturizing shampoo for dry hair and falling hair. It's a formula that restores and strengthens the weak hair roots. With biotin, it provides strength to follicles and make hair fall less. The best part is that it's free of paraben, mineral oils and sulphates.  Infused with premium quality natural ingredients such as Olive Oil, Rosemary, Argan oil and Biotin, it's like a super food for your hair while you are shampooing. It's the best Argan oil shampoo for all hair types.
7. Truman Shampoo with Organic Argan Oil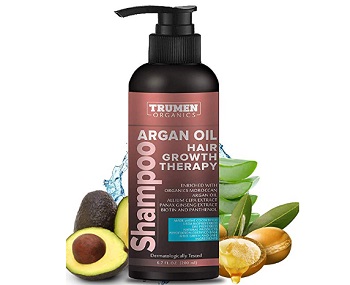 If hair growth is your major concern, try this 100% potent naturally derived ingredients loaded formula. It's sulphate and paraben free hair growth shampoo with Argan oil, Allium Cepa extracts, Ginseng extract and Biotin. It increases the strength and control hair breakage, thinning of hair and dryness. So even if you've dry and damaged hair or hair that is falling too much, trying this plant derived shampoo can really help. It also volumizes and is pretty safe for thinning and oily hair fall. With very affordable price tag, it's yet another brilliant shampoo which is paraben free and rich in Argan oil.
8. The Blessing Tree Moroccan Argan Oil Shampoo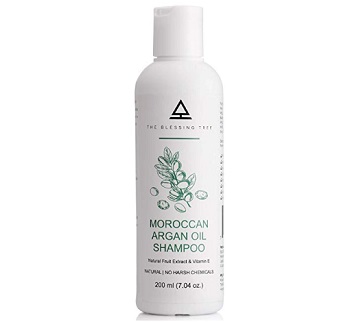 With no paraben, sulphates and Chemicals, this organic shampoo is rich in Argan oil. It does not lather as much as the sulphate loaded shampoos but yet it cleanses the scalp and hair effectively. Made with 100% natural actives, this shampoo is best to be used during hair fall and hair loss condition. For oily scalp and hair, the shampoo works very well.
9. Vital Organics Sulphate Free Shampoo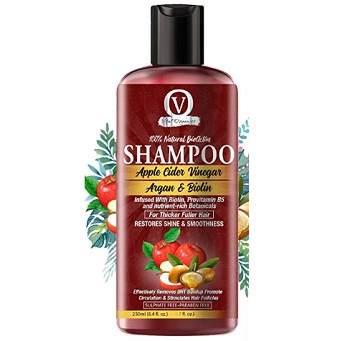 If you have dandruff related hair fall or even oily scalp, apple cider vinegar shampoo can really help. The shampoo is a powerhouse of three most important products, i.e. Argan oil, Biotin and Apple Cider Vinegar. With that, it effectively fights common hair issues for both men and women.
It's basically formulated for thicker and fuller hair. Infused with biotin and provitamin B5, it makes the hair grow faster. By effectively removing DHT built up, it curbs hair fall in men (because of DHT hormone) and promotes blood circulation. Stimulate the hair follicles at faster rate, it ensures proper and faster growth. Even if you have dandruff it can really cure that. It also contains Hibiscus that is also known to promote hair growth.  The shampoo to free of parabens, sulphate and Mineral oil.
10. Himalayan Organics Moroccan Argan Oil Shampoo for Hair Growth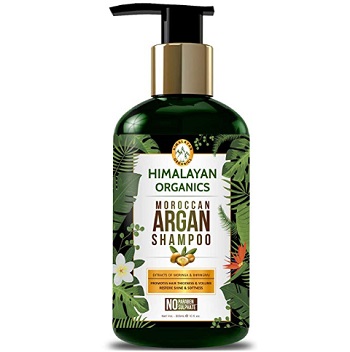 Organix Moroccan Argan oil shampoo is yet another wonderful paraben free shampoo with the extracts of Moringa and Bhringraj. It's formulated to promote hair thickness and volume. So, if your hair is thinning and very oily, use this shampoo to add some bounce.
It's a carefully balanced and blended formula to work in harmony to strengthen each and every hair strand and building a good texture of your hair. It contains Argan oil, Amla, Chicago, Bhringraj and Reetha as the best products to make your hair thick and longer. Try this two times in a week  to get manageable and longer hair. Even men can try this shampoo. In fact, all the shampoo options that we have shared above can be tried by boys too. These are very affordable and are under 700 rupees price tag.