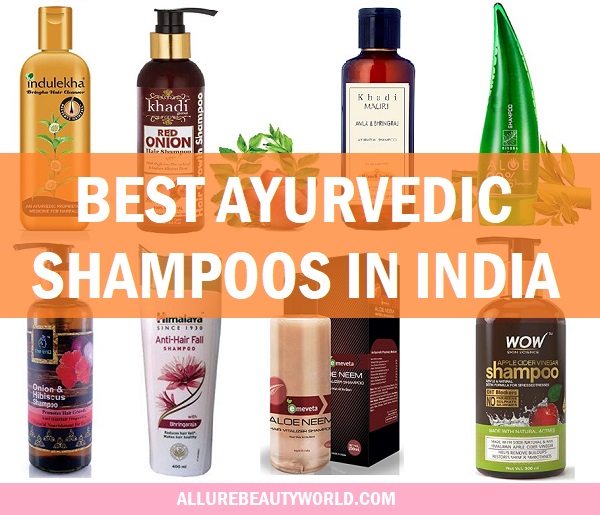 Ayurvedic shampoos or the blend of natural and herbal ingredients are beneficial for hair growth and making your hair lengthy and thicker. Most of the Ayurvedic or organic shampoos in India have ingredients, which are known to combat hair fall and to give you relief in dandruff and it itchy scalp condition. So, if you are confused in finding, which is the best ayurvedic shampoo or the best shampoo for hair growth, we've compiled this list of the Ayurvedic shampoos which are good for hair.
Best Ayurvedic Shampoos in India (2022) For Men and Women
1. Indulekha Bringha Anti Hair Fall Shampoo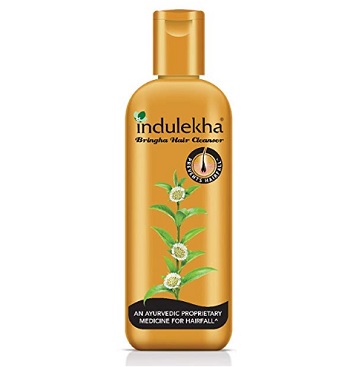 Indulekha bringha anti hair fall shampoo is the best ayurvedic shampoo for hair fall control and to initiate the new hair growth. It contains the power of 9 bringha plants and does not have any artificial colorants or fragrance. It restores the natural goodness of the hair and improves the hair health. By preventing the hair fall, this also ensures that hair grows thicker and darker in color.
2. Khadi Global Onion Shampoo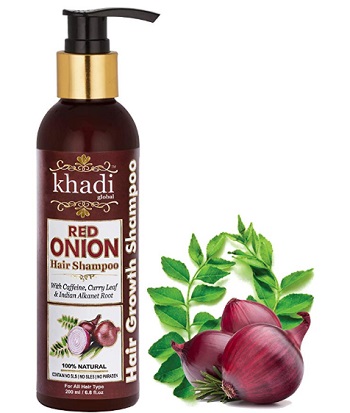 With no parabens or sulphates, this Ayurvedic shampoo is one of the best shampoos for hair growth in India. The Ayurvedic blend of this shampoo contains caffeine, curry leaves and Indian Alkanet root extracts. Effective in controlling the hair loss and hair fall, it also heals the split ends. The shampoo encourages healthy hair growth and stimulates the blood flow. It is a rich source of Beta carotenes and proteins and natural hair conditioners. The shampoo can be used by men and women both and is the best sulfate, paraben or chemical free shampoo for hair growth in India which is purely safe for even color treated hair for daily use as well.
3. Khadi Mauri Herbals Amla and Bhringraj Herbal Shampoo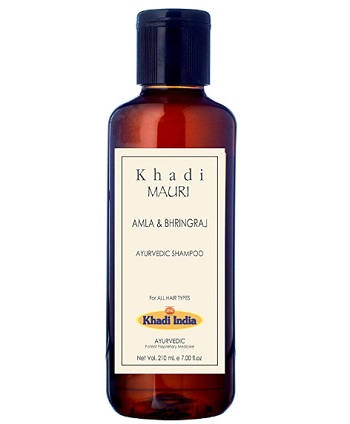 Blended with Amla and Bhringraj, this is one of the most popular organic or herbal shampoos in the market. Suitable for all hair types, the shampoo does root strengthening, promotes hair growth, prevent hair loss and dandruff. It also makes hair darker and softer. The All formula is safe for all hair types and in fact, it's one of the best paraben and sulphate free shampoos which anyone can use.
4. The EnQ Onion & Hibiscus Shampoo Anti Hair Fall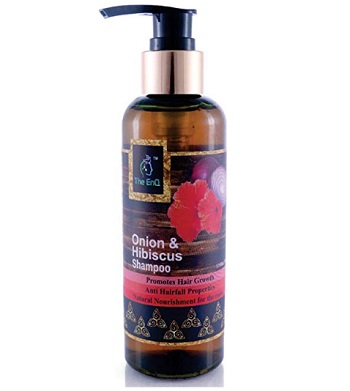 When hair growth is your main concern for your hair, then applying an Ayurvedic Onion and Hibiscus shampoo with no paraben or sulfates for your hair type. Onion extracts have sulphur in immense amount that helps to initiate new hair growth and also works as an anti hair fall product. It is known to make hair stronger, thicker and softer. It increases the natural resilience and strength of your hair, this shampoo is a must try. It also contains Reetha, Shikakai, Bhringraj, Neem, Brahmi, Tulsi and Aloe vera other than red onion extract and hibiscus.
5. Himalaya Herbals Anti Hair Fall Shampoo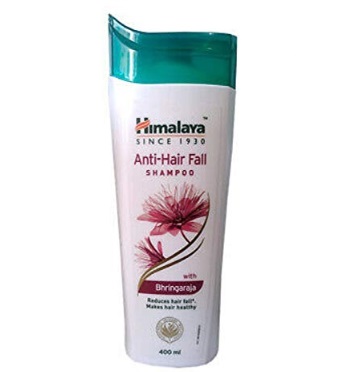 Himalaya anti hair fall shampoo is yet another Ayurvedic shampoo with bhringraj as the key component in it. While giving you healthy and strong hair, this moisturizes the hair and strengthens the roots so that your hair fall less. It is an Ayurvedic blend but it is not totally free of parabens and preservatives. Therefore, if you are okay with it then this shampoo is also worth trying in controlling the hair fall.
6. Rivona Naturals Aloevera Bamboo 99% Silky & Stronger Hair Shampoo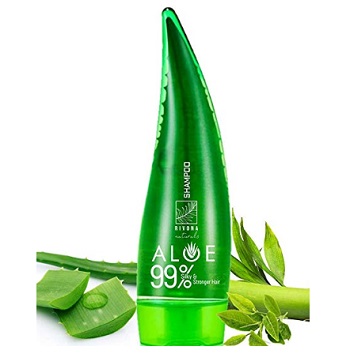 Even aloe vera shampoos can help in hair growth and in keeping your hair naturally silky and stronger. It is rich in aloe vera extract and is completely SLS, SLES e and chemical free shampoo. It is suitable for all hair types, however, if you want daily use shampoo for chemically treated hair, the shampoo helps to stimulate hair growth and to form a protective layer on the hair so that it can be protected from the environmental factors and stress.
7. Emeveta 100% Herbal Aloe Vera Neem Shampoo for Hair Growth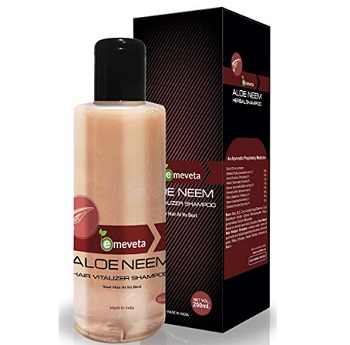 With aloe vera and neem, it is a natural hair vitalizer. It strengthens the root and makes your hair silky. With antioxidant properties of amla along with Reetha, it moisturizes the hair and gets rid of the split ends of the hair. To make your hair smooth and Shiny, this aloe vera shampoo is yet another good choice that you can use when you are looking for a good Ayurvedic shampoo available in the market.
8. WOW Apple Cider Vinegar No Parabens & Sulphate Shampoo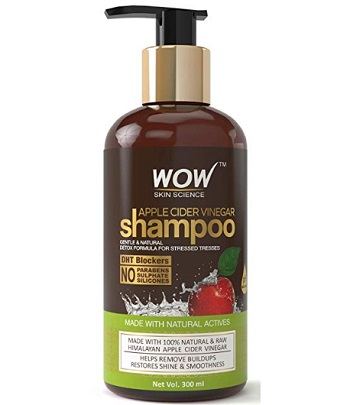 People who are looking for the best shampoo for oily hair can try this Wow herbal Apple Cider Vinegar Shampoo. In fact, it's also an effective dear DHT blocker shampoo with the natural ingredients like Himalayan apple cider vinegar to help remove the buildup of everyday products that we use on hair. It is really a bestseller in this category and helps to maintain healthy hair by enhance in strength. The chemical and SLS free shampoo is also paraben and sulphate free and is best for all hair types as well.
9. Nyle Dryness Hydration Shampoo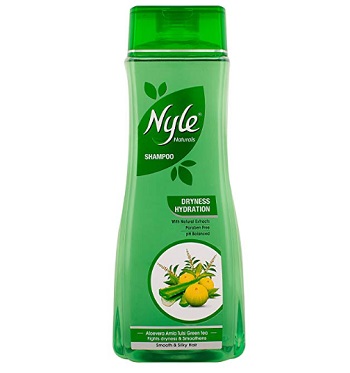 Nyle dryness hydration shampoo is with aloe vera and Amla and Tulsi extract. It is a dryness fighting shampoo which is suitable for smooth and silky hair. The shampoo is effective solution for hair types especially when your hair is dry and damaged.
10. Lotus Herbal Amlapura Shikakai Amla Herbal Shampoo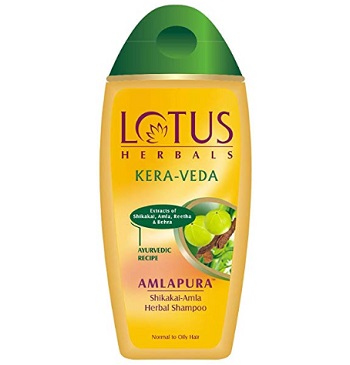 Lotus Herbal amlapura shikakai shampoo is rich in Amla shikakai and Reetha extract. This is a really good shampoo to cure hair loss and to initiate the growth of new hair follicles, so that your hair becomes thicker and more voluminous. The shampoo is suitable for all hair types however, when you have dry hair then this can be a little drying for your scalp.
Now that you have this list of best Ayurvedic shampoos in India with you, it must not be very difficult to choose the best product out there. Using the herbal shampoos can become a problem as the majority of them would contain some of the other form of chemicals especially the sulphates. But the shampoos that we have listed over here, most of them do not have any paraben and Sulfates in them.
Even if you have a very thinning hair or sensitive scalp, then these products would be suitable for you.