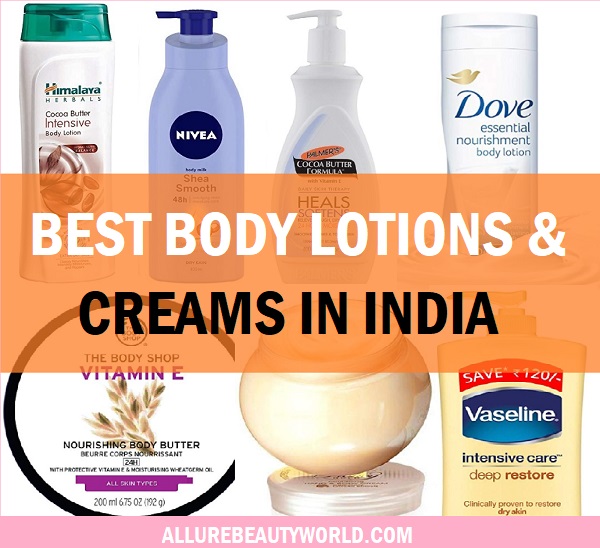 Dry and rough skin looks dull! To combat the skin dryness, Use of body moisturizer gets frequent, especially during winters. At Allurebeautyworld.com today, we will be sharing this list of the best body moisturizers in India and body lotions which men and women can use. A good body lotion and moisturizing product can help you keep the skin soft and supple. Winter dryness can make the skin stretchy and scaly, this makes us run after the moisturizers. Do you know that the best way to moisturize your skin is by applying the lotion soon after the shower. Yes, post- shower application is the best time to use the body moisturizing products on the skin as it makes the product penetrate deeply in the skin layers to keep the skin moisturized and hydrated for the entire day. 
List of Top Best Body Moisturizer and Lotions in India (2022)
Our list includes different types of moisturizing products like lotions, body butters, creams and other moisturizers. Men and even kids can also use these.
1. Vaseline Intensive Care Deep Restore Body Lotion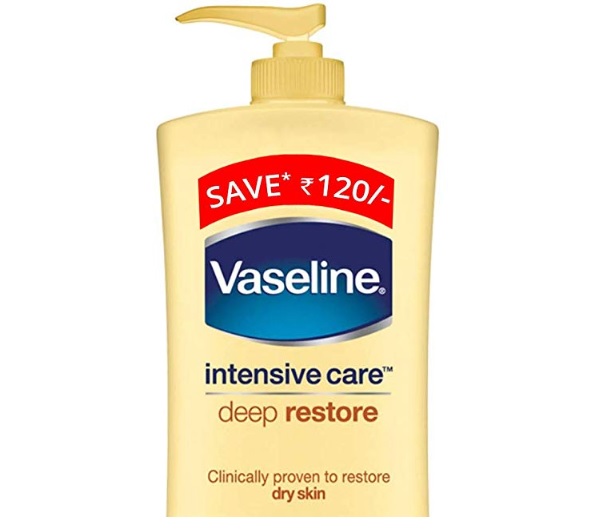 Vaseline is the best brands in body lotions and makes extremely hydrating body moisturizers. The product is clinically proven to restore the dry skin balance. It provides lasting and deep moisturization. The product is formulated for dry to very dry skin and has a fast absorbing formula. This Vaseline body lotion contains the micro-droplets of Vaseline Jelly that locks the moisture in the skin layers without making it greasy. This is one of the best and affordable body moisturizing and lotion for dry skin. 
2. Himalaya Herbals Cocoa Butter Intensive Body Lotion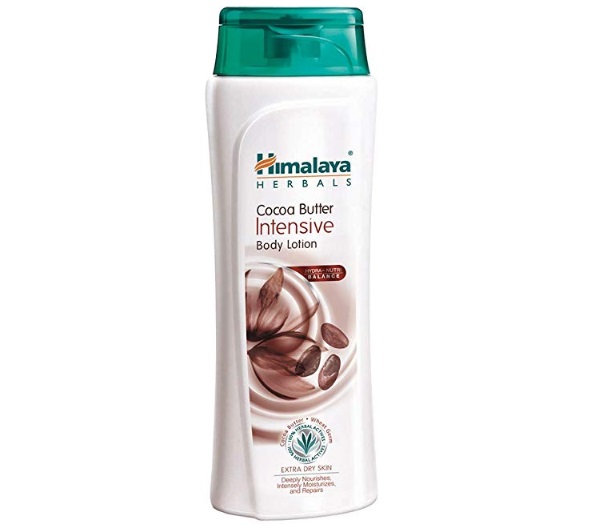 Himalaya Intensive Body Lotion Contains Cocoa Butter is known to deeply re hydrate the dry skin. With cocoa butter formula along with wheat germ oil, this lotion replenishes the lost moisture. When the weather is dry in winters, a lot of us experience rough and patchy skin, use of this lotion soon after the bath can help you get rid of the winter dryness. We feel that it is also the best smelling lotion with faint cocoa butter smell.
3. Nivea Smooth Milk Body Lotion for Dry Skin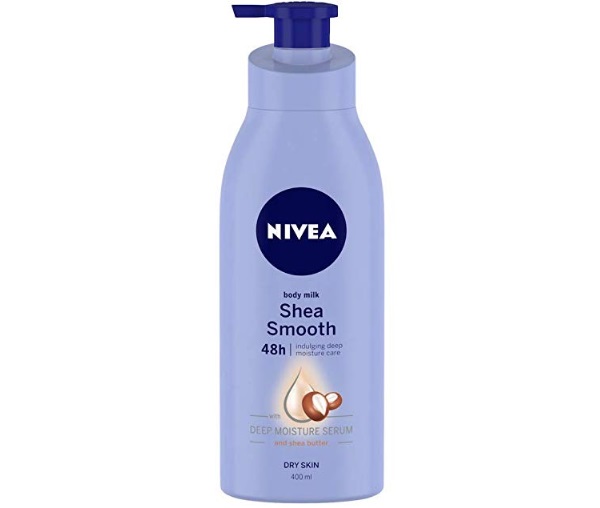 Nivea Body Milk is also made for dry skin but any skin type can use this product. The Nivea moisturizer for dry skin has shea butter along with deep moisture serum. The product is formulated for dry skin and keep your skin dry for 24 hours as per the claims but honestly it gives you moisturization for up to 7 hours roughly. Formula of this lotion is non- greasy and gets blended in the skin very fast. It is safe for sensitive skin.
4. Dove Essential Nourishment Body Lotion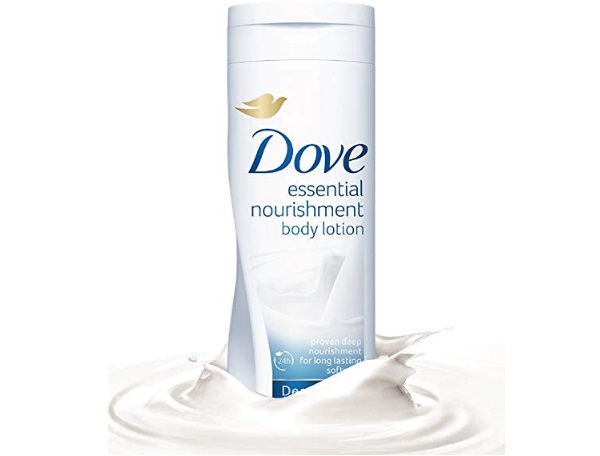 It is a dermatologically tested lotion. And has the formula which is clinically proven. It is a formula that is rich in essential oil and nutrients which revives your dull and dry skin. This can be used on body skin in all the Seasons. It is suitable for all skin type is used everyday. The lotion is a light non-greasy formula which you would love to use during summers. Not just it is a good smelling body lotion, it's also the best moisturizing lotion for dry skin.
5. Pond's Triple Vitamin Moisturizing Body Lotion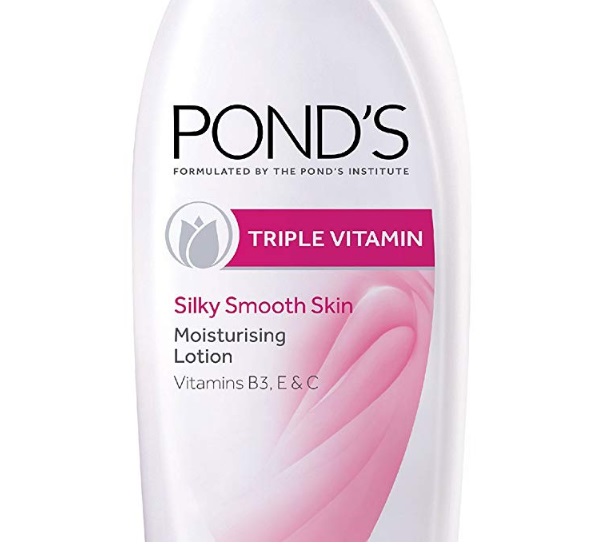 Ponds triple whitening lotion is actually a fairness lotion that has the formula rich in multivitamins. It has got vitamins like vitamin B3, Vitamin E and Vitamin C. It gives you three times moisturization than any other body lotions which is not completely true but yes it does a good job. It has nice smell and formula which gets evenly blended on your skin. It can be used every day and applied during summers and winters. It is also suitable for oily skin types due to light easy-to-blend formula.
6. Himalaya Rich Cocoa Butter Body Cream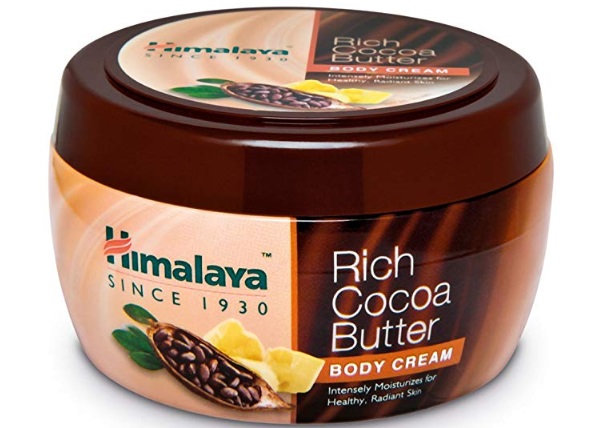 This next body moisturizer cream is from Himalaya. It is made with cocoa butter formula. They have got a similar body lotion with thinner consistency but with the same formulation. This is thick and creamy so, can be called as a body butter. Cocoa butter helps improve your skin texture and gives immense moisture as you all know. It is a non greasy lotion which is 100% made with natural actives. This may not be completely right but yes it has the maximum natural ingredients. It gives you smooth skin even in winters. It's the best body butter moisturizer for dry skin.
7. Palmer's Cocoa Butter Formula with Vitamin E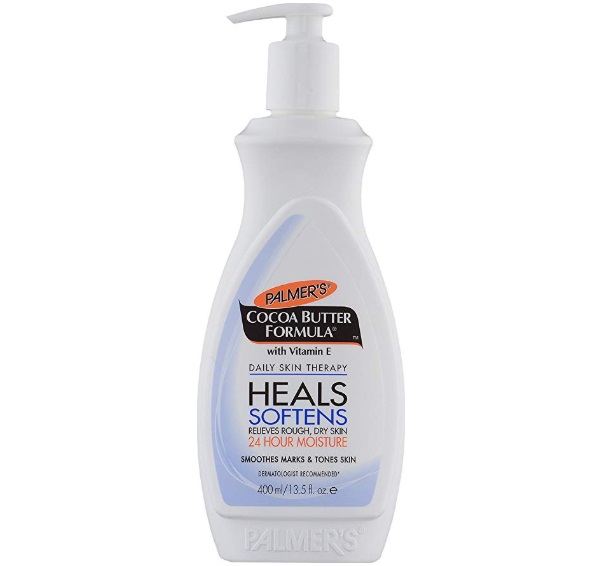 Palmer makes some excellent products which are hydrating and formulated for dry skin. We have seen that this brand has most of the skin products for very dry skin types. It comes in a pump dispenser which is good as it makes using the product very quick and easy. But on the downside, you cannot carry it while you are travelling. This lotion is suitable for extremely dry skin and aids in relieving the dryness for 24 hour moisture. The smell of this lotion is extremely nice and will give you a heavenly smell because of the cocoa butter. It's the best body moisturizer for extremely dry skin.
Price: 545 rupees for 100 ml
8. Kama Ayurveda Kokum and Almond Body Butter

Body moisturizing butter is from Kama Ayurveda that is known to make a luxurious natural skin care products. The body butter is on an affordable price range looking at the quality. It is an enriching body butter to make your skin glow. It's made with 100% organic ingredients like cold pressed sweet almond oil, coconut oil and vitamin E along with shea butter, cocoa butter and mango butter. With the presence of so many butters in it, the formula is so enriching and hydrating that it is best body moisturizer to take care of your dry skin in winters perfectly.
9. The Body Shop Vitamin E Body Butter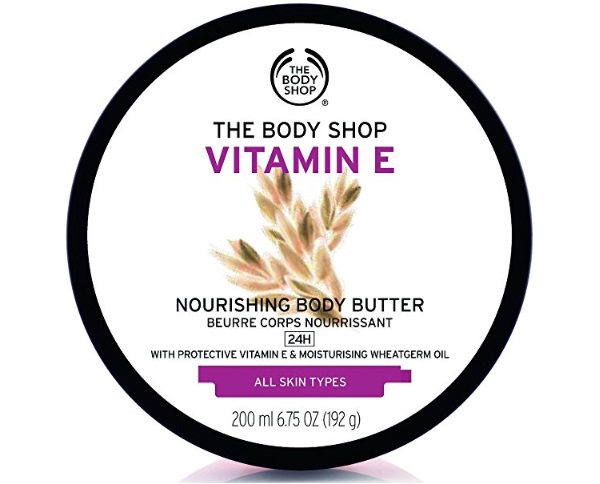 The Body Shop Vitamin E body moisturizer from Body Shop is their best seller product. It has wheat germ oil that moisturizes your skin for after 24 hours. This body moisturizing cream is suitable for normal to very dry skin. So, if you have got normal and oily greasy skin for the body, then you may not used it during the summers because it can give you that sticky feel of skin layers. It contains cocoa butter, Shea butter and Soya oil along with wheat germ oil.
10. Oriflame Milk and Honey Gold Nourishing Hand and Body Cream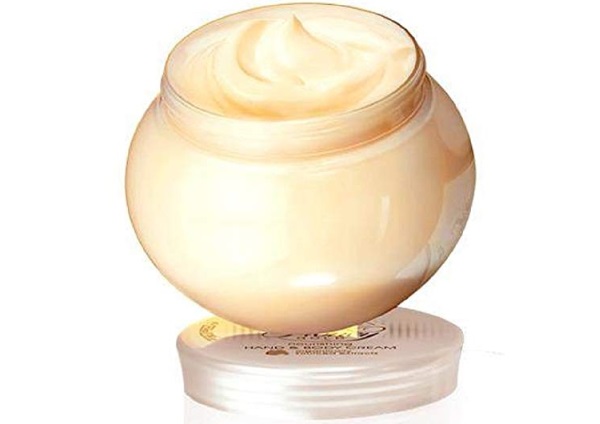 The body cream is a hand and body cream that has milk and honey extracts. Milk and honey has been known to soothe and make your skin supple since ages. Honey is a sugar rich ingredient that has minerals, vitamins and Folic acid. Also makes your hands and body skin beautiful on regular application. The pot that it comes in looks quite attractive and enticing. It is one of the best smelling body creams.