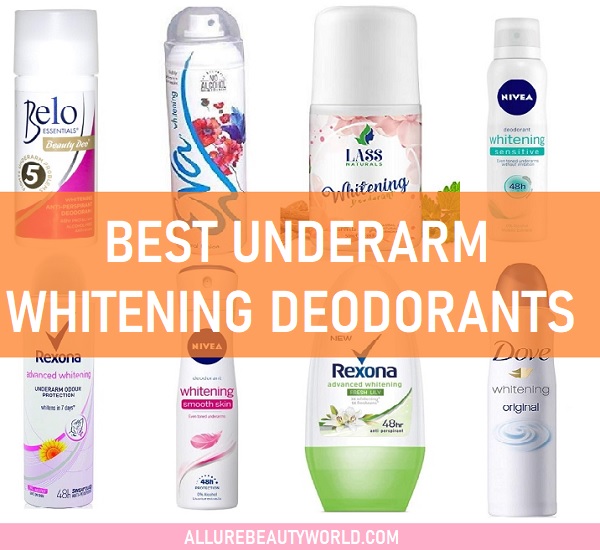 Worried about your dark underarms? A lot of men and women experience darkening of underarms due to different factors. But honestly, whatever be the factors for darkness under the arms, it does look bad when you wear sleeveless clothes. So, here are the best underarm whitening deodorants available in India. Basically, such products contain darkness removal ingredients that help in 2 ways. First, to whiten the underarms by their active ingredients and secondly, with odor control. By using underarm whitening deodorants, you not just combat the body odor but to remove dark underarms
Best Underarm Whitening Deodorant in India for Men and Women
Let's take a look at the deodorant that can whiten underarms.
1. Nivea Whitening Sensitive 48 Hours Gentle Care Deodorant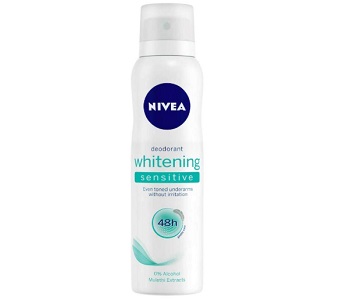 Nivea whitening Deodorant give 48 hours works by reducing the body odour and severe perspiration. The Nivea deodorant for dark underarms has gentle formula contains no alcohol but liquorice extract. Licorice is known to reduce the excessive melanin production and repair the existing darkness under the arms. As a result you get even toned underarms and no darkness. It is suitable for sensitive skin as well because the product is dermatologically approved. It is one of the best underarm whitening deodorant for women with no alcohol. This has other variants as well.
2. Dove Whitening Original Deodorant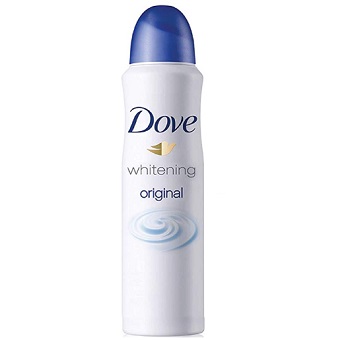 With no alcohol the antiperspirant deodorant gives you 48 hours protection from bad odour and sweat. It whitens and softens underarm skin with its Vitamin E and F formula. Sunflower seed oil and one fourth moisturizing cream revives the darkness under the arms.  It's the Dove deodorant that lightens underarms even when you sweat excessively.
3. Rexona Women Advanced Whitening Deodorant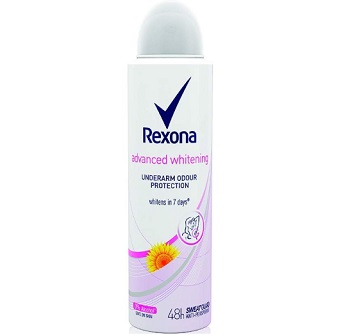 Rexona underarm odour protection is a spray based Deodorant for women. Giving you 48 hours protection, it safeguards against bad odor. The whitening Deodorant whitens underarms in just 7 days as per the claims. It prevents the odor from sweat and bacteria, gives 10 times more protection. This whitening deodorant also does not have any alcohol and is safe for the skin.
4. Belo Essentials Underarm Skin Whitening Anti Perspirant Deodorant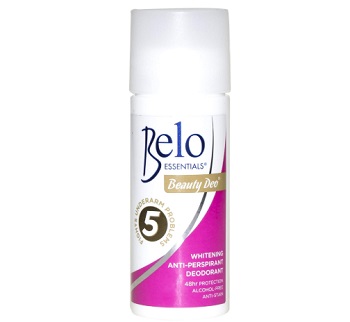 The armpit whitening deodorant is an antiperspirant product that gives 48 hours protection from bad odour and is alcohol free and anti stain product. Formulated to control the darkness under the arms, it also minimises the pores and soothes the skin from shaving and irritation. Use this deodorant to whiten armpits daily at least twice.
5. Nivea Whitening Smooth Skin Deodorant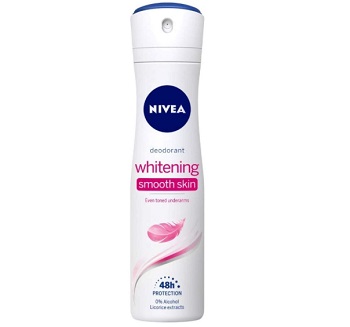 Nivea whitening smooth underarm deodorant contains liquorice extract with an excellent soothing fragrance. Even when you have extra sensitive underarm skin, there is no irritation because of its alcohol free formula. With even toned underarms, there should not be anything to hold you back from wearing the perfect dress that you want. The underarm skin lightening deodorant is dermatologically tested and reliable to take care of your dark underarm skin. Shake the bottle well before spraying directly on the underarms. It's the best deodorant to lighten underarms.
6. EVA Whitening Deodorant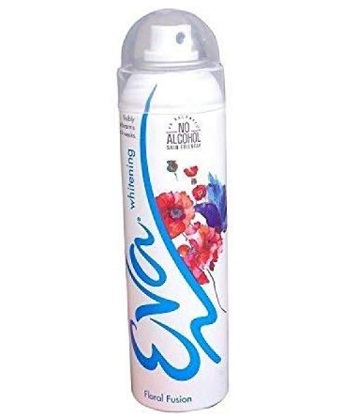 Eva whitening deodorant is also no alcohol deodorant with floral fragrance. The unique formula in this do you remove the bad odour and restore the natural PH value. It does not let the bacteria to thrive on the skin to cause odor. The whitening deodorant can be applied daily twice in a day to keep yourself odor-free and fresh for only long. In just few weeks, it claims to lighten the darkness and blemishes.
7. Lass Naturals Underarm Whitening Deodorant for Women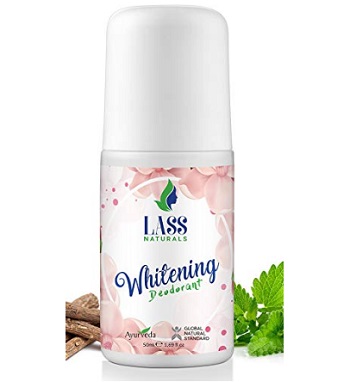 To help underarm skin gets lighter over the time. It is free from aluminium, triclosan and alcohol. It's a chemical free deodorant which is safe for your skin is wonderful. The long lasting and refreshing Aroma keeps you fresh. The deodorant is best for lightening the underarms but for someone who sweats excessively, it may not be the best option. Yet it's the natural deodorant that lightens underarms.
8. Rexona Advanced Whitening Fresh Lily Roll On Deodorant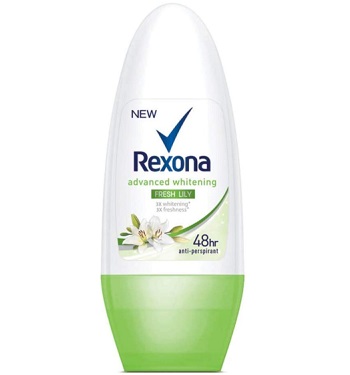 Rexona Roll on deodorant is a whitening product which is very subtle and floral in fragrance. With freshly extract scent, it gives you three times more whitening and freshness. The dry fast technology comes with no alcohol rather a dermatologically tested anti darkness underarm product. It anti body odor control product gives you bad body odor control for up to 48 hours. It contains vitamin E and extracts that helps to get rid of the darkness and whitens underarms fast
9. NIVEA Whitening Smooth Skin Roll On Deodorant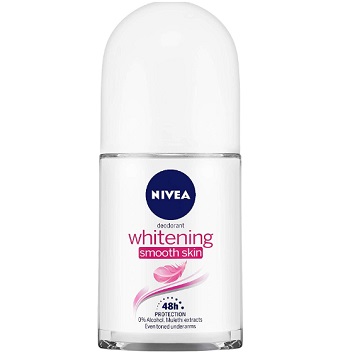 Nivea roll on deodorant is for whitening the underarms. Its roll on format repairs your skin to give you fair underarms. It is compatible with even the sensitive skin, because it's a dermatologically approved product. The jelly like roll-on formula gets dried fast. With 0% alcohol and marine extracts, it is known as the best roll on deodorant to whiten dark underarms.
10. Dove Go Fresh Cucumber and Green Tea Deodorant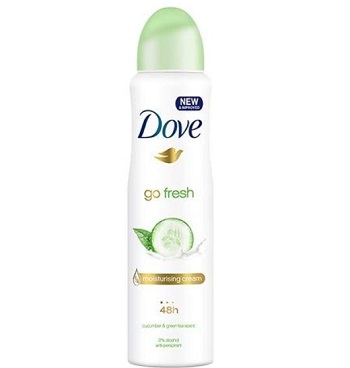 Dove go fresh antiperspirant deodorant is lasts all day long but even tones the underarms. It helps the delicate skin to recover from any reaction caused by shaving or other procedures. It has fantastic fresh green tea and cucumber scent, that is very fresh for summer season and armpit darkness removal. This is the best skin whitening deodorant for women in summer season when it can be a bit ineffective.
These are the best deodorant for whitening dark underarms available in India. All these options are very affordable and effective enough to give you good fragrance and lighten dark underarms.