Struggling with super dry skin is a common scenario during cold winter season. Your skin literally calls for extra moisture. Many women experience dry and flaky skin, even during the warmer season. It can cure dryness and can use to apply intense moisturizing body lotions. To help you narrow down the choices, we've created this list of the best body lotions for dry skin available in India. These are the best body lotions from the top brands that formulate moisturizers for extra dry to sensitive skin.
Best Body Lotion For Dry Skin in India (2023 Reviews)
1. Nivea Nourishing Lotion Body Milk with Almond Oil for Very Dry Skin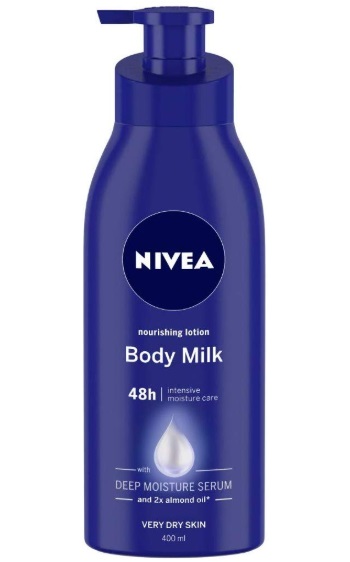 Nivea body milk is one of the best body lotions in India. The deep moisture serum with two times almond oil is formulated for very dry skin. This is a best Nivea body lotion for very dry skin in India. Comes in a pump dispenser that takes care of your dry sensitive skin and makes it smooth and healthy looking.
2. Neutrogena Norwegian Formula Body Moisturizer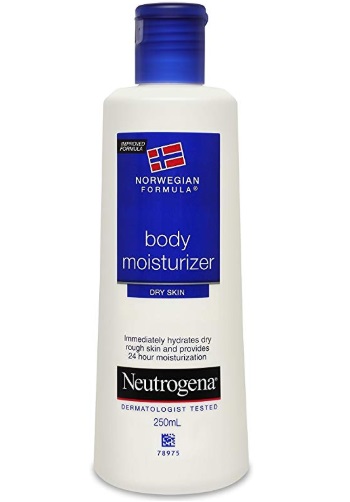 The glycerine rich and non-greasy body lotion is suitable for dry and rough skin. Using it in the morning and night gives you irritated free skin. The deep moisture body lotion immediately hydrates a dry and rough skin to give 24 hour moisturization. It is a Dermatologist tested product therefore you won't have any side effects even if you have sensitive skin. Suitable for both men and women and can be applied all round the year.
3. Vaseline Intensive Care Deep Restore Body Lotion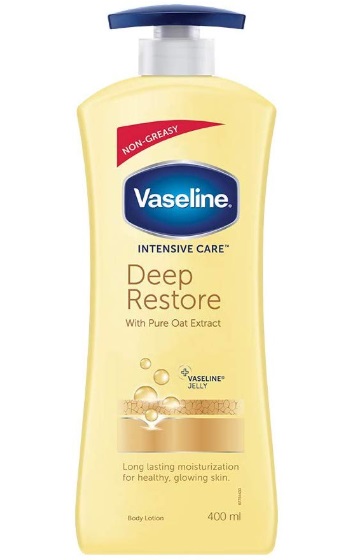 Vaseline Body Lotion for dry skin is made with pure oat extracts. It has Vaseline jelly to give you long lasting moisturization for healthy and glowing skin. So, you can apply it to reveal not just the glow but healthiness. It keeps the skin moisturized for long period of time with micro droplets of Vaseline Jelly.
4. Himalaya Herbals Cocoa Butter Intensive Body Lotion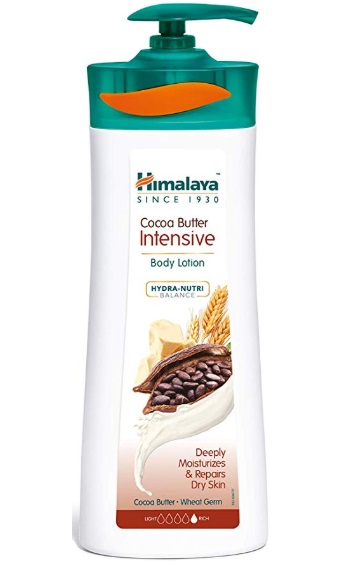 It's the best Himalaya body lotion for very dry skin with the power of cocoa butter. Cocoa butter along with wheat germ is a deadly combination that makes skin moisturized by repairing the dry parched areas. It is spread evenly on the skin and works on the dry areas. The product naturally restores the skin elasticity to cure fine lines on the body skin. To get the best results, use this Himalaya body lotion for dry skin regularly after the shower..
5. Parachute Advansed Soft Touch Body Lotion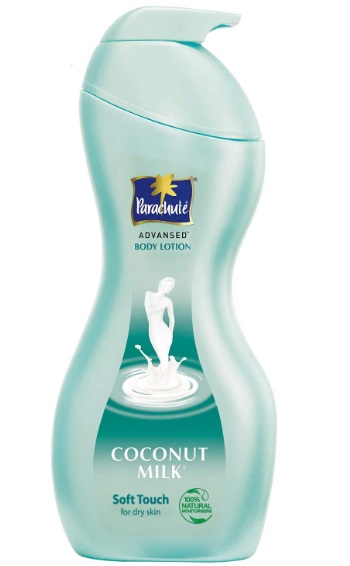 This is the best Parachute body lotion for dry skin. The non-sticky fast absorbing formula with unique moisture lock technology prevents moisture loss. It contains 100% natural moisturizers that nourishes your skin from deep within. It is ideal for normal to dry skin and goes in layers deep to boost the natural glow of the skin with unique cocolipid formula. Good as the best body moisturizer for dry skin in summer.
By the way for extra sensitive, extremely dry diabetic skin and eczema skin, Cetaphil body lotion for dry skin is suitable.
6. Vaseline Derma Care Advanced Repair Body Lotion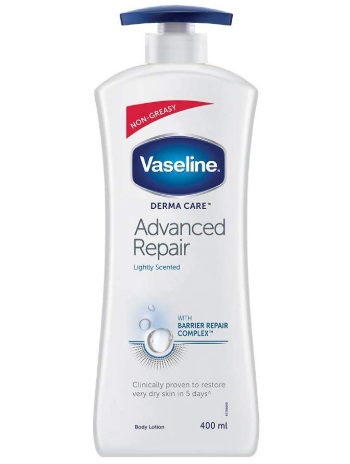 Vaseline Dermacare Body Lotion is an advanced lightly scented body lotion that is made for excessively dry skin. It is clinically proven to moisturize and heal the very dry skin in just 5 days. The long lasting moisturization within light feel gives it unique qualities. The smart pump packaging, makes it easy to use with no mess. So if your someone who is looking for best lotion for diabetic dry skin when which is one of the best options of the Vaseline body lotion for winter too.
7. The Body Shop Almond Milk & Honey Body Lotion for Sensitive, Dry Skin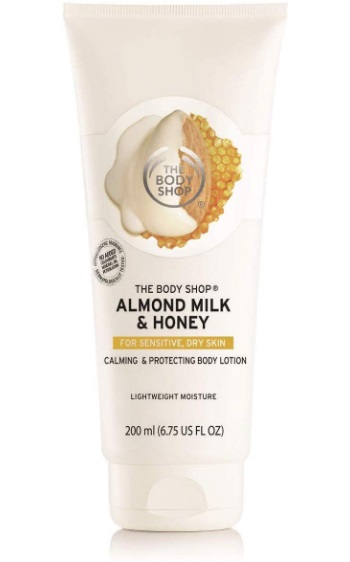 Containing almond milk and honey, this body cream for extremely dry skin is a bliss. It's a lightweight moisture that gives optimum hydration when applied soon after the shower. The coming in soothing nature of the ingredients in this body lotion makes it one of the best The Body Shop body lotion for dry skin. It is dermatologically tested, hypoallergenic with no fragrances or colorants added. You would surely enjoy this paraben-free an organic body lotion for creepy dry skin.
8. Aveeno Skin Relief Moisturizing Lotion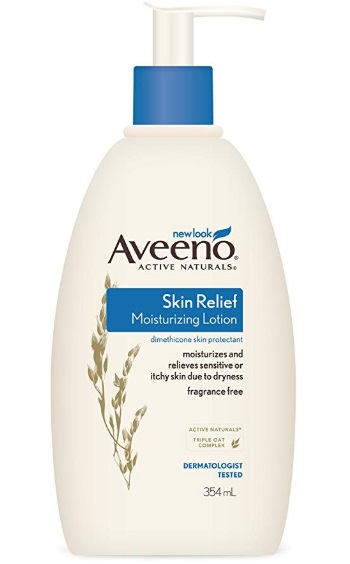 When it comes to body lotions for dry skin, Aveeno daily moisturizing lotion for dry skin is worth trying this season. It gives quick skin relief with deep moisturizing properties. It moisturizes and relaxes the skin due to sensitivity and dryness. It heals the super dry skin and keeps it supple for the next 24 hours. Free of Steroids, fragrances and other chemicals to disrupt the skin pH balance.
9. NIVEA Cocoa Nourish Oil in Lotion Body Lotion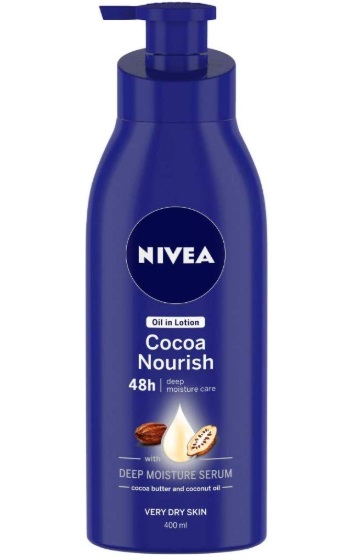 Amongst the top body lotion for dry skin, Nivea cocoa nourish oil in help to smoothen the dry skin and rough. It contains the goodness of cocoa butter and coconut oil that are known to give you immense moisturization. Its unique formula gives deep moisture that keeps the skin supple for up to 24 hours. It's the best winter body lotion for dry skin.
10. Khadi Natural Peach and Avacado Body Lotion For Dry Skin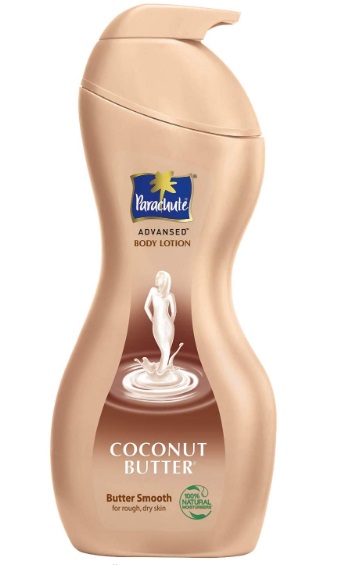 With the unique peach and avocado formula, the parachute body lotion goes 10 layers deep in the skin to boost the natural glow. With a non sticky, fast absorbing and drying formula it locks the moisture and prevents loss. It's known to keep your skin smooth during harsh winter season. It is an ideal herbal body lotion for dry and rough skin.
11. WOW Shea Butter and Cocoa Butter Moisturizing Body Lotion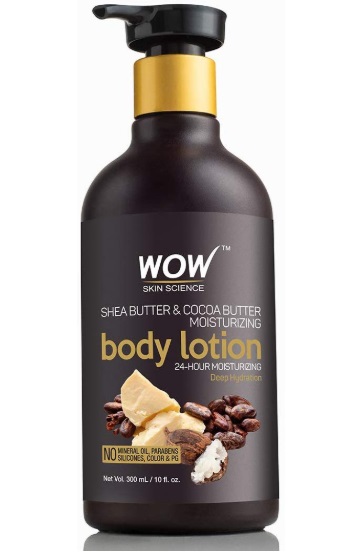 The moisturizing body lotion contains Shea butter and cocoa Butter. It moisturises the thirsty and past skin to give a boost of collagen synthesis as well. To give you a vibrant and younger looking skin it moisturises for long time. Shea butter and cocoa butter are known to prevent the moisture loss and give vibrant skin. It's the best lotion for dry itchy skin.
12. ST. D'VENCE Winter Edition Body Lotion with Tea Tree Oil and Shea Butter for Dry Skin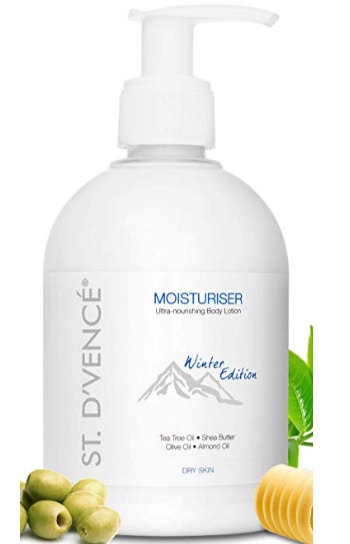 Free of parabens, mineral oils, sulphates and chemicals, it's a hypoallergenic formula that contains shea butter and tea tree oil. It uniformly penetrates in the skin and treats the damaged skin condition. It is the skin glow and releases the skin aging, while preventing dryness and extremely itchy skin.
13. Dove Purely Pampering Shea Butter and Warm Vanilla Body Lotion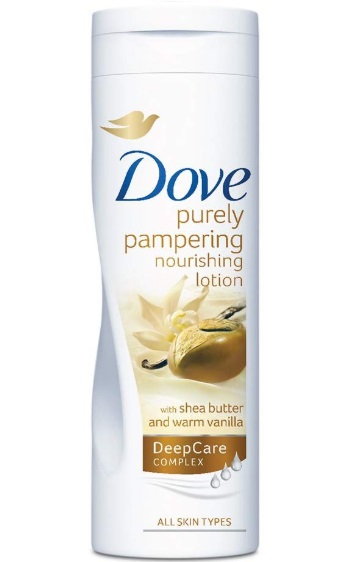 Dove pampering lotion contains shea butter and warm vanilla. It restores skin's vitality and collagen synthesis and you would surely love the warm Vanilla fragrance. It can be used for all skin types but works best for dry and aging skin.
14. G&H Nourish Body Lotion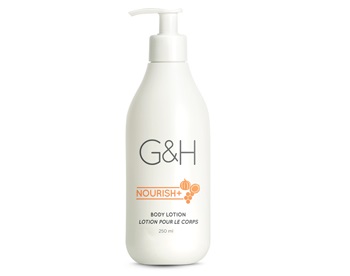 Amongst the top rated body lotions, this keeps the skin moisturizer for 24 hours. This body lotion contains Orange Blossom, Honey, pumpkin seed oil and shea butter. This exclusive blend of natural ingredients treats dry skin and soothes the irritated skin. Orange Blossom Honey is known to give immense moisturisation.
15. Oriflame Happy Skin body Lotion Normal Dry Skin 
 
Oriflame happy skin lotion for dry skin has sesame oil as the main ingredient which helps to smoothen and soften the dry skin. Applying it twice in a day in sure that you can enjoy smooth skin everyday. It also protects the skin from the harsh environment and pollutants. Moreover, it's a good body lotion for winter skin care