mCaffeine is a brand which is known for the organic and herbal products. The key feature of this brand is their paraben, sulphate, phthalate and mineral oil free products. The beauty products from mCaffeine are of high quality yet are at very affordable prices. People who like to look out for paraben free products must consider this brand as they won't be disappointed. mCaffeine products are not only formulated keeping in mind the effective natural substances but are also cruelty free. Let's take a look at the best mCaffeine beauty products in the market.
List of the Best mCaffeine Products in India      
1. mCaffeine Naked & Raw Coffee Face Mask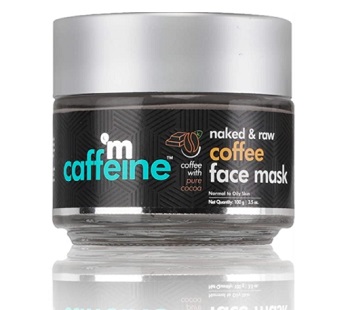 The coffee face mask is rich in cocoa and Vitamin E. It is suitable for normal to oily skin. The paraben and mineral oil free face mask is suitable for men and women with normal to oily skin type. It is a clay based face pack that helps to get the glow without the greasy or sticky feeling. It contains the pure organic ingredients like pure Arabica coffee that get rid of the dead skin cells and also soaks up the dirt, oils and impurities. As a result, the product helps in achieving hydrated and youthful glow. It also contains vitamin E that helps to minimise scars and blemishes.
How to use: Apply it on a clean face and leave it for 15 to 20 minutes. Rinse with warm water in circular motion.
2. mCaffeine Naked Detox Green Tea Face Serum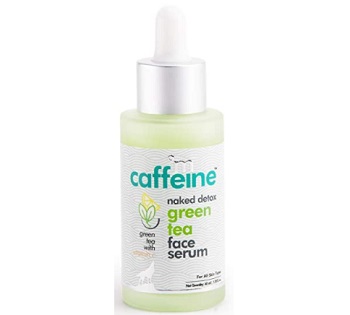 The green tea infused face serum is a lightweight product that helps to give you moisturization without the sticky feel on the skin. This is why, light green tea face serum is highly effective for all skin types. This serum makes the skin fresh and glow. It is rich in Green tea, Hyaluronic acid, Caffeine, Vitamin C and Vitamin A. All the products are known for their moisturizing and anti-aging properties. Vitamin C helps to protect the skin from the sun damage and also reduces the scarring and blemishes. It's the best paraben-free, oil-free face serum for men and women for all the skin types. 2-3 drops of this oily skin facial serum is enough for single application. Even when you have combination skin can you can still apply at. At times it becomes little sticky,  when the temperature rises and season gets humid, when your skin is already very oily, you can skip the product.
3. mCaffeine Naked & Raw Coffee Face Scrub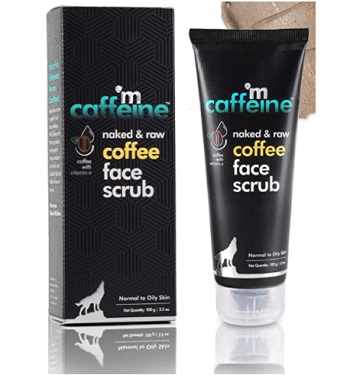 The excellent coffee face scrub is a wonderful product for oily and combination skin. With the goodness of Coffee Bean granules and walnut grains, it gently exfoliates the dead skin. For a smoother skin, regular and timely scrubbing can benefit the skin a lot. In fact, it also increases the blood circulation and let the nutrients present in your creams and moisturizers sink deeper in the skin layers. It contains Hibiscus, Argan oil and Vitamin A. The product is SLS and paraben-free that helps to make the skin breathe. It's is perfectly fine for men and women. Presence of Argan oil makes it an excellent face scrub for all skin types to achieving a smooth and soft skin. Use it once in 4 days or whenever you require exfoliating the skin. It's the best mCaffeine body product in India.
4. mCaffeine Naked & Raw Coffee Body Polishing Oil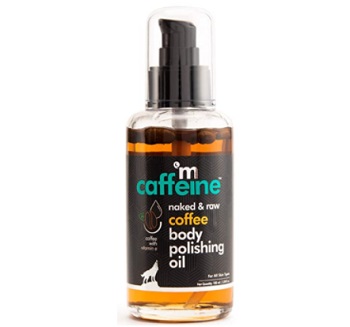 New paragraph it is skin polishing oil which is made for the body skin. Suitable for all skin type it contains coffee with Vitamin E. The product is paraben and sulphate free as we have mentioned earlier. It is a cruelty-free brand that formulates products which are clinically tested. It can be tried in all season and have a fresh Aroma of grounded arabica coffee. It works up your senses and reduces the cellulite while you are massage in the body scan. Additionally with the presence of antioxidants and nutrients it helps in cell regeneration. So the product not just hydrates the skin but also tones it. If you have some marks and scars on your body skin then using such a product can also feeds them gradually. You can also mix it with the body lotions and get the extra benefit.
5. mCaffeine Naked & Rich Choco Body Butter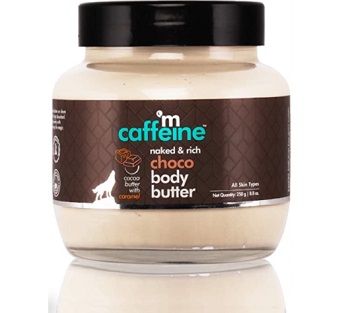 The Choco rich body butter is a deeply moisturizing product suitable for everyone. It contains caramel extract. Along with Argan oil and vitamin C, it makes an extremely hydrating product to care for the dry and damaged skin. During winter season, if your skin looks very dry and lacklustre, this body butter is going to certainly help you out. It smells really nice and present with thick creamy texture, it melts and blends on the skin without feeling much sticky. This is the best part of this butter. As it is rich in antioxidants and Vitamin E, it also speeds up the cell regeneration and brightening the skin. Using the body butter soon after the shower gives you the maximum benefits in moisturising your skin. It's the best mCaffeine body product.
6. mCaffeine Naked Detox Green Tea Night Gel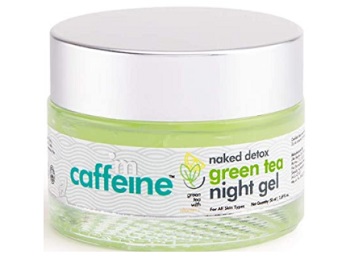 The green tea infused light night gel is suitable for all the skin type, however as the formula is really gel based without the comedogenic ingredients, hence, ideal for oily skin as well. It is rich in antioxidants and helps in easing out the fine lines and wrinkles. Yes, the presence of green tea makes it a wonderful product packed with antioxidant properties. As a matter of fact, green tea is one of the most effective natural product rich in polyphenols and catechins. Hence, it's also rich in anti-inflammatory properties, therefore it is ideal for normal to oily skin as well as dry and combination skin too. It's the best mCaffeine product for oily skin.
How to use: Clean your face with a mild face wash and apply it on your face. Massage the face and neck and leave it. It helps with the skin problems like fine lines, pigmentation and even the dark spots.
7. mCaffeine Naked & Raw Coffee Face Serum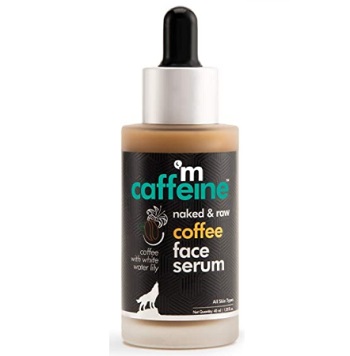 The product is a face serum that is rich with coffee. The richness of coffee makes it a wonderful and amazing product for all skin types. It's better for normal to dry skin and combination skin as well. It is a Unisex product, rich with coffee and vitamins present in the serum, it protects the face from harmful ultraviolet rays. It also contains White Water Lily extracts that reduces the deep seated and old pigmentation and acne resulted dark spots. On the other hand, presence of Hyaluronic Acid, makes it a wonderful skin conditioning product. It is an SLS-free product, which is also free of mineral oil. The product is dermatologically tested and is paraben-free.
8. mCaffeine Naked & Raw Coffee Under Eye Cream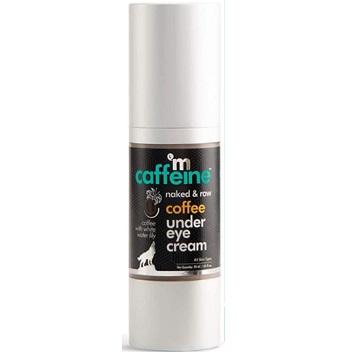 A good under eye cream not just helps you with the dark circles and maintaining the under eye area tight and free from sagging, it also helps in the sun damage. So if you think how to protect the eye area from the fine lines and pigmentation, then certainly use under eye creams regularly. It is infused with pure Arabica Coffee extract and is a very lightweight product. Apply this eye cream, during the daytime and before going to sleep. It does not contain any chemicals, fragrances and dyes that can make the sensitive under eye area irritated. Gently pat the product under the eye area using your ring finger. Use it in your daily skin care regimen, to get the healthy skin under the eyes. It also reduces the puffiness, because of the presence of caffeine, which is a wonderful source of antioxidant that tones and tighten the under eye area.
9. mCaffeine Naked & Raw Coffee Body Scrub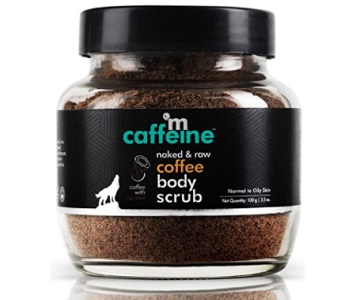 It's a coffee body scrub that we'll recommend to everyone. If you will check the online shopping sites, you'd be amazed by how the product is must have for your normal to oily skin. It's an exfoliating body scrub that also has the sun tan removal features. Made with the Arabica coffee extracts, along with coconut extracts, this is bound to smell sweet and pleasant.  In order to get rid of the impurities, bacteria, dead skin cells and pollution, it has become a clear winner as the best coffee body scrubs in India. It also stimulates the blood flow and reduces the cellulite. The product reduces the puffiness and coconut extracts deeply cleanses and hydrates the skin. In fact, coconut is also known to reduce stretch marks and blemishes on the body skin. The product is SLS free, clinically tested, paraben free and is perfect for normal to oily skin.
10. mCaffeine Naked & Raw Coffee Hand Cream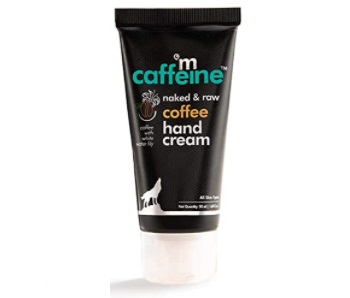 This hand cream is an essential product that many women tend to ignore. Daily we do so much with our hands that a good hand cream shall be there in our body care routine. Due to seasonal changes, the hands can get dry and rough, which is why using a hand cream can surely help combat the dryness. Packaged in a travel friendly packaging the hand cream contains Coffee Bean extracts. It is a Unisex product that contains powerful antioxidant ingredients. The White Water Lily extract along with Hyaluronic acid and Sweet almond oil makes this an excellently hydrating product. For extra smoothness, the hand cream also contains shea butter. The Mineral oil and paraben-free product is also cruelty-free.
These are the best mCaffeine products available in the Indian market. You can buy mCaffeine products online at affordable and discounted prices.