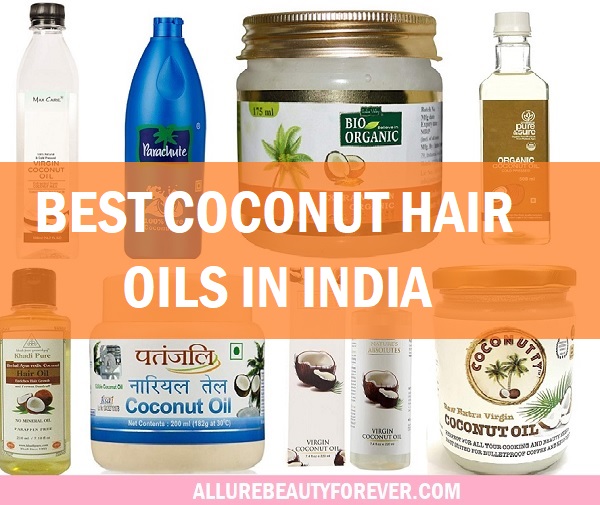 If you remember in the old days, our grandmothers used coconut oil for hair growth. They applied coconut oil to their hair which led to their hair being so gorgeous, lustrous and black. This is why even hair care experts recommend applying coconut oil 2-3 times in a week for longer and healthy hair. An overnight champi or massaging with coconut oil can repair chemical damage and heal sun damaged damaged hair. Coconut oil is rich in Omega 3 fatty acids and other fats that help to regain the hair health and make them grow faster. Coconut oil in fact penetrates the hair shaft protecting it against the environmental damage, stress and pollution. Damage due to excessive heat and UV rays can also be healed with the coconut oil application. It is been found that coconut oil boost hair growth and re-growth.  One can even apply coconut oil for dandruff cure. Now that, you know about the benefits of coconut oil for your hair and how the hair oil grows hair faster, it's time to know about the best coconut oil brands available in India. 
Not just for your hair, coconut oil is also beneficial for skin. Right from reducing the signs of aging like lines and wrinkles, using virgin coconut oil for face make your skin glowing and fresh. This oil is suitable for dry to normal skin as coconut oil has comedogenic score because of which it can block the pores in case of oily and acne prone skin. One can apply coconut oil to erase the stretch marks and body dark spots. Applying coconut oil for dry skin regularly or daily as a body massage oil helps in making your skin beautiful and glowing.
List of Best Coconut Oils in India For Smooth Skin and Strong Hair
1. Max Care Cold Pressed Virgin Coconut Oil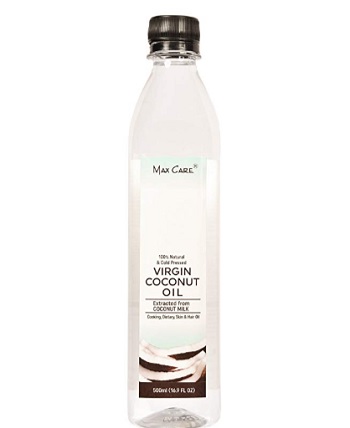 It's a cold pressed virgin coconut oil that can be applied not just on your hair but on the skin as well. This pure coconut oil promotes healthy metabolism and improves immunity. It can be used as a cooking or dietary supplement for your skin and hair. It's 100% natural and extracted from fresh coconut milk. The cold pressed oil is unrefined and can be used for preventing hair fall and strengthening the hair. In fact, it's one of the best extra virgin or cold pressed coconut oils in India. Men can also try coconut oil for beard.
2. Khadi Pure Herbal Ayurvedic Coconut Hair Oil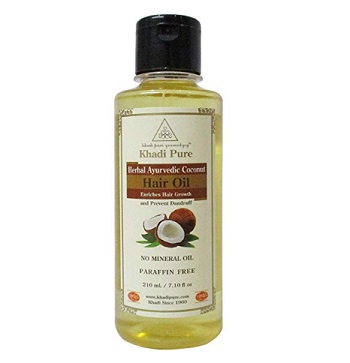 Khadi pure Ayurvedic coconut oil is for hair only that contains no parabens or Mineral oil. It enriches your hair and initiates hair growth and prevents dandruff. The oil also makes the hair thicker and shinier  by giving enough of the moisturization and nutrients. It's the best coconut oil for hair.
3. Parachute Coconut Hair Oil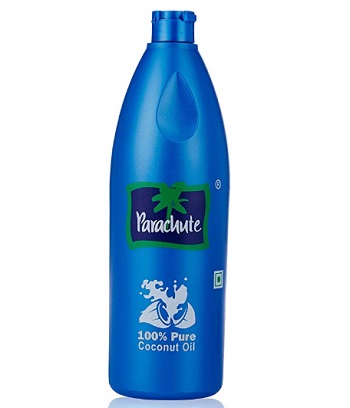 Parachute coconut oil is one of the most popular coconut oil for hair fall stop but it is just for your hair as it is not that extra virgin in thing that you can use for your body. It is coconut and does not contain any preservatives are chemicals. Parachute hair oil has a nutty fresh fragrance of pure coconut oil. Beard oil booster hair growth and initiates the emergence of new hair follicles.
4. Patanjali Coconut Oil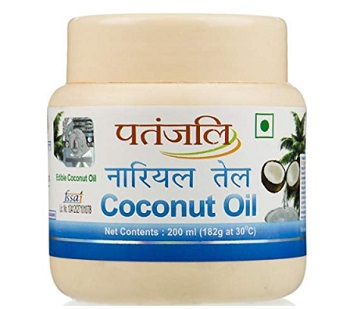 Patanjali coconut oil comes in a tub packaging because the earlier bottle packaging was a bit difficult to use during winter season when the coconut oil hardens or solidifies. It is a unique blend of coconut oil from the pure organic coconuts. It can be applied as a body oil or as a hair oil. This oil is not extra virgin therefore we will not recommend you to apply it for your skin but only on the hair.
5. Indus Valley Bio Organic Extra Virgin Coconut Oil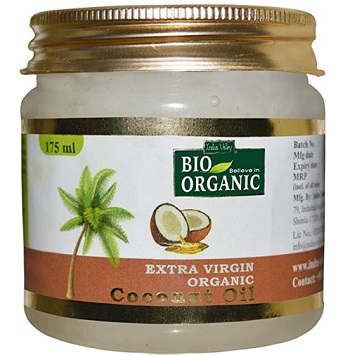 Indus Valley extra virgin coconut oil is one of the best oil for your skin and hair. The best thing about this oil is that it is cold pressed, unrefined, unbleached and non sticky. Containing vitamin E and other essential fatty acids and nutrients, this is perfect oil that you can use for healthy skin and hair. It is 100% organic and extracted from the fresh coconut. The oil can also be applied as hair oil with some tea tree oil to get rid of dandruff infection faster from your scalp.
6. Nature's Absolutes Virgin Coconut Oil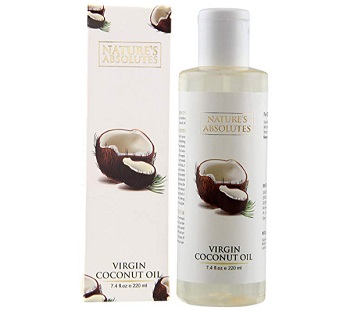 Nature's absolute extra virgin coconut oil is made for skin and hair usage. It is 100% pure organic and natural cold pressed coconut oil available in the market. The fast absorbing oil gets inside the skin layers and makes the skin beautifully glowing. In case of stretch marks and damaged skin, the oil can be applied. However, if you are dealing with wrinkles on the body skin, then also the coconut oil can be applied regularly even for skin whitening. For aging and mature skin, application of coconut oil on the skin helps to maintain the skin's youthfulness. You can also try coconut oil for acne scars.
7. Pure & Sure Organic Coconut Oil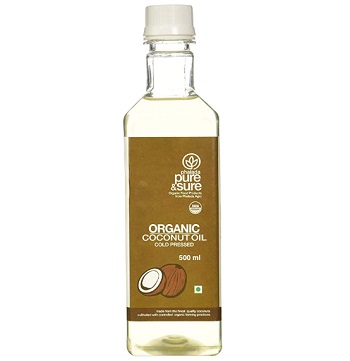 Coming next, Pure and sure organic coconut oil is yet again another best extra virgin coconut oil that is made from finest quality coconuts cultivated in the organic farms. It is 100% certified natural organic coconut oil which is safe to be used for your skin and hair. There are no adulterants or mineral oil, this is a pure oil that is excellent to be used for your skin. To make your skin glowing and healthy with no spots this oil can be applied as a body massage and face massage oil. However do not use it on your face if your skin is oily and acne prone. It's the best coconut oil for skin in India.
8. Coconutty Raw Extra Virgin Coconut Oil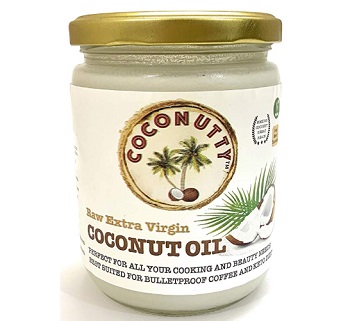 The oil is certified organic cold pressed virgin coconut oil which is perfect when you would like to use coconut oil as a skin nourishing product and moisturizer. It removes the signs of aging and erases those wrinkles and lines that make your skin dull and aged. This tightens the skin and reduces the early signs of aging. The product also locks the moisture in your skin and hair and reduces dandruff. Applying it every week with the home Spa session, it also increases hair growth. It's also the best virgin coconut oil for hair. People have also claimed that using coconut oil for wounds and their scars heals the marks quickly.
9. HillDews Virgin Coconut Oil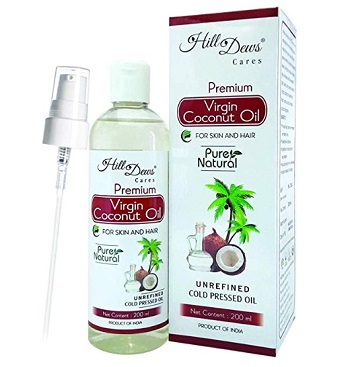 This is our favourite coconut oil that comes with the spray pump extra attachment. It is unrefined coconut cold pressed oil that is wonderful for your skin and hair. This extra virgin coconut oil does not contain anything that can lower its quality. This virgin coconut oil is extracted from the fresh coconut and does not have any solvents used. Virgin coconut oil is a great source of vitamin E and antioxidants therefore is a perfect moisturizer for dry skin during winter season. It increases the strength and shine of the hair, therefore also reduces the split ends and damage. For fast hair growth try using castor oil and coconut oil for hair once in a week.
10. Dabur Vatika Enriched Coconut Hair Oil with Hibiscus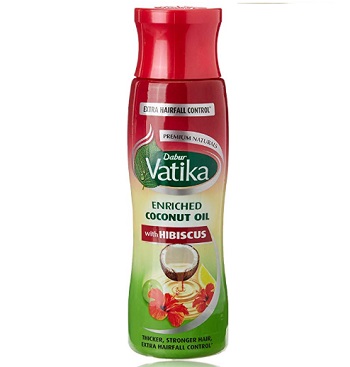 This oil is enriched with Hibiscus and is primarily a blend of coconut oil and Hibiscus for stronger hair. It is only for your hair and not for your skin the dryness of the scalp and dandruff. The oil is made to promote a strong hair and controlling hair fall. It maintains the natural hair colour and encourages healthy hair growth. Hibiscus is known to promote hair growth and is one of the best ingredients to in fact deal with hair loss and baldness.
These are the best coconut oils available in India. While some of these are extra virgin coconut oils, that can be applied for hair and skin whereas few can only be used for the hair because they may not be extra virgin as they claim to be.
How to Use Coconut Oil For Skin and Hair
Now you can choose any of these best coconut oil brands available in the market. Coconut oil is a natural way to grow hair longer and thicker and quickly. Rich in vitamins and essential fatty acids, coconut oil nourishes the scalp and removes the built-up. For your skin when you would like to smoothen the skin by decreasing the fine lines and wrinkles, coconut oil has proven to be highly beneficial. Coconut oil has wonderful benefits for the hair and skin, this is a magical and versatile product.
Every night you can take some coconut oil on your palm and apply it on the scalp and massage gently. Massaging boost the blood circulation that also makes the skin conditioned. Applying coconut oil hair mask also yield good results. This is the way you can reap the wonderful benefits of coconut oil. You can also mix aloe vera gel and coconut oil for hair growth. Use this mask twice in a week and see the transformation.
Coconut oil and honey hair mask also gives good results in healing the damaged caused due to UV rays and chemical treatment. In fact, it's a very beneficial remedy to cure dry hair. Mixing amla and coconut oil as a hair oil also works on thinning hair.
To deal with spots, apply coconut oil for dark spots by mixing with some tea tree oil. Massage and leave for overnight. You can also massage the skin with camphor and coconut oil for pigmentation. Mix one pinch of camphor with 1 tbsp of pure extra virgin coconut oil. Massage and leave overnight. To cure itching, use coconut oil as a body massage oil after the bath in winters.