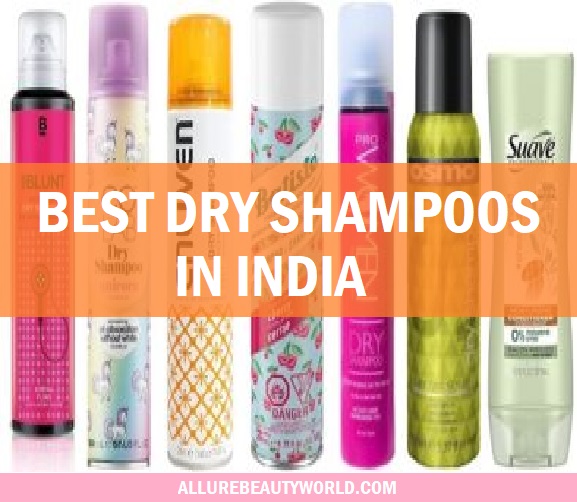 Do you have greasy hair that gets sticky on the second day itself? To overcome the sticky or greasy hair situation, a dry shampoo is an excellent hair care product. Made with ingredients that can soak up the excessive sebum and oils off the roots, the product acts to make hair look voluminous and bouncier as through you've just washed them. Here, we'll talk about the best dry shampoos available in India. Dry shampoos can lengthen the duration between regular shampoos. This is beneficial, as when you don't have time to wash the hair; dry shampoo can make the hair look fresh and oil-free again.
Best Dry Shampoos in India For Waterless Hair Cleansing
Let's take a look at this list of the best dry shampoo brands in India. These products are affordable and available online at good discounted prices.
1. BBlunt Back To Life Dry Shampoo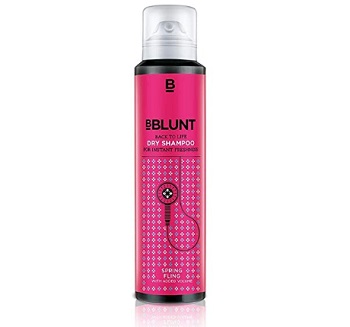 The dry shampoo brings life back to hair. This does not require any water but contains the microcrystalline starch that helps to get rid of the sebum and oils from the roots and hair. This adds instant volume to the hair. No water is required to use this product.  This hair shampoo is specially created for Indian hair, because hard water is related with high mineral content that can damage the hair and then eventually make hair fragile and weaker.
Therefore, the shampoo helps to get rid of the dullness and oils by creating shield against hard water and pollution traces, while leaving the hair soft and manageable with no sebum on the scalp. Just check the shampoo and hold the can and spray evenly. Leave it for 2 minutes, then brush your hair properly.
2. Colab Unicorn Dry Shampoo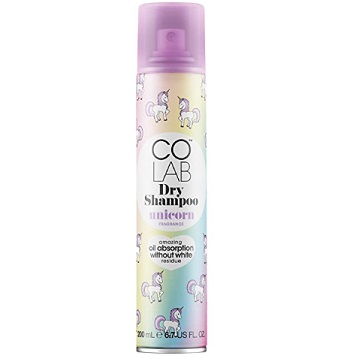 The dry shampoo comes in the Unicorn fragrance and is also available in multiple fragrances, so that you can choose the one that you prefer. It is an amazing oil absorption shampoo that does not leave the white residue behind. It gets your hair feeling cleaner for long time. So, the product cleanses and nourishes the hair without any visible white residue. The product gives life in hair and instant oil removal effect for the boost of volume. So, it doesn't feel heavy on the hair rather enhance the hair with life and strength.
3. Enliven Tropical Dry Shampoo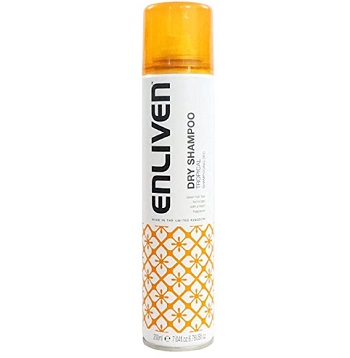 This dry shampoo in the tropical variant is one of the most popular dry shampoos that are available at very affordable prices. It is made in UK and comes from a brand that is known for their good quality hair care products. It is a spray type of dry shampoo and free from aerosol propellants. It means to take place of regular washing of your hair with water. Therefore, when the water is not available, yet you need to get rid of oils, sebum and greasy feeling, this instant drying shampoo can work really well for you. The best thing about this dry shampoo product is that it doesn't make or leave the terrible white residue that need to be blended well. Once you apply this product, it helps the greasy hair to become non-greasy and high on volume.
4. Batiste Instant Hair Refresh Dry Shampoo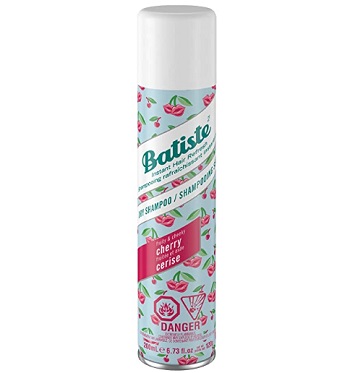 The shampoo has a fruity smell and just few sprays of this dry shampoo makes it really quick and convenient to instantly refresh your hair feel clean and full of body and texture. It is an innovative formula, that does not require any water to cleanse the hair. It basically targets the excessive oils and grease on your scalp and hair fall. It eliminates the greasiness from the scalp so that it can be used while you are travelling or when you need to have extra bounce to your hair. It gives life to your dull hair and gives a mini hair makeover without water so, it's perfect for travel with a compact and convenient pack. The cherry scent also make the hair smell nice.
5. Prowomen Dry Shampoo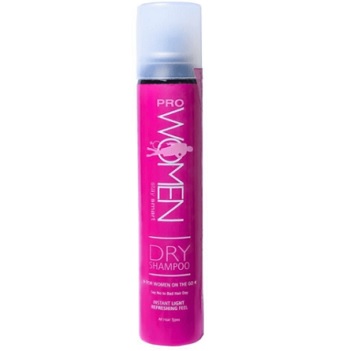 Prowomen dry shampoo cleanses the hair and fixes the greasy hair in just few sprays. It also makes the dull hair appear lifeless and voluminous. It's a dry shampoo that is perfect to apply between the hair washes without the use of any water. It is a non-powdery product which does not leave the white trace or residue behind.
6. Osmo Day Two Styler Dry Shampoo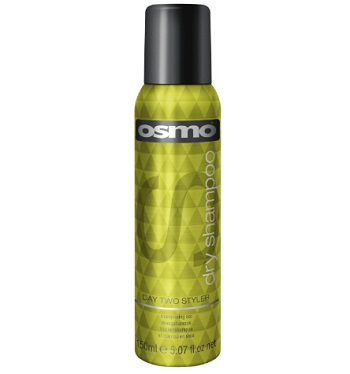 Osmo Day Two Styler shampoo comes in a spray can like packaging and is suitable to travel. It absorbs the excessive sebum and oils within just few sprays over the roots. Apply directly on your hair and scalp, then massage gently with the fingertips. Keep it for 2 minutes so that it can instantly absorb any greasy residue that you have on your hair. This dry shampoo adds volume to hair and creates hairstyle that stays the entire day.
7. Suave Professionals Keratin Infusion Dry Shampoo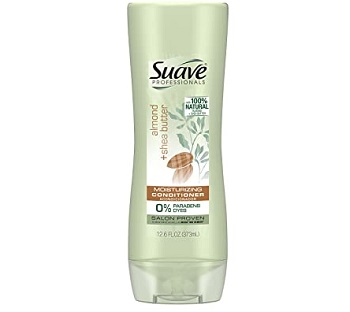 Suave Professionals keratin Infusion dry shampoo is made by the professional hair care range. It helps to manage your hair and keep them fresh between the regular hair washes. It also contains keratin that makes the hair smooth and softer. It extends your blow dry styles and your hair appears just amazing refresh and volume. Just applied and take some time to let it absorb the oils and grease of the scalp.
8. Aveeno Active Naturals Pure Renewal Dry Shampoo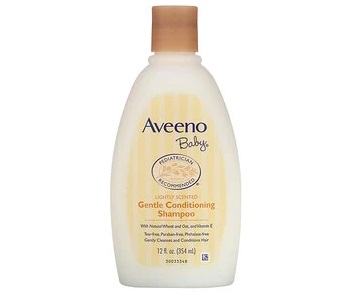 Aveeno Active Naturals Pure Renewal Dry shampoo is a volume boost shampoo that is moisturizing enough to make your hair refreshing and manageable. This dry shampoo also contains Seaweed extract. It re-stores the natural moisture and your hair becomes a lot manageable. It is sulphate-free product that comes at a pretty expensive price tag. Suitable for all hair types, it does not make your hair flat for appear lifeless.
9. Dove Invigorating Dry Shampoo
Dove Invigorating dry shampoo is made to give volume and fullness to your hair. It absorbs successive oils and gives the life to the otherwise sticky and flat looking hair. By adding bounce and style to your hair, it is a weightless product that does not leave any traceable or visible residue behind.
These are the best dry shampoo products in India, which you can surely use to get sebum-free and flowy hair within few minutes.
Why Should You Use Dry Shampoo? Benefits of using Them:
To make your hair wash less frequently, a dry shampoo can help for sure. Frequent washing or shampooing can strip off the essential moisture from the hair. Therefore, to just soak up the oils, a dry shampoo is a good product.
Let's see some of the Advantages of using a dry shampoo.
Extend a blow-out: One can easily increase the life of your salon styled blowout hair by using the dry shampoo, which can add few more days.
Preserve the hair color: Even though you're using a color protecting shampoo, some amount of hair color still gets faded. This makes hair color lose vibrancy. Using a dry shampoo is a water-free process to get rid of the extra oils so your hair color stays longer and vibrant.
Dispel hair odor: Applying a dry shampoo also removes the unwanted or unpleasant smell from hair. Many dry shampoos have pleasant fragrance to quickly freshen up your hair.
Add Volume: Of course a dry shampoo adds volume to the sticky hair. This is what they do. Spraying a dry shampoo at hair roots instantly adds volume and bounce.
Add texture: Use of these products also add texture to the hair.
How to Apply Dry Shampoo
Even though using a dry shampoo is quicker than the whole lather, rinse, repeat routine, it's still worth taking the time to apply it properly. Here's how.
Step 1:
Shake dry shampoo and hold at least the length of the can from the head (8-12 inches). Spray on the root starting at your part line, and divide into smaller sub sections to ensure the whole head gets product.
Step 2:
Flip your head upside down and gently massage your roots all over with your fingertips. If the spray still feels damp, set a blow dryer on the lowest, coolest setting and aim it at your roots.
Step 3:
Use pads of fingers or brush to comb through to disperse throughout the whole head