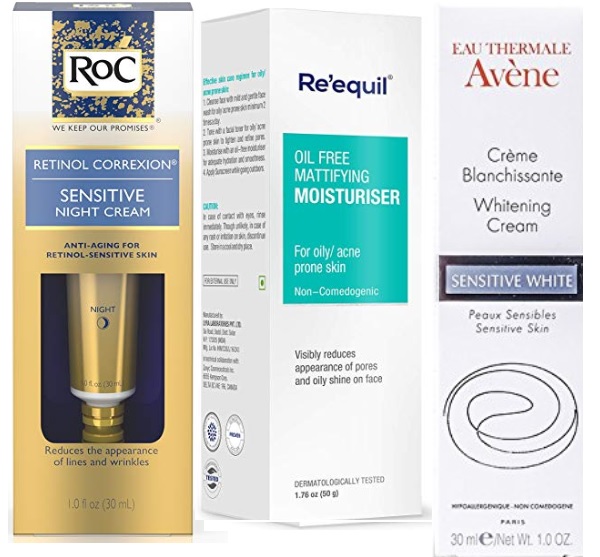 When your skin is sensitive, you just cannot use every other product without even knowing For dry sensitive skin, use of products should be done with utmost care. Use of certain products can give you rashes, itching, blisters and irritation. In this article, we are going to talk about the best face moisturizer for sensitive skin in India. These are the products from reputed brands and are also dermatologically tested. While choosing a good moisturizer for your sensitive dry face, we must take a look at the ingredients, composition and whether the product is dermatologist tested or not. Such products are safe to be used and are generally gentle. Choosing the moisturizer for sensitive skin in India is not a task when you go through this list. Sensitive skin calls for suitable skin care products.
What is Sensitive Skin? 
When we say sensitive skin, it means your skin can get easily reacted by the use of some products and weather conditions. Flaking, rashes, swelling, roughness and redness are the common symptoms of a sensitive facial skin. Other than that, you can also experience session of burning, itching, prickling and bumps. Even oily skin can be sensitive.
Best Moisturizer for Sensitive Skin in India (2023 for Men and Women)
Below is the list of the best moisturizers for sensitive skin type.
1. Kama Ayurveda Sensitive Skin Day Cream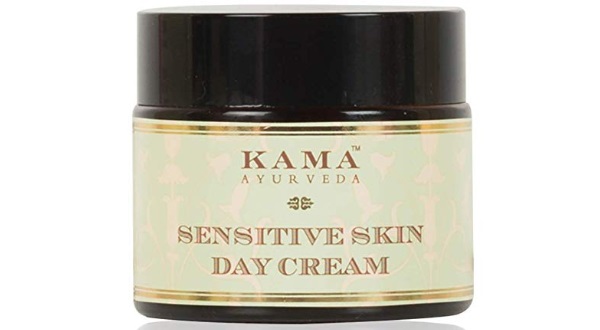 Kama Ayurveda is a luxury brand that makes high-quality dermatologically tested Ayurvedic products. It is a gentle daily moisturizer that is safe and is best day cream for dry sensitive skin while giving boost of moisture. It contains Flower oil that calms the inflamed skin and brightens the facial skin. Moisturizing safflower oil creates a protective layer and protect from the harsh environment. Cornstarch and beetroot extract along with sandalwood oil makes it perfect for winter season too. It is also suitable for easily irritated or rosacea prone skin types.
How to use: Cleanse your skin with a mild cleanser. Apply the day cream all over your face and neck. Gently massage the skin using clean hands. That the skin for 5-10 seconds.  
2. La' Decus Hydrating Moisturizing Cream for Dry and Sensitive Skin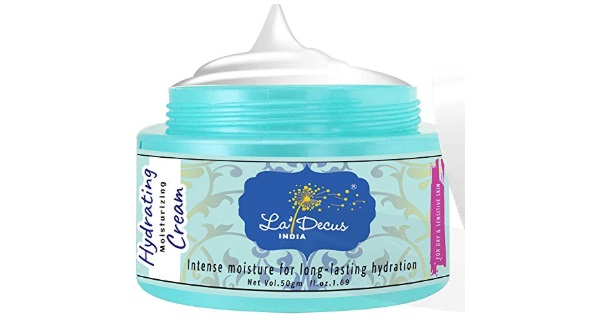 The intense moisturizing lotion gives you long lasting hydration and is specially formulated for dry and sensitive skin. It is a paraben free moisturizer that keeps your skin smooth and supple all day long. The product is safe for men and women and has a light gel texture and is amongst the best moisturizer for sensitive skin in India.
How to apply: Take around a dollop of this gel cream and gently smear all over your face and neck. Massage with your fingers and leave it to get dry. Use it every day to get soft moisturized face.
3. Cetaphil Daily Advance Ultra Hydrating Lotion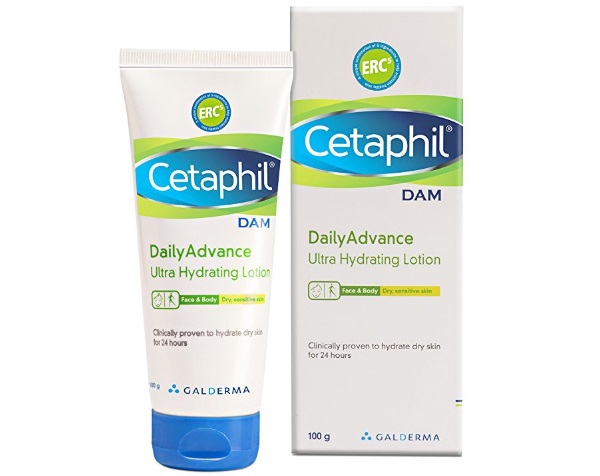 When your skin is irritated, this ultra hydrating lotion is the best face moisturizer for dry sensitive skin. It is clinically proven to hydrate the dry skin for up to 24 hours. The safe and hypoallergenic formula recommended for rosacea and psoriasis as well. The lotion like texture gets penetrated in your skin layers nicely. It can be used after cleansing your skin with mild cleansing milk or a face wash.
4. Avene Rich Compensating Cream for Sensitive Dry to Very Dry Skin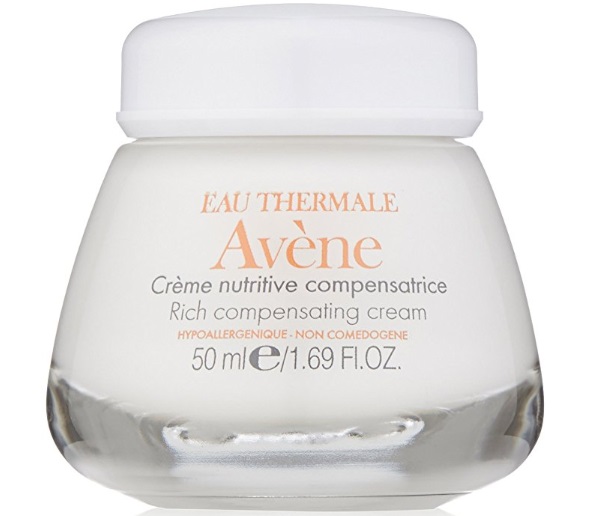 The rich compensating face cream is made for very dry sensitive skin. The rich and creamy texture literally melts into your skin within few seconds. It is hypoallergenic and non-comedogenic product. The product makes sure that your skin is protected against the external environmental factors that can irritate and disrupt the skin's pH balance. It's also the best night cream for sensitive skin.
How to use: Cleanse your skin with a good cleanser. If your skin is very sensitive use a mild cleansing milk and apply this moisturizer with clean hands. It can be applied two times in a day
5. The Faceshop the Therapy Hydrating Anti Aging Cream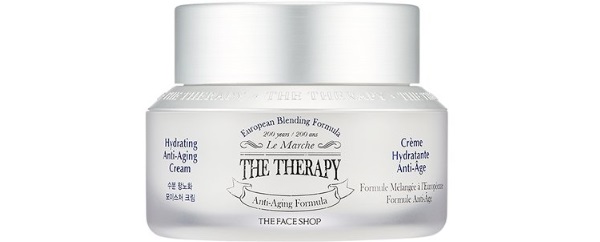 The daily use anti aging cream is perfect for sensitive dry face. It is a premium moisturizer that increases elasticity and collagen production. It is a naturally blended formula using the botanical ingredients that increases the cell renewal and fights the lines and wrinkles.
6. Alembic Oryza Moisturiser for Sensitive and Dry Skin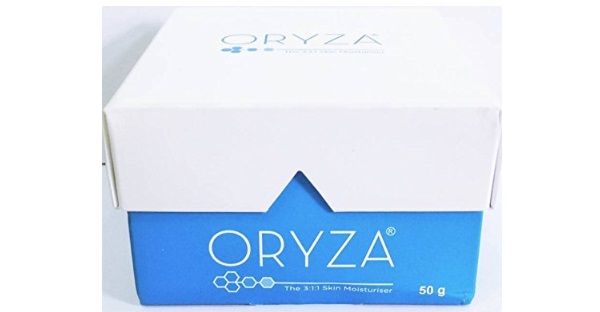 It's an everyday use affordable light gel moisturizer for sensitive skin and rough skin type. It also even tones your skin, while giving it enough of the moisturization. It's a steroids free ceramide rich cream with 3:1:1 ratio formula of ceramide, free fatty acid and cholesterol in a emollient base. Oryza mimics these naturally found in the skin and can be used by patients of all ages with no usage restrictions on the face and skin.
7. Oriflame Happy Skin Caring Body Lotion Sensitive Skin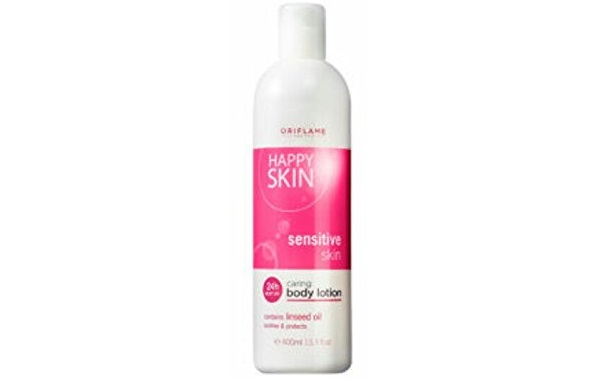 Oriflame happy skin lotion is exclusively made formula and is the best body lotion for sensitive skin. It is formulated with nourishing oil is like pumpkin seed oil, linseed oil and sesame oil. The product is dermatologically tested and safe for rosacea and psoriasis prone skin. As tested on several women, the product has emerged as a winner in curing the sensitive dry skin. It is a winter and summer hydrating moisturizer for sensitive skin.
How to use: Apply the lotion on your skin and massage for few seconds it will get inside the skin layers without leaving and oily film on your skin.
8. Retinol Correxion Sensitive Night Cream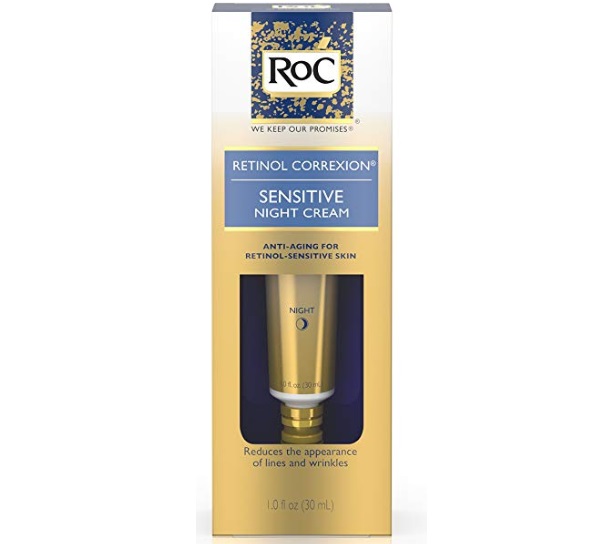 The product is quite expensive but is a luxury product for sensitive skin. It's an anti aging night cream that helps to reduce the appearance of lines and wrinkles. It contains retinol correxion that makes your skin moisturized and youthfulness. It is a gentle facial night moisturizer that contains hyaluronic acid. The product has a clinically proven formula that gives you results within 8 weeks. As tested on several ladies it has given 96% of Positive results and hence, is the best night cream for sensitive skin.
9. AVENE Sensitive White Whitening Cream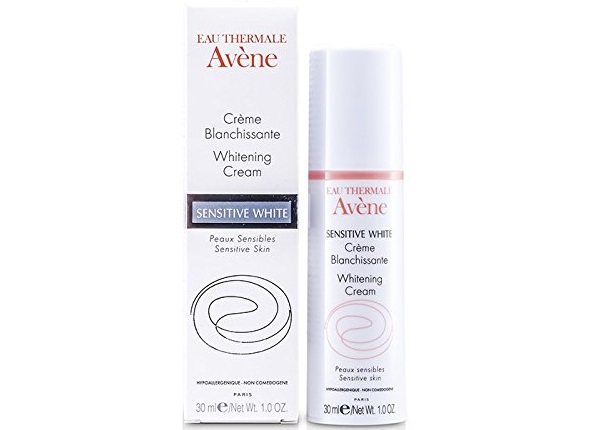 When you have sensitive skin that doesn't mean you can't have the whitening benefits. This is the best skin whitening face cream for sensitive skin. Performance of this cream gives you even toned and bright facial skin. Blended with a botanical myrtle extracts, rich in anti-radical polyphenols, the cream helps control melanin production & promote cell regeneration. As it is non-comedogenic, it's the best moisturizer for sensitive acne prone skin.
10. L'Oreal Paris Triple Active Day Moisturizer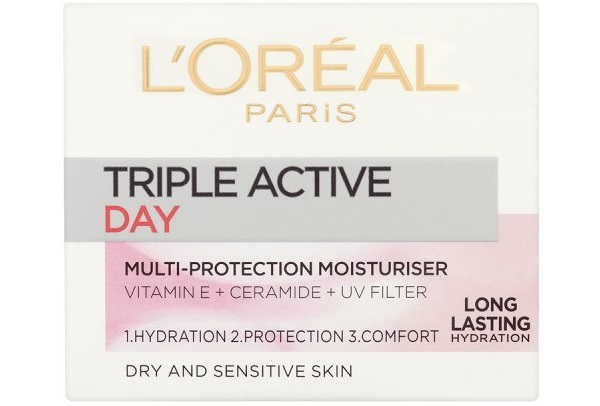 The daily use day moisturizer for dry and sensitive skin contains a triple active formula to keep skin hydrated for longer time. It gives you hydration, protection and comfort. It is rich in vitamin E Plus ceramide and UV filters. The face cream is safe to use and go out in the sun. It has enlighten on crazy kind of texture that does not make your skin extremely oily but gives just perfect amount of moisture that you are dry sensitive skin needs. It's the best face moisturiser with SPF for dry sensitive skin.
11. Mcaffeine Uplift Trance Caffeine Face Moisturizing Day Cream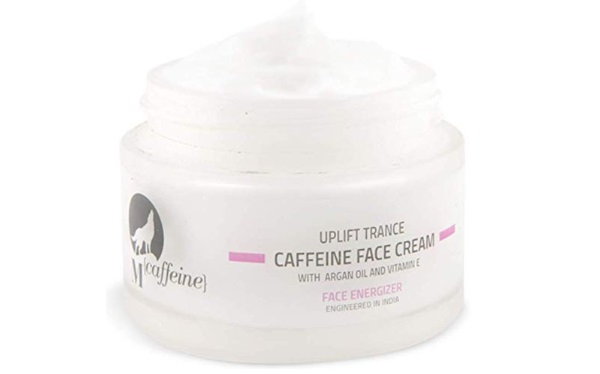 It's a moisturizing day face cream which is ideal for normal to dry skin. Its hypoallergenic formula and mild texture is safe when your face is irritation-prone and sensitive. Caffeine in it, tightens your skin and vitamin E imparts moisturization. The cream gives you youthful skin within few weeks. It is a paraben free product that is not tested on animals and is best face cream for dry sensitive skin.
12. O3+ Derma Calm Intensive Smoothing & Firming Cream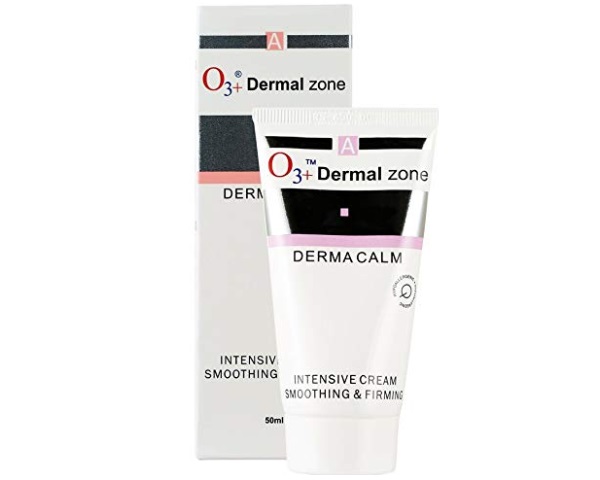 The smoothing cream is an intensive formula made for hypoallergenic and sensitive skin. It gets blended and penetrated in the skin nicely and gives you extra soothing and comfortable feeling. Safe for Psoriasis and Eczema prone skin, it is free of any form of typical irritants like the chemicals. This is one of the best moisturizer that you can use daily for your sensitive face.
Best Moisturizers for sensitive oily skin in India
13. Bella Vita Organic Anti Pimple Gel & Acne Scars Remover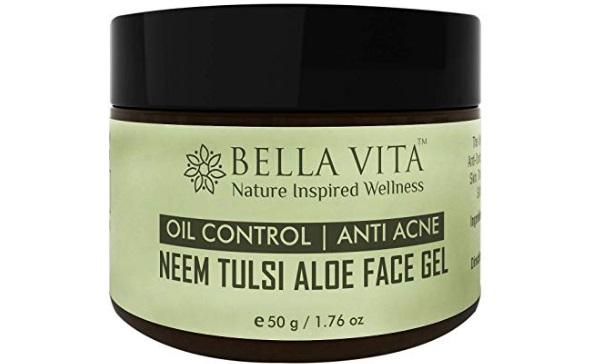 This is the best product for sensitive oily skin. At times, acne prone skin can be hypersensitive and get irritated quickly. The moisturizing product has natural ingredients like Neem, Tulsi, Jojoba and aloe vera that acts to reduce the pimples and redness. The gel moisturizer can be applied two times, day and at night time. Make sure that you use sunscreen during the daytime.
14. RE' EQUIL Oil-Free Mattifying Moisturiser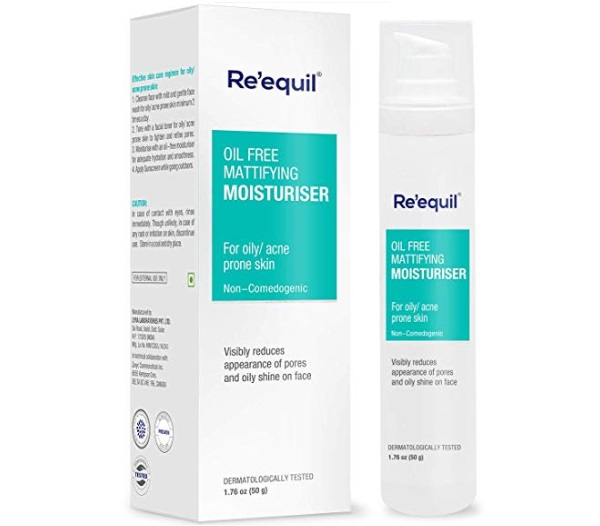 The oil-free moisturizer for sensitive oily and acne prone skin. It is a non-comedogenic formula that make sure that your pores stays clean and there are no residue built-up. It keeps skin shine-less. It is one of the best moisturizer which is in budget and does not cause any irritation. It is a dermatologically tested and clinically proven product. Moreover, it has a water based gel formula.
How to care for sensitive face:
Even skin care specialist have recommended that you must take good care of your sensitive skin during harsh summer season and very cold winter season.

It would be better, if you can cleanse your skin with a gentle mild face wash. Be gentle with your skin and never rub aggressively.

Moisturizers are very important for a sensitive face. They can help calm down the irritated and itchy face while hydrating adequately. You can choose the moisturizers we have listed above.

While going out in the sun, sunscreen is a must have product. Sun rays can worsen the symptoms of sensitive skin. Therefore, always apply sunscreen of at least SPF 20.

Never use very hot or very cold water to wash your face.

Always use products which are formulated for sensitive skin and are hypoallergenic.

Hopefully, the list of the best moisturizers for sensitive skin, helped you in choosing the best option for you.