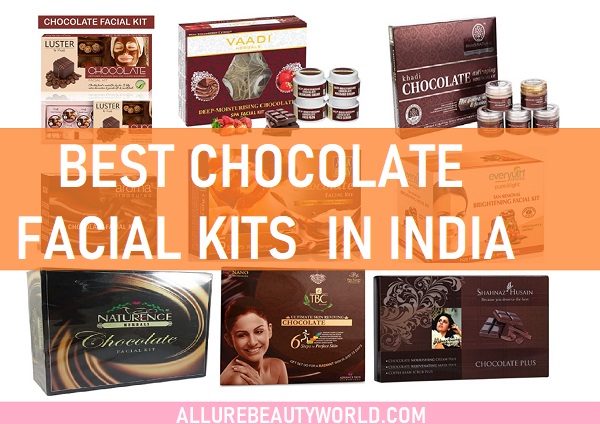 Chocolate facials are extremely beneficial because of the excellent anti-aging and skin healing properties to get gorgeous radiant skin. In fact, by using chocolate facial, it also reduces the blemishes and scars on the face. By boosting the production of collagen in your skin surface, it keeps the wrinkles away and makes the skin soft and hydrated. Chocolate facial is extremely suitable for mature aging and dry skin. However if your skin is oily then, also you can apply chocolate facial however, it's most suitable for dry to mature skin.
Chocolate facial benefits will definitely lure you to try it before going to a big event or party because they can really help make your skin radiant and glowing within just a single use. Dark chocolate facial also increases the blood circulation and improvises the ability to retain moisture for long time. It also makes your skin look younger and plump.
List of Top Best Chocolate Facial Kits in India
Let's have a look at the best chocolate facial kits available in Indian market.
1. Luster Chocolate Facial kit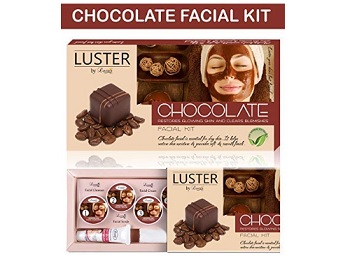 This chocolate facial kit has 6 steps of facial like a Facial Cleanser, Facial Scrub, Massage Cream, Chocolate Facial Gel, Chocolate Face Pack and Moisturizing gel. It restores skin's vitality and makes the dull skin bright and clear. While giving your skin radiant glow, it ensures that skin should retain its natural moisture balance. This also clears the blemishes and has the chosen ingredients that acts on the layer of dead skin cells and makes the skin beautifully glowing.
2. Vaadi Herbals Deep Moisturising Chocolate Spa Facial Kit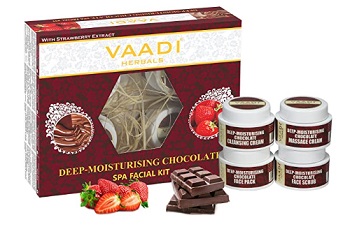 This is a deep moisturising chocolate facial kit with strawberry extracts. This facial kit has four steps of facial like Chocolate Cleansing Cream, Chocolate Massage Cream, Face Pack and a Face Scrub with chocolate. It revises the dull and tired skin and revitalizes the skin with every step. This can be performed at the comfort of your home because it is very easy to use. It can be used on oily skin as well however, because the chocolate is rich in fatty acids, it may block the pores. It hydrates skin deeply therefore is one of the best and reasonable price chocolate  facial kit for dry, combination and mature skin.
3. Khadi Natural Mini Facial Kit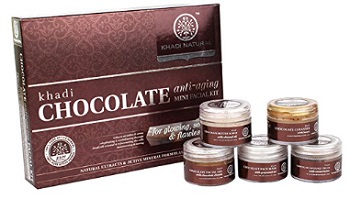 The moisturising chocolate facial is from Khadi Herbals. The chocolate facial kit gives you five steps of facial. You get a Face Cleansing Cream, Face Scrub, Chocolate Face Massage Cream, Chocolate Face Gel and Chocolate Face Pack. It is suitable for dry, combination and aged mature skin. Using it is extremely easy, you just have to follow the step one after the another and this gives you glow and after the procedure.
4. The EnQ Organic Chocolate Facial Kit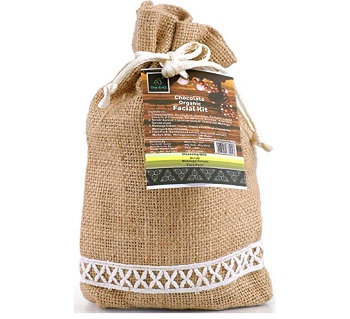 The chocolate facial kit is a natural product which is a useful home facial. It has Cleansing milk with chocolate, Chocolate and Moringa Face Scrub, Chocolate Massage Cream, Insta Glow Chocolate Pack and Oil-free moisturizer. The products used in this facial kit are herbal and doesn't have paraben and sulphate in it. It comes in a very attractive and sturdy package. It gives you clear and lighter skin and removes the excessive dark spots and blemishes this is one of the best chocolate facial kit available in India.
5. Aroma Treasures Chocolate Facial Kit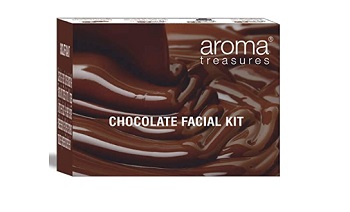 Aroma Treasures chocolate facial kit is a one-time facial kit which is available at reasonable and budget-friendly prices. It doesn't have any side effects, rather helps to remove the sun damage and blemishes. It is especially developed for removing the blemishes and scars from the skin. This also tightens the skin and reduces the lines and wrinkling. By increasing the micro blood circulation in the skin, it leads to healthy and glowing skin.
6. Astaberry Chocolate Facial Kit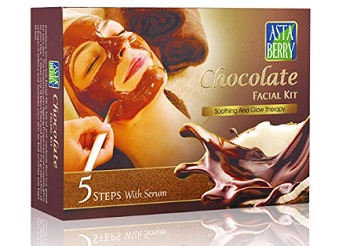 This Chocolate facial kit is a very popular home facial kit that comes at budget-friendly prices. This facial kit is specially developed for removing the scars and blemishes from the skin. The chocolate facial kit helps to tighten the open pores and purifies the skin. While it repairs the skin cell damage, it also make sun tan free fair complexion. These facial steps are extremely helpful for all skin types. It comprises of a Face Cleanser, Face Scrub, Chocolate Face cream, Chocolate gel and Chocolate face pack. It also comes with a serum that can be applied at the end of the facial process.
7. Naturence Herbals Chocolate Facial Kit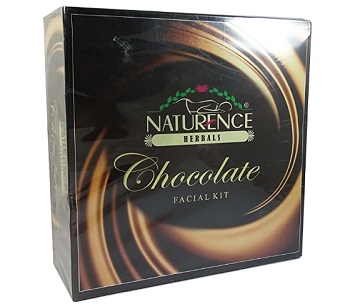 Naturence Herbals chocolate facial kit has 5 steps of home facial like a Chocolate Cleanser, Chocolate Face Scrub, Chocolate Face Massage Gel, Chocolate Massage Cream and face pack with chocolate.  This coco rich facial kit is also reasonably priced. Chocolate is known to give glow and radiance to the dry and dull skin. So, it not just gives you glow but revitalized smooth skin. By tightening the skin, it also works on the aging and mature skin. It has Vitamin E oil, Jojoba oil, papaya extract, Rosemary and almond oil. This facial kit can be performed at home and gives you glow and flawless skin tone.
8. Everyuth Naturals Choco Cherry Tan Removal Brightening Facial Kit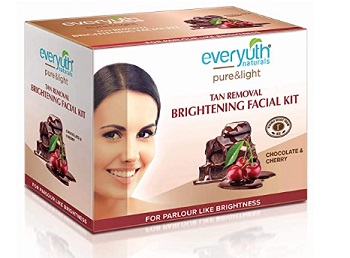 Everyuth brightening Tan removal facial kit has Cherry and chocolate extract. So, it gives you parlour like brightness at the comfort of your home. It is designed to give you beautiful glow and can be performed even going out before a party or event. This contains 5 steps of facial like chocolate and Cherry Face Wash, Face Scrub, Face Massage Cream, Face Pack and Serum. Made with Vitamin C, cherries and detoxifying chocolate, this facial kit works on all skin types. It gives you brighter and fresh skin by removing the sun tan and darkening. This also works really well on the dry and mature skin, because removes blemishes, age spots, hydrates the skin and increases the collagen production naturally in the skin layers.
9. TBC by Nature Pro Chocolate Facial Kit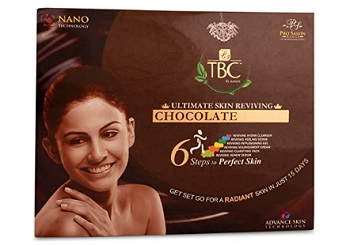 This professional chocolate facial kit has six steps to get the perfect skin at your home. It has Hydra cleanser, Face Scrub, replenishing gel with chocolate, reviving nourishment chocolate cream, Clarifying Chocolate Pack and Serum. Chocolate helps in reducing the visible signs of skin aging and detoxifies the skin. It is in fact, an excellent toner to the skin that minimises the open pores. Therefore then you want to get the glow in just few days, performing this for every 15 days would be beneficial for you.
10. Shahnaz Husain Chocolate Plus Mini Kit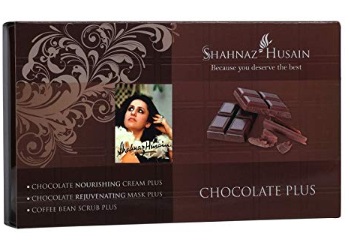 Shahnaz Husain chocolate facial kit is one of the most popular facials available in the Indian market. It has 3 steps of facial like Shahnaz Husain chocolate facial massage cream, chocolate mask and a Coffee Bean chocolate Scrub. It can be applied at day or night or use it before a day or two before a big event. This hydrating skin cream contains the blend of cocoa butter and natural emollients. It also contains aloe vera, olive oil, almond oil and grapefruit. While the rejuvenating chocolate mask not just have a chocolate but plant extracts too. This helps in tightening the large pores and sagging skin. The Coffee Bean Scrub helps to exfoliate the skin and softens the upper most dead skin cells so that they can be removed easily.
These are the best chocolate facial kits available in the Indian market. These can be used one time or their salon packs are also available which can be applied multiple times. Chocolate facials are best, when your skin is rough and dry even during the winter season. For most of the acne prone skin and oily skin, you must refrain from using chocolate facial kit until and unless it is stated on the packet self.
Let's take a look at how to apply chocolate facial.
How to use Chocolate Facial Kit At Home
Chocolate Face cleanser:
First of all, cleanse your skin using the chocolate facial cleanser. If there is a cleanser given, then use that or simply use any face cleansing product that suits you. This step helps to clean the skin and gets rid of the impurities settled on the upper layer of the skin.
Chocolate Face Scrub:
After that use the chocolate face Scrub and massage the skin for at least 2 to 3 minutes. This is the most important procedure because it removes the deeply embedded impurities and dust particles in the skin and also unblock the clogged pores. This step also makes skin smoother by removing the dead skin cells. So when you perform this particular step of facial, it lays a good effect of the following procedures as well.
Chocolate Face Massage Cream or Gel:
The next step is the facial massage cream and gel. The cream has to be applied first and facial massage is performed for at least 15 minutes. The massage cream helps to boost and enhance the blood circulation and moisturizes the skin deeply. When you apply the cream with gentle strokes in upward and circular movements, this will help to make the skin smooth and glowing. This is the major step that makes your facial procedure effective. So after scrubbing when you do the face massaging it really give you good effects. After that chocolate face gel can be applied if it is given along in the facial kit pack.
Chocolate Face pack:
Apply the chocolate face pack and leave it when to get completely dry. A lot of chocolate face packs or masks will not get fully dried, so, you may remove them after 15 to 20 minutes. A lot of brands including face serums and moisturizers are included in the pack that has to be applied after the chocolate face pack.
This is how you can apply the chocolate facial kit at your home only and these are very easy to perform home facial kits.
How often to do Chocolate facial: As we have mentioned earlier the chocolate facial kit can be applied once in 15 days that means twice in a month.