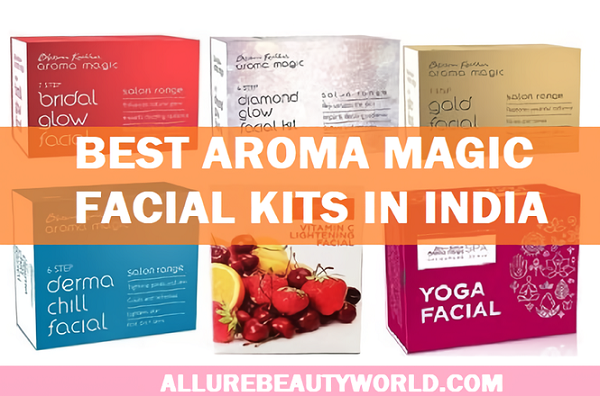 Facials promotes blood circulation and glow, but also detoxifies the skin and to make the skin younger looking. You can even maintain the effects of getting a facial done regularly like once or twice in a month but do you know about the professional facial kits in the market. Blossom Kochchar's Aroma Magic is a known beauty products brand that makes home facial kits and even for the salon purpose. Here, we've compiled this list of the best Aroma Magic facials available in the Indian market. These are different facial treatments for individual skin type and issues.
Generally, it takes around 40 to 45 minutes to complete a home facial. Even those professional facial kits can be used at the home only. One can to do a facial treatment once in a month as the benefits of massaging your skin can give you clean and better looking skin. Wondering how to get a professional facial done, you must have a professional facial kit with you. The benefits of facial massaging done with the facial treatment would help you get radiance on the skin. Aroma Magic makes different types of facial kits like Vitamin C, Bamboo Charcoal, Pearl, Diamond, Gold facial and what not. So let's get to know why a facial is necessary and a good brand is equally essential.
List of The Best Aroma Magic Facial Kits in India
1. Aroma Magic Bridal Glow Facial Kit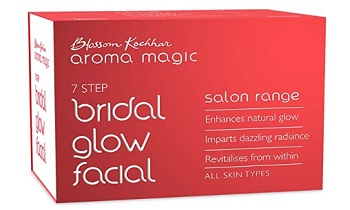 Glow on the skin is a prerequisite for a bride. In fact it makes the bride look stunning and amazing on the most important day of her life. The bridal facial glow kit from Aroma magic is one such product that is used in salons and can be tried at home too. It is an elaborate 7 step facial procedure that has so many different steps that enhances glow that lasts longer.
In this facial you get:
Bridal Glow Face Cleanser
Exfoliating Gel
Skin Serum Cream
Bridal Hydrating Gel  
Bridal Glow Face Pack
Sunscreen
Basically, with this facial procedure, skin glows and the effective ingredients present repairs the skin from pollution and environmental stress. Even if sun tanning and irritated skin is troubling you, this kit is your solution.
This glowing skin facial kit is suitable for all the skin types and is a wonderful facial to get dazzling glow. This home glow facial can be done once in a month to maintain the radiance. People with oily and acne prone skin can also go for this facial and it maintains the glow for at least 2 to 3 weeks, which is a really good outcome from a facial as affordable as this one.
2. Aroma Magic Diamond Glow Facial Kit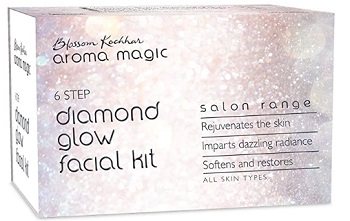 Diamond facials are excellent to detoxify your skin and to restore the glow and shine. This particular Diamond glow facial kit is from the house of Aroma magic and gives dazzling glow on the skin. It contains the ingredients and diamond ash that is known to detoxify the skin and gives a natural glow from within. Diamond facial is generally not very helpful, when you have oily and acne prone skin however, as this facial kit is suitable for dry, normal to combination skin. This is a 6 step facial that restore the softness of your skin. In this facial you get:
Diamond glow cleansing gel
Diamond glow exfoliating gel
Diamond glow skin concentrate
Diamond glow massage gel
Diamond Glow pack
Diamond glow mask
Sunscreen
3. Aroma Magic Derma Chill Facial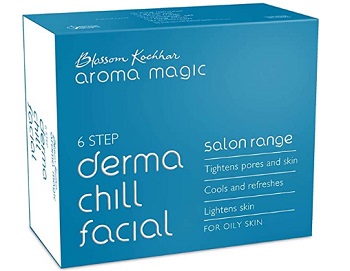 The derma chill facial is exclusively made for oily and acne prone skin with open pore issue. Enlarged pores are responsible to secrete more oils on the skin areas like nose, forehead and cheeks. And as large pores are also a sign of skin aging. This facial kit helps to smoothens the skin by tightening the pores on the skin. It lightens the skin color and refreshes the oily skin. This facial kit controls excessive oil secretion caused by over production of sebum. It leaves the face look fresh and matte. This is not recommended for men but it is only for women, as the brand mentions. This oily skin facial kit contains 6 steps of home facial :
Face Cleanser
Face Scrub
Skin Serum Concentrate
Oxygenating Gel
Face Pack
Sunscreen
4. Aroma Magic Vitamin C Lightening Facial Kit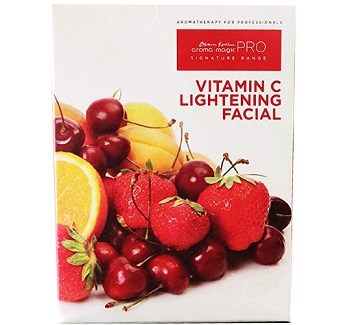 It's a skin lightening facial procedure that is wonderful for all the skin types, especially when you have oily and acne prone skin. The power of fruit extract and enzymes present in the fruits with Vitamin C cleanses the pores and removes the deep seated impurities. This facial can give you healthy looking and fresh skin, hence, shall be added to your skin care routine once in a month for sure. It is a beauty salon professional facial treatment that gives you multi benefits. This is a facial kit that involves 6 steps of facial that has Vitamin C as a key ingredient. This facial kit involves 6 like:
Vitamin C Gel Cleanser
Vitamin C Exfoliating Gel
Vitamin C Concentrate
Vitamin C Massage Gel
Face Pack
Vitamin C Hydrating Spray
How to use:
First of all clean your skin with the gel cleanser and wipe it off. Apply the exfoliating gel and leave it for 10 minutes, then massage for 3 minutes. Apply Vitamin C concentrate and leave it for 3 minutes. Massage the face for 15 minutes with the vitamin C massage gel. Apply the face mask and leave it for 15 minutes. Peel it off gently. Spray Vitamin C hydrating spray and the facial is completed. It takes around 40 to 45 minutes to complete the entire procedure.
5. Aroma Magic 7 Step Gold Facial kit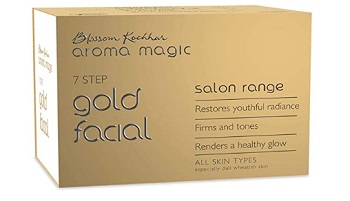 Aroma magic 7 step gold facial kit is one of the best gold facial in India after VLCC for sure. This gold facial contains elaborate steps that helps to give you beautiful glow and it can be done before going for event, wedding or party where you would definitely would like to Radiant and glowing. This is a 6 step facial that includes the products like:
Gold Face Cleanser
Protein Bleach
Alpha Hydroxy Gel
Gold Radiance Gel
Gold Skin Serum
Gold Nourishing Cream
Gold Face Pack
This easy to use Aroma magic gold facial kit is good for dry and oily skin both. So you can do Aroma gold facial at home easily using the steps as mentioned on the pack. This facial can be done once in a month for better results and maintaining the glow.
6. Aroma Magic Yoga Facial Kit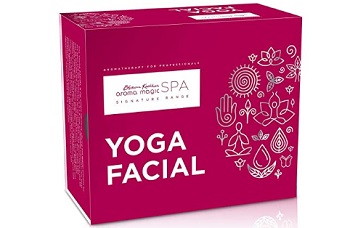 Aroma Magic yoga facial kit is natural and professional facial kit that is like an anti aging facial for your sagging skin. It helps erase lines and wrinkles and tighten the pores and firms the facial muscles. It is a five step facial that can be performed at your home as well. It includes:
Yoga Face Cleanser
Yoga Face Scrub
Massage Gel Ampoule
Face Pack
Sunscreen
It is one of the best and really unique facial that is like a five step professional face treatment that requires only 50 to 55 minutes. The special blend of natural herbs makes it really beneficial for your skin. It helps relieve all the stress and it balances your chakras. It increases the blood circulation and erases the lines and wrinkles to leave your facial skin and muscles tight and beautiful. This facial kit contains essential oils like Sandalwood, Myrrh and Frankincense oil. It can also be used once in a month.
7. Aroma Magic 7 Step Skin Glow Facial kit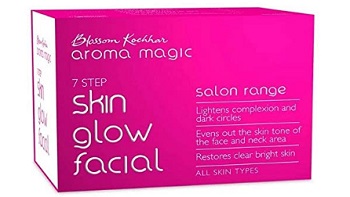 Aroma magic 7 step skin glow facial kit is to lighten your complexion and dark circles.  For rough and uneven skin, this special facial helps even out the skin tone of your face and neck area. It restores the clear bright skin and is made for all skin types. Men and women with dark and patchy skin tone shall try this facial procedure. In fact it is a wonderful facial to increase the glow on the skin. How to use Aroma magic skin glow kit:
This facial kit has 6 steps of facial and you have to apply the sachets one after the other. This kit contains:
Face Cleanser
Face Scrub
Alpha Hydroxy Gel
Oxygenating Gel
Face Pack
Sunscreen
Skin Serum Concentrate
8. Aroma Magic 7 Step Pearl Facial kit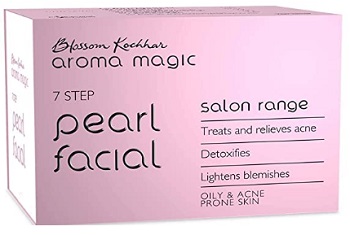 A pearl facial is for all skin types and is a detoxifying facial. Pearl ash facials are generally for oily and acne prone skin, as it is also mentioned on the pack itself. This facial treats and relief the acne and detoxifies the skin of the pollutants, impurities and the excessive sebum that can make the skin oily and blemished in the long run. This facial is one of the best facial treatment procedures for acne prone and problematic skin. While lightening the blemishes, this facial also gives you smooth and healthier looking complexion. So, here is how to use the Pearl facial kit step by step: You need to the apply the steps as per the numbers mentioned on the pouch.  This special can be tried once in a month for blemish free and acne free skin.
This kit contains 7 steps of facial like:
Exfoliating Gel
Face Massage Gel
Skin Serum Concentrate
Pearl Gel
Pearl Face Pack  
Sunscreen
9. Aroma Magic Detox Bamboo Charcoal Facial Kit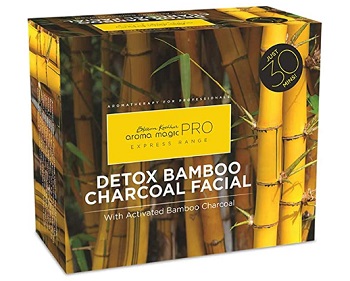 Bamboo Charcoal is an excellent ingredient, that you must have seen in various skin care products specially for oily and acne prone skin. However, this bamboo charcoal facial kit is for all the skin types. Formulated with activated bamboo charcoal this facial is immensely beneficial in improving the quality of the skin by deep cleansing and getting rid of the dust and grime. It draws out the dead skin, sebum and pollutant particles blocking the pores.
It takes only 30 to 35 minutes to perform this facial and it really helps you to gain your original natural clarity of the skin. This facial kit has three steps of facial first of all apply the bamboo charcoal facial cleanser for 3 minutes wipe off with damp cotton. Then take the bamboo charcoal mask and add some water to form a paste. Leave it on for 15 to 20 minutes then peel it off from the face gently. Massage the face for 3 minutes with one ampoule of active concentrate. Apply the sunscreen given along.
These are the best Aroma magic facial that you can perform to keep your skin beautiful and glowing.
10. Aroma Magic Oily Skin Essentials Kit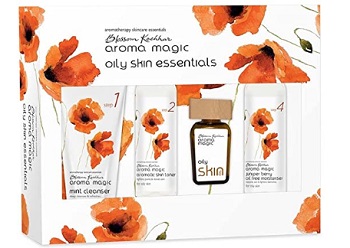 However, Aroma magic also have essential kits like if your skin is oily there would be a kid including some skin care products that are good for your skin and that keep skin healthy. Aroma magic oily skin Essentials kit contains 4 products like a Mint Cleanser, Aroma Magic Aromatic Skin Toner and Oily skin oil and Juniper Berry Oil-free moisturizer. All the four products are design for the oily skin free of excessive oil and dirt and grime. This kit comprises of rich Botanical extracts like mint, pomegranate and some other natural ingredients so, it re-balances the oil, therefore, your skin secrets lesser oils and looks better.
11. Aroma Magic Dry Skin Essentials Kit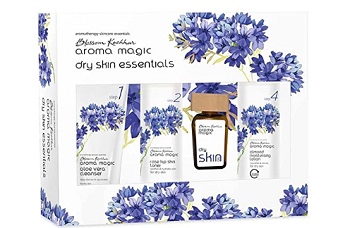 Aroma magic dry skin Essentials kit contains 4 products like aloe vera cleanser, Rosehip skin toner, Dry skin oil and almond moisturizing lotion. It's like your cleansing, toning and moisturising routine for dry and normal skin. Even before applying makeup you can use this kit so that your makeup last longer and looks better and flawless.