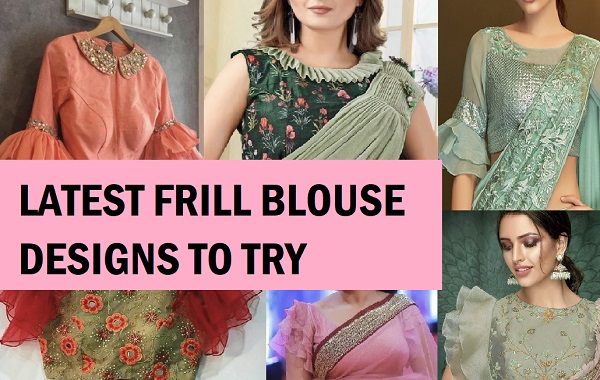 The saree, an epitome of grace and elegance, is an integral part of Indian culture. To add a touch of whimsy and contemporary flair to this traditional attire, frill designs have emerged as a popular choice for saree blouses. In this post, we will explore the charm of saree blouses with frill designs, provide styling tips for different types of sarees, discuss age-appropriate blouse styles, and guide you on selecting the perfect blouse for your body type.
Saree Blouse with Frill Design:
Frill Sleeves:
Frill sleeves add a playful and feminine touch to saree blouses. Experiment with different sleeve lengths and widths to find the perfect frill style for your preference. Experiment with soft and flowy fabrics like chiffon or georgette to enhance the ethereal appeal of the frills.
Frill Neckline:
A frill neckline adds a romantic and flirty touch to your saree blouse. Choose a V-neck or round neck blouse with delicate frills cascading down the front. This design works well with lightweight and soft sarees, adding an element of charm and sophistication.
Frill Back Detailing:
Incorporating frill detailing on the back of your blouse creates an unexpected and eye-catching look. Opt for a deep V-back or a keyhole design with frill accents. This style adds a touch of drama and glamour to your ensemble, perfect for special occasions.
Latest Designs of Frill Blouses
1. Stylish Blue Frill Blouse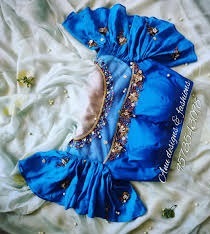 2. Purple Georgette Blouse With Frill Sleeves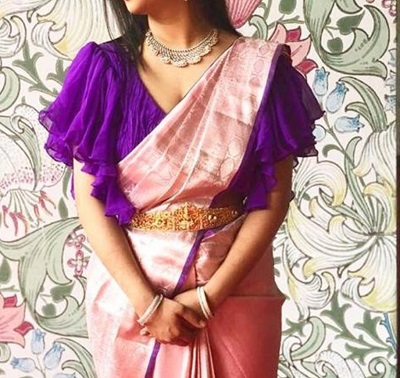 3. High Neck Printed Pleated Frill Blouse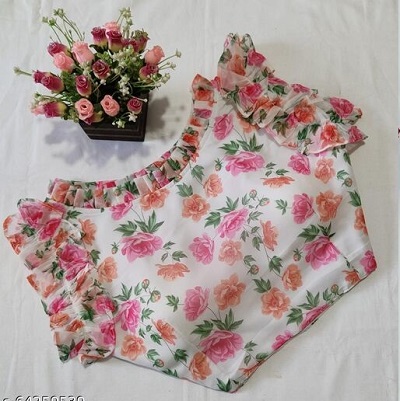 4. Designer Ruffled Sleeves Blouse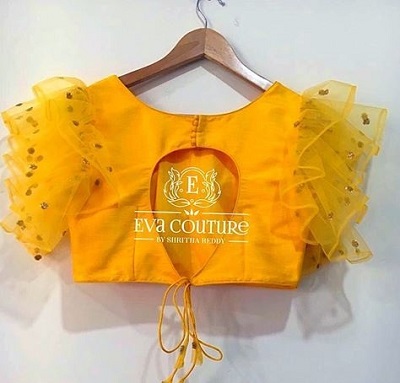 5. Layered Sleeves Cotton Embroidered Blouse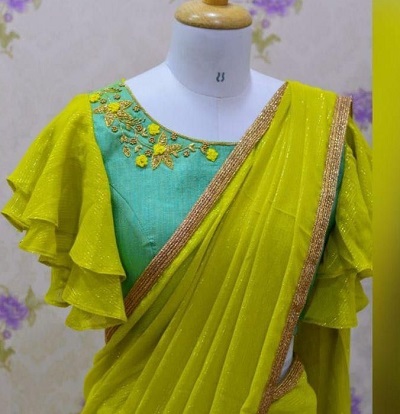 6. Neck Pleating Sleeveless Blouse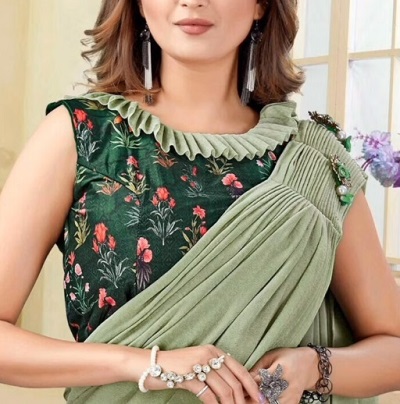 7. Designer Chiffon Princess Blouse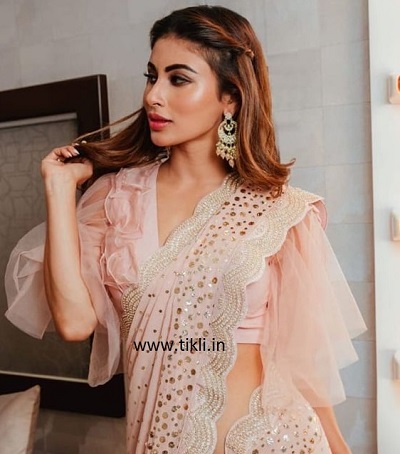 8. Cotton Frilled Simple Blouse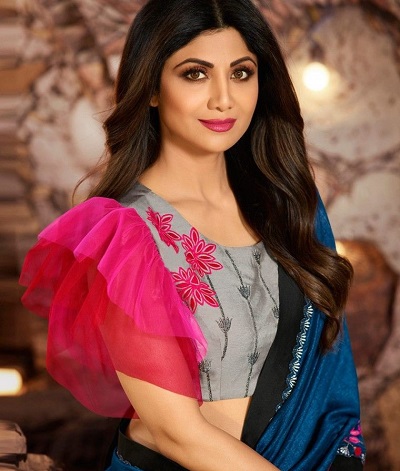 9. Deep Back Dori Blouse Design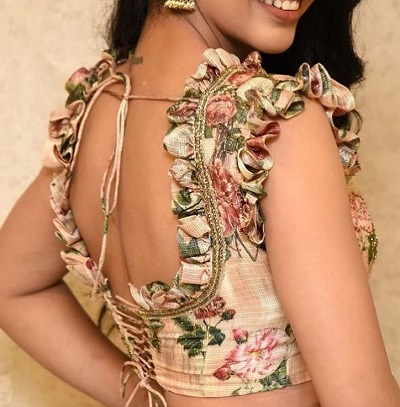 10. Long Layered Frilled Sleeves Blouse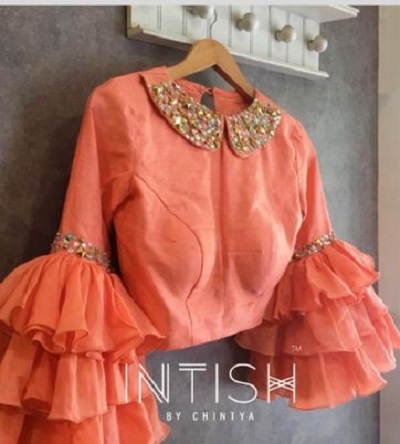 11. Net Fabric Frill Blouse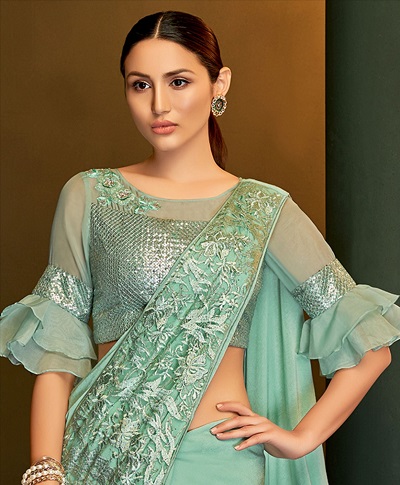 12. Sleeveless Net Frill Heavy Padded Blouse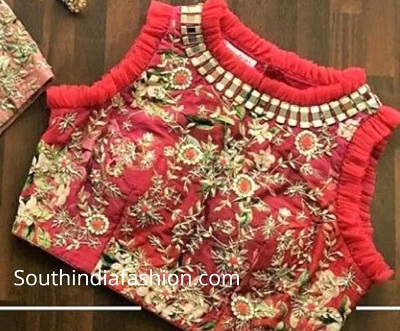 13. Printed Georgette Blouse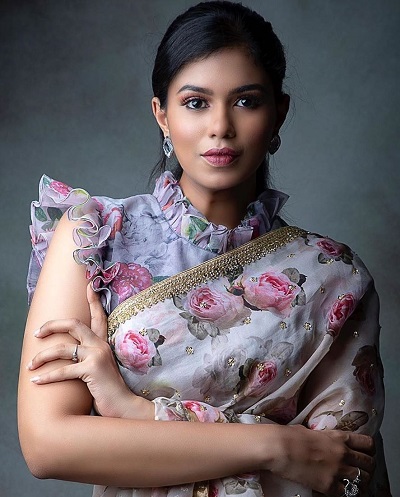 14. Round Neck Embroidery Work Blouse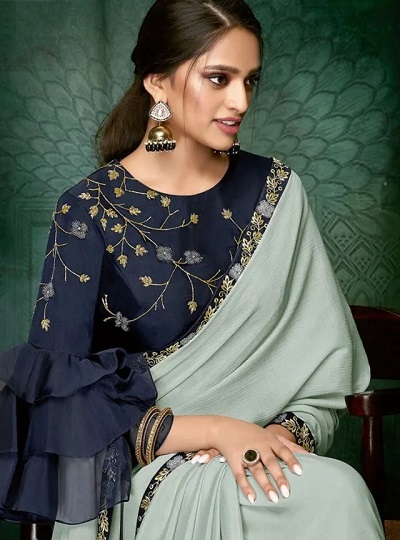 15. Frilled Shoulder Design Blouse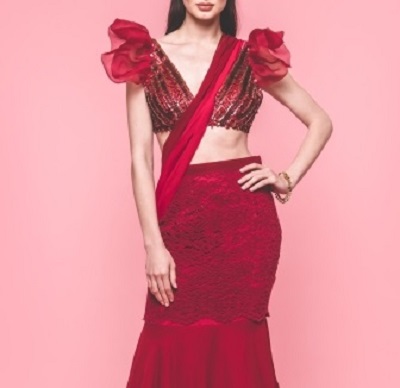 16. Simple Net Blouse For Lehenga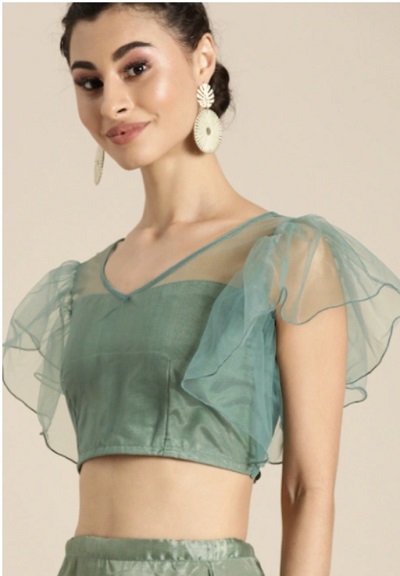 17. Designer Cut Work Patch Style Blouse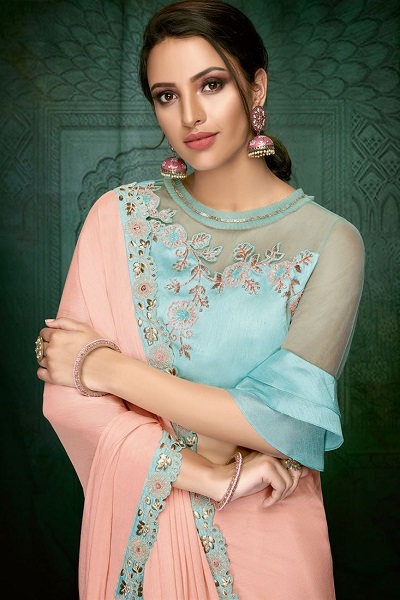 18. Simple Pink Chiffon Blouse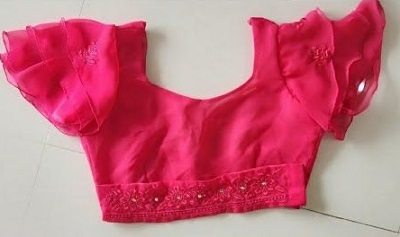 19. Pink Printed Ruffled Sleeved Blouse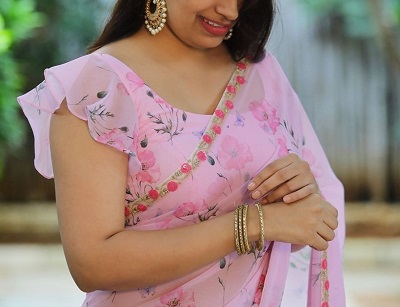 20. Partywear Designer Blouse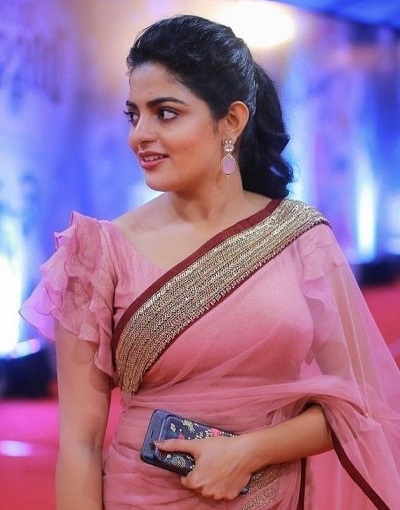 21. V Neck Ruffle Blouse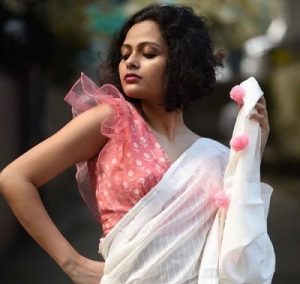 22. Butterfly Frilled Style Blouse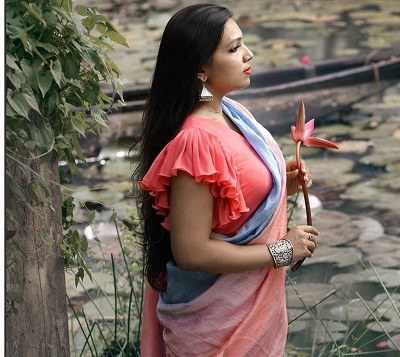 23. Mirror Embroidered Blouse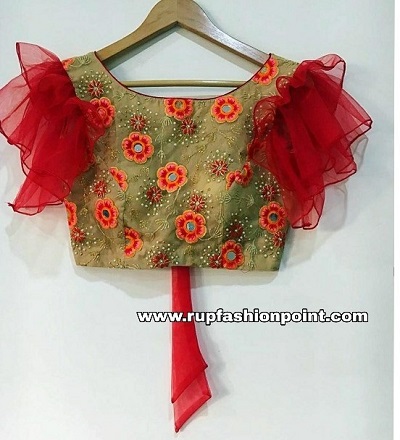 24. Heavy Ruffle Style Blouse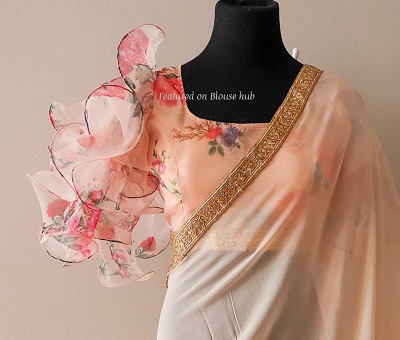 25. Zari Work Blouse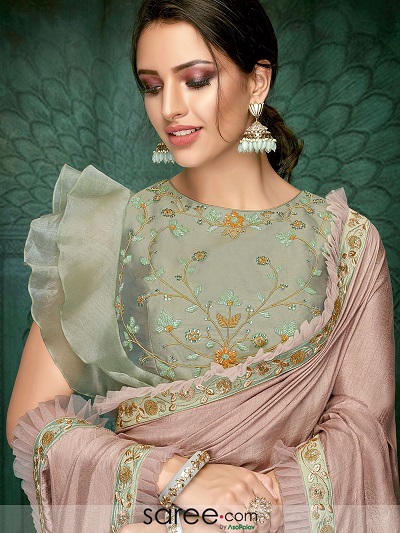 Styling Blouses with Different Types of Sarees:
Silk Sarees:
Pair your silk saree with a frill blouse that complements the richness of the fabric. Opt for frill sleeves or a frill neckline to add a contemporary twist to the traditional ensemble. Complete the look with statement jewelry and a sleek updo hairstyle for a regal and elegant appearance.
Chiffon or Georgette Sarees:
For lightweight sarees like chiffon or georgette, choose a frill blouse that enhances their fluidity. Experiment with soft frill sleeves or a frill neckline to create a romantic and dreamy look. Keep the accessories minimal to maintain the delicate nature of the saree.
Cotton or Linen Sarees:
Cotton or linen sarees offer a casual and comfortable appeal. Pair them with a frill blouse to add a touch of femininity and style. Opt for a frill sleeve design or a frill detailing on the back to create a fusion of traditional and contemporary aesthetics.
Embellished or Designer Sarees:
When styling embellished or designer sarees, choose a frill blouse with subtle detailing that complements the overall look. Opt for delicate frills that do not overpower the intricate work of the saree. Pair it with statement jewelry and a sleek hairstyle to create a balanced and glamorous ensemble.
Age-Appropriate Blouse Styles:
Young Adults and Millennials:
Young adults and millennials can experiment with various blouse styles, including frill designs, to embrace their youthful spirit. Go for bold colors, modern cuts, and unique frill patterns to create a fashion-forward and trendy look. Pair the blouse with statement accessories and experiment with different draping styles to express individuality.
Middle-aged Women:
Middle-aged women can embrace frill blouses in a more sophisticated and elegant manner. Choose subtle frill designs, softer colors, and classic blouse cuts that flatter your body type. Pair the blouse with understated jewelry and a tasteful hairstyle to achieve a refined and age-appropriate look.
Mature Women:
Mature women can opt for frill blouses with a touch of subtlety and grace. Choose delicate frills, classic necklines, and timeless cuts that accentuate your best features. Opt for elegant jewelry pieces and hairstyles that complement your ensemble and add a touch of sophistication.
Blouse Selection for Different Body Types:
Pear-Shaped Body:
For a pear-shaped body, choose frill blouses with detailing around the neckline or sleeves to draw attention to the upper body. Opt for darker shades on the bottom to balance the proportions. A well-fitted blouse with frill accents can create a balanced and flattering silhouette.
Apple-Shaped Body:
If you have an apple-shaped body, choose frill blouses with a defined waistline to create the illusion of curves. Opt for vertical frill detailing or frills strategically placed to enhance your curves. Avoid excessive frill volume around the midsection and opt for softer fabrics that drape gracefully.
Hourglass-Shaped Body:
For an hourglass figure, embrace frill blouses that accentuate your natural curves. Go with the well-fitted blouses with frill accents on the sleeves or neckline. Avoid excessive frill volume that may overwhelm your figure. Choose fabrics that complement your curves and create a balanced look.
Straight-Shaped Body:
If you have a straight body shape, choose frill blouses that create the illusion of curves. Choose the blouses with frills on the sleeves or neckline to add volume and create visual interest. Experiment with different frill sizes and styles to enhance your silhouette.
Saree blouses with frill designs offer a delightful and contemporary twist to traditional attire. Experiment with various frill styles, such as frill sleeves, frill necklines, or frill back detailing, to express your individuality. When styling blouses with different saree types, consider the fabric, occasion, and personal preferences to create a cohesive and stylish ensemble. Embrace the versatility of frill blouses and choose designs that flatter your body type, enhance your best features, and reflect your unique style. Whether you're a young adult, a middle-aged woman, or a mature individual, there are frill blouse options available to suit every age group and bring out your inherent elegance and beauty.