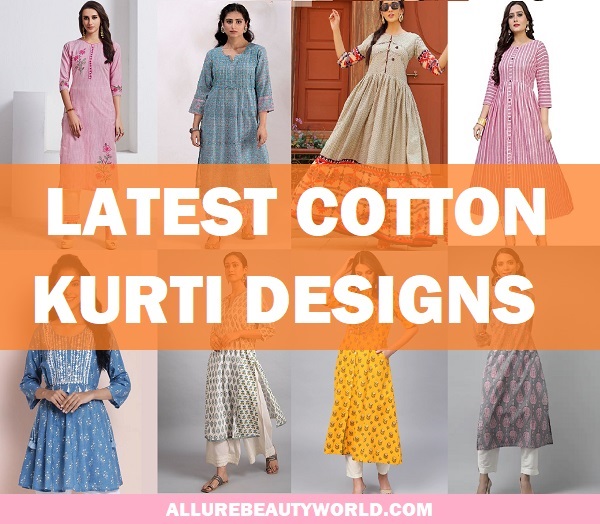 When you have to pick cotton kurtis then definitely you would choose the Cotton stylish kurtis because they are not only breathable and trendy but are also very comfortable to wear. This is why, we have compiled a list where you will find this amazing catalogue in which cotton kurtis in fashionable and latest designs are included. The best thing about cotton kurtis is that they are so much breathable that it keeps you cool and comfortable during the humid and hot season. So, the next time you would like to decide on a cotton kurti dress, cotton kurti designs the catalogue will certainly inspire you.
Let's take a look at this curated list of the trendy and fashionable cotton kurti designs for women. They are inspiration and right from the Anarkali long cotton kurtis to the short cotton kurtis, we have everything lined up for you. These are the kurti designs that we would like to present to you.
Latest Images Of Cotton Kurti Designs
1. Collared Cotton Vertical Print Kurti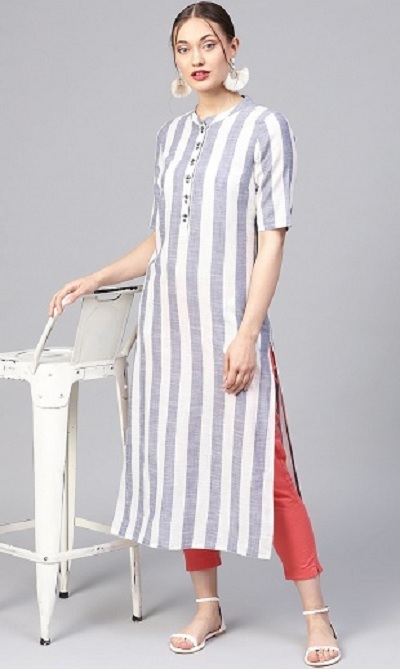 When we say kurti with collar, Chinese or Mandarin collars are extremely popular. They are suitable even for women who have got thick or shorter neck. The best about such kurtis is the fact that they can be worn for the formal events as well. This kurti has vertical printed pattern and it actually gives an Illusion of height. Therefore, it will make you look a bit taller. This kurtis has medium length sleeves and it also comes with side slits. The kurti is a straight fit kurta that is wonderful to pair with different bottoms like a trouser, formal pants, cropped jeans, palazzos, kurtis and other kinds of different bottoms. We feel that this is also one of the best looking professional kurtis for women for office as well as college. To create a polished and sophisticated look for your office this kurti would be perfect.
2. Side Button Placket Cotton Kurti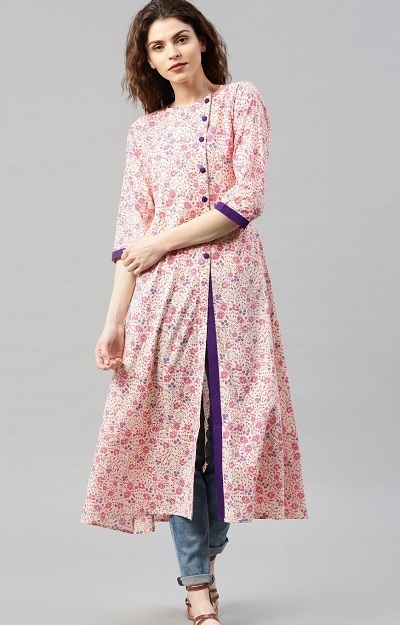 This is a really trendy looking printed cotton kurti. It has a button placket that goes all the way down but it is not in the centre but it runs on one of the sides. The button placket has buttons and the slit is open down the waistline. This is a printed cotton kurti which is paired with a pair of jeans. However, it can also be paired with palazzos skirts and so on. For summer season, this cotton kurti is quite appropriate and would keep you cool at the same time. In fact, it is also a very good college-wear cotton kurti.
3. Straight fit cotton kurti design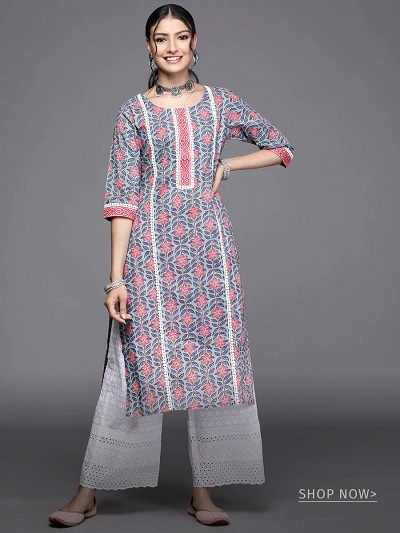 Made in a straight fit pattern, it is yet another good kurti that college girls and professional women would love to try. The best thing that we feel a cotton fabric keeps you cool and stylish at the same time. In summer, you want cotton kurtis mainly because of the comfort as well as style. It has a nice print and pattern with the straight cut it is ideal to pair with palazzo pants.
4. Cotton Panelled Kurti For Women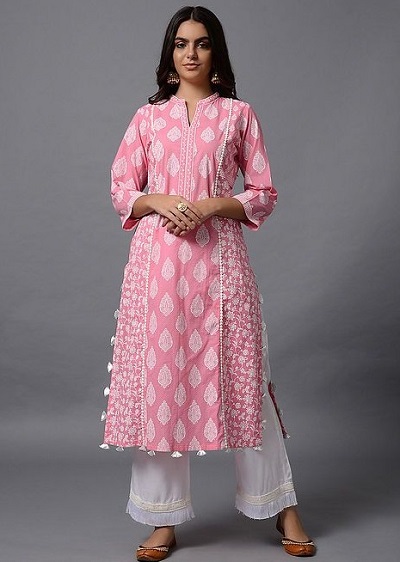 It is also really beautiful considering that a panel in the centre which gives you an Illusion of leaner and taller frame. They have a stand collar with a notch in the centre. The kurti has three fourth sleeves and the button placket or the panel that runs in the centre is of different fabric. It has beautiful color and the tassels are also added on the bottom and on the side slit. Such kurtas in cotton fabric are absolutely amazing when you pair them with white palazzos or any bottom wear which is white in color.
5. Stylish Cotton Printed Daily Wear Kurta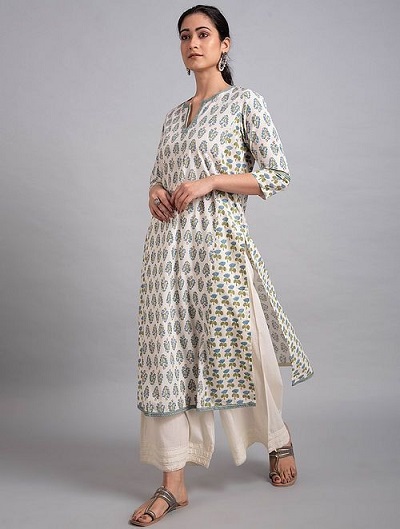 It's a ladies kurta which can be worn on daily basis because of the print and the fabric. It is ideal for women who are in their middle age or even for the younger girls.
6. Straight Fit Boat Neck Cotton Kurti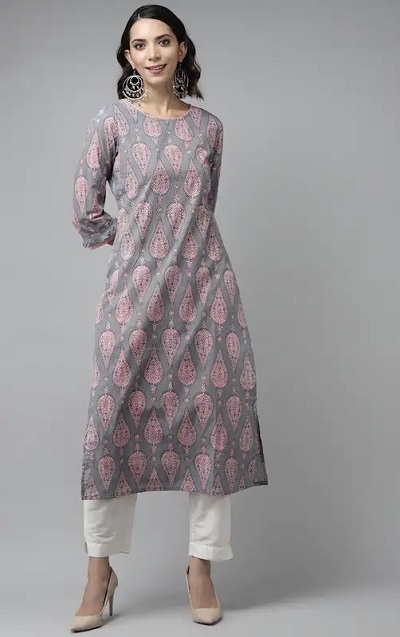 The summer kurtis is appropriate for casual and daily wear. Such kurtis are also important, when you are going to someone's house and definitely don't want to look over the top.
7. Stylish A Line Grey Cotton Kurta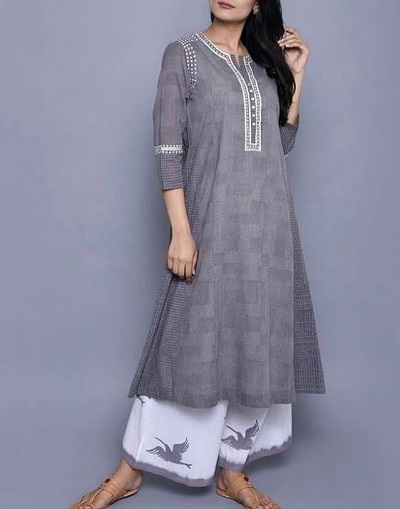 We absolutely love this kurta, its design as well as the pattern is so beautiful that it is ideal for your college as well as for the office. This is a professional looking Kurta that women would certainly like to flaunt with the straight fit palazzo pants.
8. Blue Printed Kurta Palazzo Set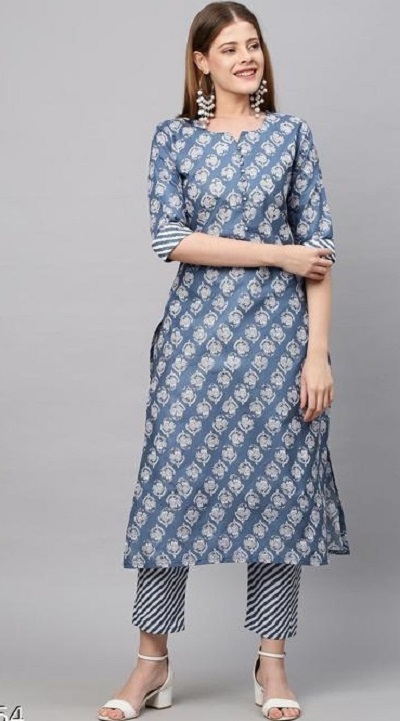 The cotton blue printed kurta Palazzo set is also suitable for the office going women as well as for the college girls. To attend the puja, roka ceremony or some small functions and festivals that kurta plazo or kurti trouser sets are very popular amongst them.
9. Full Flared Printed Cotton Kurti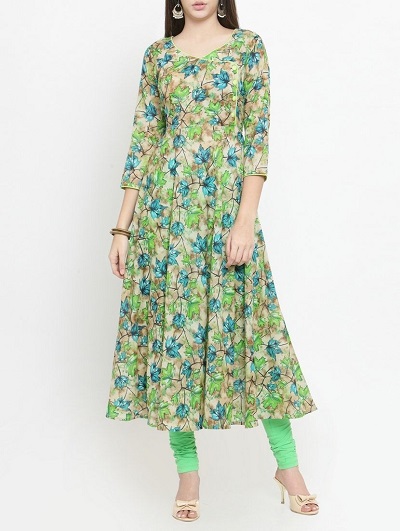 A full flared kurti for ladies like this is an absolutely amazing treat for the eyes. It looks so beautiful because of the fact that it's an A-line patterned women's kurta that also gives an appearance of smaller waistline. As it has the full length, for short hair girls it will be a full length or floor touching kurta. It can be worn with churidar salwar and even with the palazzo.
10. Cotton Jacket Style Kurti For Ladies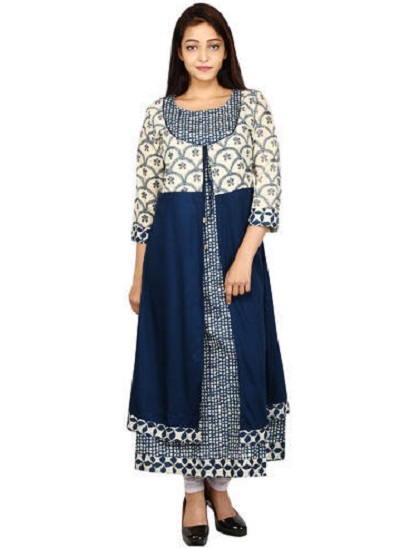 The double layer or jacket style kurta and kurtis  are also equally popular. This double layered kurtis are kind of festive looking kurtis that one can wear for Pooja ceremonies, festivals, functions or formal events and so on. You need not to accessories them a lot because just by layering some good jewelery as well as footwear, they would definitely make you look beautiful. The best thing about this kurta is that as it is already a jacket style kurta and it can also be worn during the autumn season when the weather gets a bit colder.
11. Pocket Style Cotton Kurta For Ladies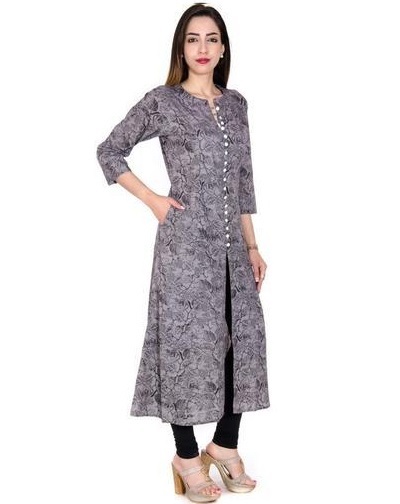 12. High Low Pattern Cotton Kurti Design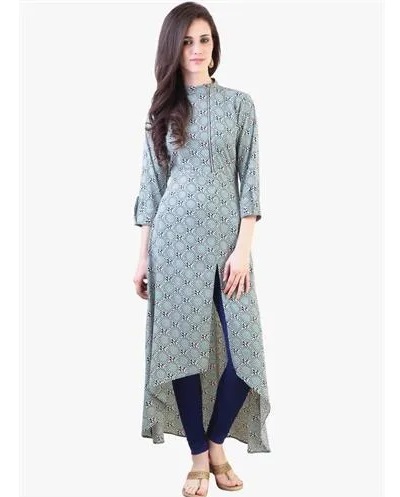 13. Shirt Style Long Cotton Kurti Cotton Kurti Design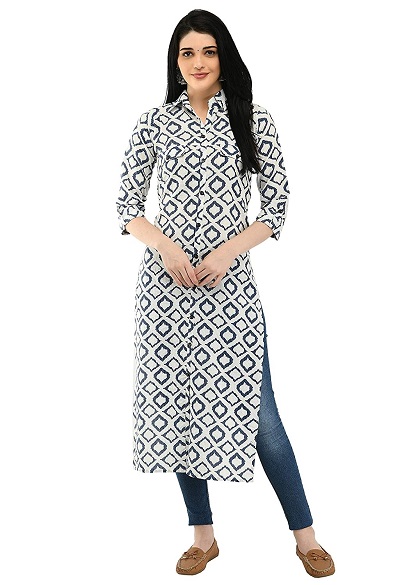 14. Printed Sleeveless Cotton Kurti Design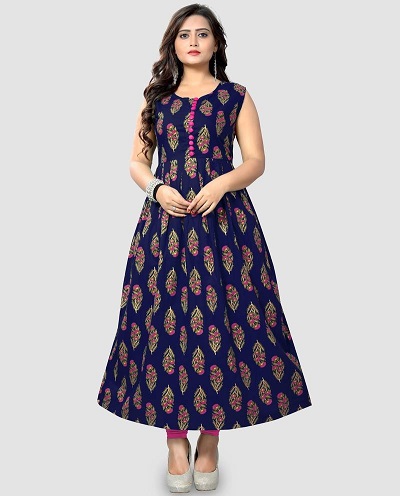 15. Printed summer cotton fabric kurta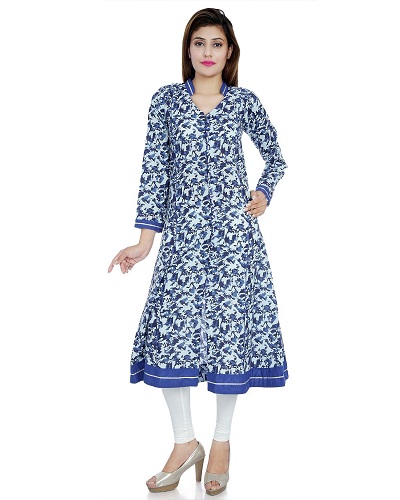 16. Cotton Printed Centre Slit Kurti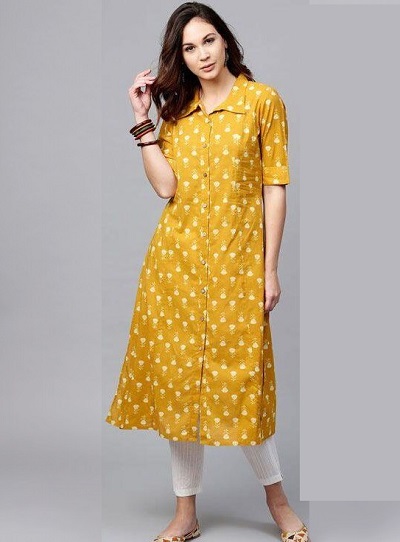 17. Shirt Collar Cotton Kurti Design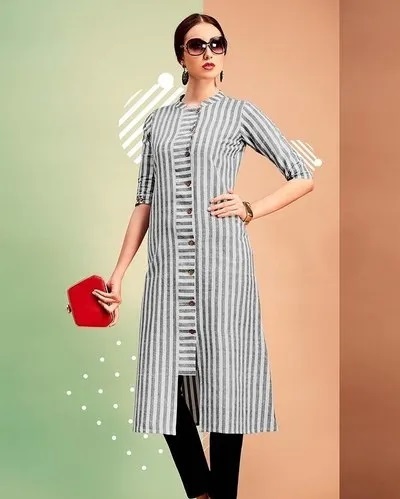 18. Western Kurti Pattern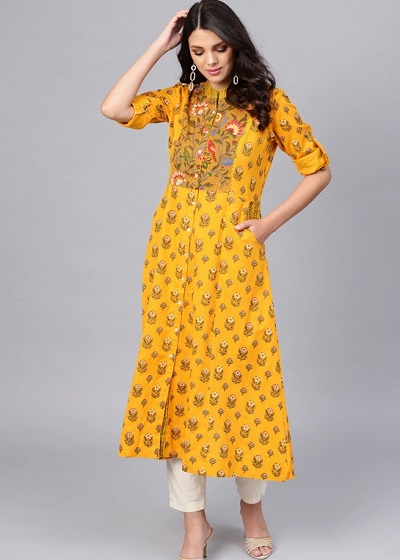 19. Vertical Print Cotton Kurti Pattern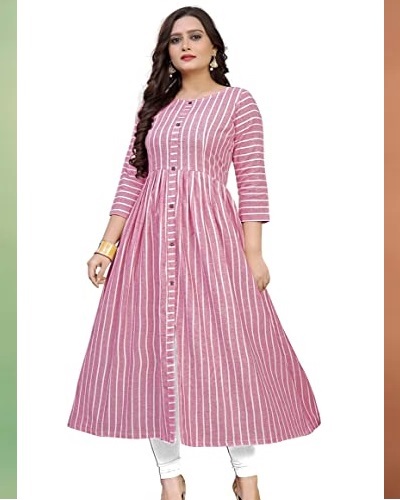 20. Cotton Fabric Kurti Design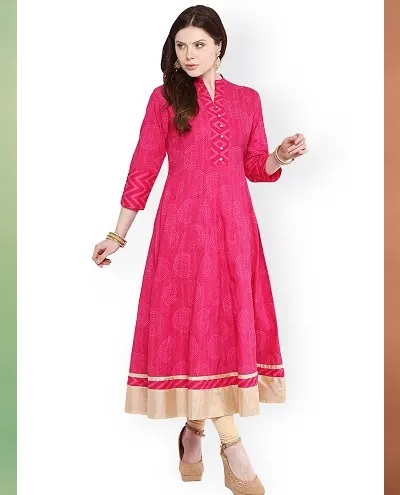 21. Stylish Embroidered Cotton Kurti Design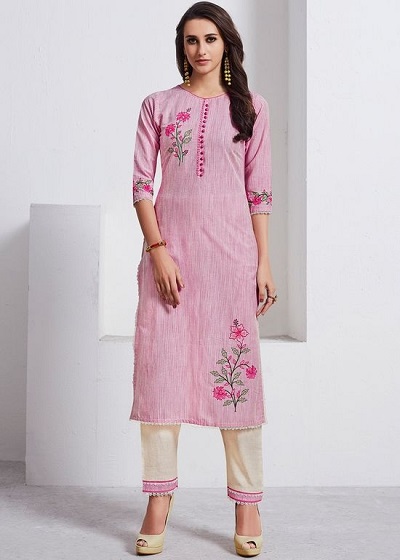 22. Yellow Solid Embroidered Cotton Kurti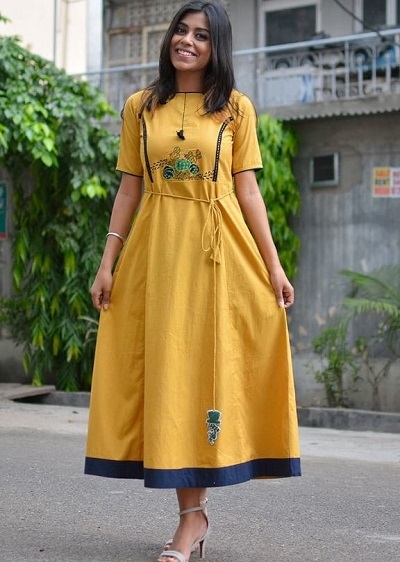 23. Long Frock Pattern Cotton Kurti For Ladies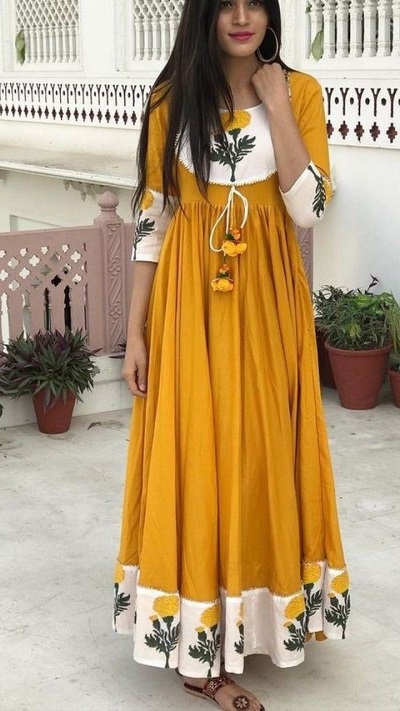 24. Block Printed Cotton Kurti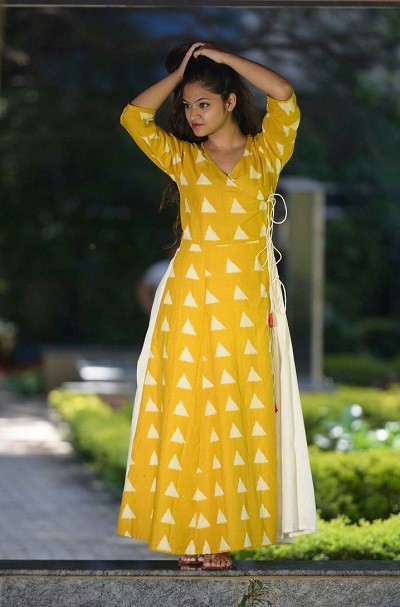 25. Trendy Block Print Kurti Design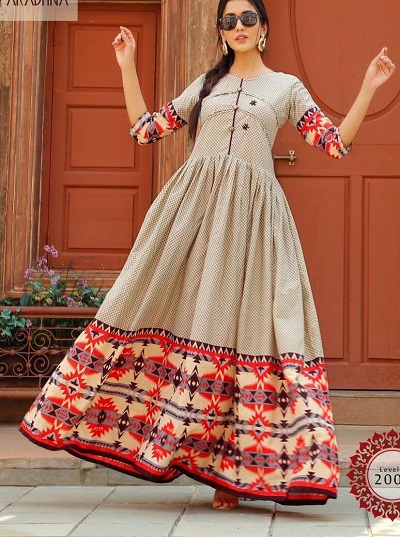 26. Full Length Maxi Cotton Kurti Sleeveless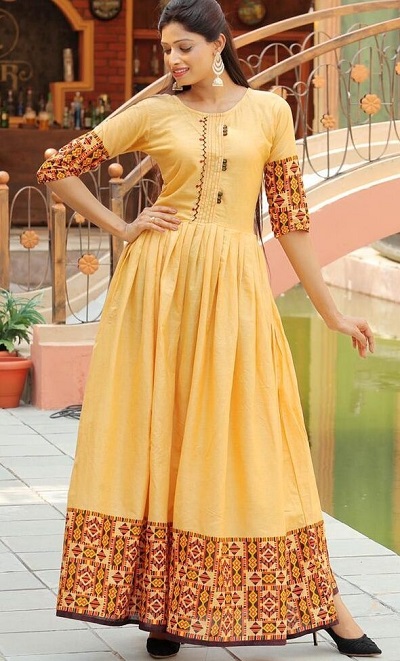 27. Block Print Sleeveless Cotton Kurti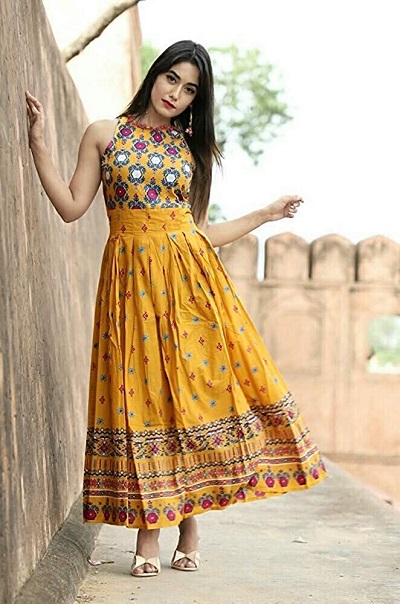 28. Gota Work Printed Cotton Party Wear Kurti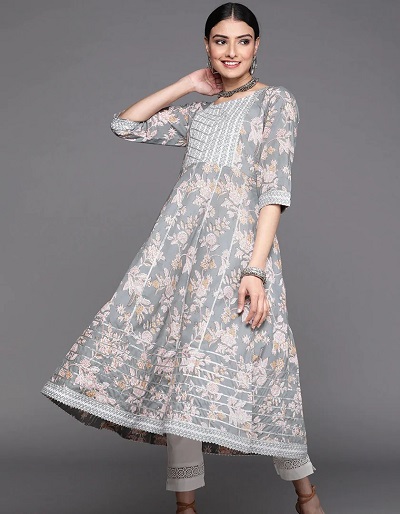 29. Front Pleated Cotton Fabric Kurti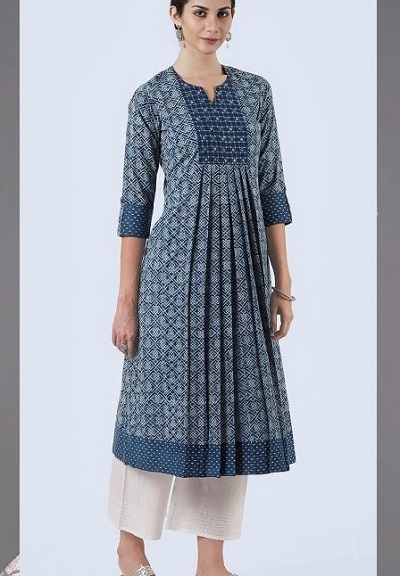 30. Stylish Cotton Kurti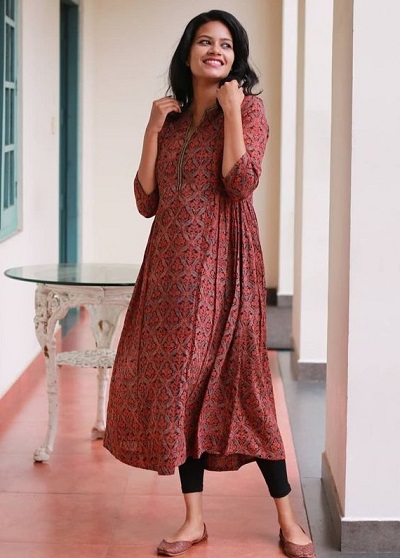 31. Black Pocket Kurta For Women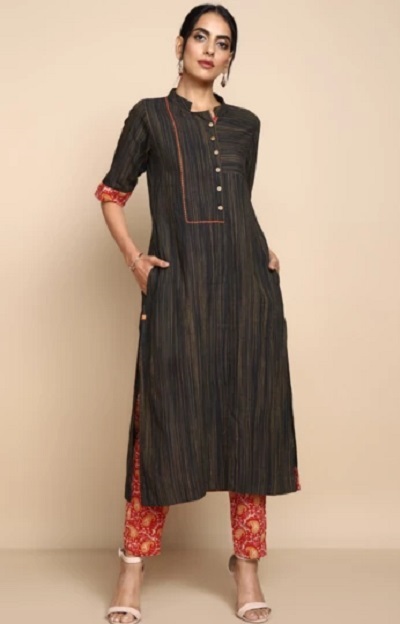 32. A-Line Style Kurta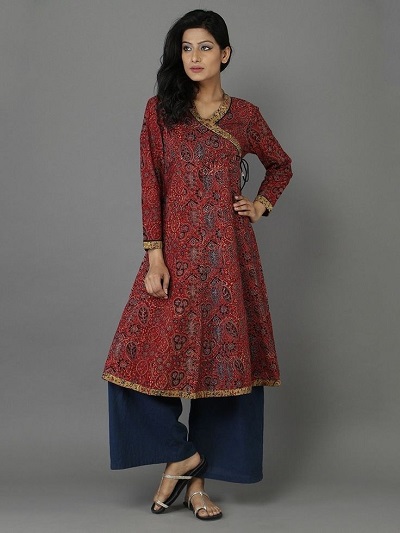 33. Yoke Pattern Cotton Office Kurta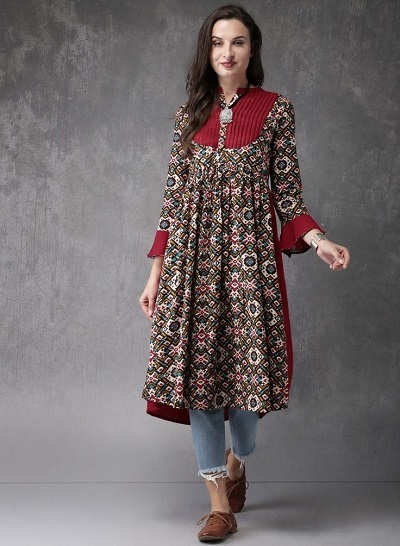 34. Layered Cotton Kurti With Tassels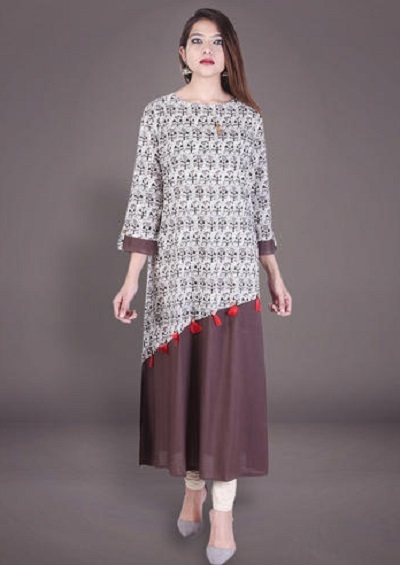 35. Double Layer Cotton Kurti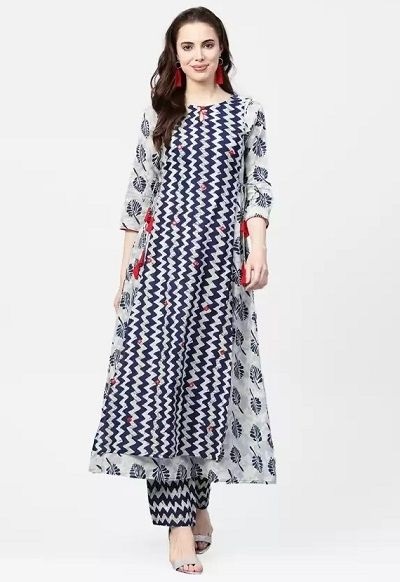 36. Shape Pattern Cotton Kurti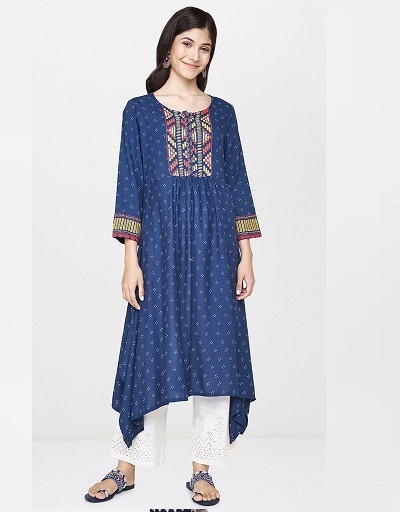 37. Angrakha Pattern Block Print Kurti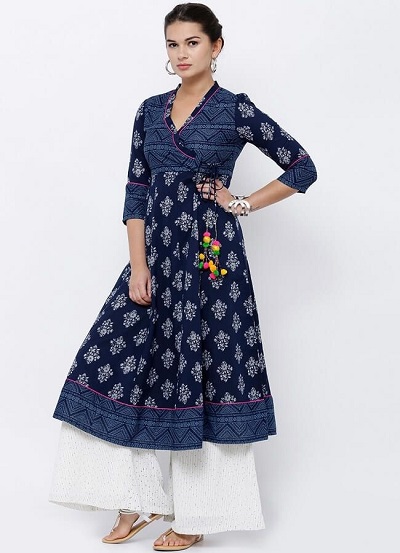 38. Printed Cotton Kurti Design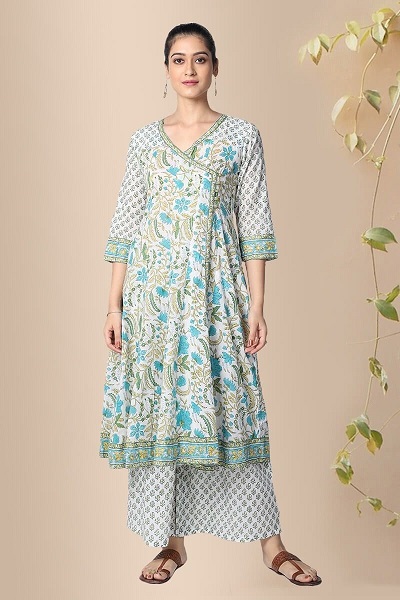 39. Stylish Jaipuri Pattern Kurti Design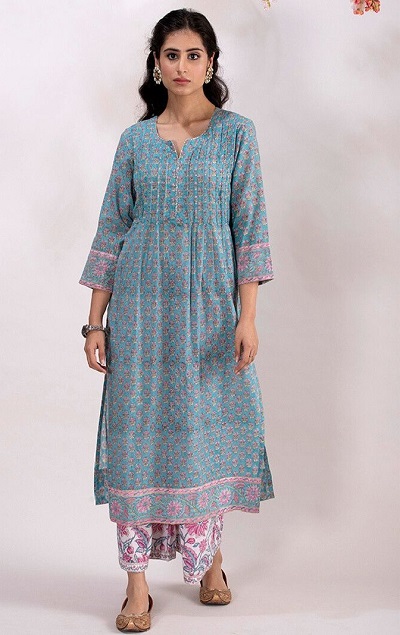 40. Pattern Printed Kurti For Ladies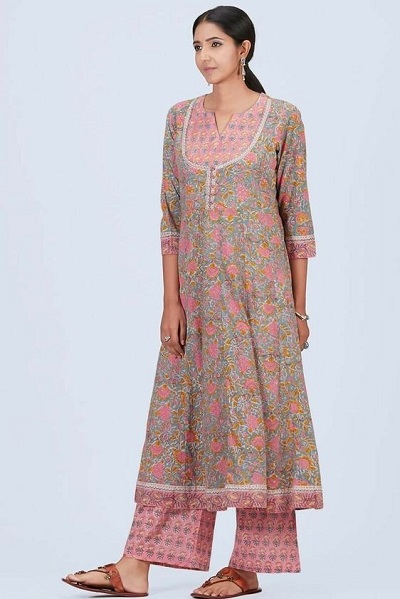 41. Jacket Pattern Summer Kurti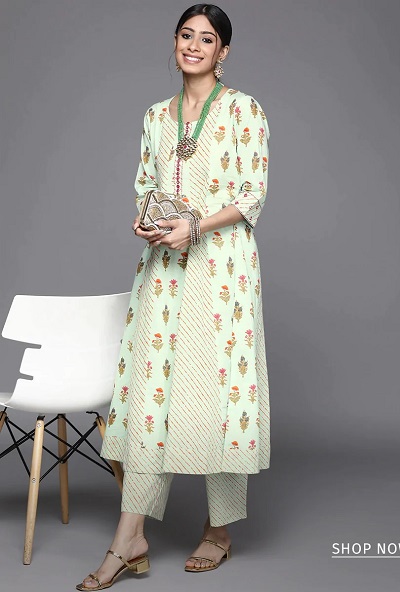 42. Sleeveless Cotton Kurti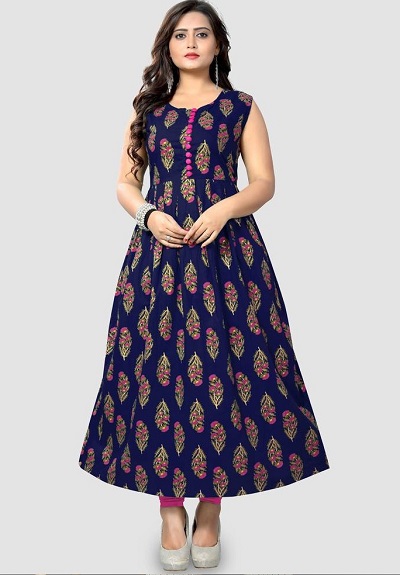 43. Chinese Collar Designer Kurti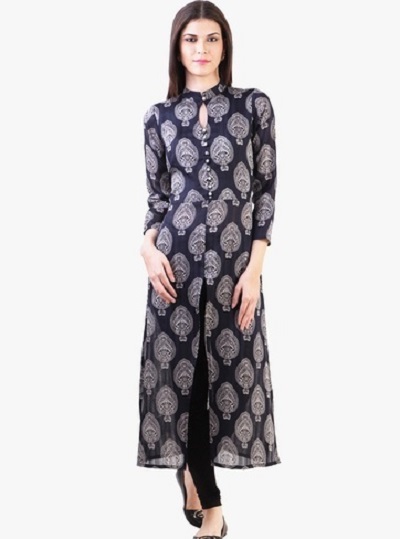 44. Contrasting Block Pattern Kurti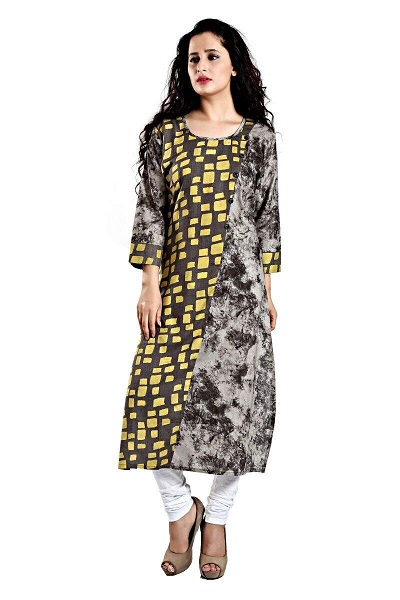 45. Layered Panel Cotton Chiffon Kurti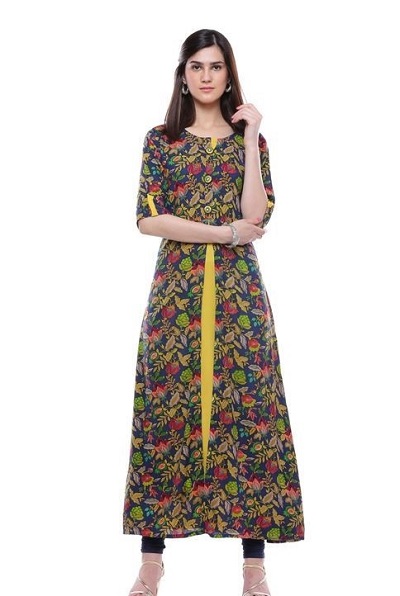 46. Pocket Pattern Kurti Design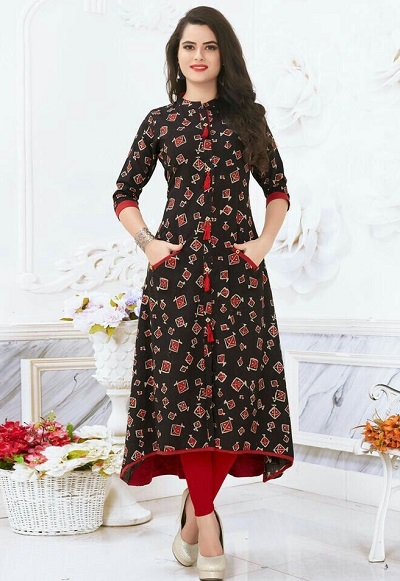 47. Irregular Hem Line Cotton Kurti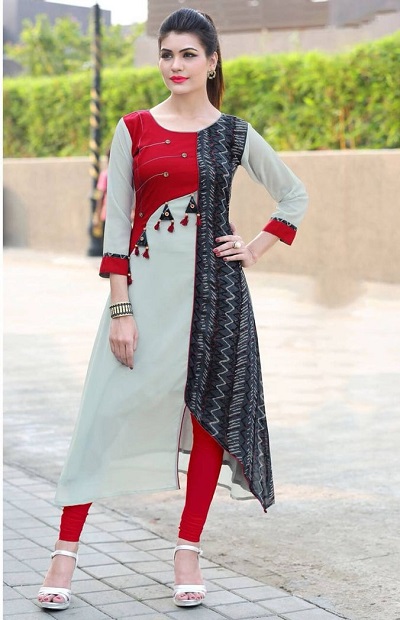 48. Designer Cotton Kurti With Tassels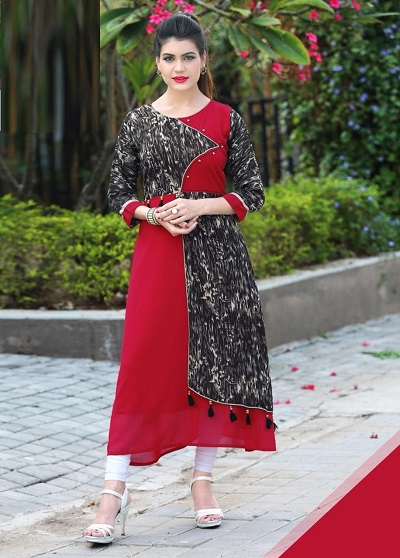 49. Trendy Cotton Fabric Print Kurti Design