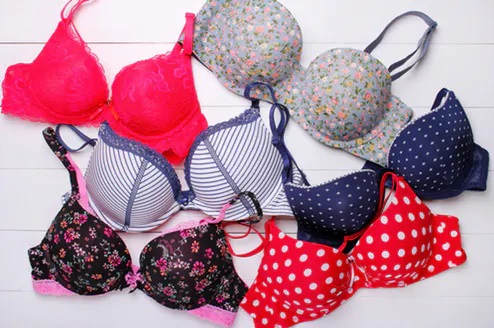 Gone are the days when women used to shy away while talking about the intimate clothing. It's the time when women is not culturally shy, but would like to select the best Bra or Lingerie Brand for themselves. Having said that, wrong bra size or even the fabric chosen can make you feel uncomfortable in your own skin. This is why choosing the best brand of bra for yourself is really important. However, while choosing best Lingerie Brand, it is really important to understand that color and styling is fine but comfort is important. It is also crucial to know if the fabric suits your skin.
Yes, there are fabrics that may not suit all skin types, like in case you have extra sensitive skin. This is the piece of clothing that you would be wearing all day long and is quite close to your skin, just like a second skin.
Keep your sensuous and stylish lingerie for special occasions and for everyday, use comfortable bras. Your bra should be well fitted and of breathable fabric. Having said that let's move ahead and know about the best lingerie brands in India.
Top Best Bra Brands in India
1. Clovia
The recently started yet the brand Clovia has become the most favourite for many women no matter what age group they are. They have nicest looking bras, camisoles, baby dolls and even special lingerie. They have price range which makes them the best affordable bra brands yet you can go higher as well. The fabric that they use is a really comfortable and you would love to wear a piece from them.
2. Jockey
The lingerie brand for women is the most popular bra brand all over the world, not just India. As women would like to get bras according to their and looks they've got everything for you. They have T-shirt bras, Padded, sports bra and more even for large breasts. They are extremely stylish but that is for sure that they are highly comfortable and durable.
3. Enamor
It's a brand from Gokuldas Intimatewear Private Limited. It was launched in the year 2003. You can get some of the alluring looking styles and would surely love to wear for a romantic evening. If you like to gift someone lingerie or bra set for their honeymoon, then this is the brand to go with and most importantly their padded bras are really amazing and very comfortable. It's the best bra brand for women with full bust.
4. Amante
The international intimate wear brand is best lingerie brand in India, it has numerous outlets all over India and online their products sell like hotcakes. They have different types of bras for every woman and the best part is that we have collection for women, who're on the heavier side. They cater to all age groups and section. Their products are a high quality and long lasting with different cup sizes that can go upto D cup.
5. Pretty Secrets
The brand was launched recently and within a short span of time, they have acquired huge customer base and now they are the best bra company in India. Their range has some of the beautiful looking pieces that come in multiple styles. Women love their convertibles, T shirt bras and other modern styles. Pretty Secrets bras are available in Candy colours are hot selling. This brand uses a lot of different yet comfortable fabrics like cotton, satin, viscous and many other fabrics. If you would like to have a padded bra or have heavy breasts, then this brand is the best to go for. The extremely comfortable and in budget for most women.
6. Zivame
Zivame is your one stop destination to buy the perfect bra type for you. This is an Indian bra brand that sells their own launched intimate wear. Available in multiple eye catching colours and design, you would surely like it. Their intimate wear fits just like your second skin and they have so many different designs that you would really love to explore their collection. While they are affordable, they are best known for their quality and best padded bra collection.
7. Triumph
Triumph is among the top brands of lingerie however the price range for this brand is on the higher side. They are among the most comfortable bra brands that you must check out their collection. The padded bras in vibrant colours looks good and you get all the possible styles of bras.
8. Calvin Klein
Calvin Klein has fitted bra figures and is extremely popular brand all over the world and is known for their under wired lightly padded push up bras. While there are not many extremely vibrant colours yet the brand is to look out for quality wear. Their cotton bra are very long lasting with good fitting.
9. Soie
This brand of women's intimate wear makes you feel glamorous with their extremely comfortable inner wear. It caters to all the age groups and sections with affordable and high quality inner wear.
10. Lovable
The brand is really famous bra brands in India that is mostly known for their high quality padded bra collection and underpants for women. The brand is in budget and won't burn a hole in the pocket. It's popular amongst teenagers and is extremely comfortable.
11. La Senza
La Senza is a Canadian fashion retailer popular for selling lingerie and intimate wear apparel. You must have seen the outlets in various shopping malls. They are known for their sensuous collection and are the best bra and underwear brands. For honeymoon and other romantic wear collection, women should look out for brand that offers high quality products. Their strapless bras, are one of the best and gives you that extra confidence, even while you are wearing something revealing, you'll get a matching pair.
10 Other Popular Brands to Buy Best Bra Online in India
Tweens
Lady Lyka
Sonari
Floret
Body Care
HRX
Bwitch
Beyouty
Marks & Spencer
Leading Lady
A perfect undergarment can make you comfortable and feel confident about yourself this is why wearing the right bra is very important for women. As there are different types of dresses that women wear, hence wear the bra according to your dress. These are the top best lingerie brands in India that caters to the majority of women of all age groups, stature and sections. So which is the brand that you wear the most?