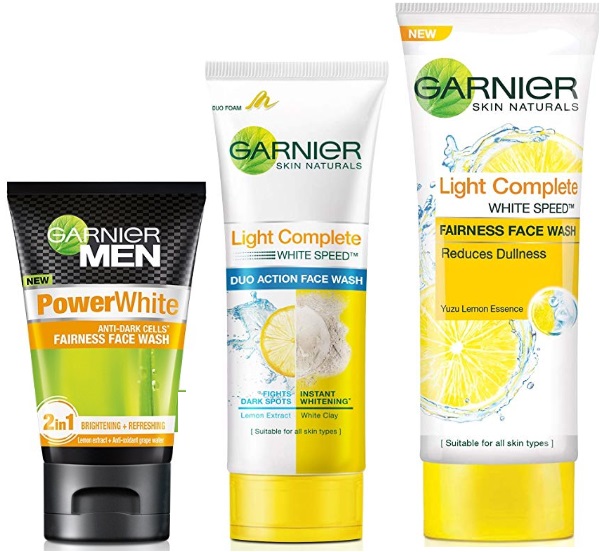 We have compiled this list of the best Garnier face washes and cleansers available in India. Garnier is a well known and trusted brand, when it comes to beauty products. In India, Garnier has launched so many different facial cleansers for boys and girls. Out of that, we have listed the best ones, that you can try. We have also included the details, about each one of them, therefore, you can try as per your skin type or any concerns that you are facing like oily skin, dark spots, blemishes etc. Let's get started and check out which are the worth trying face cleansers from Garnier.
Top Garnier Face Washes in India For Men and Women
1. Garnier Skin Naturals Light Complete Face Wash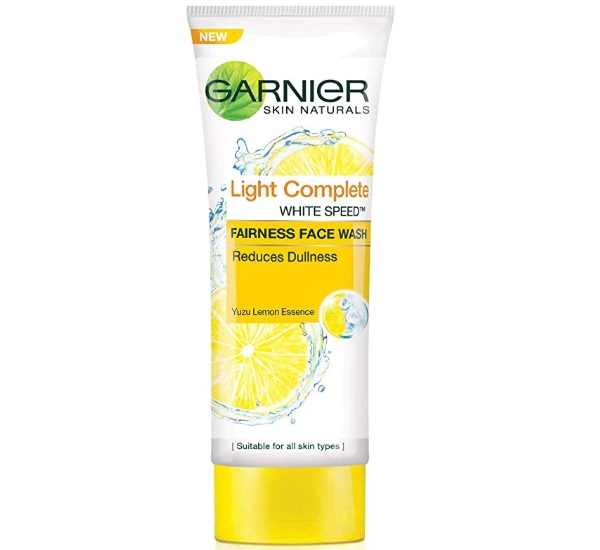 It is fairness face wash from the house of Garnier. It primarily is formulated to reduce the dullness, dark spots and uneven skin tone. With the essence of lemons, it is rich in antioxidants and Vitamin C, to lighten the dark spot and any other blemishes, that you have on your skin. You just have to take a pea-size amount of this face wash and apply on the face, rinse it off after few seconds. Its purifying formula works to clarify the oil and dirt effectively.
2. Garnier Skin Naturals Pure Active Neem Face Wash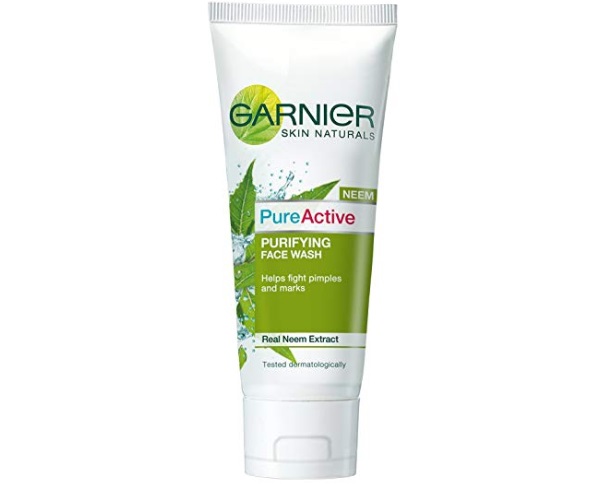 When you have oily and acne prone skin, we will read, this neem face wash, is one of the best facial cleansers to fight acne and marks. Other than the neem, it also contains tea-tree that effectively fights bacteria, dead skin cells and the pollutants that sits on your skin layers.
3. Garnier Men Power White Double Action Face Wash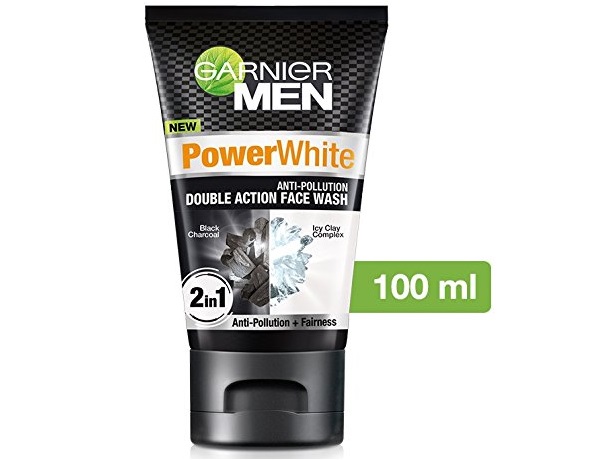 It's a men's face wash that comes with a double action technology. It gives you power of activated black charcoal and Icy clay Complex. So, basically, this is an anti pollution and skin whitening facial cleanser for men. It squeezes out all the traces of that, pollutants and toxins from your face and also makes the skin fairer. It is rich in salicylic acid and Vitamin C. Both are known to make your skin tone bright and glowing.
4. Garnier Men Oil Clear Deep Cleansing Face Wash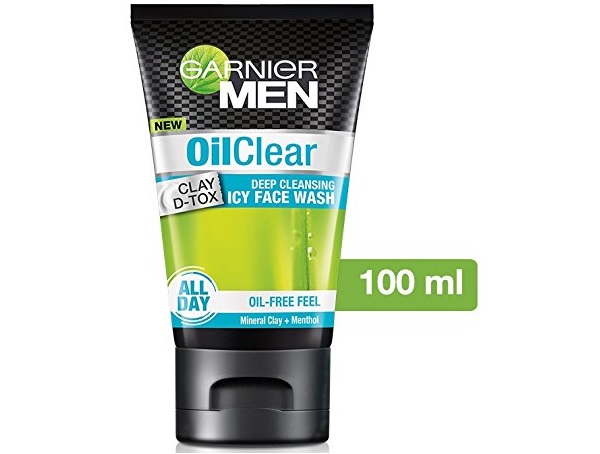 Garnier Oil Clear Face Wash is one of the best facial cleansers for men with oily and acne prone skin. It is rich in mineral clay and menthol. It is also abundant in 2% salicylic acid and clay. It absorbs all the excessive oils without drying your face. This non-greasy action of this oil control product helps you get matte skin fast.
5. Garnier Acno Fight Face Wash for Men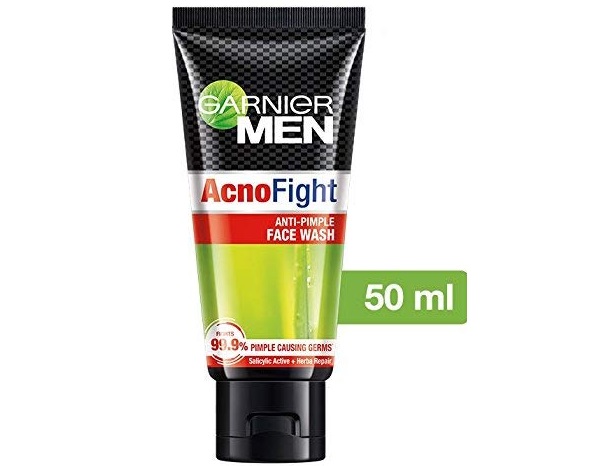 We have listed, the oil control and oil Control + skin whitening face wash for you. Now this next option is the Acno Fight face wash from Garnier Men. It has the anti-pimple ingredients that exfoliate your skin and dead skin cells to unclog the pores, that can result in acne. This also removes the blackheads and whiteheads that you have on your skin but they take some time. It generates the skin and gives you healthy and glowing appearance. The product also controls oils but not for too long specially during the summer season.
6. Garnier Skin Naturals Light Complete Double Action Face Wash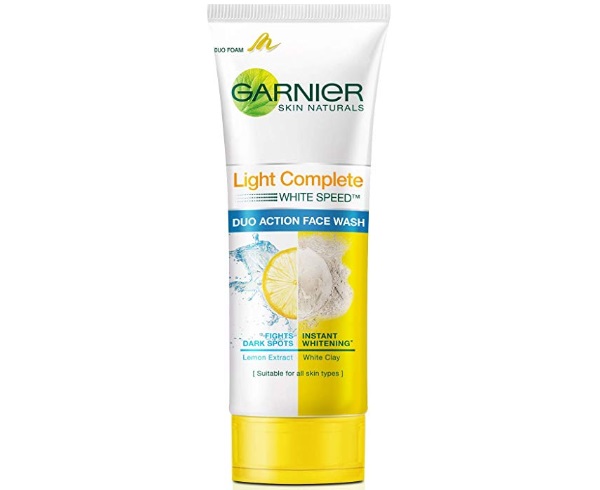 Just like the Garnier fairness face wash, this is a double action face wash. It gives you instant whitening and also gives you freedom from those ugly looking dark spots. It contains lemon extract and white clay. Both of these are known to increase the clarity and fairness of your skin. It instantly brightens the face and within few uses, it also gets rid of the black spots and uneven skin tone. The mineral clay absorbs the oil therefore, it is more of an oil control face wash which we feel.
7. Garnier Skin Naturals Pure Exfoliating Face Wash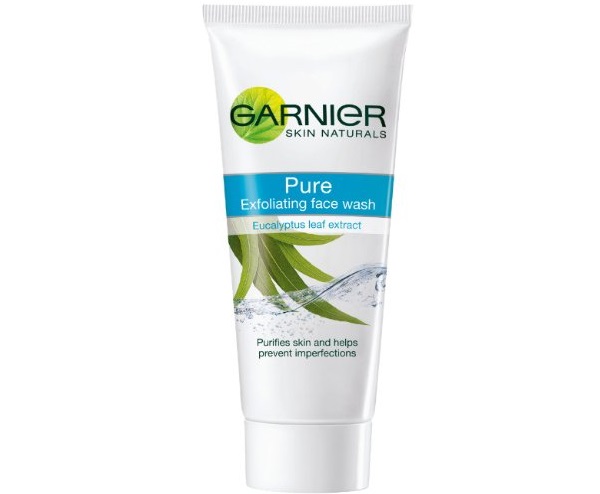 Garnier skin Naturals exfoliating face wash ad micro-beads and eucalyptus leaf extract. So it works in multiple ways to keep your skin glowing. The micro-particles exfoliate the dead skin cells and close the pores. So, it makes your skin smoother, glowing and minimize acne and pimple breakouts. It is an alcohol free gel based face cleanser that deeply cleansers and purifiers the skin pores. To keeping your skin fresh and clean this is the best to use during summer season.
8. Garnier Men Power White Face Wash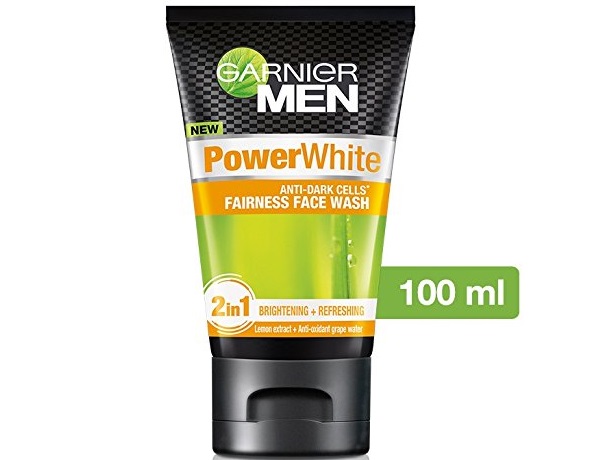 This power White face wash is formulated for men. It is an anti dark cells and fairness face wash that men can use. Brighten your complexion and freshens it. It contains grape water that is high in antioxidants, and lemon extracts which helps to fight the skin darkening causing factors. It also removes the sun tan, if you would like to use it during summer season.
9. Garnier Men Oil Clear Matcha D-tox Gel Face Wash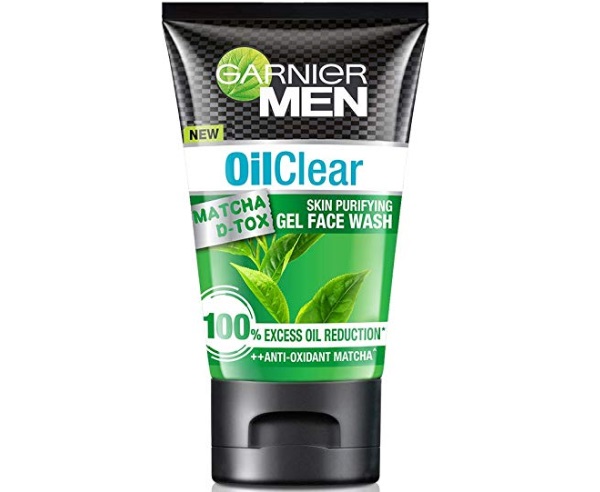 Now, coming to another oil-clear face wash for men. This is the skin purifying gel based face wash that contains Match Green tea. It gives you  excess oil reduction and keeps the skin oil-free. If you have extremely oily skin, like during summer season, you can apply this face wash to keep the skin free of oils at least for 4 to 5 hours,  which is good enough for a face wash Matcha green tea has 100 times antioxidant that gives you freedom from the pollutants. It is a high foaming face wash, by the way, so that is not for dry skin at all.
Wrapping up, these are the Garnier face washes in India, that men and women can use depending on the skin type. Other than that you can also make sure that you use the cleansers as per the skin type. Even,  if you have oily skin during winters, it will become less oily,  we should use face wash according to that. And it becomes very important when you have combination skin.