Garnier is a leading and popular brand that is known for formulating products for men and women. In fact, they were one of the first brands to have a special men's skincare range. So, in this post, we are going to talk about the best Garnier products for men available in the market. The best thing that we like about this brand is that their products for men are available at very affordable and reasonable prices. This is why Garnier Men products sell in large numbers. They are available in every nearby corner shop in your locality and area. If you are wondering, which are the best Garnier men's products, then take a look at this article below.
List of the Best Garnier Products For Men in India
1. Garnier Men Acno Fight Anti-Pimple Face Wash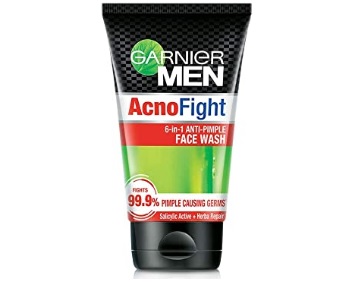 Garnier Acne fighting face wash is made with the acne fighting ingredients like salicylic acid. The mild action of this face wash helps to kill the acne causing bacteria along with the impurities and dead skin cells. The product is very effective in making the skin matte and oil-free. This product is easily available in the market and online. It is a reasonably priced anti pimple face wash for men that gives you oil-free skin. During the summer season, the product is extremely useful.
2. Garnier Men Power White Anti-Pollution Double Action Face Wash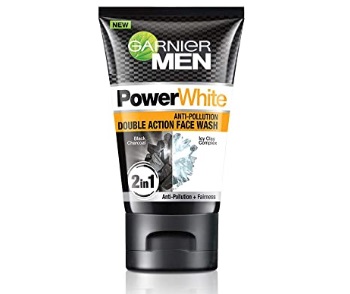 This product is a double action product that while making the skin brighter, it also fights the pollution effect. For oily skin, this is yet another good face wash. Men with acne prone skin and dull skin shall also try this product to keep their skin beautiful and blemish-free. With the power of active ingredients, this helps to fight the pollution particles, dead cells and pollutants. This product with the activated charcoal helps to make the skin fresh and clean. Use it 2 times in a day to ensure spotless skin.
3. Garnier Men Acno Fight Pimple Clearing Whitening Day Cream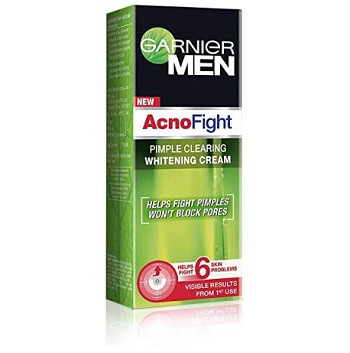 The pimple clearing whitening day cream is one of the best products for men with acne prone skin. You might also be struggling to find a good skin cream for acne prone skin. Because whatever product you apply on your pimple prone skin that may break you out. Therefore, this product is not just made to hydrate your skin, but it also helps to brighten the dull and shallow skin complexion. So, when the sun exposure has made your skin tanned and dull, a product like this can come handy and helpful. The product needs a bit more blending on the skin. This is why, you need to make sure that you massage the product properly, otherwise it can leave a faint whitish layer on the skin.
4. Garnier Men Power White Anti-Pollution Brightening Moisturiser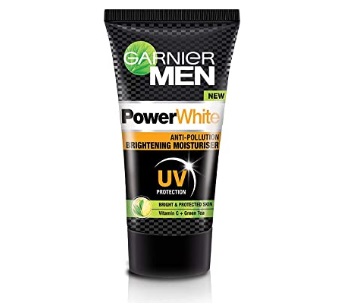 To combat the pollution effects, and to achieve fresh and bright skin, this power white moisturizer is a good product. Even though, it's a lightweight moisturizer and at times, we feel that the product gets really sticky and greasy after few hours for very oily, skin during the summer season. Therefore, barring the very oily skin, during hot and humid season, it's a suitable product for all skin types. The product comes in a pump dispenser package and is affordable as well. Just take out the product and apply it all over your face and blend nicely.
5. Garnier Men Oil Clear Clay D-Tox Deep Cleansing Icy Face Wash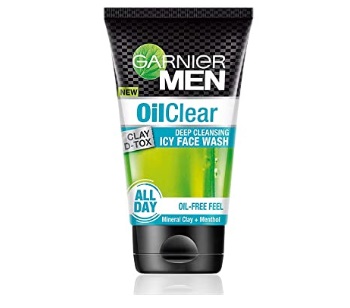 Garnier Men Detox clay face wash is a double purpose facial cleanser that helps to fight the excessive oils on your face. It contains the clay extracts that soaks up the extra oils and makes the skin fresh and clean. It has menthol as well, which is why after using the product, your skin and face feels cool and calm. Even for the irritated skin, during the summer season, this product is helpful and beneficial. Again, the Garnier men's face wash is very reasonably priced.
6. Garnier Charcoal Face Serum Sheet Mask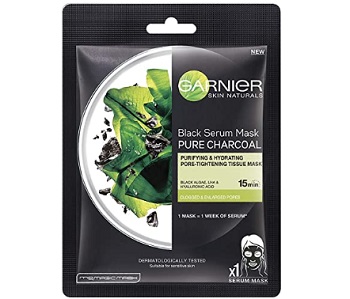 This Garnier men sheet mask is an excellent product. Soaked up in the activated charcoal, this face serum sheet mask helps to combat the acne and excessive oils. That's why, the product is very helpful for people with blemished skin. The product also helps in brightening the facial skin, so that your skin looks better. Additionally, activated charcoal helps to lift off the impurities and the acne causing microbes.
7. Garnier Skin Naturals Wrinkle Lift Anti Ageing Cream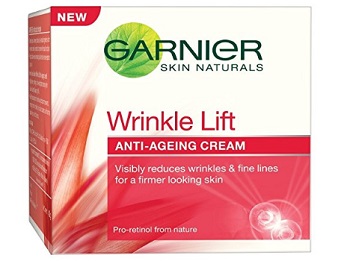 Garnier wrinkle lift anti-ageing cream is one of the best anti aging products that that is available at very cheap prices. The cream works for both men and women. So, if you are in mid 20s, this is a very cheap and budget friendly anti aging cream in India. It helps to increase the collagen production and it is one of the cheapest and effective retinol creams available in the Indian market.
8. Garnier Skin Natural Light Complete White Speed Fairness Serum Cream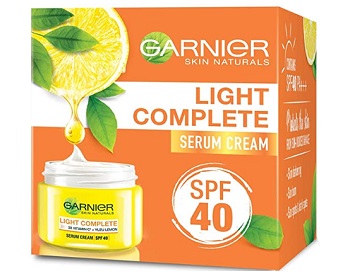 The light complete fairness serum cream helps to make the skin even tone. Basically, the serum cream is for reducing the dark spots. It does reduce the dark spots, but it takes some time. With regular application twice a day, it brightens the skin and to make the skin flawless and spotless. For teenagers, this cream is really effective.  The cream has light texture and is suitable for oily skin as well. The product is also a dark spot fighting product which is safe for making the facial skin free of blemishes.
9. Garnier Color Naturals Men Hair Color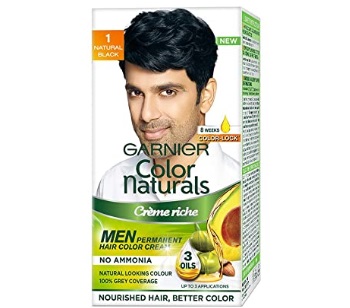 The men's hair color is available in different natural looking shades. From Dark brown to Black, this hair color range has most natural hair color shades for men. You can try it at home and it is very easy to apply. Just mix the developer and the colorant. Apply it on the hair strands. Wait for some time like half an hour and it colors the hair in the most natural manner. It can be repeated once in a month. Not just for color but it's perfect product for hiding grey hair.
10. Garnier Body Cocoon Intense Moisturising Lotion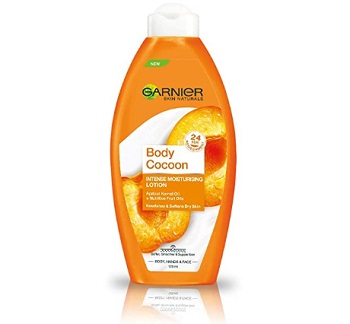 The intense body cocoon moisturising lotion is a product for men with dry skin. It is a body lotion that has the very high Vitamin C content and that hydrates the skin. You can try these products as per the skin type. Many Garnier men products are made for the men with oily-prone prone skin type.
These are the best Garnier products for men in India.