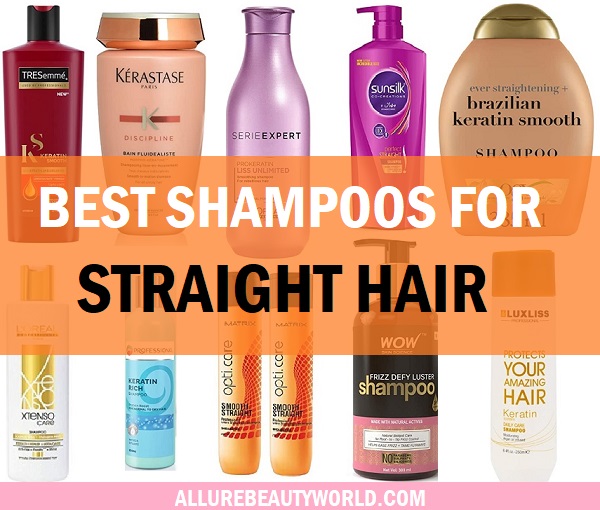 Hair straightening shampoos make your hair smooth, softer and a lot straighter. These straightening hair care products makes hair manageable, every time you wash your hair it also ensures that you have that maintained polished look. Hair straightening cleaners also detangles the knotty rough hair, hence act as effective guard against the hair breakage and tangles.
For taming the unruly mane, a straightening shampoo product is your solution to achieve gloss straight hair. Other than offering just the basic cleansing and getting rid of the product built up these hair styling products also have good amount of silicone and binding agents that relax and straighten the hair. With straight hair, it does not mean that you get a flat iron like look but it means that hair is not frizzy anymore and looks manageable without the unruliness.
But how the straightening shampoos actually work? Let us tell you that they want to completely straighten your hair but yes they give that smooth manageable.
What does the hair straightening shampoo do?
The shampoos have ingredients that lock the moisture and moisturises the cuticle from inside out. Even in the high humidity region when hair frizz is a common issue with hair straightening products are always desired.
Advantages Of Hair Straightening Shampoo
Using hair straightening shampoos are beneficial in many ways, let's check out what are those.           

The shampoos reduce and eliminate the frizz and flyaways that leave the hair look unmanageable.

The shampoos detangle messy hair and therefore prevent hair breakage.

When use a hair straightening shampoo than less time is taken to style them even with the heat styling treatment or with your regular hairstyles.

After you use such products, your hair tends to stay straight for long time.

Such hair straightening products also helps to add shine and gloss to the hair.
Disadvantages of Hair Straightening Shampoo
Like every coin has two sides, these straightening products also have pros and cons. Let's take a look at it's the disadvantages that one can have while using the hair straightening shampoos on regular basis.
Hair straightening shampoos create a micro film over the hair strands that can be difficult to remove. Therefore, you would need a strong sulphate based shampoo that can get rid of the micro film from the hair. In doing so the surfactant based shampoo can eventually dry the hair. This calls for a good conditioner.
Now, that you know what a hair straightening shampoo is and how it actually works. It's time to take a look at how to choose a good hair straightening shampoo.
How to Choose a Good Hair Straightening Shampoo
Here are certain ingredients that must be there in a hair straightening shampoo, else the results can be less satisfying.
Silicones:
Silicone is the most important thing that should be present in the hair straightening shampoo that creates a film that makes your hair frizz proof, sleek and straighter. So the heat activated material covers the individual hair strands with the thin hydrophobic Layer. This hydrophobic layer is water proof that gives the much-needed slippery feel so that they look smooth and soft.
Some of the most commonly used silicones in your straightening shampoos are;
Dimethicone
Pheryl Trimethicone
Dimethiconol
Amodimethicone
Polydimethylsiloxane
Cyclomethicone
Ceteraryl Methicone
Keratin Protein
Just like silicones, keratin proteins are also needed in the hair straightening shampoo product. Keratin is a protein, used in majority of the hair damage repairing, straightening and frizz proof shampoos. Actually, these are the building block of your hair and this protein is important in your hair straightening shampoo. It get inside the hair staff and relaxes the cuticle layer so, that the hair appears moisturised and manageable.
Most of the popular keratin proteins that are used in straightening shampoos are:
Hydrolysed keratin
Cocoyl Keratin
Natural Oils
Apart from that, you must have seen that essential oils and natural oils in general are use a lot in straightening shampoos. Commonly used oils are coconut oil, Argan oil and olive oil. The shampoo helps to create a barrier and makes hair softer. They actually go deeper in the hair follicle and nourishes the strands.
So, these are also yet another set of ingredients that are added to the hair straightening shampoos.
A good hair straightening shampoo must also be sulphate free.
Keeping these pointers in mind, one can choose the best hair straightening shampoos.
List of the Best Hair Straightening Shampoos in India (2022)
Now that you know about how hair straightening shampoos work and what are the benefits and disadvantages of using them. Let's go ahead and check the best hair straightening shampoos available in the Indian market.
1. TRESemme Keratin Smooth Shampoo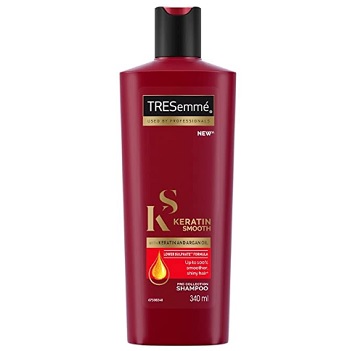 The affordable keratin shampoo is rich in keratin and Argan oil. With the lower sulphate formula, it's also suitable for chemically treated hair. The shampoo gives you up to 100% smooth and shiny hair. For unruly hair that becomes messy and unmanageable, it makes the hair smooth and silky. It's safe for Indian hair and also for the chemically treated hair type. It makes the hair look straight and controls the frizz up to 3 days. It's amongst the best shampoo in India.
2. L'Oreal Paris Xtenso Lr Sulfate-free Care Shampoo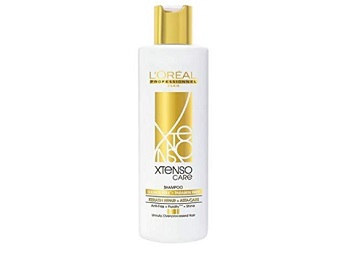 The budget friendly sulphate and paraben free shampoo with the cleansing formula for over processed hair. It contains ceramides and keratin to repair the damage caused by the chemical treatment and heat styling products. It adds softness to the hair and with its nutrifortify Technology, it restores strength and flexibility. So the product when used on everyday basis helps to lock the moisture and make the hair straight.
3. Godrej Professional Keratin Rich Shampoo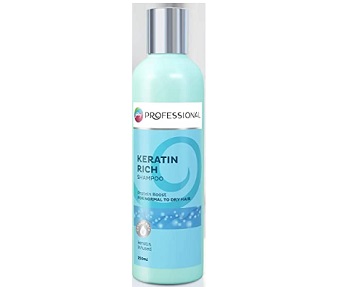 This Keratin rich shampoo is made for normal to dry hair. The shampoo makes the hair smooth and straight. Specially created for Indian hair, the anti frizz shampoo adds shine and bounce to the hair. In addition, this keratin shampoo also helps the chemically treated hair to stay glossy and smooth in texture for long time. It makes your hair soft and sleek. The rich keratin formula helps to fight frizz effectively.
4. MATRIX By fbb Opticare Shampoo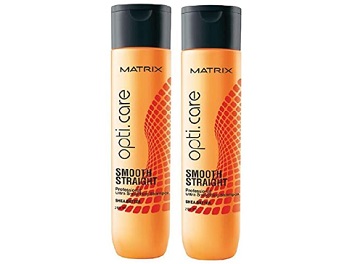 This is one of the best shampoos for smooth and silky straight hair. It improves the elasticity of the unruly and dry hair strands, hence, fights not just dryness, but makes the hair straight and manageable. It leaves the hair glossy and healthy. While detangling the hair well, it does not make them flat. The shampoo gives fresh clean scalp after the wash.
5. WOW Frizz Defy Luster Shampoo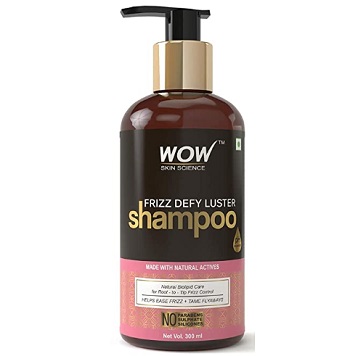 The frizzy hair makes your hair look unmanageable, this frizz-defy shampoo is made to tame the frizz and tangles. The organic shampoo is made specially to combat the excessive unruly hair. Hair that is unruly due to the humidity and high temperatures can be cured by this shampoo. This shampoo for straight hair helps to lift the volume without causing any heaviness. It also controls the frizz and makes the hair smooth and manageable. It contains natural lipids drived from soybean that are similar to human hair fibres. The shampoo is free of sulphate parents and mineral oils. So it deeply nourishing is your tresses.
6. L'Oreal Paris Professional Series Expert Liss Unlimited Smoothing Shampoo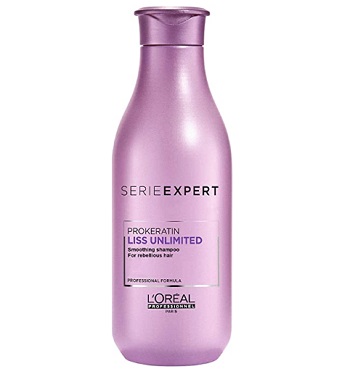 This best smoothening shampoo for regular use is made to make the hair manageable and a lot more shinier. It does not have a high sulphate formula, that is why, it can also be used on the chemically treated hair and dry hair. With regular usage, it restores the keratin and makes them straight and manageable, so that you can make any hairstyle that you wish for. By straightening the hair, it also ensures all day moisturization. With its formula, it doesn't weight them down, rather makes hair appear thicker. It also protects hair from the sun damage and UV rays. The product polishes the hair and creates a protective shield on the hair cuticle.
7. Kerastase Bain Fluidealiste Shampoo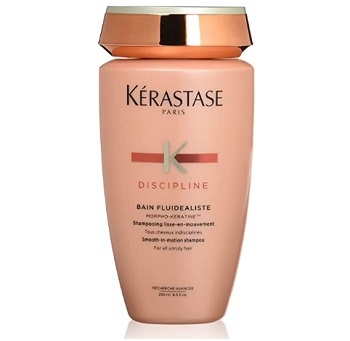 The best Keratin shampoo has keratin rich formula and is made for extremely unruly hair. This product is suitable for fight unruly hair types and is perfect for sensitized and chemically treated hair. It cleanses the impurities and does not put the hair down. By delivering an effective antifreeze protection, it restores the integrity of the hair. The product is really suitable for all hair types and even for wavy and curly hair types as well to keep them smooth as possible.
8. Sunsilk Perfect Straight Shampoo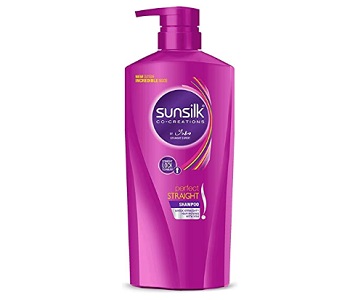 Sunsilk perfect straight shampoo is made with the straight lock technology and ingredients that are known to give you straighter looking hair for a lot long. This technology actively controls the hair strands and make them perfectly aligned. The shampoo makes the hair smooth and gorgeous. Right from the shower, it helps to penetrate deep inside the hair fibre, therefore, reduces frizz and keep them fully nourished. It contains silk proteins that do all the straightening work for your hair.
9. Luxliss Professional Dailycare Shampoo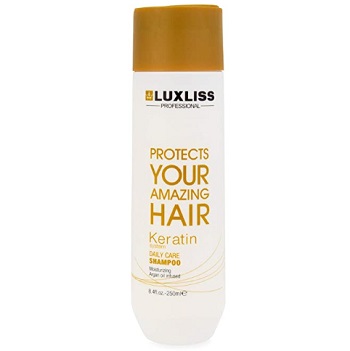 The professional range of daily care shampoo is rich with keratin. It's the shampoo that is extremely moisturizing with Argan oil in it. The shampoo helps to create a nice straight look to your hair. It contains the hydrolysed keratin, which is known to combat the effects of humidity and extreme sun exposure related damage. It's free of chemical and is among the best sulphate free shampoo for chemically straightened hair and for the regular hair.  The product has a nice fragrance and gives the thick and fuller look. It contains naturally made ingredients along with keratin.
10. OGX Ever Straight Brazilian Keratin Therapy Shampoo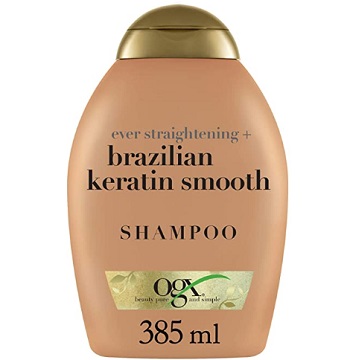 This OGX keratin shampoo is specially made of coconut oil and is an extremely easy to use product with nice fragrance. The product has a formula that is packed with so many nutrients to make hair shinier. Infused with coconut oil, avocado oil, cocoa butter and keratin proteins, this shampoo is blended with a formula that gives you straight looking hair right from the first wash. It's also the best shampoo brands. It reduces dandruff and fights against the hair loss as well. So when you use this product, it removes tangles and knots effectively. It protects the hair against the harmful chemicals, split ends and humidity. So, whatever is the weather is, you can still enjoy gorgeous straight hair.
These are the best hair straightening shampoos in India. They are also anti frizz shampoos that detoxify the hair. They cleanse the built up created by dirt and styling products.