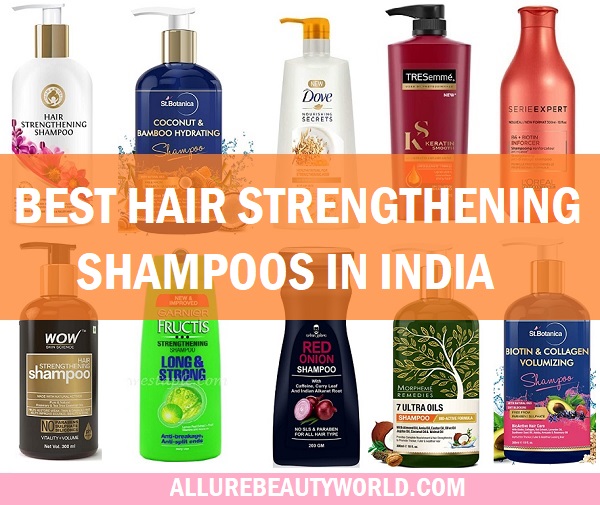 Stronger hair breaks and fall less, this is why there are a lot of hair treatments made to make hair softer and manageable. Weak hair roots and roughness is also a sign of hair damage that is caused by a variety of different reasons. Hair strengthening shampoos help to make the roots stronger and hair smoother to avoid less hair breakage due to the frizz and rough cuticle. Here's a list of the best hair strengthening shampoos for strong and thicker hair.
Best Hair Strengthening Shampoos in India For Strong Hair (2022)
1. Mom & World Hair Strengthening Protein Shampoo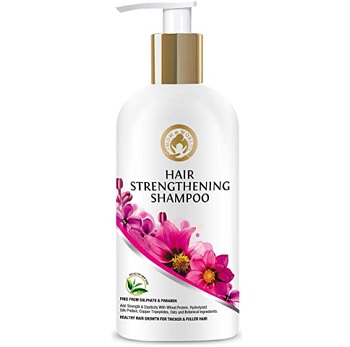 Hair straightening shampoo contains wheat protein, hydrolyzed Silk protein, copper tripeptides, oats and other botanical ingredients. So to get healthy hair and fuller and thicker hair, the shampoo helps to strengthen the hair roots and make the hair voluminous. It leaves your hair silky and smooth and thickness. Hydrating formula gives the hair incredible shine and life. Blended with natural and pure oils, it penetrates deeper in the cuticle of the hair therefore aids in getting stronger and thicker hair. It's the best hair strengthening shampoo.
2. WOW Hair Strengthening Shampoo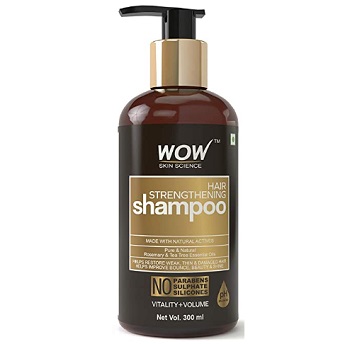 The hair strengthening shampoo is made with natural products like Rosemary and tea tree essential oil. Rosemary is known to give you fuller and softer hair by also initiating the hair growth. As it is enriched with certified organic rosemary and tea tree essential oil, it is also 100% Vegan and cruelty free oil. The hair strengthening shampoo is made with natural hair strength boosters like Rosemary and tea tree Essential oil. Rosemary is known to give you fuller and softer hair by also initiating the hair growth. The product is paraben and sulphate and silicone free with a pH balancing formula. So it's a product that can be used by all the hair types, especially for the weak and lifeless hair.
3. Garnier Fructis Long and Strong Strengthening Shampoo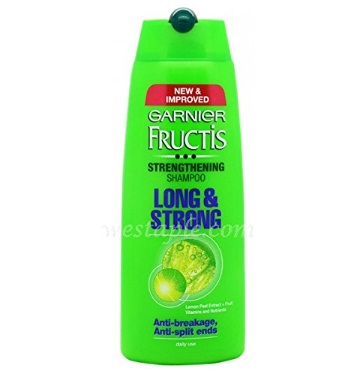 The long and strong strengthening shampoo contains the anti-breakage formula. It strengthens the hair and the fibre from within from root to tip. It is an excellent shampoo to prevent split ends from forming in the first place. By reversing the damage caused due to humidity, heat and extreme sun exposure, this product is an innovative formula that is made of active fruit complex that utilizes the natural extracts of fruits to nurture each and every hair strand. It contains apple which initiates the hair growth and keeps the hair revitalized. Its formula makes hair up to five times stronger and reduces the breakage and split ends. It contains lemon peel extract apple and vitamins C.
4. StBotanica Coconut Oil & Bamboo Hair Strengthening Shampoo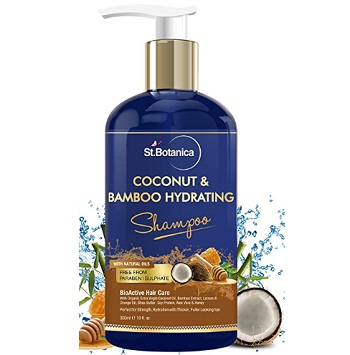 Made with coconut oil and bamboo extracts, this is a shampoo free of paraben and sulphate. In fact, it's one of the best shampoo brands available in India at affordable prices. The key ingredients are organic virgin coconut oil, bamboo extract, lemon oil, orange oil, proteins, better, aloe vera and honey. It's perfect for strengthening the weak hair and to give the hydration for thicker and fuller and long looking hair. The product is also free of paraben and sulphate and with lots of natural and organic ingredients; it also calms the frizz and tame the flyaway leaving the hair soft and silky hair.
5. Urbangabru Natural Onion Shampoo For Hair Strengthening and Hair Fall Control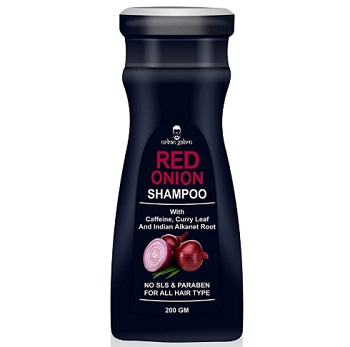 The onion shampoo is a natural strengthening product that gives hair fall control. It is rich in caffeine, curry leaf and Indian Alkanet root extract. This does not have any SLS and paraben which can disturb the oil balance or irritate the scalp. In such situation more hair fall can be seen. Therefore, this product is a powerful shampoo that will wash away the excess oils, sebum and dirt from your hair and reduces the hair fall while making the hair stronger and thicker. Using the shampoo on every day basis, it does not strip or dry out the hair because of the presence of natural ingredients that support the hair follicles health.
6. Dove Healthy Ritual for Strengthening Hair Shampoo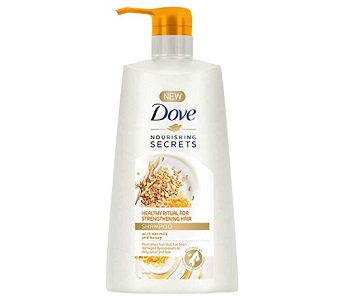 The strengthening shampoo is from the house of Dove and contains a power of oat milk and honey. It is a shampoo that is made especially for the weak hair roots and dry and damaged hair. The hair that fall very frequently and even clumps of falling hair can be seen in the shower. It revitalizes the hair and initiates the re-growth process of the damaged hair strands. In fact, the daily wear and tear can also be reverted by the use of the shampoo product.  The mild shampoo for dry and damaged hair is also suitable for other hair types for daily use.
7. Morpheme Remedies 7 Ultra Oils Shampoo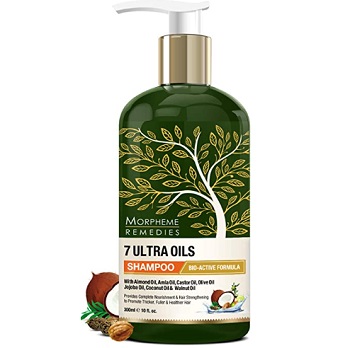 The power of 7 Ultra essential oils to shampoo is a bioactive formula free of paraben and SLS. It is one of the best SLS free shampoos in Indian market at affordable prices. The shampoo contains the key ingredients like almond oil, castor oil, coconut oil, walnut oil and amla oil. It provides complete management to the lack luster and rough hair strands. The hair-strengthening formula of the shampoo promotes the thicker and fuller hair and also initiates accelerated hair growth. So the gentle formula is suitable for daily use by men and women both.
8. TRESemme Keratin Smooth Shampoo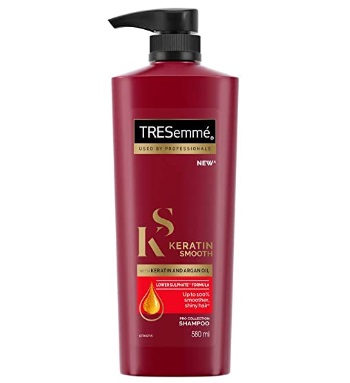 TRESemme keratin smooth shampoo is rich with Argan oil and the hydrolysed keratin. While it controls the frizz up to 72 hours, this also has a dual action that helps to smoothen the hair and adds more shine. This is a shampoo which is not completely free of sulphates but has a lower sulphate formula. It is suitable for Indian hair for both natural and chemically treated. The essential oils and keratin in this, makes it as one of the best shampoos for getting straighter and stronger hair.
9. StBotanica Biotin & Collagen Volumizing Hair Shampoo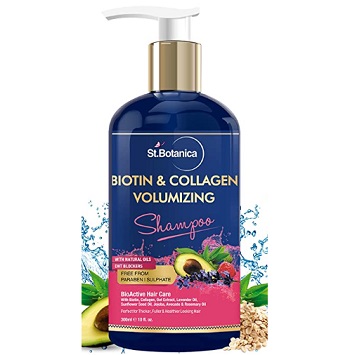 StBotanica shampoo is amongst the best shampoos available in Indian market for different hair types and hair problems. The shampoo is SLS and paraben free and contains the natural bioactives. The impressive list of its ingredients includes collagen, biotin extracts, Lavender oil, Sunflower oil, avocado and Rosemary oil. This is a shampoo that is known to promote the hair growth so that you can enjoy thicker and fuller looking hair within few months. As the formula is free of the Chemicals, it is a shampoo safe for coloured hair as well as for daily use. Biotin and collagen are known to generously give thickness to the thin and lifeless hair strands. So even if you have taken coarse and rough hair, this shampoo with the power of essential oils would help to make them smoother and healthier.
10. L'OrealProfessionnel Serie Expert – Inforcer B6 + Biotin Strengthening shampoo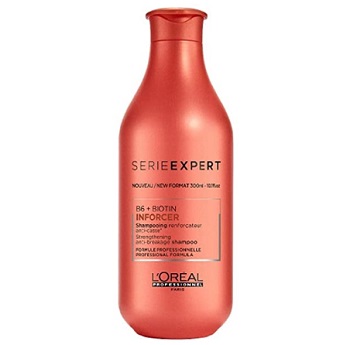 The salon or professional use hair strengthening shampoo contains the power of the Vitamin B6 and B7. It reinforces the strength and makes hair soft and healthy. It targets the breakage and split ends. You can continue using the shampoo 2 to 3 times in a week to reverse the damage and to make the hair as strong as possible.
These are the hair strengthening shampoo available in Indian market. The shampoos can be applied on regular basis and most of these are SLS and paraben free which is why, they are also suitable for daily use. When you shampoo on every day basis, then make sure that you at least use conditioner 3 times in a week. When the weather is humid or very hot then ensures that a deep hydrating hair mask is also used, in case you have very frizzy and curly hair.