Herbal Essences is a brand, known for their amazing shampoos available in different varieties targeting different hair issues and concerns. If you have dry and damaged hair or oily hair that needs some volume and shine, try this brand. It has a shampoo or every commonly faced hair problems. Here we are going to talk about the best Herbal Essences shampoos available in the Indian market. The best thing about the shampoos is that they do not have paraben, colourants or any gluten. The latest launched Herbal Essences shampoo also contains a formula that is mild and gentle even for everyday use. Herbal Essences hair cleansers are made of 90% naturally derived ingredients. As they are PETA recognised brand, their products are cruelty-free. It's also safe for coloured hair and a pH balance shampoos with 0% paraben. What else do we need!
List of Best Herbal Essence Shampoos in India
1. Herbal Essences Coconut Milk Shampoo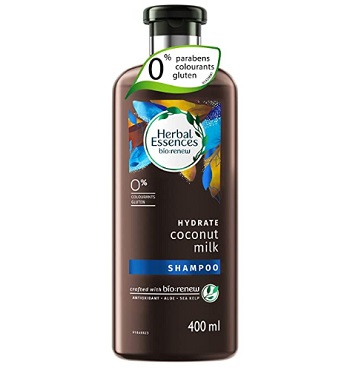 The shampoo with coconut milk as a primary ingredient in it, is known to hydrate the rough and lifeless hair. It contains Aloe and Sea kelp along with coconut milk, making it a really hydrating shampoo that makes manageable and extremely smooth. If your hair is prone to damage and split ends because of damaging summer heat or outdoor lifestyle, a coconut milk hair cleanser can surely do the work.
Other than the shampoo giving amazing scent of coconut, a bouquet of white floral and vanilla, it's like a luxurious experience every time you wash your hair. The best thing about the shampoo is, its mild formula which revives the hair. The natural ingredients and antioxidants present in this shampoo remove the impurities to protect the hair from the future damage as well. So you can use this real botanical and paraben free shampoos available at affordable prices. It's one of the best organic shampoos in India.
2. Herbal Essences Argan Oil Of Morocco Shampoo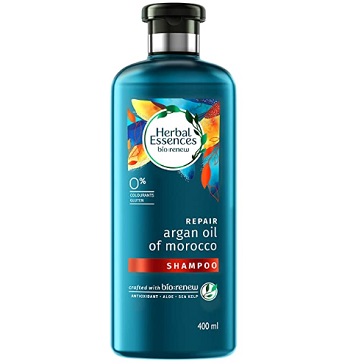 Aloe and sea kelp along with Argan oil of Morocco makes hair smoother and softer. The best thing about Argan oil infused shampoo is that it repairs the damaged hair like nothing. With every wash, it leaves the hair smooth and soft. Made with 90% naturally derived ingredients like Argan oil, Aloe and Sea kelp, it is a powerhouse of antioxidants. It's the best selling shampoo from this brand in India. The shampoo is also colour safe and pH balanced formula suitable, even when you have sensitive scalp. It can be applied even on daily basis because the formula is gentle and nothing too harsh. Even when you have hard to manage split ends, it can work to tame down the frizz and split ends causing tangles. It's one of the best shampoos for unmanageable hair in India.
3. Herbal Essences Rosemary And Herbs Shampoo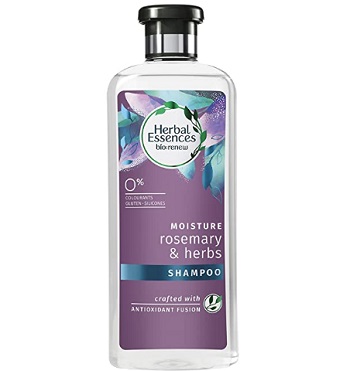 Herbal Essences Rosemary and Herbal shampoo is infused with antioxidants and wonderful herbs like Rosemary, popular and scientifically shown to increase natural hair growth. Hair would become really manageable and softer to make any hairstyle you wish. Being a cruelty free brand, it's not tested on animals and is color safe with no parabens and colorants. You can experience the refreshing and uplifting scent of infused natural Herbs, Mint and Sandalwood in the shampoo. It is more like a transparent shampoo with amazing lather that cleanses the scalp wonderfully. The shampoo has natural and organic ingredients.
It deeply cleanses and moisturises the hair while Rosemary invigorates freshness in your scalp and hair fall stop soon. Even after a day, one can detect the mild fragrance coming from the hair. It's one of the best shampoos for dull and falling hair.
4. Herbal Essences Cucumber and Green Tea Shampoo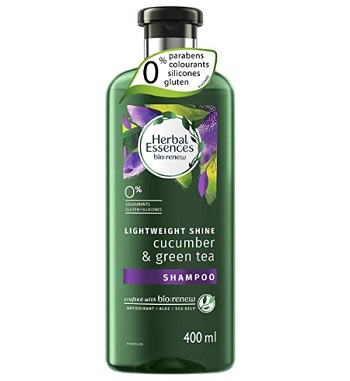 Herbal Essences cucumber and Green Tea shampoo is made for offering shinier and smoother hair. When your hair gets lifeless, dull with no gloss making them look terrible, the shampoo can combat the day-to-day basis damage and lifeless hair issues. The organic and paraben free shampoo for thick hair, infused with cucumber and green tea can give a surge of moisture as well as volume. The best thing is that the shampoo is also chemical-free and free of harsh artificial colors.
This means, even when the hair is dyed, it can be applied every day. It is the pH balanced formula so it will not make hair dry or damaged. So with no Chemicals involved in the shampoo, this is one of the best shampoo that does not weigh down your hair, but gives them the light weight shine and volume. Crafted with natural ingredients, the shampoo is perfect to use on daily basis to help get gorgeous hair which can flaunted.
5. Herbal Essences Vitamin E With Cocoa Butter Shampoo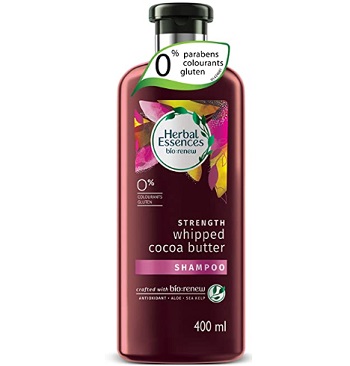 Vitamin E and Cocoa butter infused shampoo and conditioner range from Herbal Essences helps to protect from future breakage and damage. Cocoa butter, known as a wonderful ingredient in making the hair shinier and high on moisture with every wash. This product is colour safe and pH balance with 0% parabens and no glutens.
It's a PETA certified product and the brand is known to include no chemicals or at least uses 90% naturally drive ingredients. As it is also a cruelty-free brand, means not tested on animals. With the shampoo you can experience the amazing and vivacious scent of Black Cherry, Smooth almond cream with spicy Amber every time you wash your hair. Other than making hair smell good, it also offers antioxidant benefits to fight free radical damage. If your hair is life-less and breaks easily due to tangles and dryness, try the shampoo. It's also a wonderful Herbal Essences shampoo for dry hair in India.
6. Herbal Essences Smooth Collection Shampoo
Herbal Essences Smooth Collection shampoo is a powerhouse of natural ingredients. Basically the shampoo has a blend of roses, Vitamin E and extracts. The shampoo has zero percent silicones and makes your hair smoother with every wash. The best part is that it does not have any Chemicals. Being transparent, it's also a luxurious experience while you use the shampoo. The shampoo also has a nice smell that is not artificial. It's said that it's so moisturising that it does not require conditioner because of its excellent moisturization. Suitable for all hair types, the shampoo can be applied on daily basis and is a shampoo for bouncy hair.
7. Herbal Essences Long Term Relationship Shampoo For Long Hair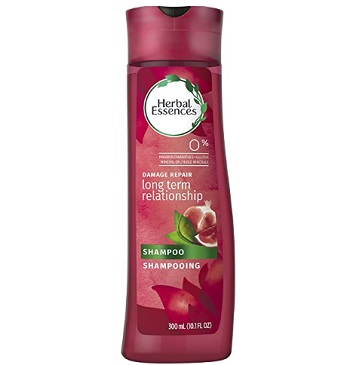 When you have long hair, it can be really difficult to manage. Damage, dullness and breakage are the occasional and usual concerns that anyone would have. Therefore, using a shampoo that is made exclusively for long hair definitely helps a lot. Herbal Essences Long Term Relationship Shampoo is made for long hair and it has 10 times more keratin against the damage versus non conditioning shampoos. With juicy pomegranate scent and antioxidants, the shampoo creates amazing smell in the hair. The best part is, the shampoo defends the unruly hair and protects them from frequent breakage.
8. Herbal Essences Ignite My Color Vibrant Color Shampoo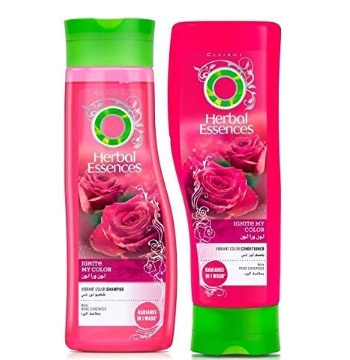 People with coloured hair often have this problem of hair color getting dull and faded after few washes. The shampoo is especially made for colored hair  and it means that you can try it when you've coloured or bleached hair. Herbal Essences Ignite My Color Vibrant Colour shampoo comes with its own corresponding conditioner, that naturally helps to protect your coloured hair. It 's one of the best shampoos for permed hair, damaged and coloured hair. Suitable for all hair types, it's a daily hair care shampoo that maintains the colour and gloss with the vibrancy.
9. Herbal Essences Curls & Waves Hair Shampoo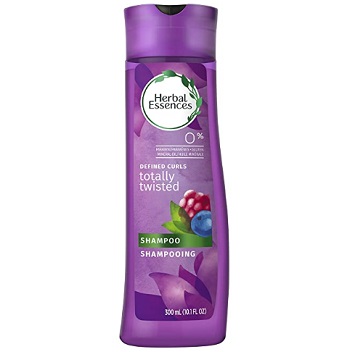 Men and women with curly hair can experience their hair getting messier whenever there's humidity or dryness in the atmosphere. You would need frizzy hair or even curly hair shampoo that can make hair softer. The shampoo contains Wild Berry essence, helps to make the hair smooth and frizz-free. It fights the frizz for more defined curls. It is gentle enough for everyday use as men and women both can try it. It is formulated to give 20 hours of humidity control which is like amazing for shampoo to do that. Free of parabens, Mineral oil and gluten the shampoo is really good.  The curly hair shampoo formula is made with Wild Cherry and Jewel orchids that make curls and wavy hair smooth and modified. So it helps the manageability of your curls by making them better.
Hope, you would be able to choose the best Herbal Essences shampoos available in the market. These are affordable and the pack can last for more than 2 months on an average.