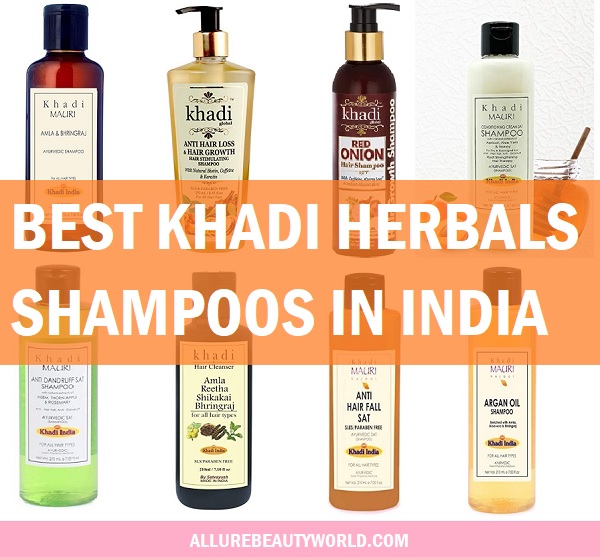 Khadi is a brand that makes paraben free and chemical free products. This why Khadi shampoos are so popular and trust worthy amongst the Indian consumers. The Khadi hair cleansers are made from the natural and vegan ingredients that help to make hair shiny and lustrous. All of these Khadi shampoos are free of parabens and chemicals that can disturb the pH balance and the scalp with the chemicals. This is why the Khadi shampoos have the first choice of herbal shampoos for many people.
Let's take a look at the best Khadi shampoos available in Indian market. Khadi Herbals make so many different hair cleansers and shampoos that it was really difficult to choose the best top 10 shampoos from Khadi Herbals. The Ayurvedic shampoos that this brand makes are sulphate free and are made to deal with specific hair issue. So in this brand you will find Khadi shampoos in India for dandruff, hair growth, hair thickening and even shampoos with particular ingredients like Honey, Neem Shampoo, Aloe vera shampoo, Onion shampoo, coconut shampoo and so on.
Best Khadi Shampoos in India for Different Hair Types and Issues
Now, let's know about the best Khadi herbal hair shampoos available in the market. You can also buy Khadi shampoos online. Price of Khadi shampoos are also very affordable.
1. Khadi Mauri Herbals Amla and Bhringraj Herbal Shampoo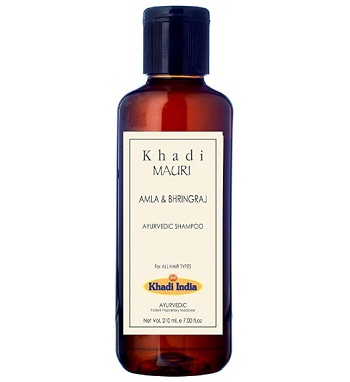 Khadi Amla and Bhringraj shampoo is one of the most popular shampoos that people have used. The best thing about the shampoo is that it contains the natural ingredients such as Amla and Bhringraj. Both of these ingredients along with the other botanicals used in this shampoo helps root strengthening, promotes hair growth and minimises the hair loss. So all in all this Khadi Mauri shampoo is like a one stop solution for all your hair problems. It is the best Khadi shampoo available in the market. The good thing is it can be used by men and women both.  In fact this applies for all the Khadi products
2. Khadi Mauri Herbals Anti Dandruff Herbal Shampoo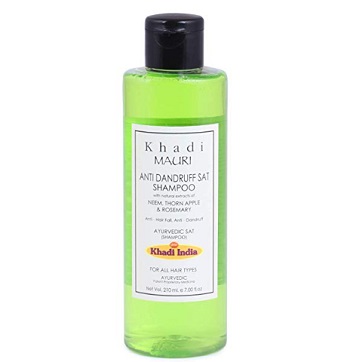 Khadi anti dandruff shampoo contains the power of Neem, Rosemary and thorn Apple. It is an anti hairfall and anti dandruff shampoo that is an Ayurvedic blend to fight dandruff and hair fall. It also contains Basil, Neem and Rosemary that further helps to eliminate dandruff quickly. So, if you have dandruff and hair loss related problems then the amla and bhringraj shampoo can be tried.
3. Khadi Global Anti Hair Loss and Hair Growth Stimulating Shampoo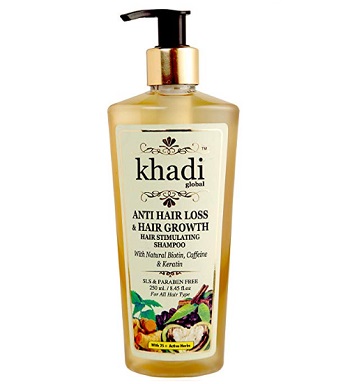 Coming to this next Khadi shampoo which is best seller in this category. It is the best Khadi hair growth shampoo that contains natural biotin, keratin and caffeine. The SLS and paraben free shampoo comes in a pump dispenser and at a very affordable and reasonable price. It is formulated to give you better, stronger and thicker looking hair. So when you use it regularly, fights hair fall and initiates hair growth from the roots. It is the best anti hair loss product which is herbal and Ayurvedic in nature. Men and women who are experiencing thinning of hair and receding hairline can try this powerful natural ingredients loaded shampoo. In fact, it can also fight the hair loss by blocking the effects of testosterone in the scalp.
4. Satvayush Khadi Amla, Reetha, Shikakai, Bhringraj Herbal Natural SLS-Paraben free Shampoo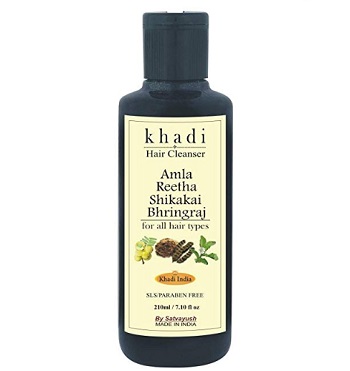 The brand is known to utilise the power of Ayurvedic and natural ingredients. Like this shampoo contains Amla, Reetha, Shikakai and bringraj. It is suitable for all hair types and even if you do not have any particular hair issue, then also you can use it to ensure that your hair stay away from dandruff, thinning of premature greying as such. The easy to use product is paraben and sulphate free and can be tried by men and women both.
5. Khadi Global Onion Shampoo with Caffeine Curry Leaf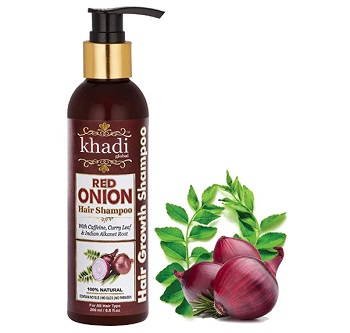 Onion is the miracle ingredient which is known to initiate hair growth and put a stop on the thinning and receding hairline. This shampoo is applied to encourage hair growth and to stop hair loss. Red onion is the main product used in this shampoo along with curry leaves and Alkanet root. The shampoo is 100% natural and Ayurvedic shampoo for hair growth. With no SLS, SLES and parabens, this is a luxurious shampoo to encourage proper hair growth without the use of chemical. Men who are experiencing hair issues can try the shampoo along with the Khadi onion hair oil.
6. Khadi Mauri Herbal Anti Hairfall Shampoo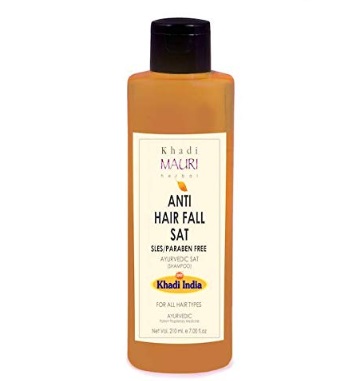 If you are experiencing hair fall, then Khadi anti hairfall shampoo is best to prevent that. Free of SLS and paraben this is a shampoo for all hair types that helps clear dandruff and prevent hair loss. It is enriched with Amla along with other herbal ingredients. It's also the best khadi shampoo for dry hair and hair fall.
7. KHADI Conditioning Cream Shampoo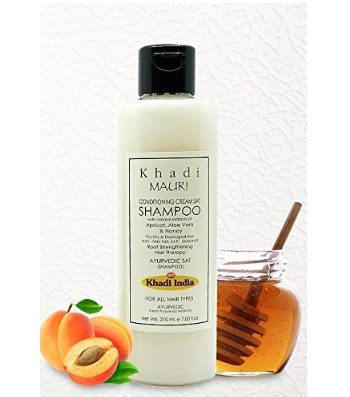 When your hair is dry and rough, this Khadi conditioning shampoo is best to cure dry and damaged hair. It heals the UV induced damage and even the damage because of the chemical treatment. This shampoo contains Apricot oil, Hibiscus oil, Aloe and Brahmi It's also a good khadi shampoo for frizzy hair and curly hair type.
8. Khadi Mauri Herbal Argan Oil Shampoo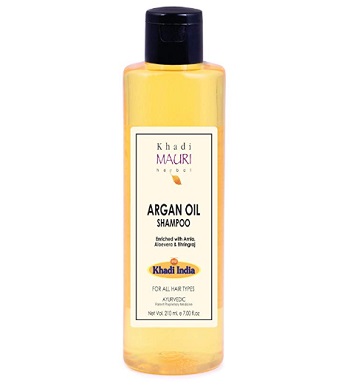 Whe your hair is shineless, lack lustre and mostly dry than argan oil shampoo is a must try. This khadi sulphate free shampoo is the best argan oil shampoo that also contains Amla, Aloe vera and Bhringraj. So in addition to providing moisture, it also ensures that hair stay soft and silky. Amla and Bhringraj initiate hair growth and aloe vera conditions. It's an overall shampoo for total hair nourishment. The shampoo is free of SLS and paraben. The best shampoo for dull hair. It's the best khadi shampoo for dry hair.
9. Khadi Mauri Herbal Apple Cider Vinegar Shampoo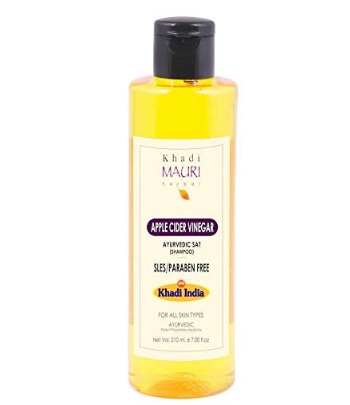 When your hair is oily and gets greasy within just 2 days after washing then apple cider vinegar can help you. Apple cider vinegar products are also suitable in case of dandruff and itchy scalp. This paraben and sulphate free shampoo is the best khadi shampoo for oily hair with the power of Apple Cider Vinegar that helps to remove the product built-up if you use a lot of hair styling products. It repairs the damaged follicles without stripping the natural hair moisture. It is the best shampoo for hair strength and bounce.
10. Khadi Natural Aloevera Herbal Hair Cleanser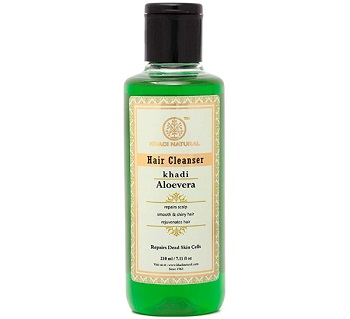 Aloe vera is a miracle ingredient that helps to cure dandruff and to start the growth of new hair follicles. In fact, aloe vera is also used to repair dull and damaged hair and to fight split ends. This Khadi aloevera shampoo is also free of parabens and dandruff. This khadi natural hair cleanser can be used 3 times in a  week for soft silky hair. It's a mild khadi shampoo for dandruff and hair fall.
It's the best Khadi shampoos available in the market you can try.