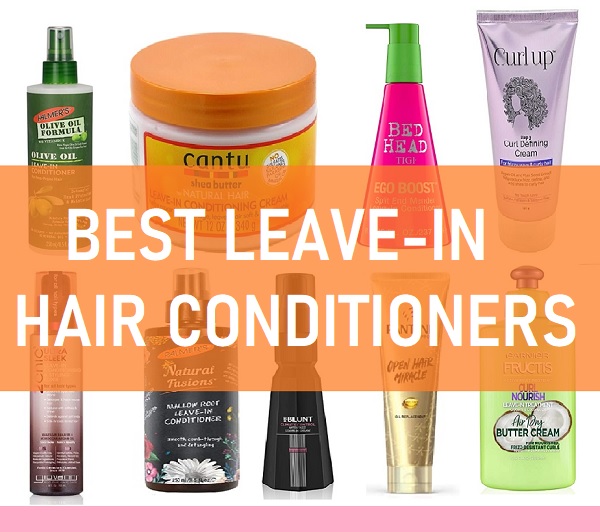 Leave-in conditioners are deep hydrating products that are applied to freshly washed hair. This product can be applied on semi dried or fully dried hair to make them smoother and softer. Leave-in conditioners stay on the hair for the next wash. These products are added or applied to condition the hair and to give the much-needed moisture and effective frizz control. Leave-in conditioners are available in different forms and varieties. Like you can have a liquids, creams or even spray based Leave-in conditioners.
Benefits of Leave-in Conditioners 
Let's take some of the benefits of leave-in conditioner for your hair.
Manageable Hair: Leave-in conditioning treatment helps to improve the softness of the hair and they also becomes more manageable. They contain ingredients that soften the hair texture and cuticle. As a result, hair becomes a lot manageable and silkier.
Often when your hair gets tangled after the wash or after a busy day, a product like this can help to detangle the hair, to let the hair brush glide through easily. They also fortify the hair to prevent breakage and prevent the split ends and to retain the softness.
Acts as a barrier: Leave-in conditioners also helps as a heat protectant . Yes, these acts as a barrier against the high temperature and heat by adding an extra layer over your hair cuticle. Leave-in conditioning products prevent the damage caused by the heat appliances and extreme sun rays exposure. So they kind of retain the moisture and prevent the hair from getting dry and crunchy.
Frizzy Control: When you are dealing with frizzy hair that looks lifeless, it's a good idea to rub in some leave-in conditioner. These products are very effective in managing the hair and making them frizz-proof. The moisture in the air shaft as a result the frizz is controlled and reduced.
Vibrant Hair color: These leave-in conditioning treatment helps to improve the hair colour shine and look. So, applying a good conditioning treatment hair color looks more vibrant and shiny.
How to Use a Leave-in Hair Conditioner?
To use a leave-in hair conditioner, you need to wash the hair completely. Apply some of the conditioner on your hair. A coin size amount would be enough for shoulder length hair. Massage the conditioner over the hair ends and on the dry areas. Never apply the leave-in conditioners on the scalp or near to the roots. These products also helps in styling the hair you want.
So the Leave-in hair conditioners stays on the hair till the next wash. Leave-in hair products with silicones in them can pile up product build up. Therefore, using a good clarifying shampoo occasionally would help in removing the product residue.
List of Top Best Leave-in Conditioners in India (2022)
Hopefully, this list will help you know about how to choose the best leave-in conditioner.
1. Palmer's Olive Oil Leave-In Conditioner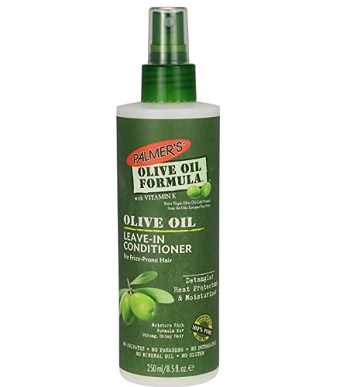 Palmer's leave-in conditioner contains the olive oil formula. It's known to give the moisturization and  conditioning properties, thus, also acts as a hair detangler and heat protectant. The moisturizer for dry hair gives vivacious conditioning so that the dry hair strands becomes smoother and shinier. The non-sticky light formula is suitable for everyday application and also has a rich Jamaican black castor oil. It's 100% pure formula and easy to apply. For unruly and frizzy hair, it's one of the best leave-in hair conditioners that is free of paraben, phthalates, sulphates and mineral oil.
2. Cantu Shea Butter Hair Leave-in Conditioning Repair Cream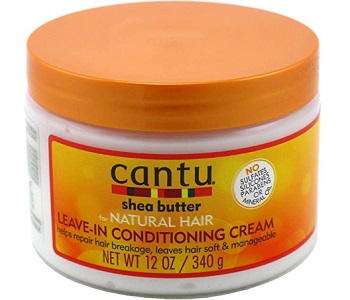 Shea butter is known to give deep rich conditioning to the otherwise dry and frizzy hair. This product is meant to act as a natural cream to minimize the tangles. When hair gets rough and damaged, leave-in hair cream like this can definitely help in getting softer and manageable smooth hair. It doesn't have any sulphates, Silicones or paraben and is also a totally mineral-oil free formula with 100% organic shea butter along with natural oils. The product is easy to apply and can be used on the semi dried hair. Just apply a generous amount of this leave-in hair conditioner and feel the magic of soft and smoother hair.
3. TIGI Bed Head Ego Boost Leave-in Conditioner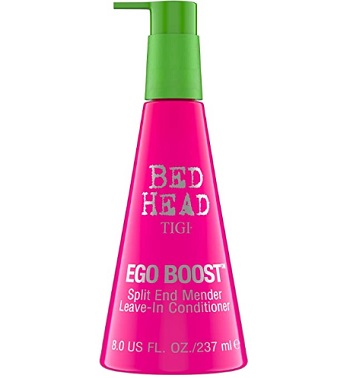 The professional hair care range is made to give you softer and smooth hair strands. This is a product that is a leave-in conditioner to the split ends. Excessive heat and temperature can split the hair and makes hair rough and lifeless. This is formulated with keratin, hence, is known to control frizz and improve the manageability of the hair. With fragrance that resembles as that of fresh fruits, this is an easy to apply product that does not make the hair greasy but just give the right amount of moisture. It's a wonderful leave-in product for split ends and for all hair types.
4. Giovanni Organic Brazilian Keratin & Argan Oil Leave-In Conditioning Cream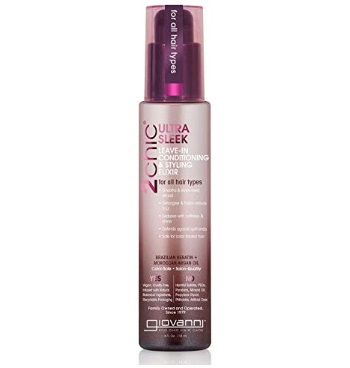 Brazilian Keratin and Argan oil conditioning product comes in a spray pack. With no harmful chemicals, sulphate and other products, it helps to smoothen the hair cuticle and strengthens the hair. The penetrating 2 in 1 formula of this hair treatment helps as a styling treatment and moisturizer. It blocks the moisture and also acts as a heat protectant spray. With certified organic ingredients such as Argan oil, Brazilian Keratin, Coconut Oil, Macadamia Seed Extracts and Shea butter, it's a product which is 100% vegetarian and safe for colored hair as well. You can use leave-in conditioner between washes.
5. Palmer's Mallow Root Leave-In Conditioner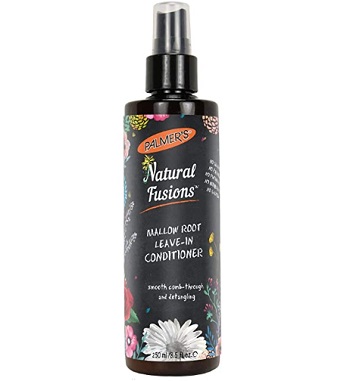 Palmer's Mallow root leave-in conditioner is yet another product that has been rated valuable and high by the people who've used it. The mallow plant is a well known for its terrific moisturizing and deep conditioning properties. It increases the hair smoothness and softness, making it a perfect detangler and shine adding product. Apply it on towel dried hair over the hair ends and middle part.
Wait for 1-2 minutes and then style the hair. It can also be used on dry hair as well like a lightweight refresher.
6. Pantene Open Hair Miracle Oil replacement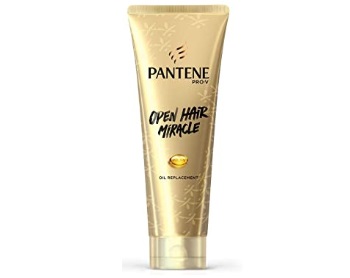 To gain the beautiful soft hair, this product is effective and affordable with easy availability. The multipurpose hair detangler product nourishes your hair in pre and post shower. It's an oil replacement product, which can be used before shampoo and to get hassle-free smooth hair. It's a serum that can be applied on the hair for frizz-free and fragrant hair. The leave-in conditioner gives you smooth and vibrant looking hair and can be used before heat styling products to add a protective layer over the hair.
7. Curl Up Curl Defining Cream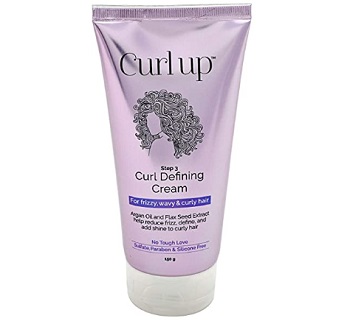 Curl up curl defining cream is a leave-in conditioner for frizzy, curly and wavy hair. The product is rich in Argan oil and flaxseed extracts that reduces the frizz during the winter season, when the hair get static. It defines and defines the curly hair. It's a sulphate and paraben-free hair care product that is also free of silicones. It's the best cream for setting the curls and to make hair vibrantly glossy.
8. Garnier Hair Care Fructis Triple Nutrition Curl Moisture Leave-in Conditioner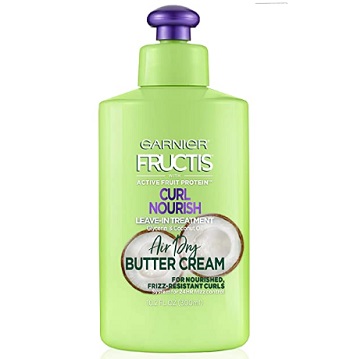 Garnier Triple Nutrition Curl Moisture Leave-in Conditioner is a light weight cream that is made for the frizz proof curls. Using such frizzy hair creams like this would certainly help you a lot in maintaining the hair frizz free and manageable. It claims that the product helps to tame the hair and keep them defined up to 3 days. However, that may not be that much true but at least for a day, it would surely work. The product is more of a curl defining product but even if your hair is wavy, you can go ahead and try it. But do not apply this on your scalp, just on your hair and the middle part of the hair.
9. BBLUNT Climate Control, Anti-Frizz Leave-In-Cream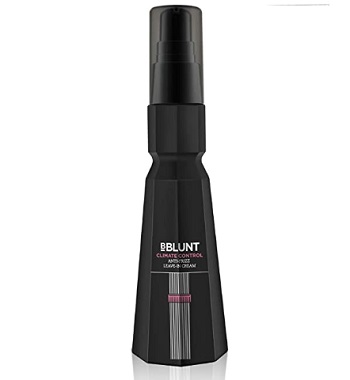 BBlunt leave-in cream is a conditioner known for its frizz controlling abilities. It's a perfect daily conditioner to manage frizzy and rough hair. So all in all, the product reduces the frizz so that they are more manageable and do not leave you look dishevelled or tired. This product is packed with hydrolysed keratin, Provitamin B5 and Quinoa. It comes in an easy-to-use package in which is very convenient and user friendly. In fact, you can keep the bottle in your bag, so that whenever your hair gets frizzy,  you can just take some cream and apply it. It's especially created for Indian hair and also acts as a pretty effective heat styling product.
10. Neutrogena Triple Moisture Silk Touch Leave-In Cream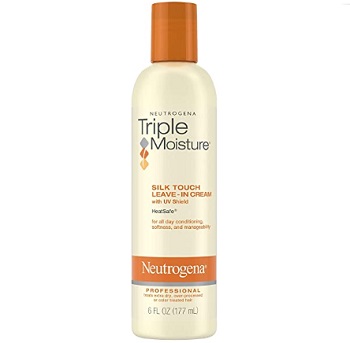 Neutrogena leave-in conditioner cream is a product that is known for its UV Shield mechanism. It's  like a hair sunscreen that prevents the hair from getting damaged and split ends. It contains UV filters that create a barrier on your hair cuticle, which greatly gives protection so that even the extreme sun exposure cannot do as much as damage as it would have done when you have not applied any products at all. Its formula is non-greasy and treats extra dryness and over processed or colour treated hair. It even works for permed hair. So it keeps the frizzy hair and fly aways in check and you can just have pictures of your gorgeous hair all through the day.
These are the best leave-in conditioners available in the market for women and even men can try them. Now let's go ahead and check, how to use a leave-in conditioner on your hair.
Who Should Use A Leave-in Conditioner?
Leave-in conditioner can help any hair type, from dry frizzy hair to damaged hair, as it can help add moisture and immense shine and makes it easier to style your hair. So, regardless of the hair type you've, incorporate a good conditioning product in your hair care routine.
One can also use a leave-in conditioner at night before going to bed. This simple trick works well overnight to wake up with softer and manageable hair.
How do you choose a leave-in hair conditioner?
When it comes to choosing an effective leave-in conditioner, there are some pointers that one can follow. Look for the formula that's meant for your hair type and problem, if you've any.
This is how you can pick a leave-in conditioner for curly hair or even a good leave-in conditioner for men.
For dry hair, pick leave-in conditioning product, formulated with moisturizing ingredients. For frizzy hair, using a leave-in conditioner to tame flyaways works better.
If you have damaged hair, formulas for split ends protection and damage control will help.